Miami Vice Mocktail
The best miami vice mocktail! Half strawberry daiquiri half pina colada layered in one glass. A tropical non-alcoholic lava flow!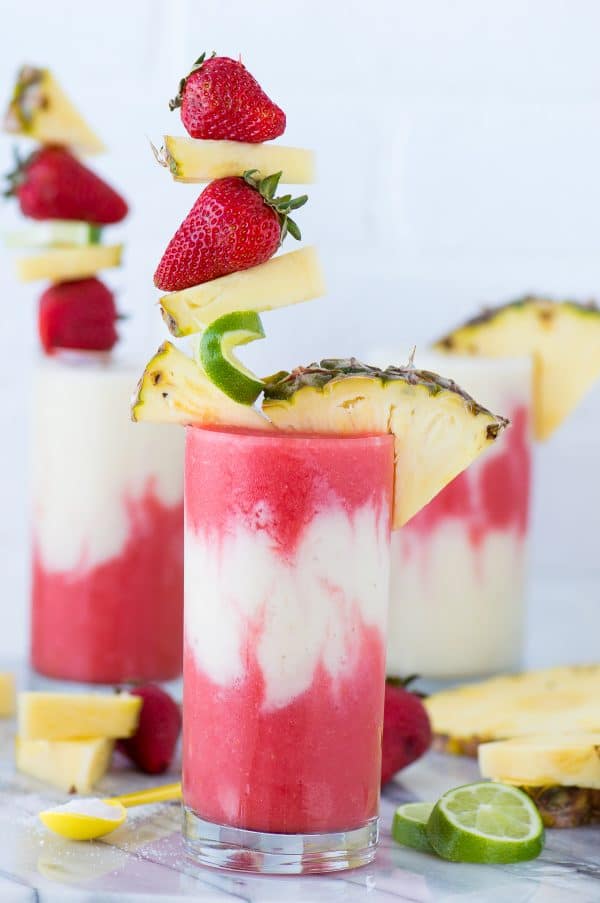 When I think of 'miami vice', the TV show comes to mind. I know absolutely nothing about the show.. I would guess that it took place in Miami hence the name, but I was only 1 year old while it was still airing on TV.
But I guess there's another thing called a miami vice…which I had to google, haha. It's a drink – a strawberry daiquiri and a pina colada layered in one glass!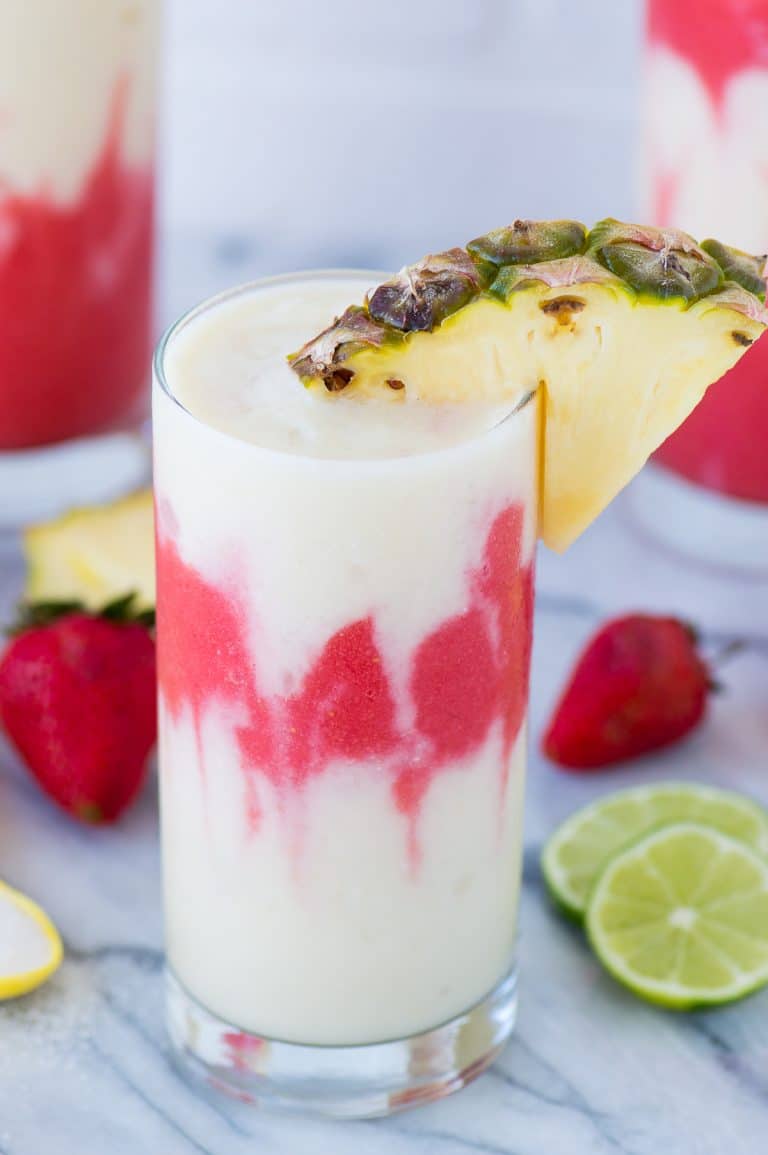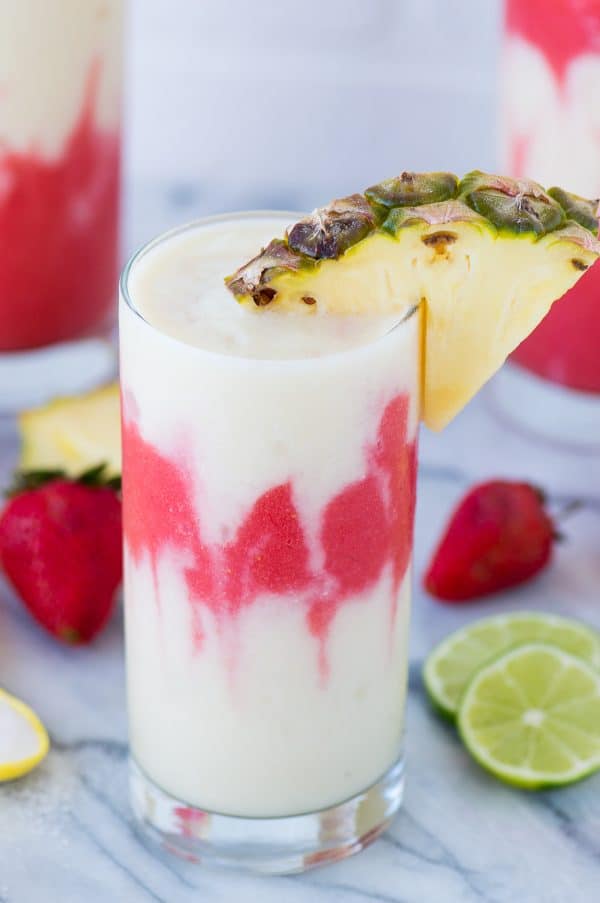 I've had both of those drinks before, separately, but I'm all for layered drinks and smoothies. Why have one flavor when you can have two?!
That's the best part about going to a fro-yo place, you don't have to get just one flavor. In fact you could mix all of the flavors in your container, but I wouldn't recommend it. Let's stick to 2 or 3 folks :)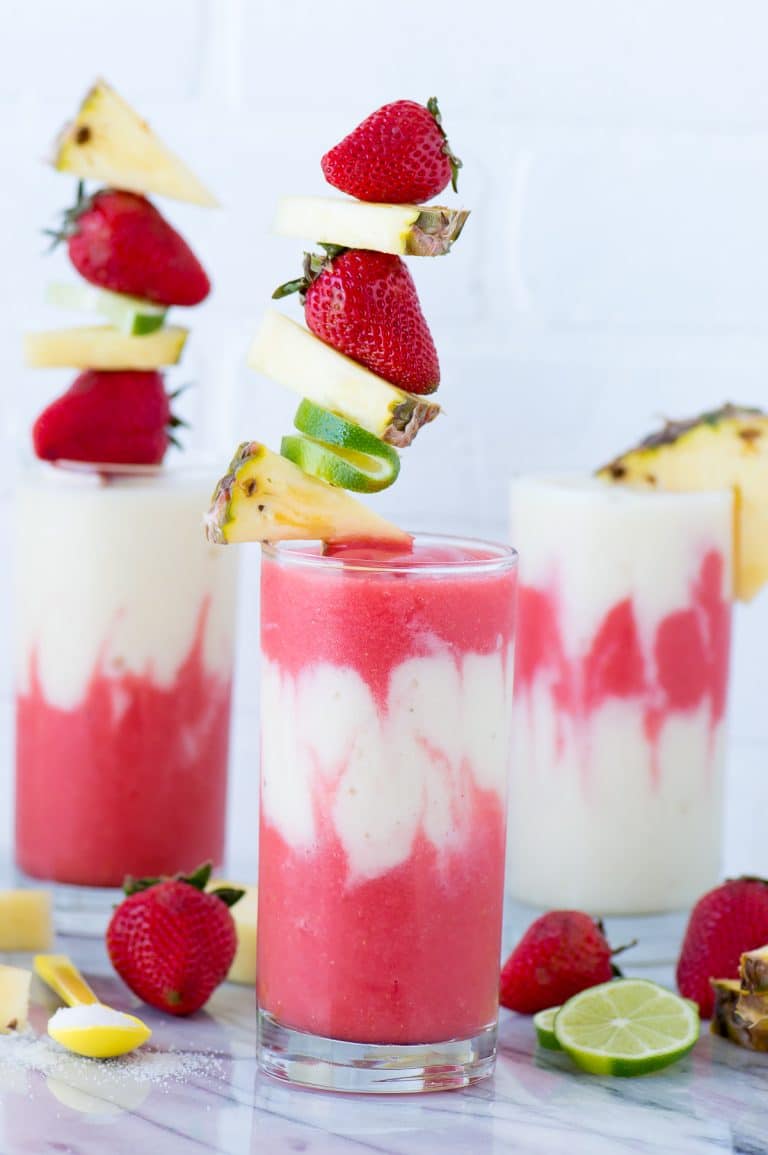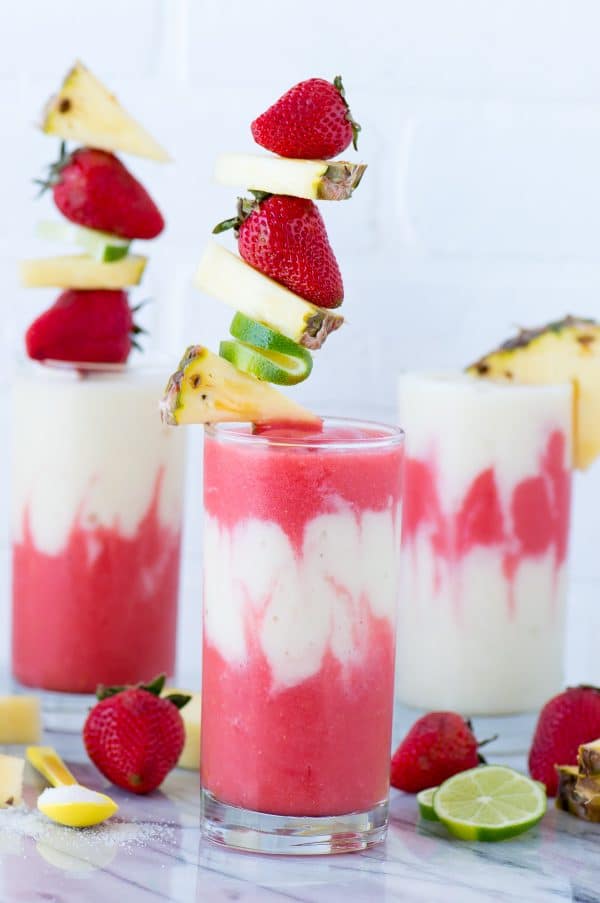 We came up with a fun and fruity take on a miami vice mocktail! I love that it's a mocktail because anyone in the family can enjoy it and who wouldn't want to take it sip when it looks so fun?!
The strawberry daiquiri and pina colada mixes are 5 ingredients each and they come together very quick in a blender. Water, sugar, frozen strawberries, lime juice, and ice for the daiquiri and toasted coconut cashew Nutchello, pineapple juice, a frozen banana, cream of coconut and ice for the pina colada.
Nutchello is a new line of nut-based beverages from Silk and I'm in love. I've even found myself pouring some into a glass and drinking it just like that. Which I NEVER do with milk. I want to try the dark chocolate walnut version because it sounds like an amazing dairy free chocolate milk substitute.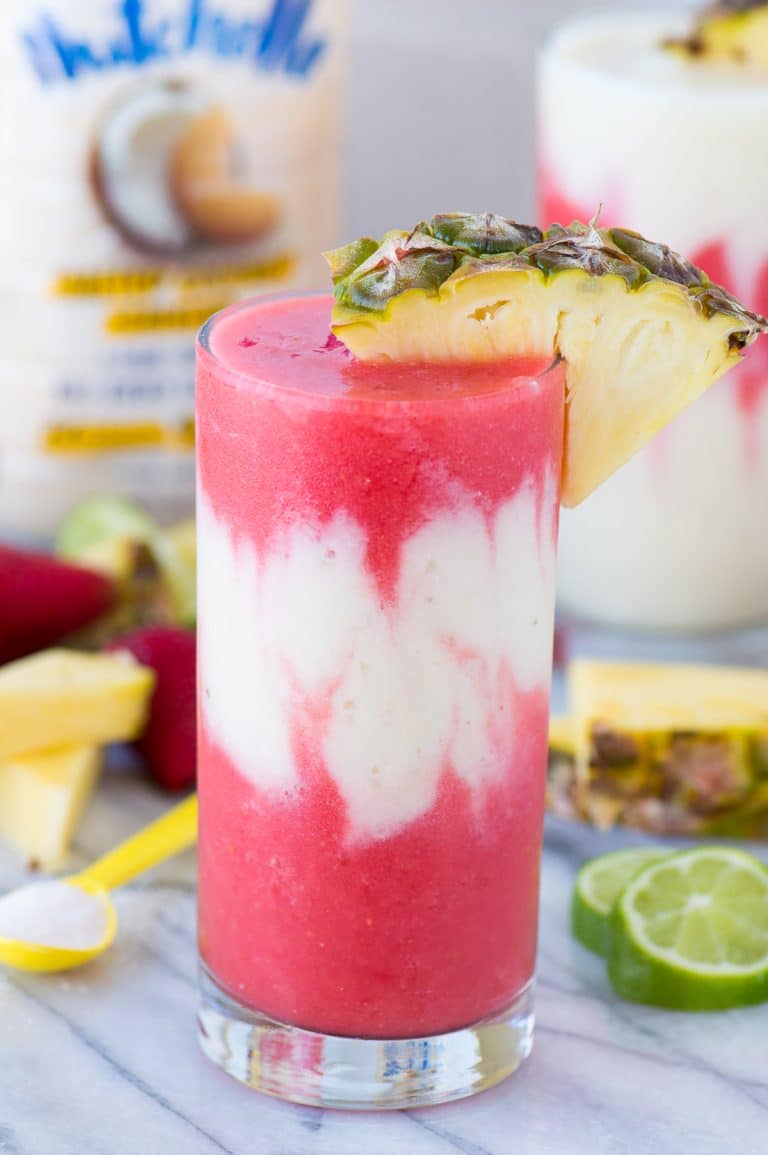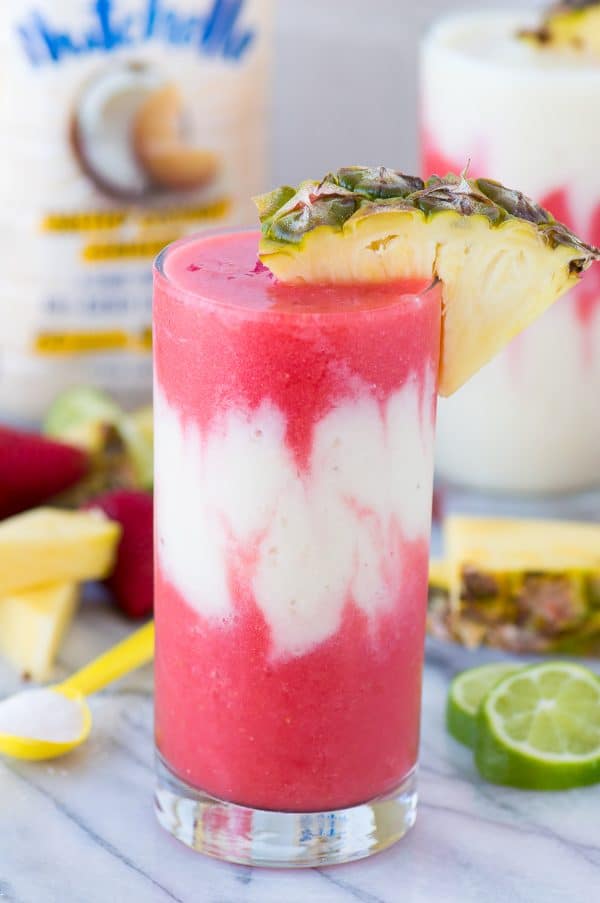 To make the mocktail, blend each mix separately in a blender then layer them in a glass. You can get creative in layering them. You could do half and half, daiquiri colada daiquiri, or vice versa.
I like to say that the mocktail comes to life when you add the garnishes. Keep it slice with a single slice of pineapple or add drama with a wooden skewer filled with strawberries, pineapple, and lime slices.
Add an umbrella toothpick and a fancy straw and we're practically on a tropical vacation!
This is a sponsored conversation written by me on behalf of Silk. The opinions and text are all mine.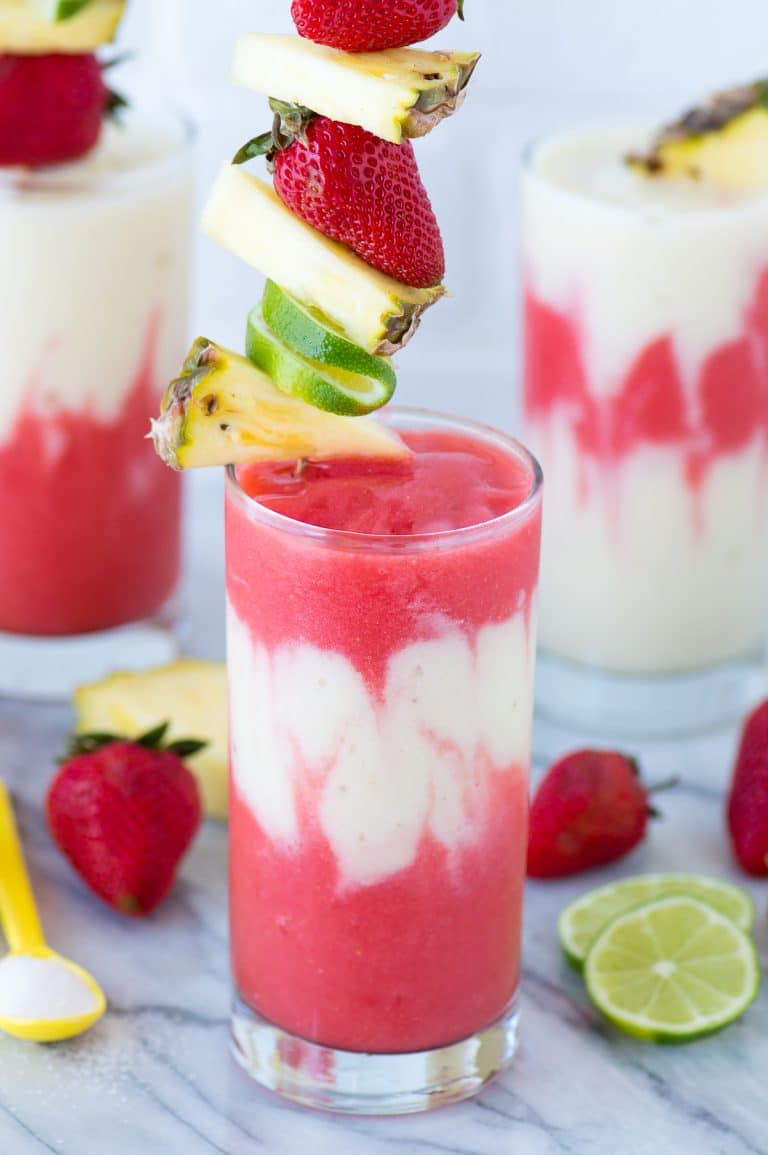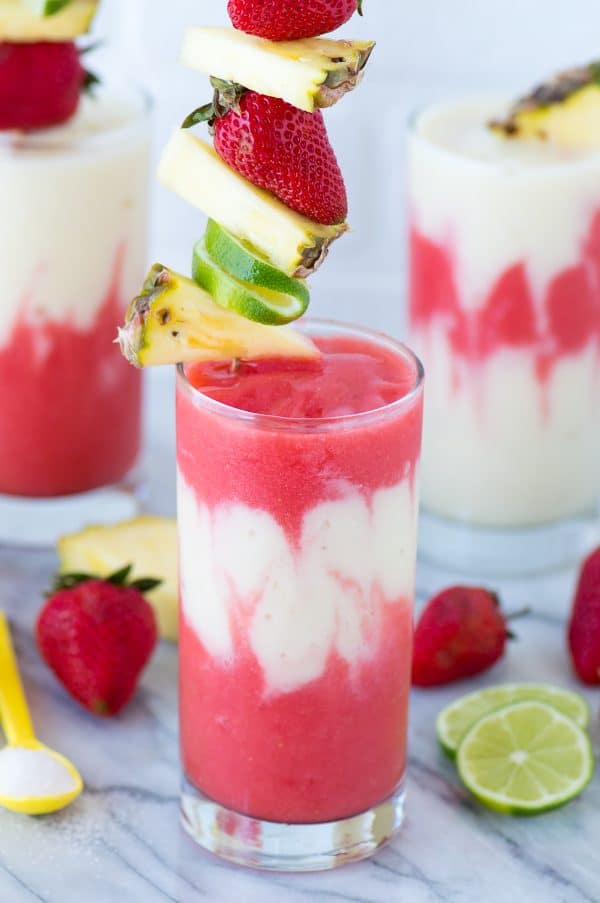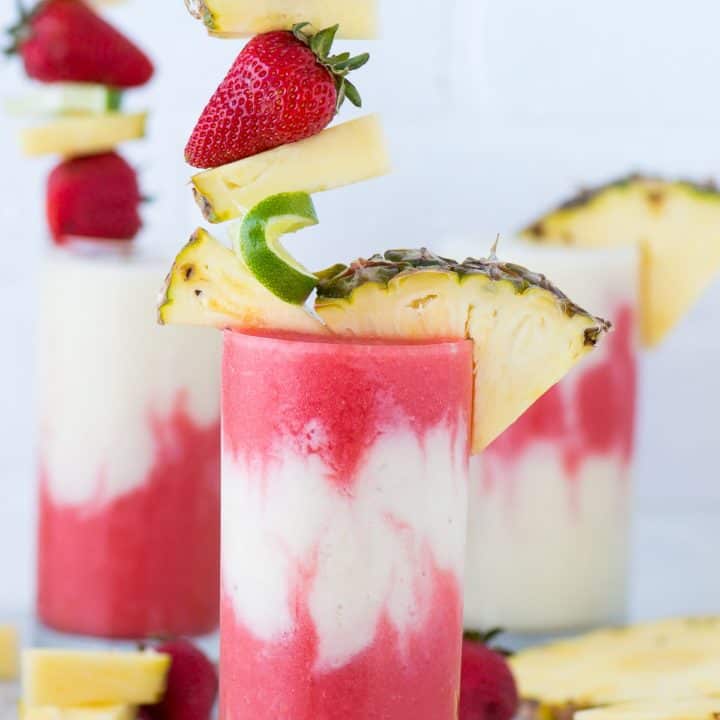 Miami Vice Mocktail
Yield: 4 glasses
Additional Time: 10 minutes
Total Time: 10 minutes
Ingredients
Pina Coloda
1/2 cup Toasted Coconut Cashew Nutchello
1/2 cup pineapple juice
1 frozen banana
2 tbsp cream of coconut
5 ice cubes
Strawberry Daiquiri
1 & 1/2 cups water
1/4 cup sugar
2 cups frozen strawberries
juice from 1/2 lime
5 ice cubes
Instructions
In a blender add the Nutchello, pineapple juice, frozen banana, cream of coconut, and ice cubes. Blend until smooth. Pour into a separate container and rinse the blender. Yields about 3 cups.
In a blender add the water, sugar, frozen strawberries, lime juice, and ice cubes. Blend until smooth. Yields about 4 cups.
Layer the pina coloda and strawberry daiquiri mix as desired in 4 glasses. Optional: Top with a fruit skewer filled with pineapple and strawberries or with a pineapple slice.