Want our top 10 essential dessert recipes?
Get our favorite classic recipes in your inbox! It's 100% free, but we might make you hungry!
Melted Witch Pudding Parfaits
This recipe for Melted Witch Pudding Parfaits is a part of the #SnackPackMixins campaign and has been compensated by #CollectiveBias. As always, all opinions are my own.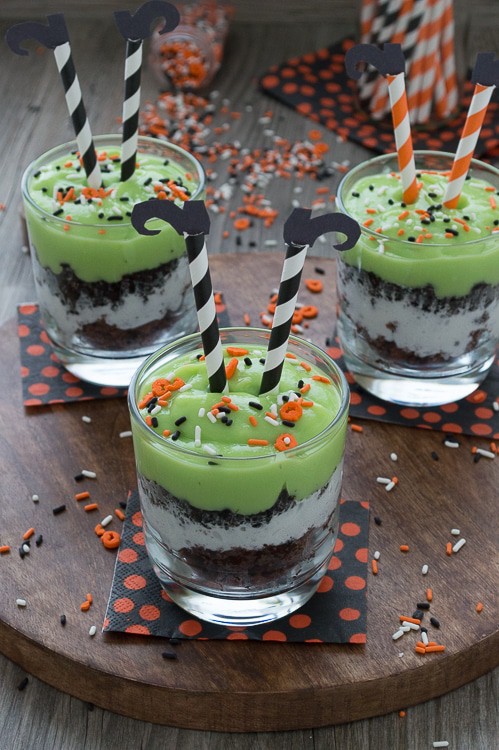 This is my absolute favorite way to eat pudding.. in a parfait and with a dash of melted witch mixed in, who knew a melted witch would be so tasty! And by a dash of melted witch I mean this parfait is completely loaded with green pudding and my favorite mix ins – oreos, whipped cream, and brownie pieces! These Melted Witch Pudding Parfaits are sure to be a big hit at any halloween party. Or if you're like me, this would be a fantastic treat to make before halloween to get you excited for October 31st.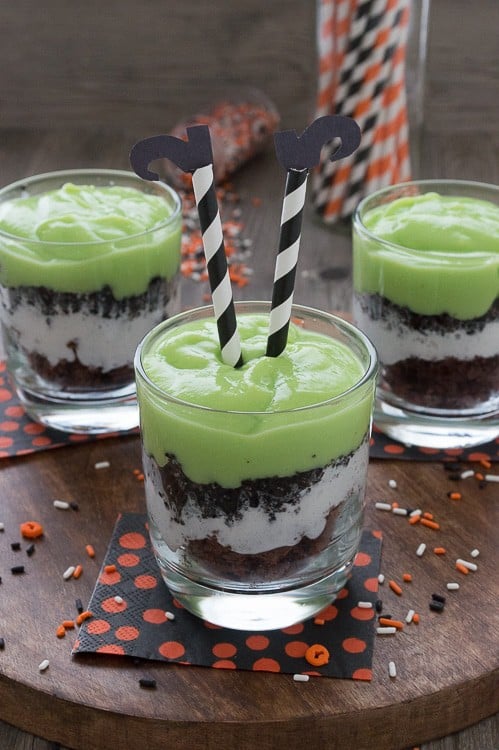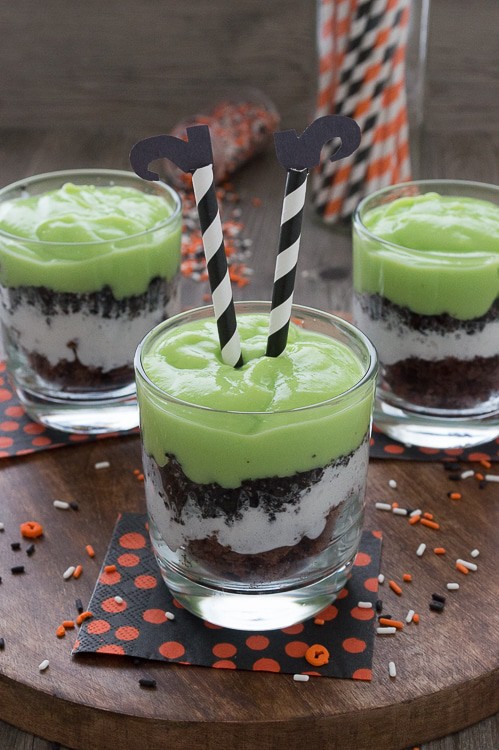 I picked up everything I needed to make these parfaits, including the straws, at Walmart. Snack Pack pudding cups are the star of this recipe because they taste great and contain the same amount of calcium as an 8 oz glass of milk.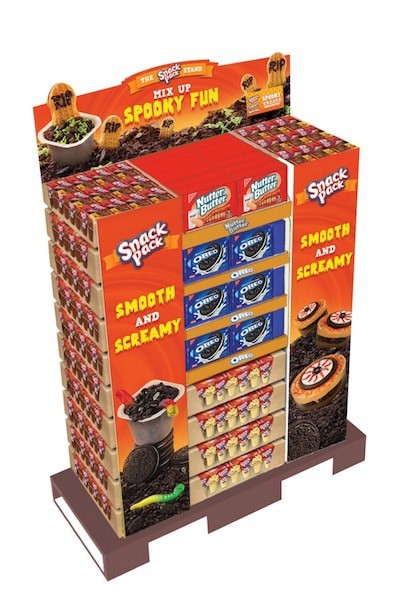 To make these melted witch parfaits you will need vanilla Snack Pack Pudding Cups, green food coloring, brownie pieces, whipped cream, oreos, and halloween sprinkles. To make the witch's legs will you need paper straws and black paper. To make the witch's legs, you will need two paper straws and two black shoes for each parfait. Cut your paper straws, making your witch's legs your desired length – mine were 4.5 inches long. Something to note, you don't want to cut your witch's legs too short, otherwise you won't have enough straw to stick into your parfait. On one end of your paper straw, use a knife to make two small slits across from each other, this is where will you put the shoe. Repeat this process until all the legs are assembled.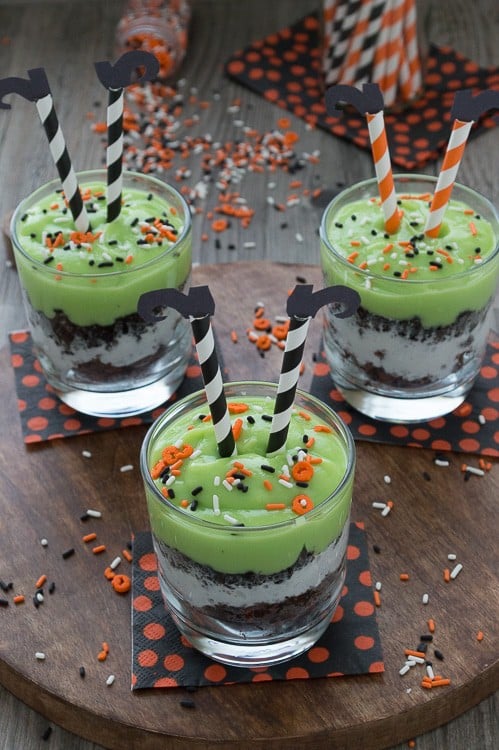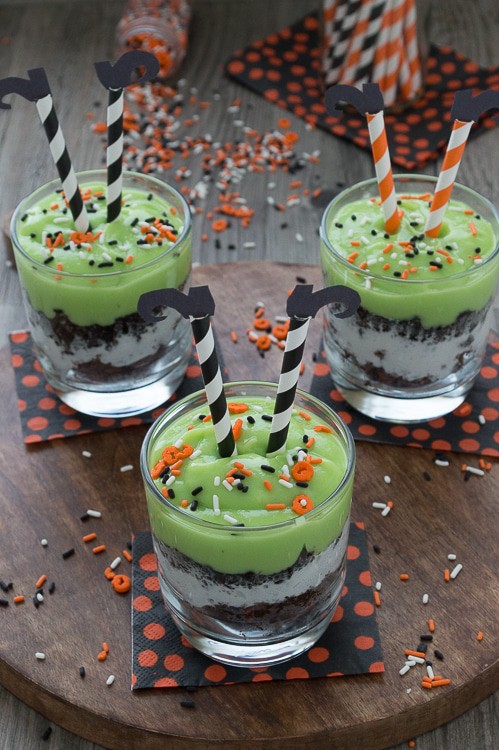 These halloween pudding parfaits can be assembled fairly quickly, especially if you already have baked brownies on hand. This is a great recipe to get your kids involved with, I am sure they would love watching the Snack Pack Pudding change from vanilla to a witchy green.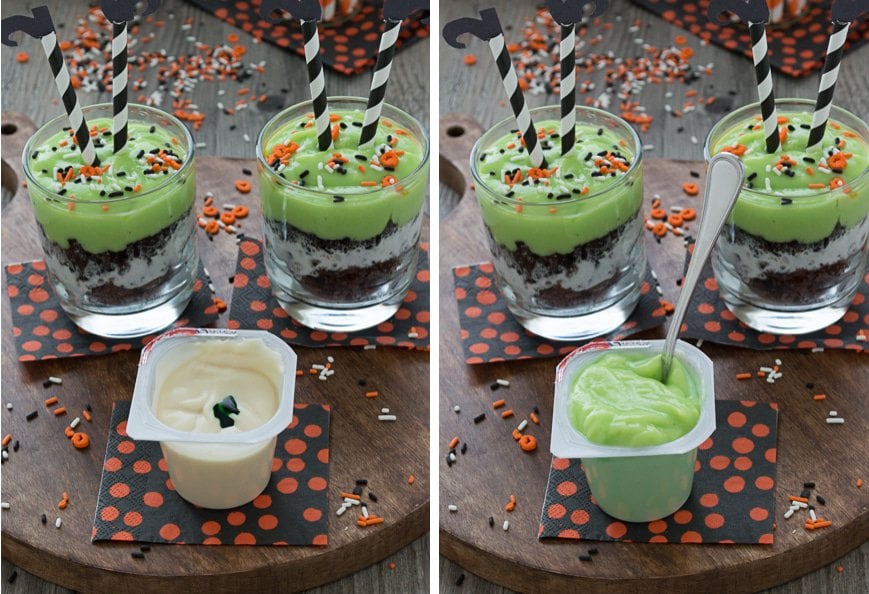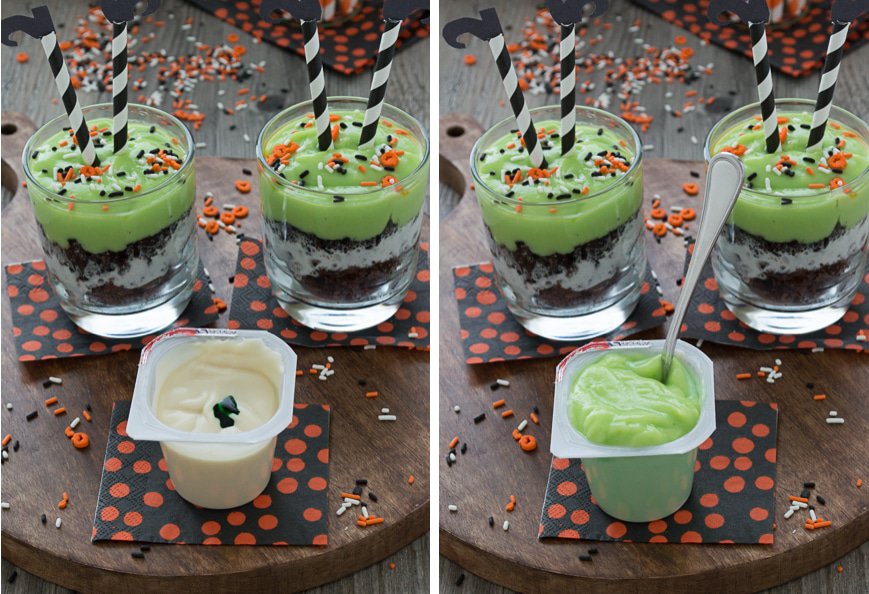 Melted Witch Pudding Parfaits
Ingredients
Vanilla Snack Pack pudding cups
Green food coloring
Brownies, crumbled into smaller pieces
Oreos, crushed
Whipped cream
Halloween sprinkles

For the witch's legs you will need paper straws and black paper. See directions in the post to assemble the witch's legs.
Instructions
Dye the vanilla Snack Pack pudding cups green. This can be done in each individual pudding container or transfer all of the pudding to a bowl and then add the green food coloring until you get your desired color of green. Set aside.
To assemble the parfaits, begin to layer brownie pieces in the bottom of each glass. Divide the brownie pieces evenly among the parfaits.
Next, add a layer of whipped cream to each parfait (like Reddi wip).
Add the crushed oreos on top of the whipped cream layer.
Next, spoon the green Snack Pack Pudding on top of the oreos, filling each glass full.
Add halloween sprinkles and top with the witch's legs.
For best results, enjoy these parfaits within a few minutes of making, otherwise the ingredients can become soggy.
https://thefirstyearblog.com/melted-witch-pudding-parfaits/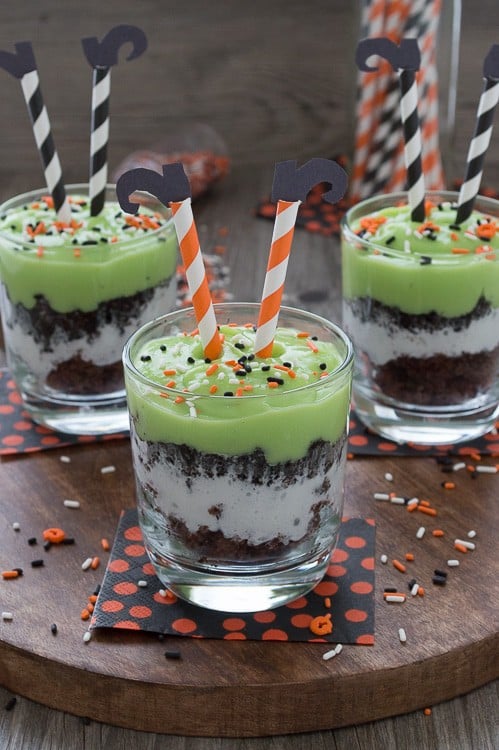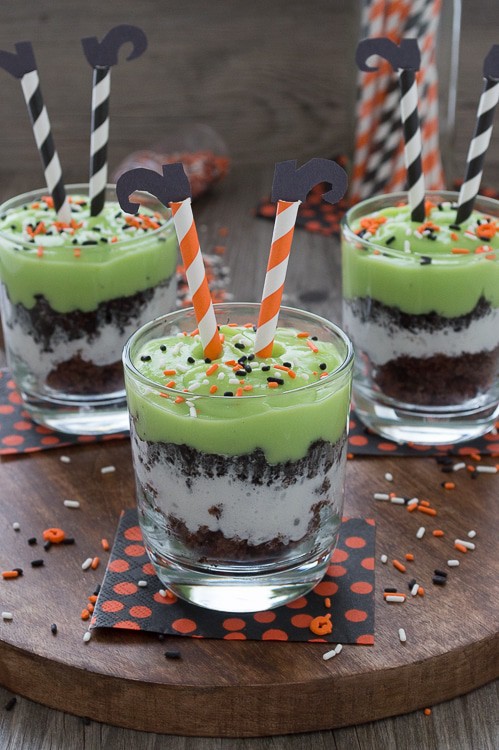 Watch out for the witch's hat and broom, you never know if they could turn up inside the parfait!