Want our top 10 essential dessert recipes?
Get our favorite classic recipes in your inbox! It's 100% free, but we might make you hungry!
Lemon Sheet Cake
Easy lemon sheet cake recipe from scratch. The best lemon cake made in a 9×13 inch pan with a fresh and quick lemon glaze!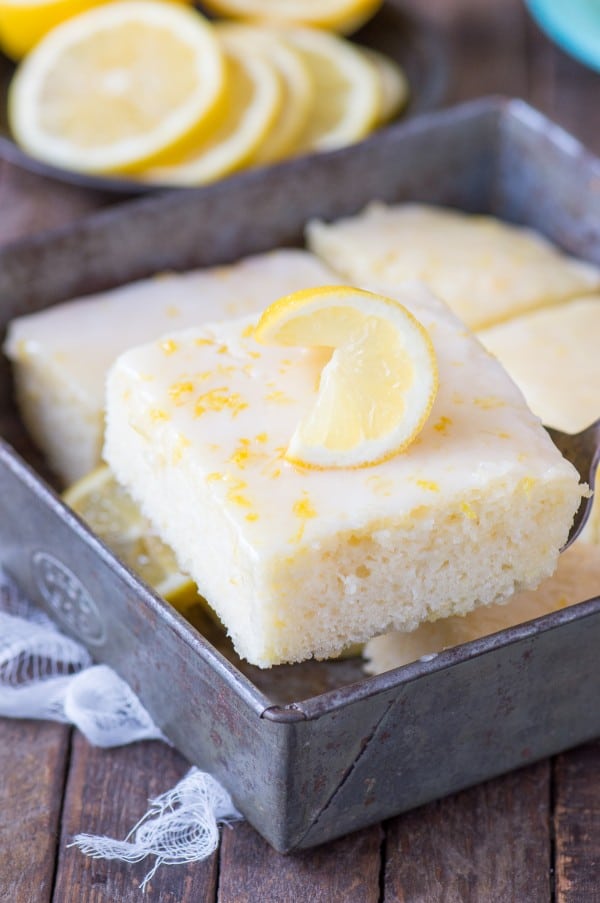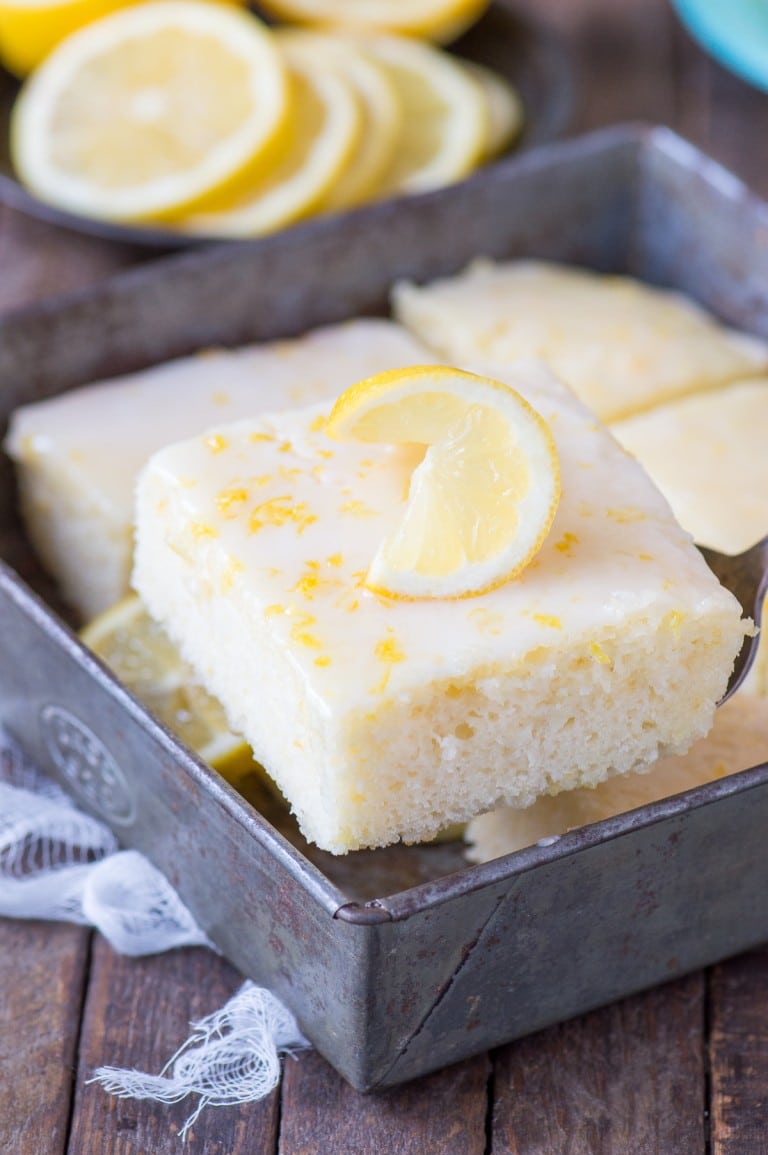 Where are my fellow cake lovers?!
There is no hiding that I like cake. Chocolate cake, coconut lime cake, fresh cherry cake. And if it's a layered cake, I'm even more in love because they look so fancy and fun!
Although layered cakes are one of my favorite things to share, I'm guessing that only a handful of people will actually make the recipe since they are way more time intensive than a regular sheet cake. Plus layered cakes require more specialize equipment like cake pans, piping bags and piping tips.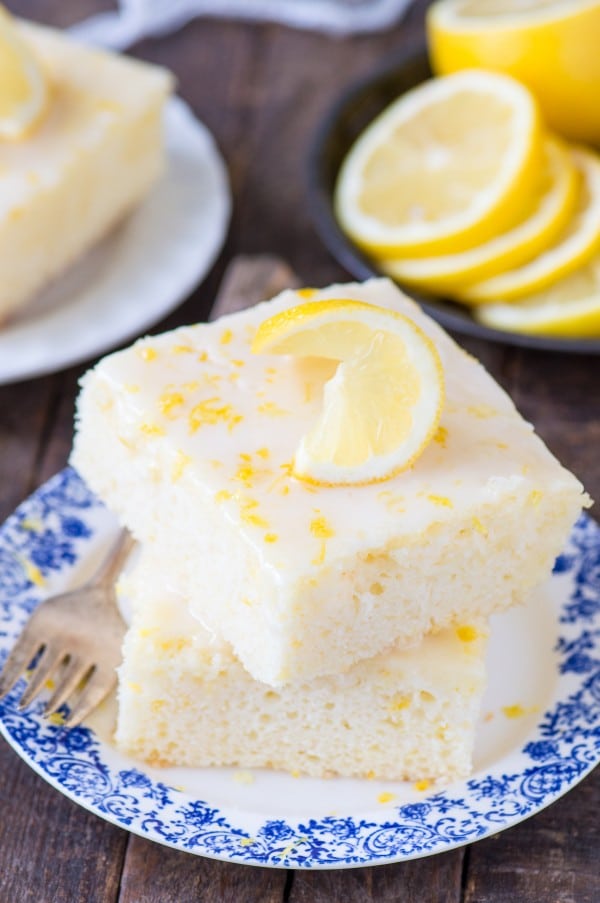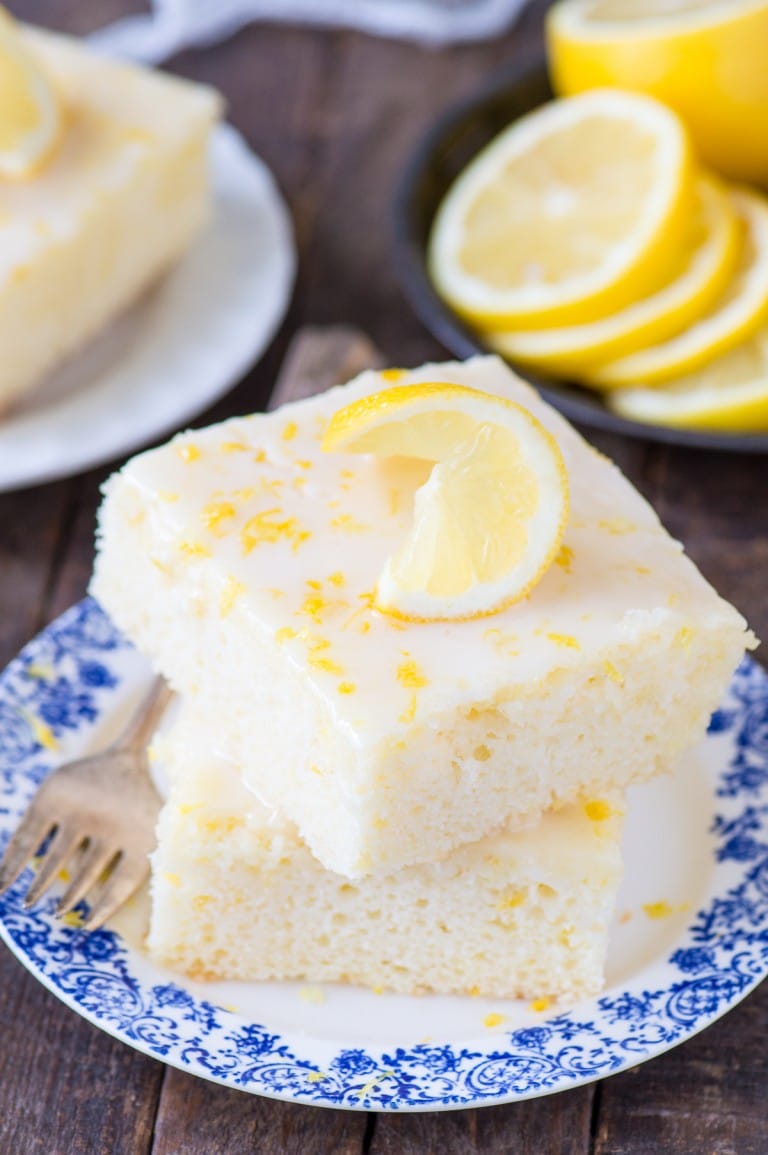 While I LOVE making and photographing layered cakes, it's not like I have all this time during the week (or even the weekend) to randomly to decide to build a 3 layer cake and I'm sure you don't either!
So I'm intentionally adding more "sheet cake" recipes to our collection. I think of a sheet cake as any cake that is made in a single pan – that could be an 8×8, 9×13, or 10.5×15.5 inch pan.
Sheet cake recipes are easy and quick, something you could make and frost in under 2 hours. And a lot of that time is not active time, it includes the time the cake needs to bake and to cool.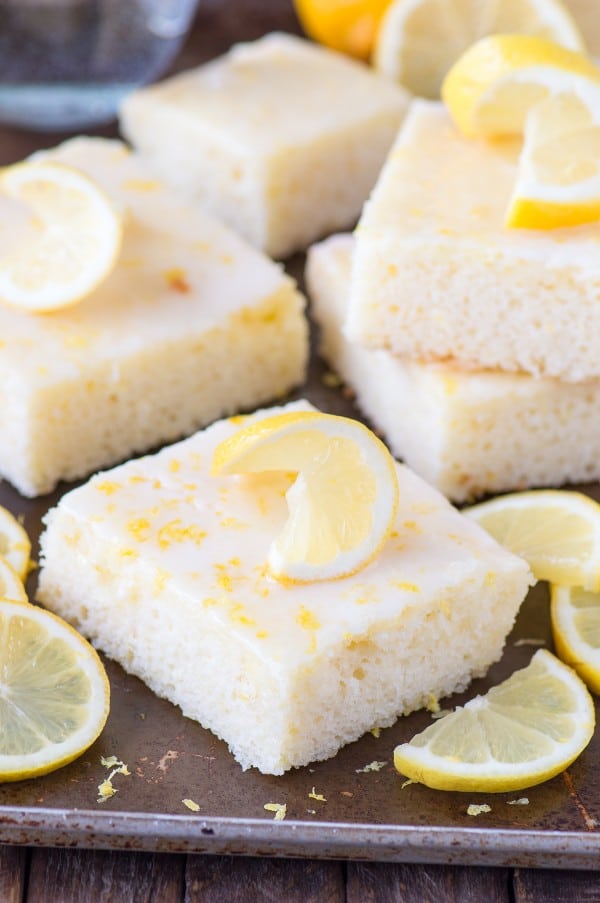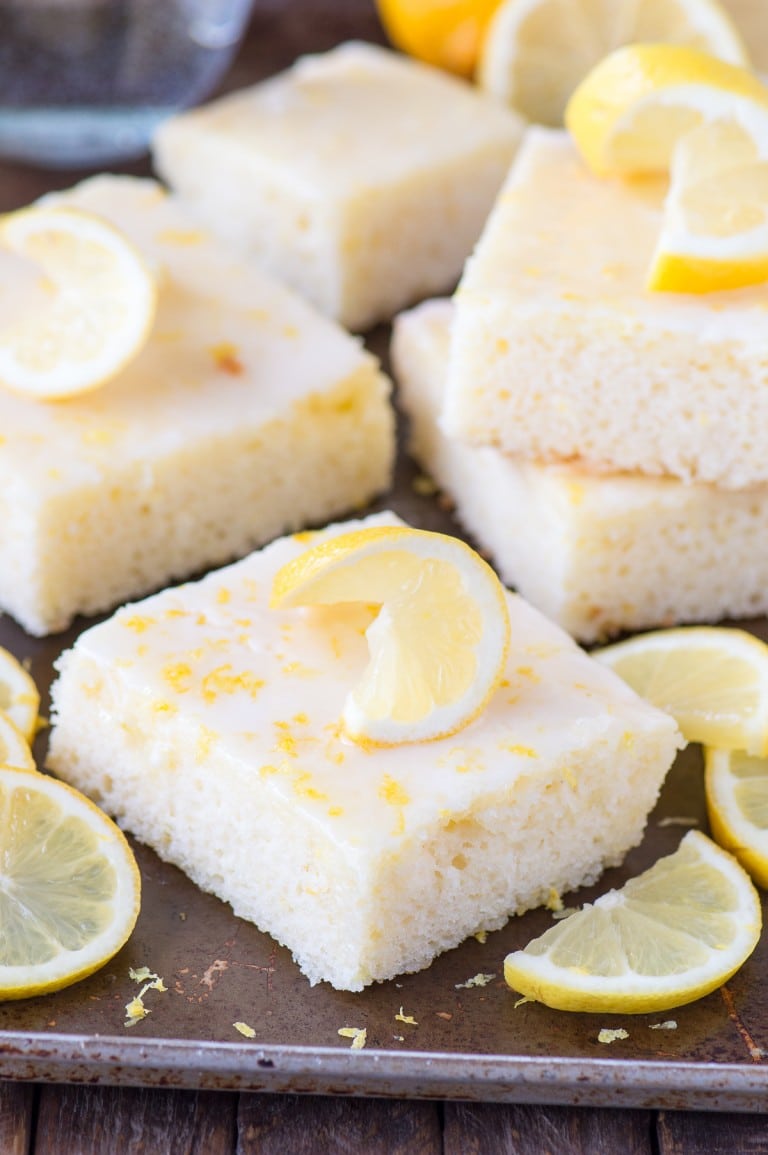 A lot of our layered cake recipes that we already shared could be converted for a 9×13 inch pan. But it's way easier if someone does the work for you, so don't worry, I'll be covering some of our favorite layered cake recipes and including some new flavors too!
My biggest tip when it comes to making a cake recipe is to follow the ingredients that are called for! But for this recipe in particular, use fresh lemon juice!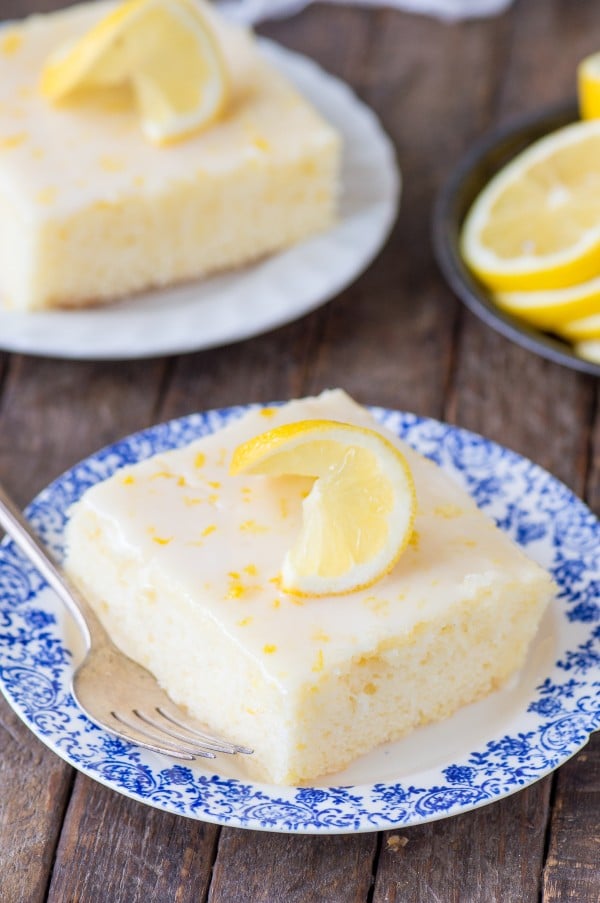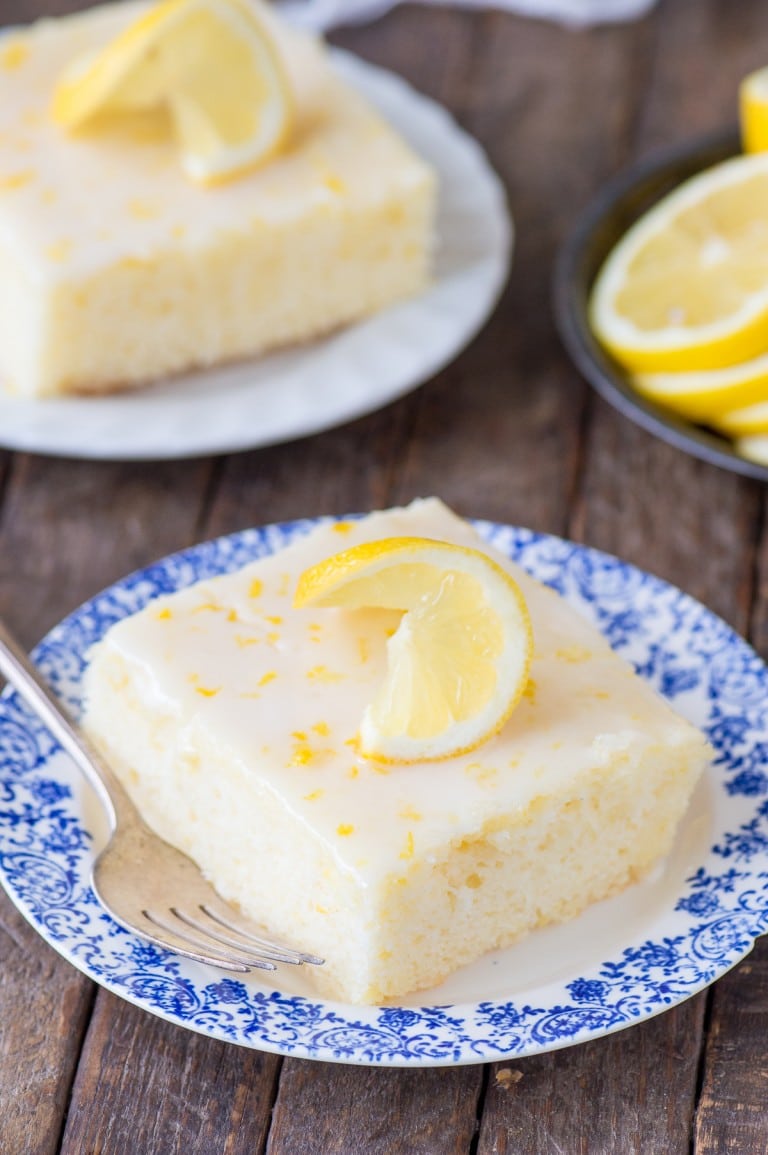 How to make lemon sheet cake from scratch
You'll only need TWO bowls for this recipe – one for the dry ingredients and one for the wet ingredients. You'll combine all the dry ingredients together in one bowl and all the wet ingredients in a second. Then, combine the dry ingredients into the wet ingredients!
Our recipe for lemon sheet cake from scratch is very easy!
Be sure to use fresh lemon juice!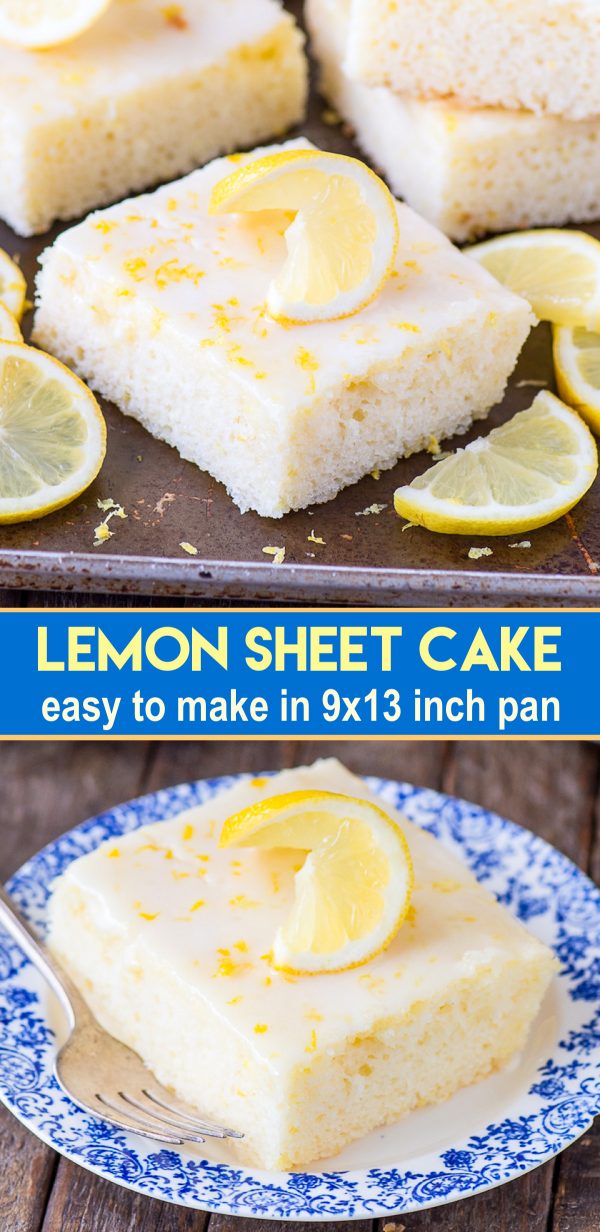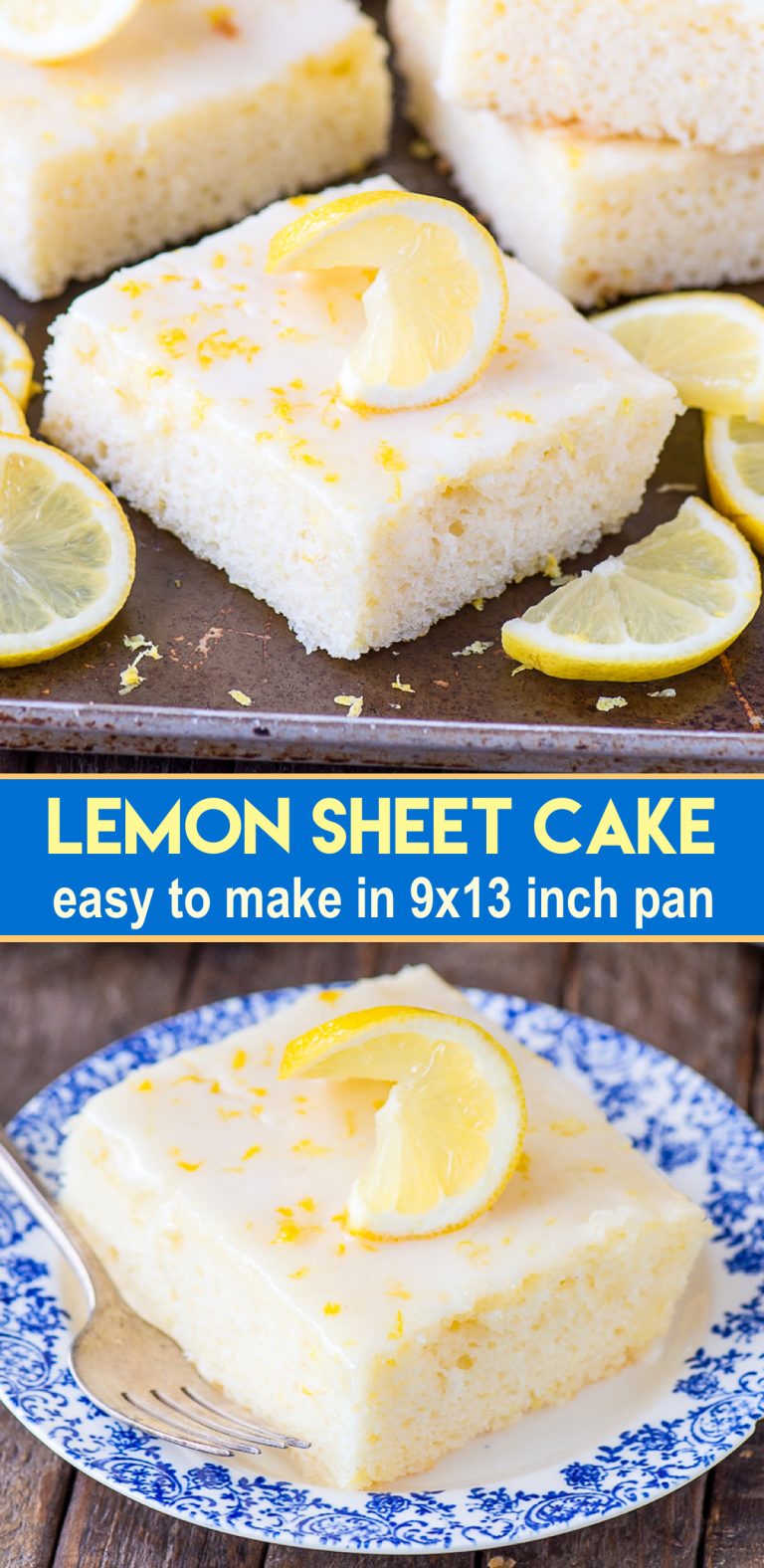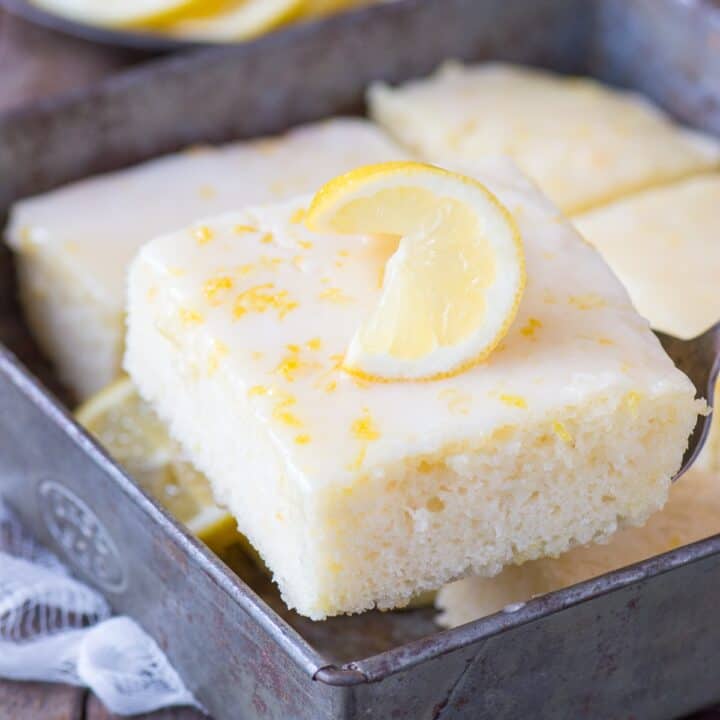 Lemon Sheet Cake
Additional Time:
1 hour
30 minutes
Total Time:
1 hour
30 minutes
Easy lemon sheet cake recipe from scratch. The best lemon cake made in a 9x13 inch pan with a fresh and quick lemon glaze!
Ingredients
Lemon Cake
2 & 1/4 cups all purpose flour
2 & 1/2 tsp baking powder
1/4 tsp salt
1 & 1/2 cups sugar
zest of 2 lemon, fresh
2 eggs
3/4 cup milk
3/4 cup sour cream
2 tsp vanilla extract
3 tbsp lemon juice, fresh
Lemon Glaze
2 cups powdered sugar
1/4 cup lemon juice
zest of 1 lemon, fresh
Instructions
Lemon Cake
Preheat the oven to 350º F.
Spray a 9x13 inch baking pan with non-stick spray. Optional, line with tinfoil for easy clean up!
In a bowl combine the flour, baking powder, salt, sugar and lemon zest.
In a separate bowl combine the eggs, milk, sour cream, vanilla extract, and lemon juice. Whisk lightly.
Gently combine the wet ingredients into the dry ingredients, mixing with a spatula until combined.
Pour the cake batter into the pan and bake for 27-30 minutes or until a tooth pick inserted in the center comes out clean.
Allow the cake to cool before adding the glaze.
Lemon Glaze
In a bowl combine the powdered sugar, lemon juice, and lemon zest until the powdered sugar is incorporated and the consistency is runny.
Pour the glaze over the cake, refrigerate for 30-60 minutes or until the glaze is set.
Cut and serve.
Recommended Products
As an Amazon Associate and member of other affiliate programs, I earn a small commission from qualifying purchases.