Layered Mocha Mousse Brownies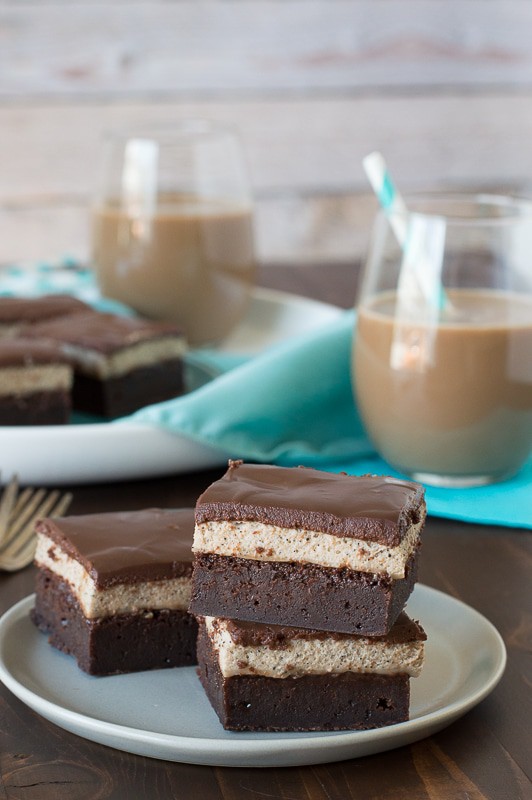 I am definitely not the type of person who needs a cup of coffee to get me going in the morning. That's my husband.. and he needs about a whole pot. He'll just drink it black which is fine with me as along as my cup can be made decaf and loaded with caramel syrup. Even then, it's not an everyday thing for me, more of a special indulgence.
But when it comes to coffee flavored baked goods like cupcakes, cookies, muffins.. those are harder to resist. If it's coffee flavored ice cream, oh my gosh.. give me the whole container.
If you like coffee flavored ice cream, the best thing to pair along side your ice cream is a layered mocha mousse brownie. Take it from the girl who can speak from experience. Don't put the brownie on a separate plate next to your ice cream, put it in the same bowl. Putting the ice cream in a cone and shoving the brownie on top is delicious too, but it requires a few more napkins. Either way, sounds like a good way to take a 10 minute break!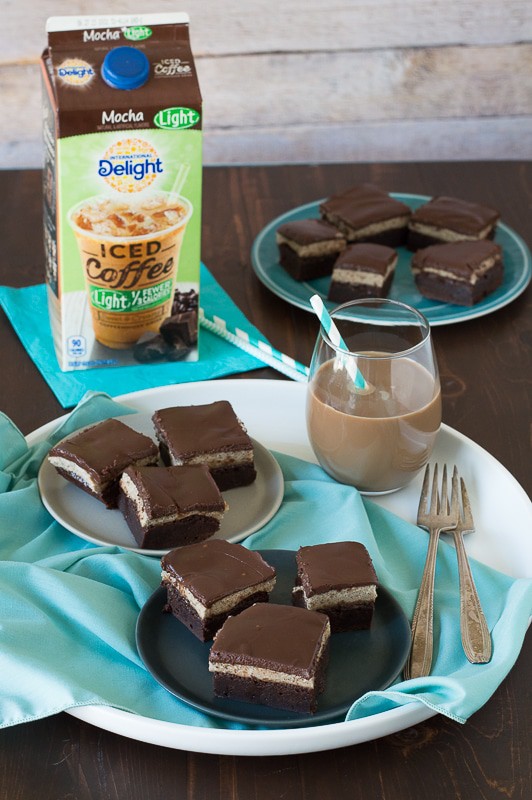 These brownies are so rich and indulgent. The recipe makes one 8×8 inch square pan, which is plenty since you can cut them into smaller pieces to serve a crowd. The recipe is easy to follow. You'll have 3 separate layers – brownie, mocha mousse, and chocolate ganache. The mocha mousse is also really good by the spoonful :)
I'm excited to be partnering with International Delight for this year. Each month I'll be sharing a recipe using one of their products. Our coffee consumption has already increased!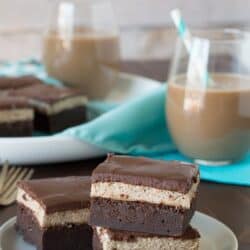 Layered Mocha Mousse Brownies
Coffee flavored dessert is hard for me to resist, and this mousse will make all you coffee ice cream lovers rejoice.
Ingredients
Brownies
5

oz

butter

,

cubed

1 ¼

cups

granulated sugar

½

cup

+ 6 tbsp unsweetened cocoa powder

½

tsp

salt

½

tsp

vanilla extract

2

large

eggs

½

cup

flour
Mocha Mousse
1

cup

white chocolate chips

¼

cup

International Delight Mocha Iced Coffee

½

tbsp

espresso grounds

¾

cup

heavy cream

1

packet

unflavored powdered gelatin

2

tbsp

cold water
Chocolate Ganache
⅓

cup

milk chocolate chips

¼

cup

heavy cream
Instructions
Brownies
Preheat the oven to 350 degrees F. Line a 8×8 inch pan with foil or parchment paper, so that foil extends up and over the sides, and spray the foil with nonstick cooking spray.

Place the butter, sugar, cocoa powder, and salt in a saucepan set over medium-low heat. Warm the mixture, stirring frequently, until the butter melts and the mixture becomes grainy. Take the pan off the heat and let it cool for 5 minutes.

Add the vanilla extract and eggs one at a time, whisking well after each. As you add the eggs the mixture will go from being grainy to a shiny. Finally, add the flour and fold it in gently until no streaks of flour remain.

Scrape the batter into the pan and bake for 15-20 minutes, until a toothpick in the center comes out clean. Let the brownies cool completely in the pan. If preparing them the day before, be sure to cover them overnight.
Mocha Mousse
In a small pot, over low heat, combine the white chocolate chips, International Delight Mocha Iced Coffee and espresso grounds. Allow the mixture to melt, stirring occasionally. This may take up to 8 minutes.

While you wait for the white chocolate mixture to cool, prepare the gelatin. Whisk together the gelatin and the cold water in a small bowl, and set it aside to let the gelatin absorb the water.

When the chocolate is at room temperature, microwave the bowl of gelatin for 10 seconds, until it is melted. Whisk the melted gelatin and white chocolate together.

Whip the heavy cream to firm peaks in a separate bowl. Fold the whipped cream into the chocolate. Using a spatula, spread the mousse onto the cooled brownies into a smooth even layer. Refrigerate for 45 minutes before adding the chocolate glaze.
Chocolate Ganache
In a small pot, over low heat, combine the chocolate chips and heavy cream. Allow the mixture to melt, stirring occasionally. This may take up to 4 minutes.

Evenly pour the chocolate ganache over the mousse layer.

Refrigerate the brownies to set the mousse and glaze for at least 1 hour.

Once set, remove the brownies from the pan using the foil or parchment paper. Cut and enjoy!
Calories:
373
kcal
,
Carbohydrates:
39
g
,
Protein:
4
g
,
Fat:
24
g
,
Saturated Fat:
15
g
,
Polyunsaturated Fat:
1
g
,
Monounsaturated Fat:
6
g
,
Trans Fat:
1
g
,
Cholesterol:
88
mg
,
Sodium:
218
mg
,
Potassium:
143
mg
,
Fiber:
1
g
,
Sugar:
32
g
,
Vitamin A:
636
IU
,
Vitamin C:
1
mg
,
Calcium:
57
mg
,
Iron:
1
mg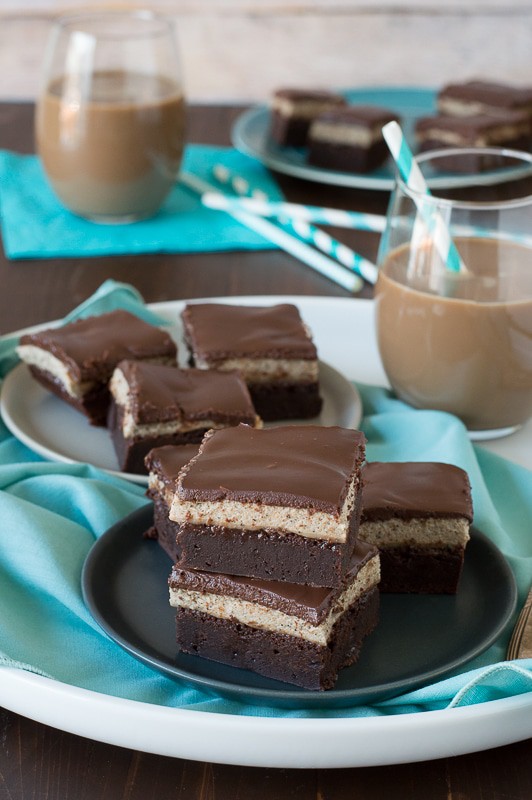 This conversation is sponsored by International Delight. The opinions and text are all mine.