How to take authentic brand photos in a store
Learn how to take authentic brand photos in a store. 6 tips for influencers and bloggers when taking sponsored brand photos in a grocery store, clothing store, or out shopping anywhere!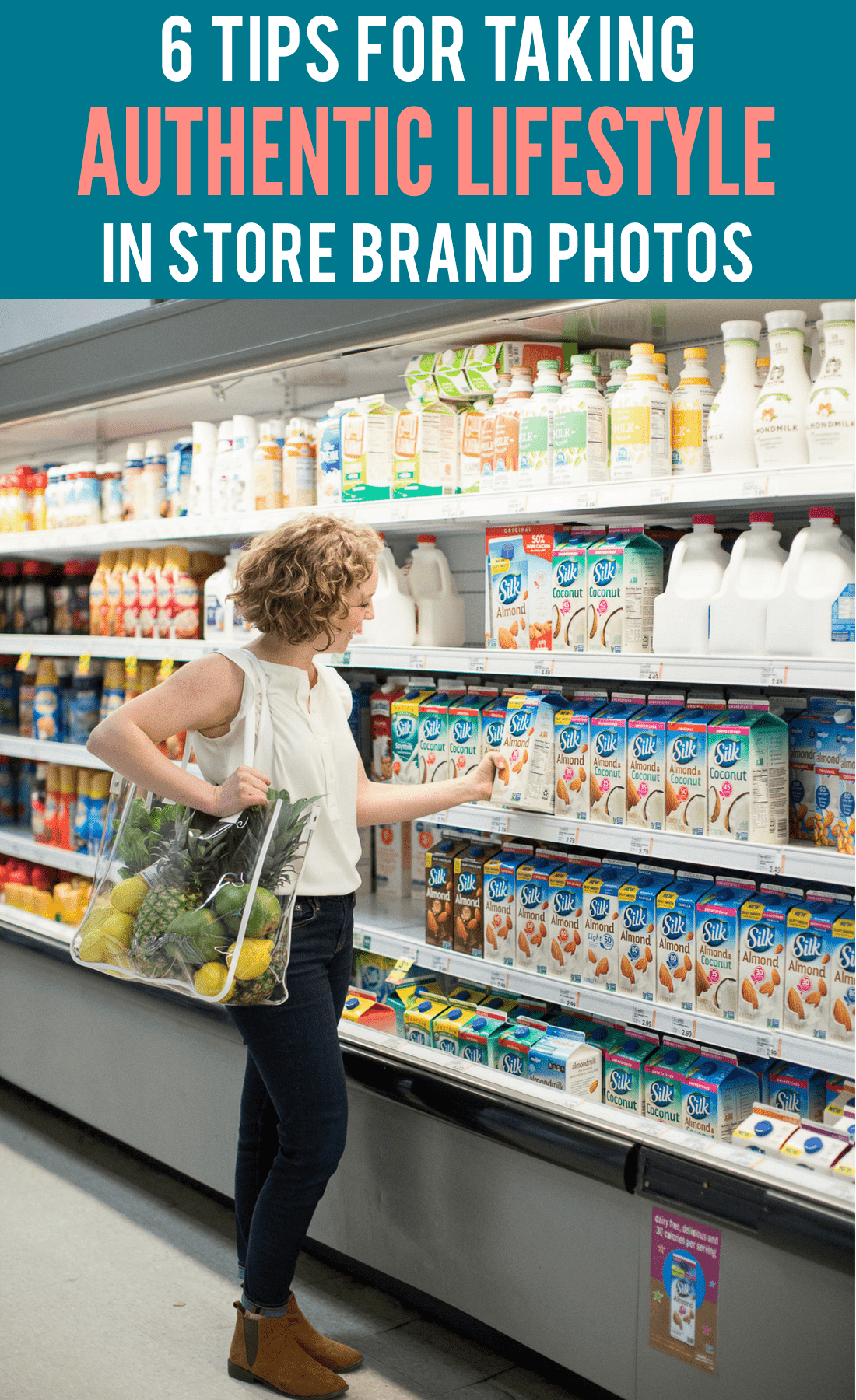 As a blogger and influencer, one of the most requested items from brands when partnering together is to include a photo of the product we're showcasing in our blog post.
And it makes sense. If I were a brand paying an influencer to showcase a product, I would want a photo of the product to be included. How else are customers going to know what the product looks like or what they should be looking for when they are out shopping?
Each brand has a different approach on this, but it's definitely a standard in the influencer industry.
As a blogger/influencer, how you include that product image and the quality of the image makes a huge difference.
I've been guilty of including some not so great product images within my posts. And that's okay! We can't learn unless we make mistakes.
But it's what we do with new knowledge and insight that's important.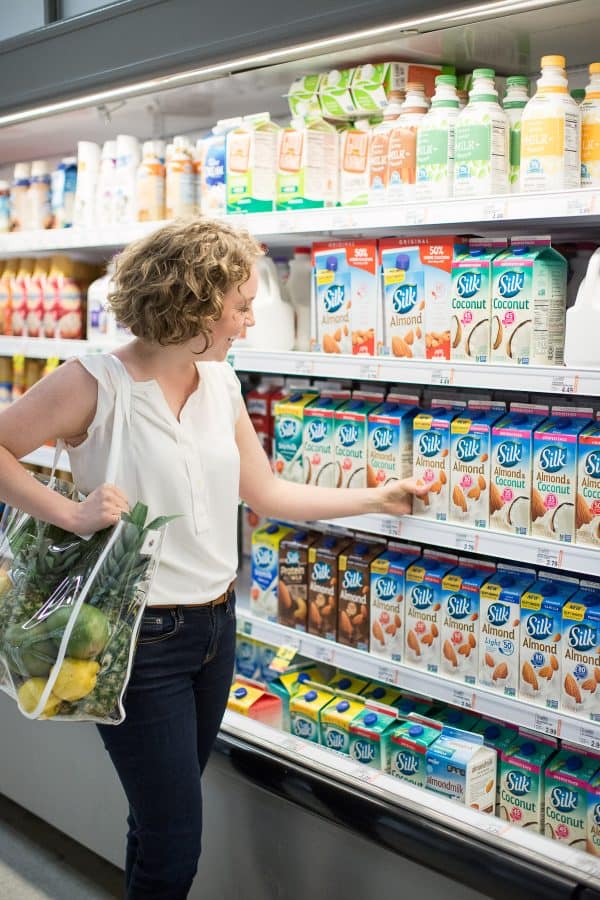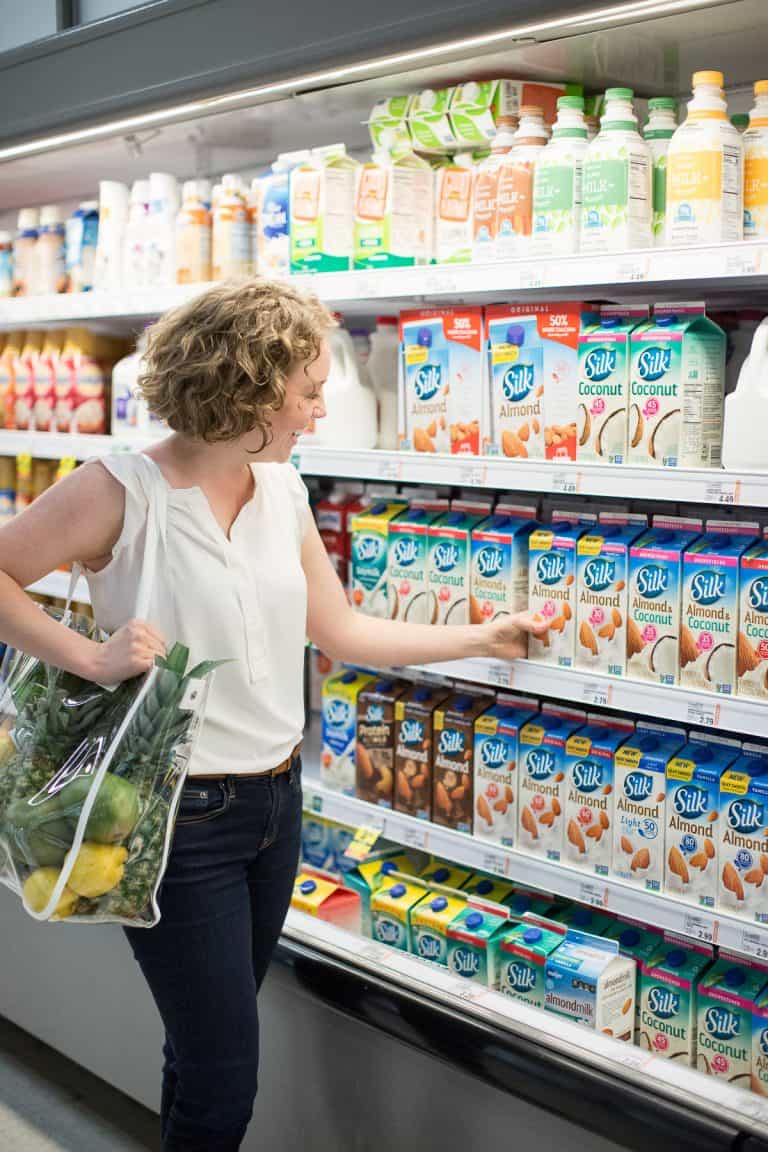 As the influencer industry develops, the standards for brand product photos are changing. More and more brands are leaning towards lifestyle brand photos. They are more effective and appealing to readers, but they can be more work for the influencer. And sometimes influencers are unsure how to highlight a product through a lifestyle lens.
Admittedly, It can feel a little awkward, but it becomes more natural each time. So we're here to give you some tips so you can take authentic lifestyle photos featuring a brand product!
More specifically, we're talking about how to take authentic sponsored photos in a store where you (the influencer) are in the photo. This could be a grocery store, clothing store, shoe store, etc.
Our example images are in a grocery store, but the principles apply to any store.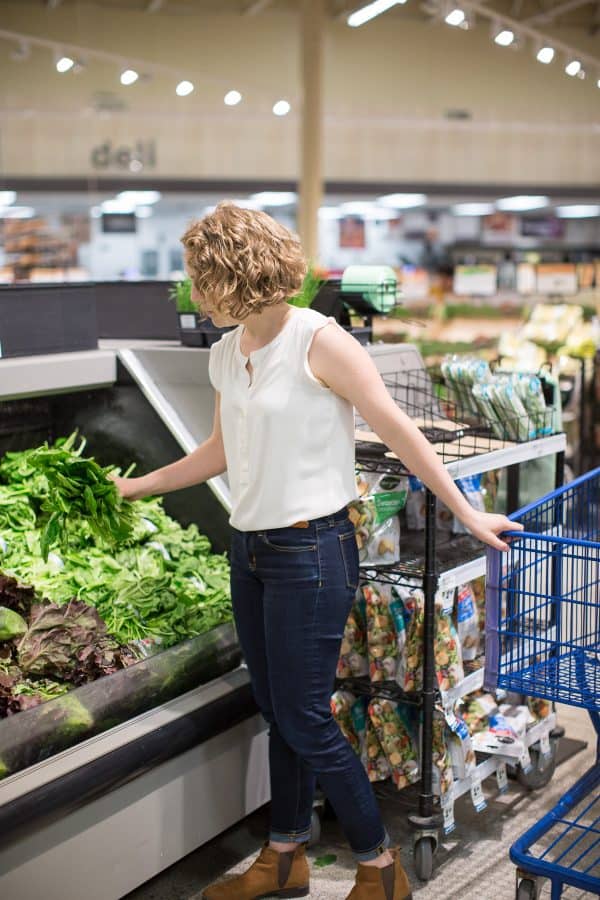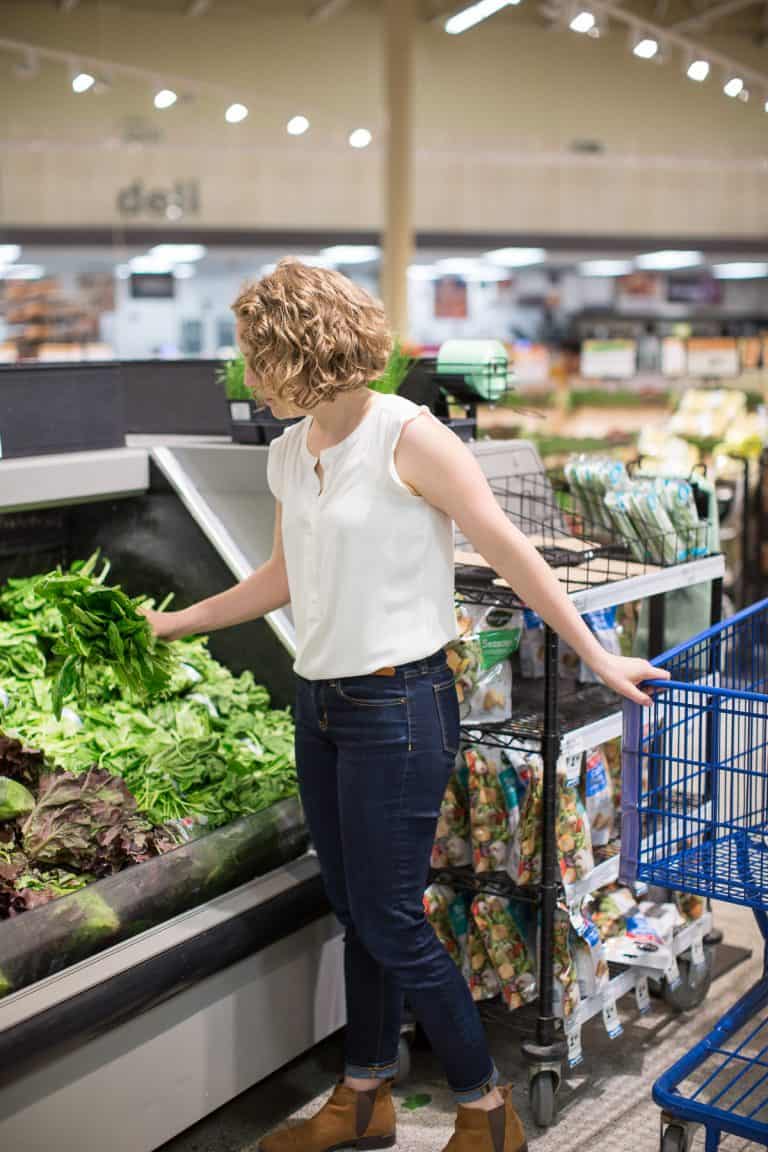 Tip #1 for how to take authentic brand photos in a store – Hire a photographer.
As bloggers and influencers we are photographers, so sometimes we feel silly hiring someone else to help us, but it will be way easier for you to focus on being in the photo and let someone else be behind the camera.
You might be thinking, I'll set up the shot and just have my spouse take the photos.
That's putting a lot of pressure (and work) on yourself! Not to mention the time involved going back and forth to check the photos and the settings on the camera and setting up the shot.
Portrait photographers take pictures of people all the time. They are experienced in shooting in various settings, including under weird store florescent lighting, which will most typically be the conditions inside a store.
Photographers can also adjust quickly to get a better (or different) angle. And they will be more aware of how you should position your body so you don't have a double chin. My photographer would remind me to tilt my head the other direction to avoid that dreaded double chin or slightly turn my body toward the camera. They have a trained eye!
If a brand is asking for lifestyle brand product photos, build that into your price. You won't regret hiring an experienced photographer.
Tip #2 for how to take authentic brand photos in a store – Consider your clothing.
Visit your shooting location in advance. See what colors are their and in the background. Maybe even bring several shirts along and see what one looks best in that space.
In preparing for my in store photo shoot, I did a quick pinterest and google search to see what people were wearing during in-store photos and I took notes of the outfits I liked.
Also consider the brand when selecting your outfit. What's their vibe? Happy, silly, modern, goofy, serious, business? Pick an outfit that aligns.
Remember, you want the attention to be on the product you are highlighting, so even though aqua is your favorite color, it might pull the audience's attention in the wrong direction. When in doubt – go with a neutral color.
I chose a cream colored top and blue jeans. I wanted my outfit to look crisp and casual. I also considered what shoes to wear, just in case there were in the photographs.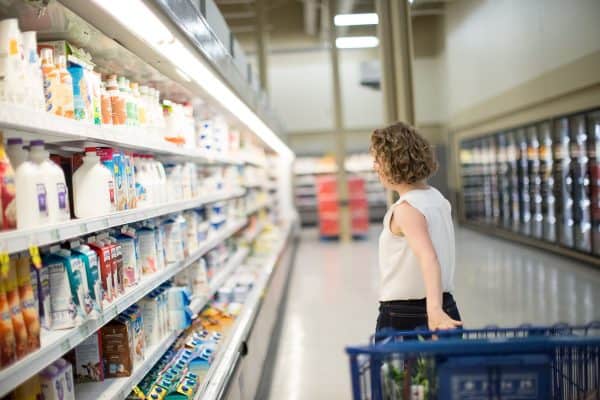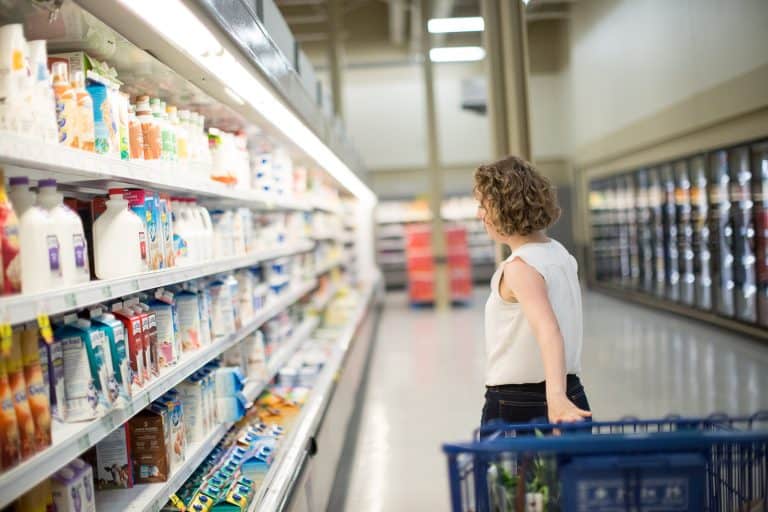 Tip #3 for how to take authentic brand photos in a store – Consider additional accessories.
Is there an accessory that will help enhance the lifestyle vibe of the photos?
For example, I chose to include a clear tote bag in my photos. And it really served 2 purposes.
First, it's a natural accessory that you'd see in a grocery store setting. Be sure to consider if the accessory would be common in that setting. You don't want to include something that doesn't fit within the scene.
Second, the clear tote bag helped tell the story of this grocery shopping trip because it shows the audience what else was going in the recipe. These in store photos were taken in conjunction with this green machine popsicle recipe so I added ingredients to the clear tote bag that actually go in the recipe.
Some additional examples:
If you're taking photos inside a shoe store highlighting a certain type of running shoe, you could bring along a water bottle. Or a cinch bag (drawstring backpack) from the same brand of shoe you're showcasing.
If you're highlighting a certain make up brand, grab some brushes or another item that fits within the theme.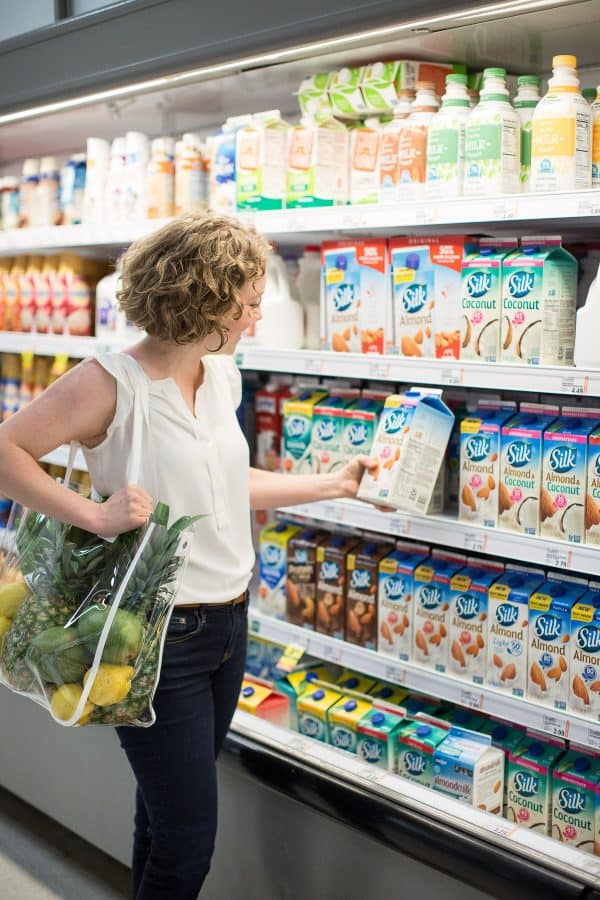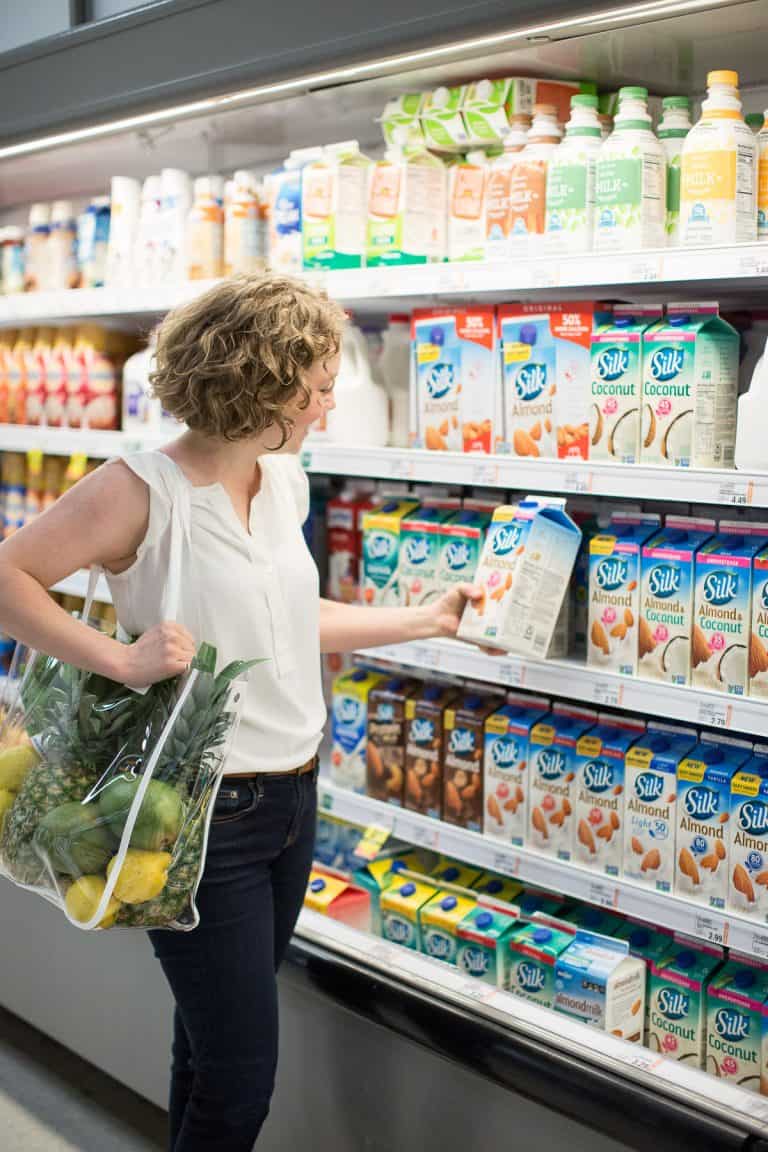 Tip #3 for how to take authentic brand photos in a store – Go to the store during an off-peak time.
The store won't be as crowded so you won't have to worry about having as many people make strange faces at you. And you won't have to worry about people in the background of your photos or being in their way.
Be considerate to the shoppers. There were a few times when shoppers were looking at the product we were taking photos with, so the photographer and I would step aside and let them grab the item they needed.
We purposely planned our grocery store photoshoot for 9:30pm. I felt a lot more comfortable because there weren't as many people around AND we didn't have shoppers accidentally photo-bombing the photos!
Tip #4 for how to take authentic brand photos in a store
Rearrange the product in the store so you can get the best photo. Be sure to put it back in it's spot once you are done.
The product I was showcasing was actually on the lower shelf, so we rearranged it on higher shelves, making sure it was visible for the photos and that no competitor brands were visible.
Don't be afraid to do what you have to do to get the best photo!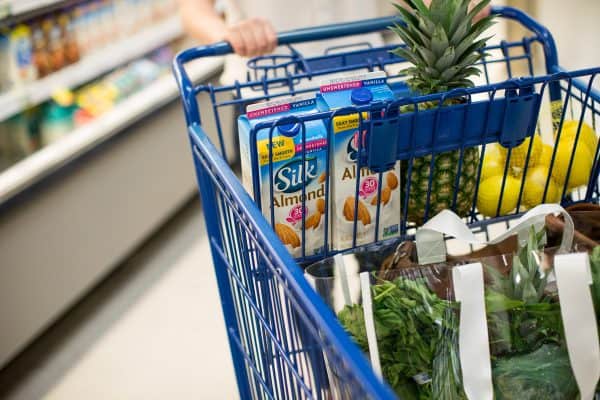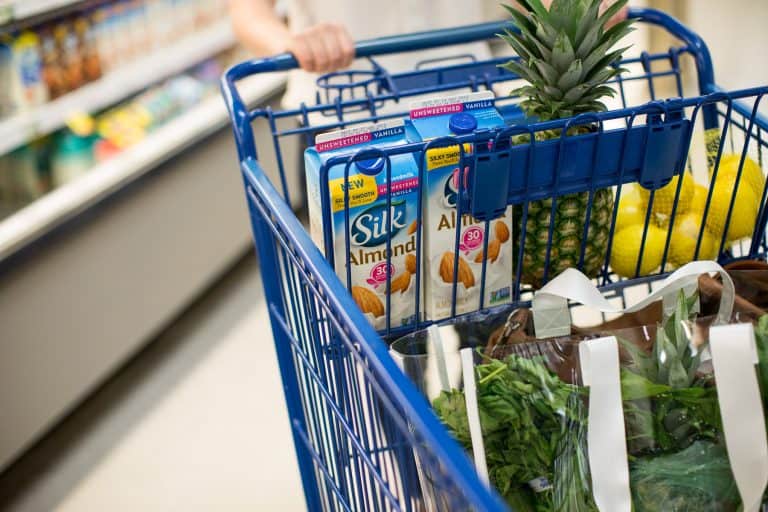 Tip #5 for how to take authentic brand photos in a store – Tell a story with your photos.
The story for my photos was a grocery shopping trip were I was picking up ingredients for a recipe. So not only did I include photos of me with the sponsored product, but also photos of me picking out the other ingredients I needed for the recipe.
Let's go back to the shoe store example where you're highlighting a certain brand of shoe. You could include photos of you selecting the shoe box, opening the box, trying the shoe on, a photo with both shoes on, a photo of you carrying the box to the check out, a photo of you laughing or having a good time while the cashier is checking you out.
People resonate with and remember stories.
Tip #6 for how to take authentic brand photos in a store – Laugh and have a good time!
Actually smile and laugh in your photos – it draws people in!
I felt awkward initially, so it was really helpful having another person (my photographer) along. I also got lucky that she's a friend, so she helped me feel more comfortable. By the end we were laughing and having a good time!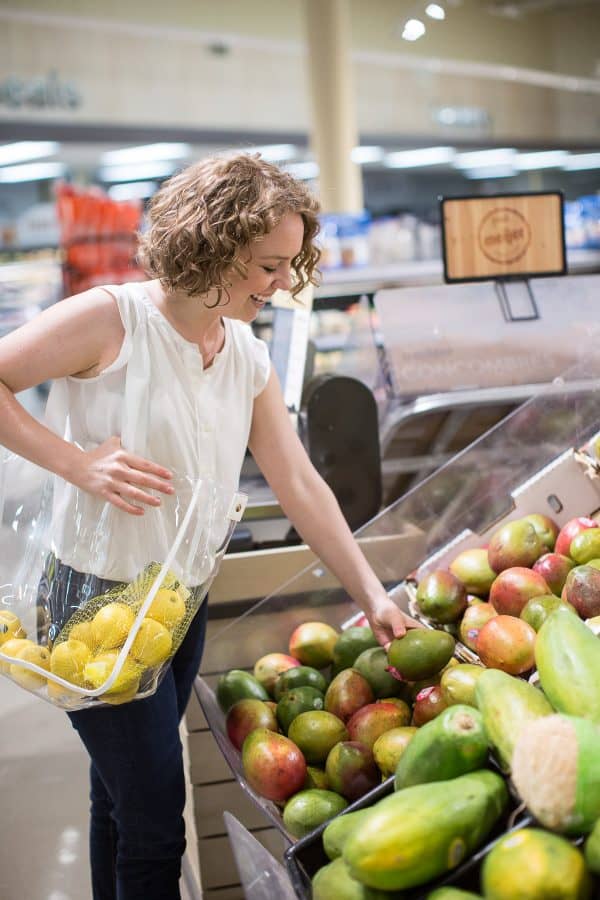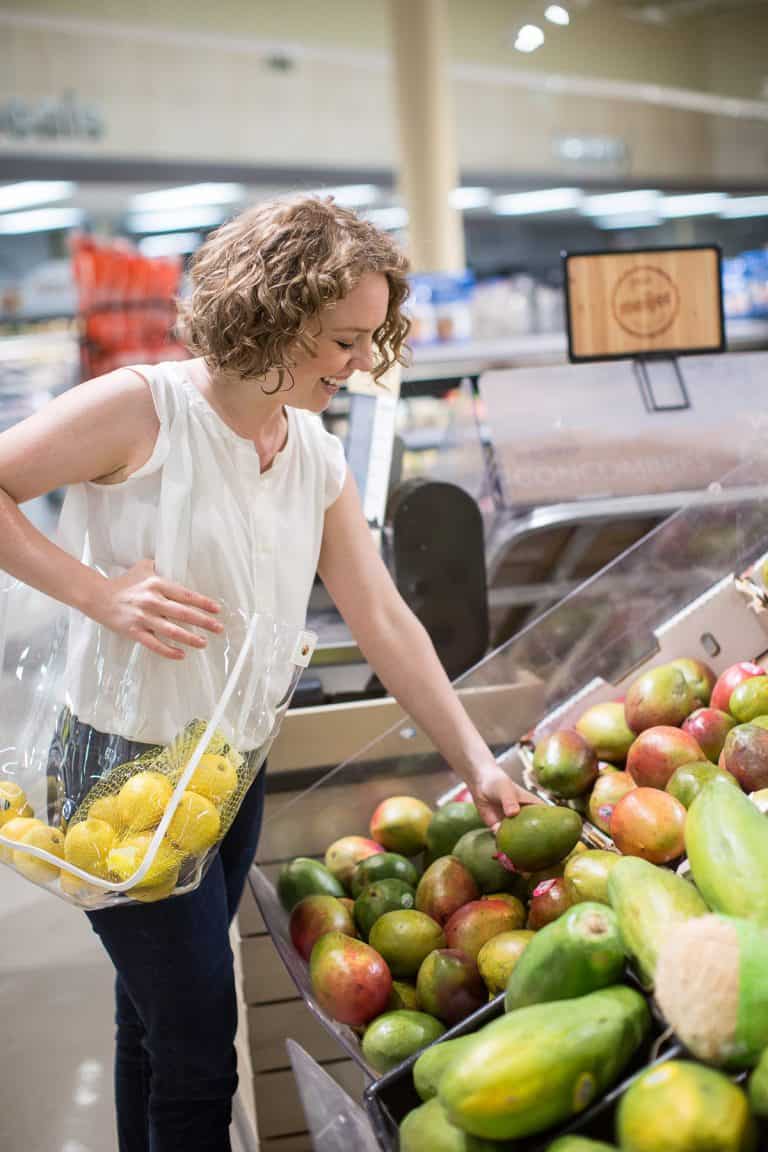 We created a pinterest board with more examples of authentic in store influencer photos!
Now you're ready to take amazing sponsored photos!