Caramel Macchiato Mud Cake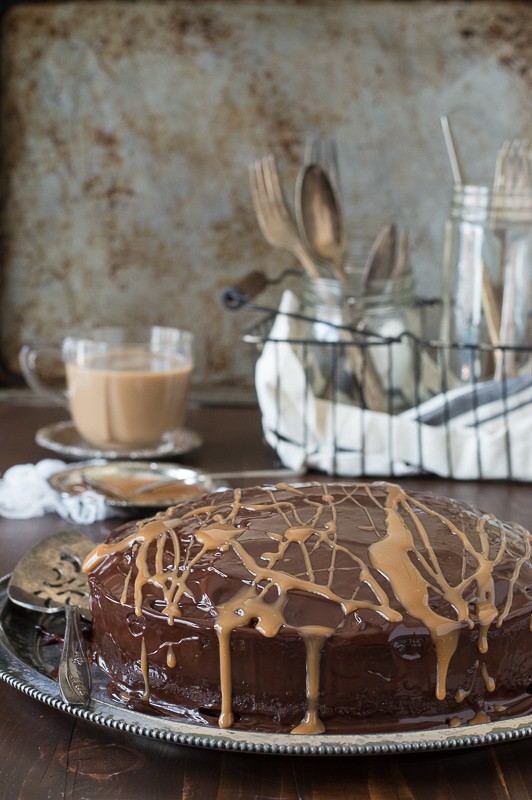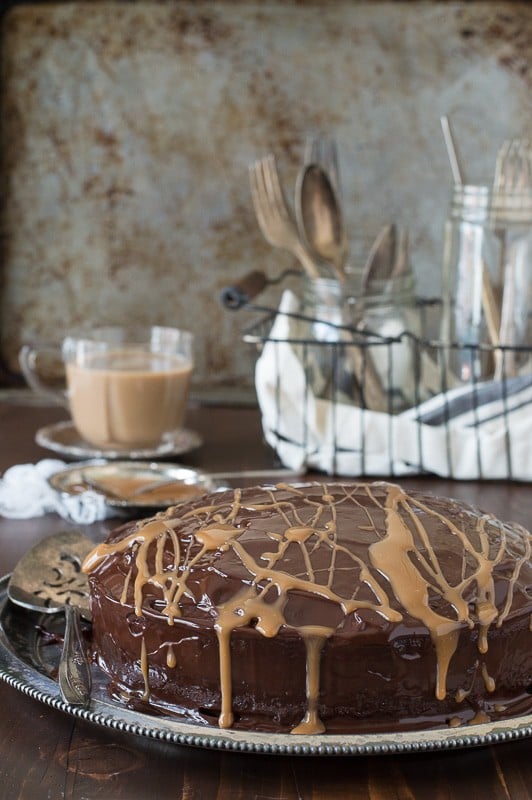 Today is a good day because we're serving up mud cake at my house! No I didn't let the kids throw mud into a cake pan and decide to call it mud cake. ..we don't even have kids, so that definitely didn't happen.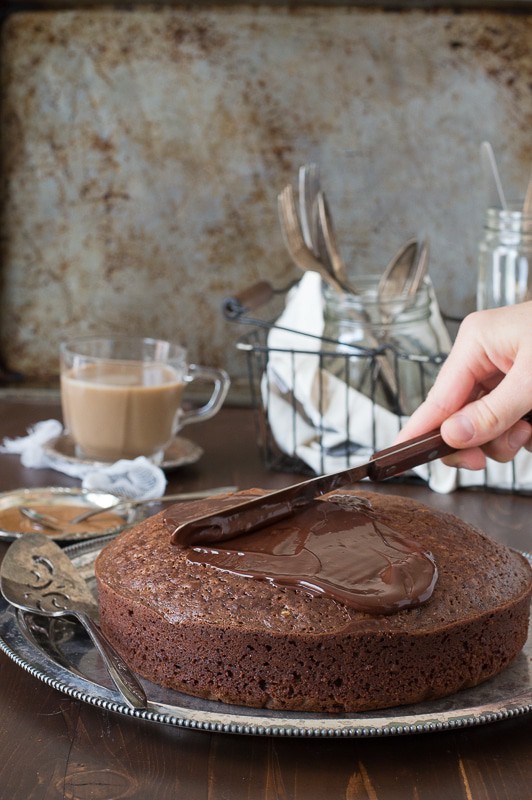 But I'll tell you what I did mix up and put into this pan – a whole lotta chocolate, butter, and coffee!!
I like to think that those ingredients are God's 3 best gifts to any baker. Except if it was fall, pumpkin would be added to that list. There are other ingredients in this cake, but who gets excited over flour and eggs? Not me, at least not when there's chocolate involved!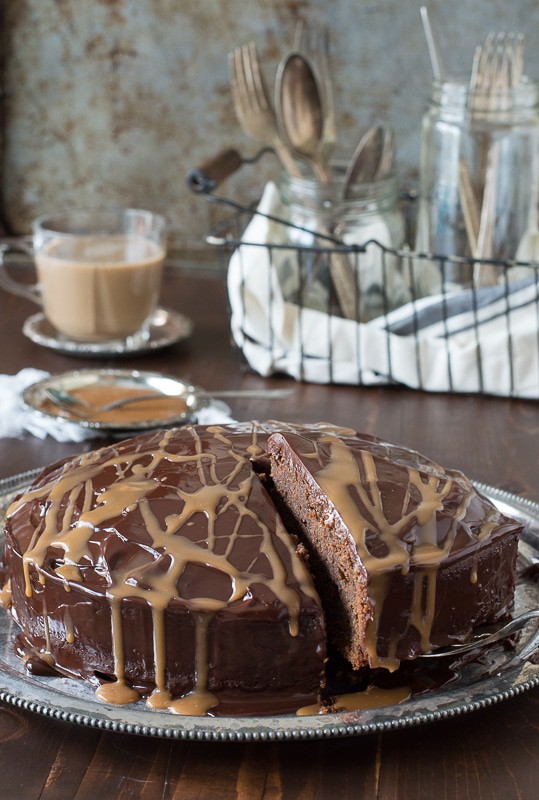 So what is a mud cake? It's dense, it's fudgy, it's chocolately, it's moist. A mud cake is usually frosted with melted chocolate and it's just dreamy. Take my word for it.
I like other kinds of cake, but this mud cake.. it's presence in the house was dangerous. Normally I share my cakes with neighbors and friends, but not this one. Is it bad to say it was too good to give away? I've already made plans to make it again and that says a lot because when you're a food blogger you never get to make the same thing twice.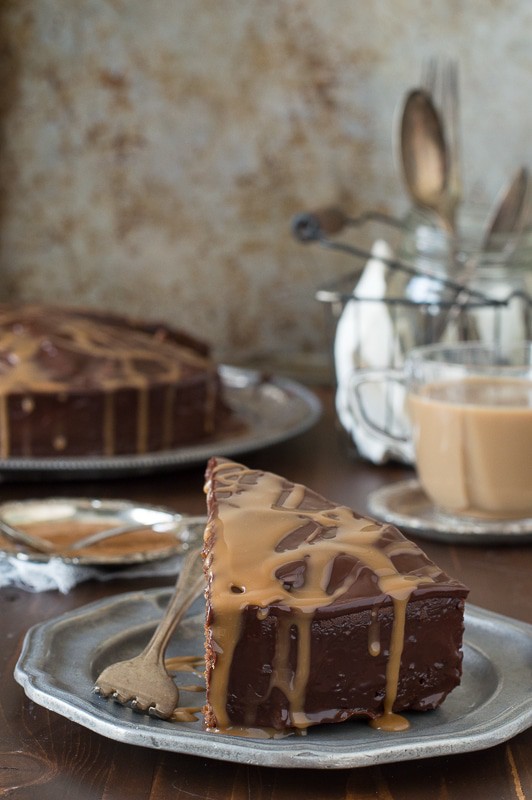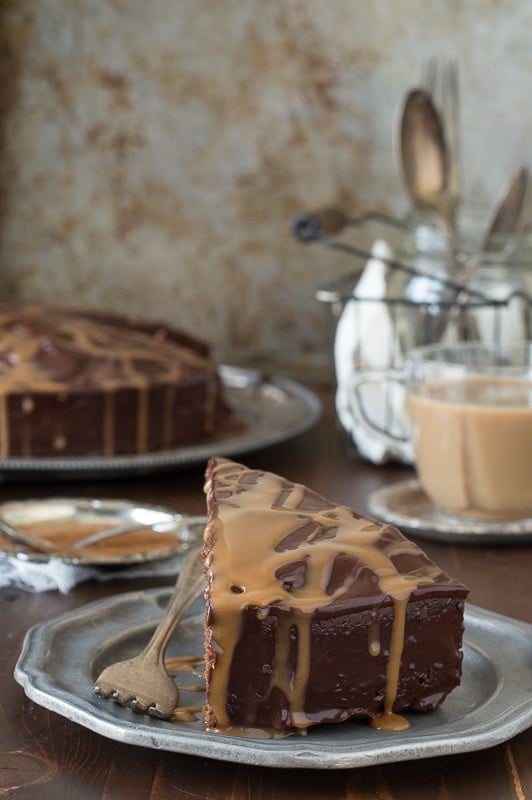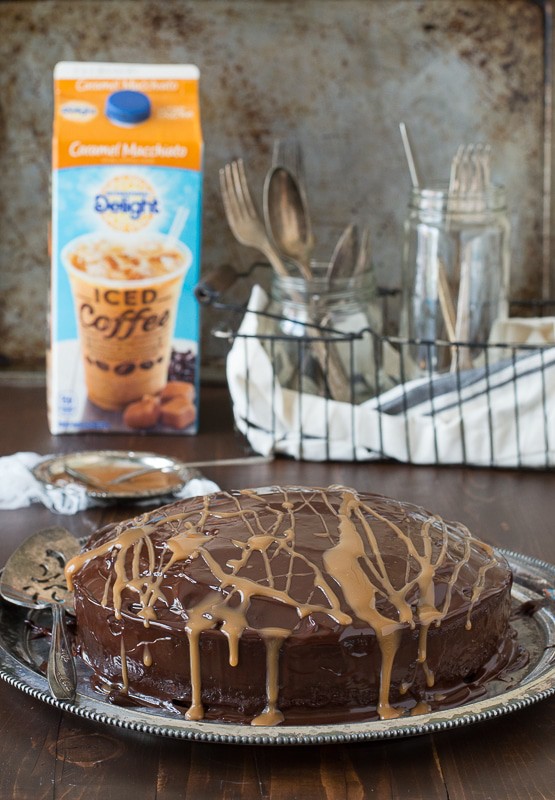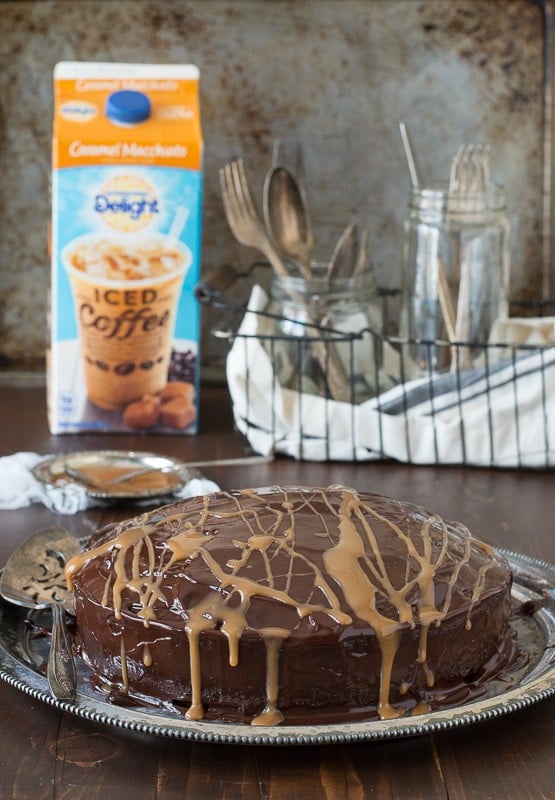 Our mud cake uses International Delight Caramel Macchiato Iced Coffee. It's so good I don't need to go to the drive thru at Starbuck's anymore.
This conversation is sponsored by International Delight. The opinions and text are all mine.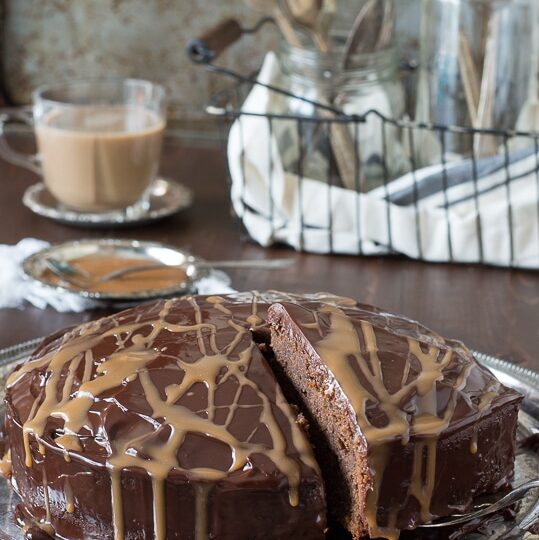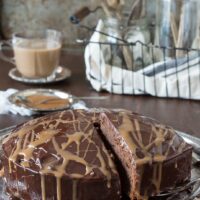 Caramel Macchiato Mud Cake
Ingredients
For the cake
4 oz bittersweet chocolate, chopped
2 stick butter, diced
1 & 1/2 cups sugar
1 cup International Delight Caramel Macchiato Iced Coffee
1 & 1/2 tbsp instant coffee granules
2 eggs
2 cups all purpose flour
3/4 tsp baking powder
1/8 tsp salt
2 tbsp unsweetened cocoa powder
For the frosting
3 oz bittersweet chocolate, chopped
1/3 cup heavy whipping cream
Caramel sauce
Instructions
Preheat the oven to 325º F. Butter the bottom and sides of an 8 inch round cake pan or springform pan. Line the bottom with a parchment paper circle.
In the medium pot over low heat, combine the chocolate, butter, sugar, International Delight Iced Coffee, and coffee granules. Stir occasionally until everything is melted and smooth. Remove the pot from the heat and allow it to cool for 10 minutes.
In the same pot, beat in the eggs.
Next, sift in the flour, baking powder, salt, and cocoa powdered. Fold the mixture in gently. Pour the batter into the prepared pan. Bake for 90 minutes or until a toothpick inserted in the middle comes out clean. Allow the cake to cool in the pan for 30 minutes, then transfer the cake to a cooling rack to cool.
To make the frosting, in a small saucepan over low heat combine the chocolate and heavy cream. Stir the mixture until it's melted. Spread the frosting over the cake. Drizzle the cake with caramel sauce.