Boo Pudding Parfaits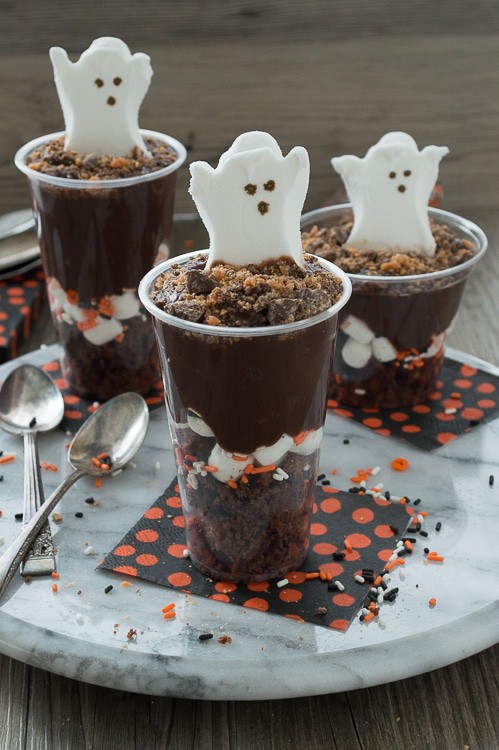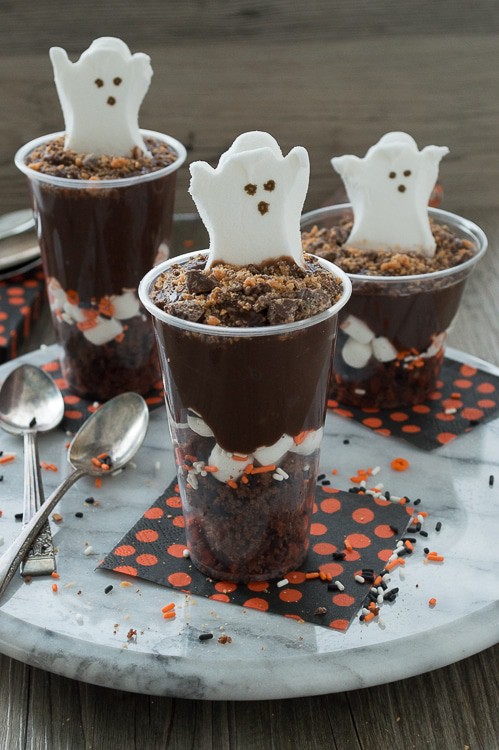 I have a new idea, I think you're going to like it if you love Halloween as much as I do. Every Friday during the month of October, everyone dresses up and wears a costume to work, school or where ever you go. And then on Friday night you and all your friends, family and neighbors attend your neighborhood October party. We'd all bring halloween themed goodies, go on hay rides and crave pumpkins in preparation for Halloween. All I can think is, HOW MUCH FUN!! It totally reminds me of the movie Halloween Town.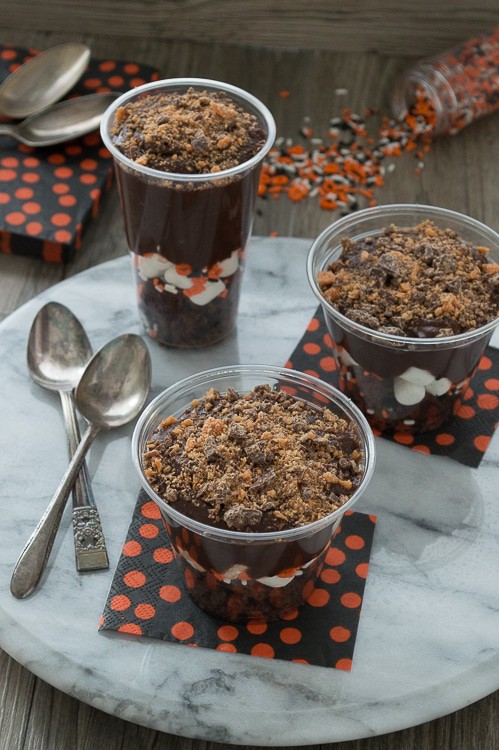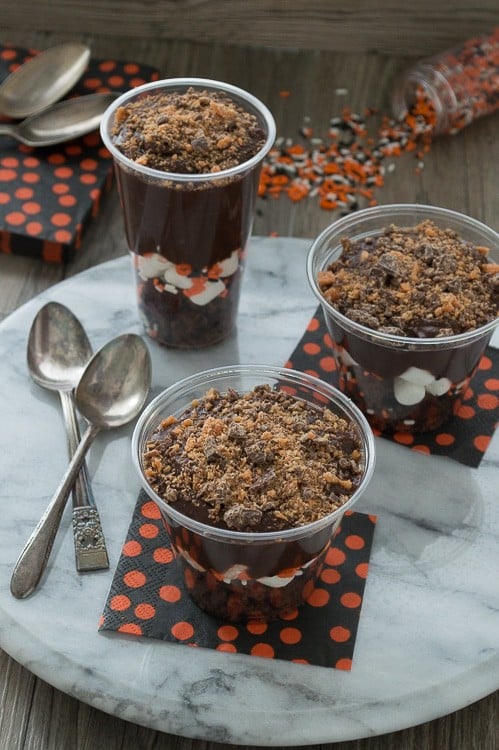 If you enjoy halloween, you can probably relate to the feeling of excitement I experience when I walk down the halloween aisle in Walmart. Candy upon candy, decorations everywhere and lots of orange and black. It makes me want to dance down the aisle. Weird? I hope not.
While I was at Walmart, I picked up some of our favorite Nestle candy like Butterfinger, Nestle Crunch, and Baby Ruth to make these parfaits and a super fun vampire themed tombstone original pizza. My husband said it was "fang-tastic!" Get it? :)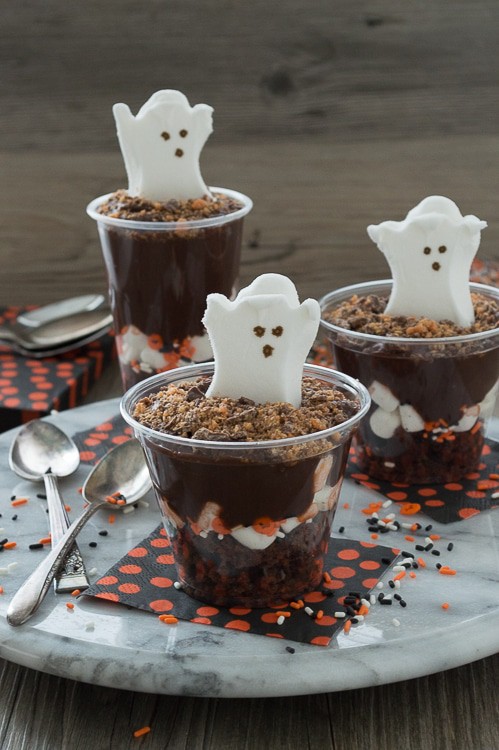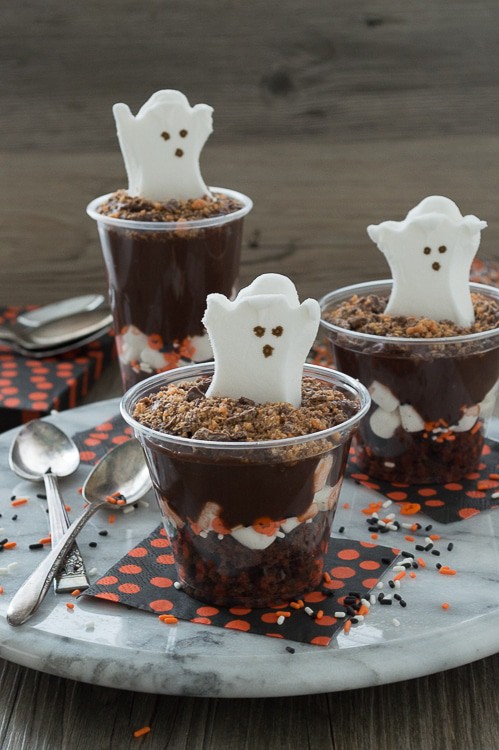 I love pudding parfaits because they are easy and fun to create, and not to mention tasty! Adding a theme can make them extra special for any holiday. While I wish these parfaits could somehow help you sneak extra broccoli florets or green beans into your kiddos' diets, this recipe could become a special halloween tradition for your family to make each season! While parents are always looking for recipes to help use up leftover halloween candy (we have a few of those we'll be sharing!) it can be fun to break open that bag of halloween candy you're hiding in the garage or laundry room and celebrate before Halloween. October is just too great of a month to only celebrate on October 31st.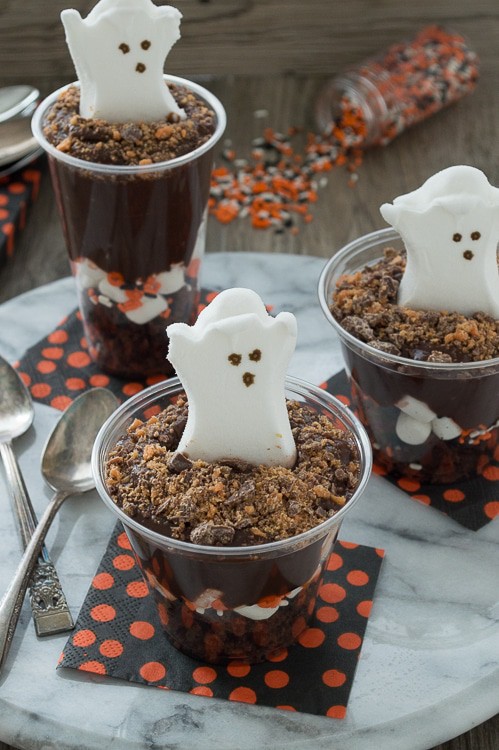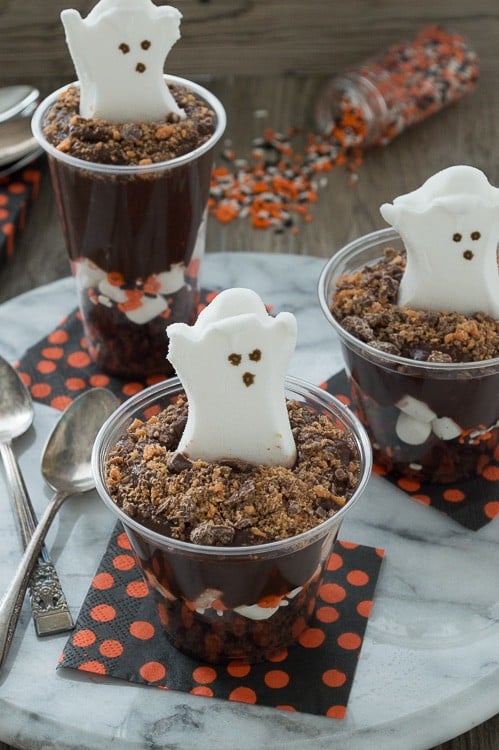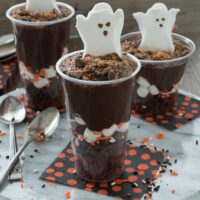 Boo Pudding Parfaits
Yield: 4-6 parfaits
Inactive Time: 30 minutes
Total Time: 30 minutes
Ingredients
Nestle Jumbo Variety Bag of mini halloween candy (Butterfinger, Crunch, Baby Ruth) chopped finely
Brownie pieces
Marshmallows
Chocolate pudding, prepare ahead of time
Halloween sprinkles
Marshmallow ghosts
Instructions
Prepare the pudding as directed on the box, and let it refrigerate until it's set. Finely chop the Nestle halloween candy, set aside. To assemble the parfaits, begin to layer the ingredients in a glass or cup. Add in the brownie pieces, a small handful of marshmallows, halloween sprinkles and fill the rest of the glass with pudding. Top the parfait with the chopped Nestle candy pieces and a marshmallow ghost. The amount of each item will depend on how many you plan to make. One standard size box of pudding mix will make about 4-6 parfaits.