Black Forest Icebox Cake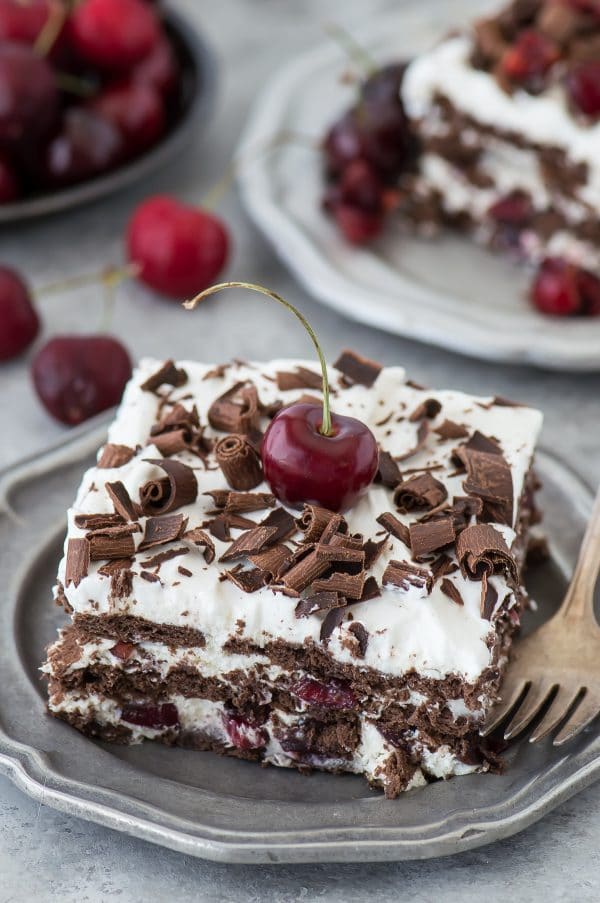 Black Forest Icebox Cake recipe with 5 easy ingredients including real cherries!
Now that the 4th of July has passed, summer's over.
Don't make fun of me! This is what my mind thinks!
As a food blogger, a lot of my recipes revolve around holidays and seasons and I feel like I've been posting summer recipes for 9 weeks now!
Plus we are having some dreary, abnormally cold weather here and all I want to do is bundle up! I am majorly resisting the urge to start planning fall recipes. We have 8 weeks until September so I'll have to find some summer inspiration because I will not post pumpkin recipes until at least September.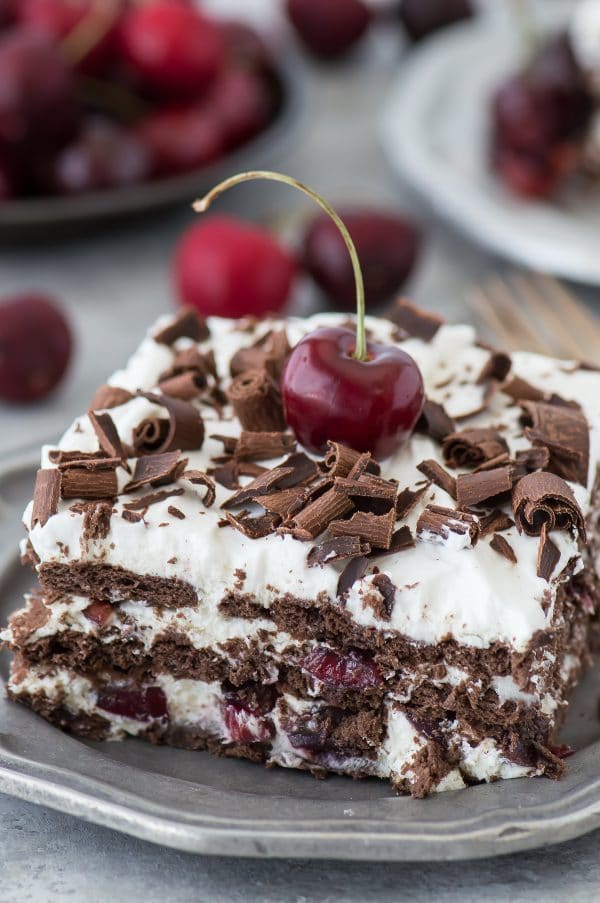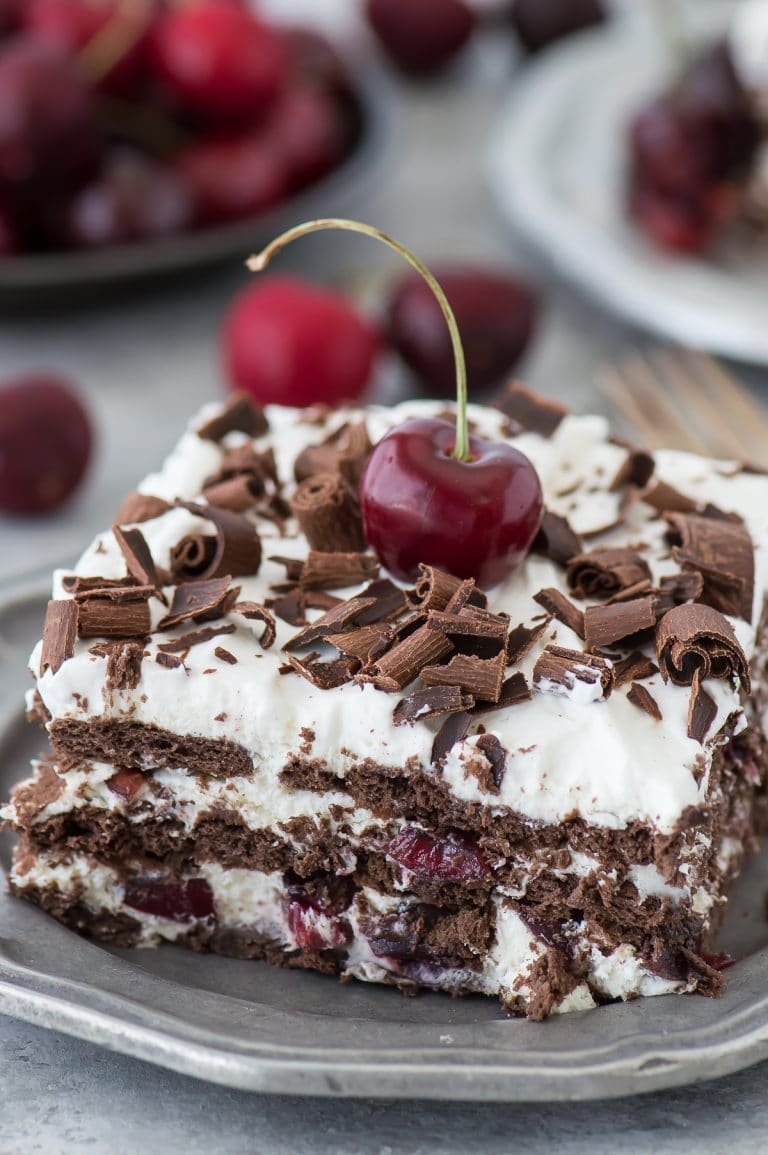 I'm not one of those people who love seeing back to school stuff in July or Christmas decorations in October. There is no reason to rush from one holiday to the next! There will be plenty of time to enjoy all things pumpkin later.
So I better take my own advice and enjoy all of summer's goodness now!
No bake recipes are popular during the summer because we're all probably breaking out in a sweat just thinking about turning the oven on.
Plus no bake recipes usually call for an easy ingredient list! #winning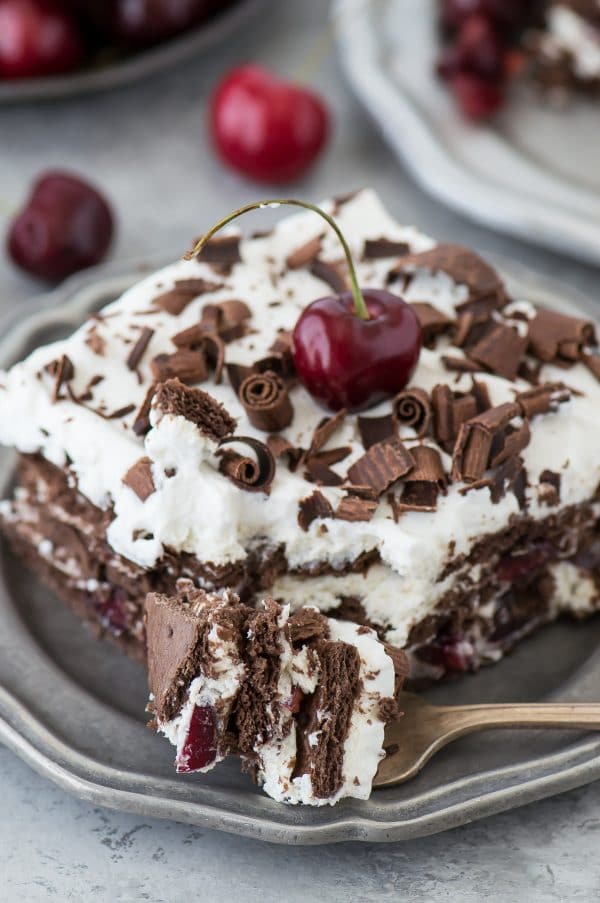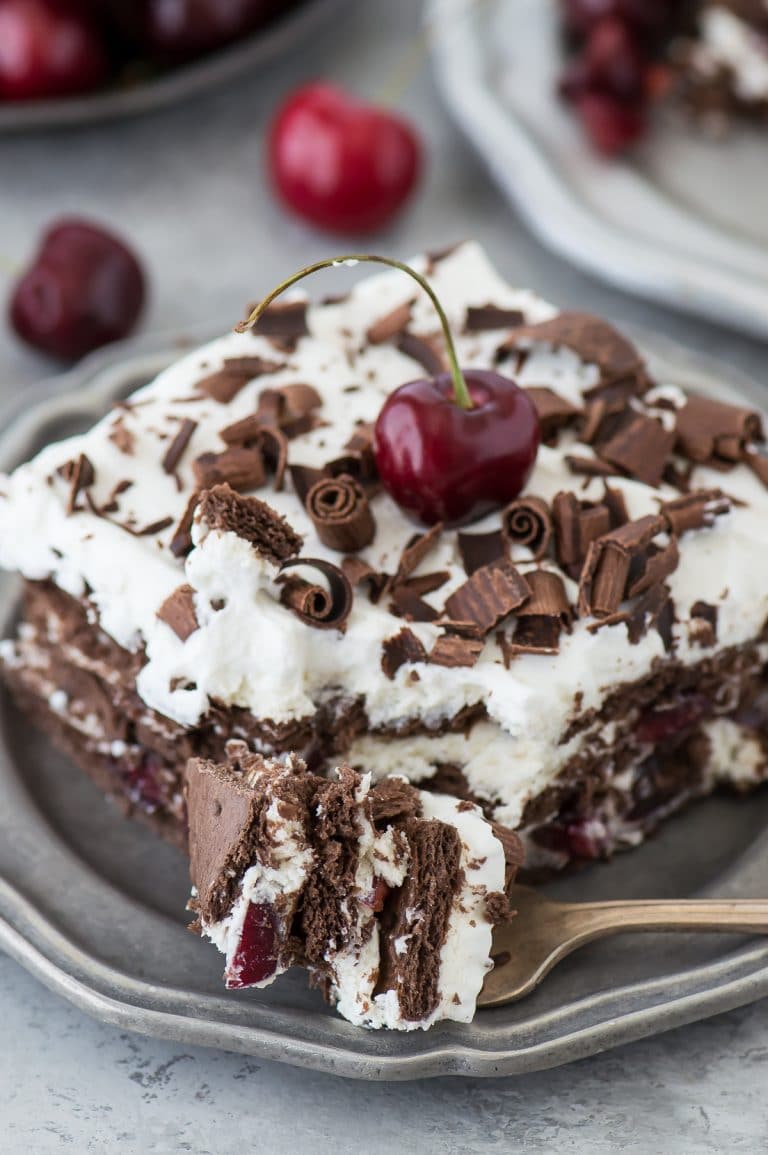 To get me (and whoever needs it!) back into the summertime groove we're sharing our first ever ICEBOX CAKE!
The basics of an icebox cake consist of cookies/graham crackers/wafers, some type of filling, and fruit/chocolate/garnishes/etc.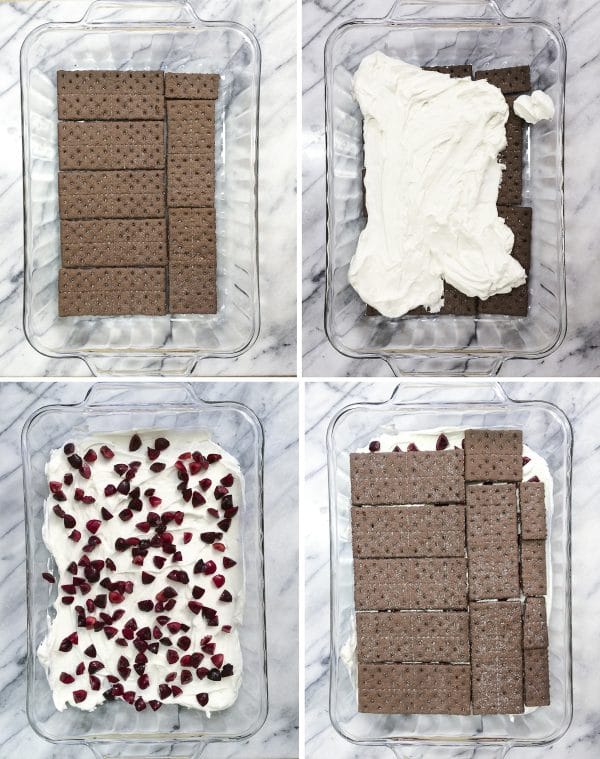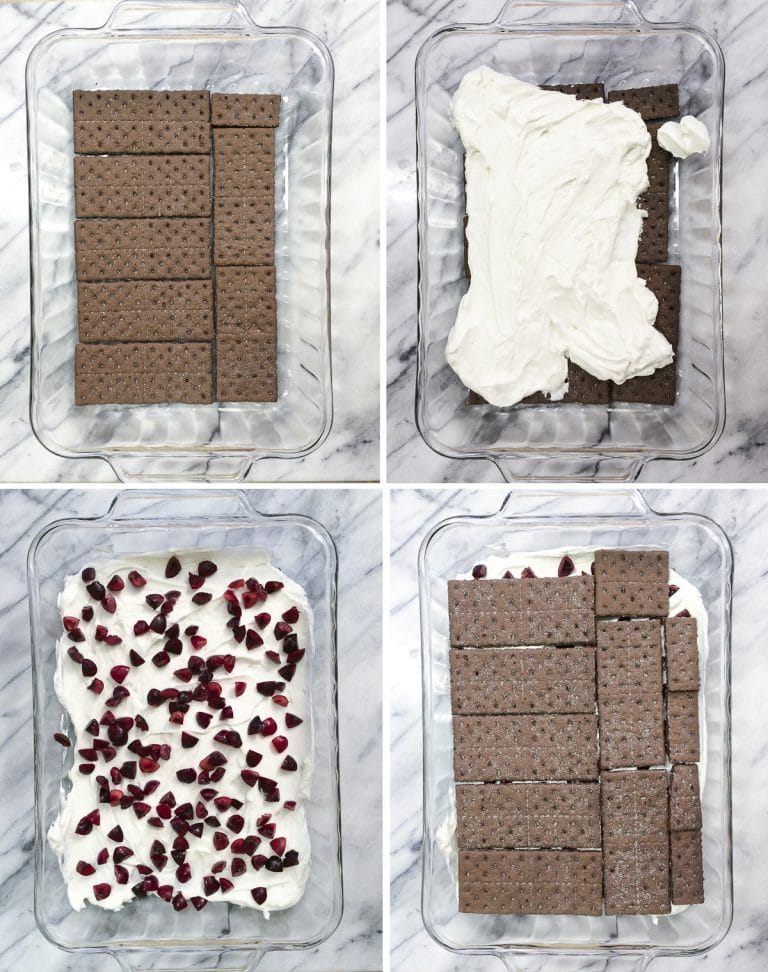 Using a 9×13 inch pan, lay down the first layer of chocolate graham crackers. You may need to break some of the crackers to get the pieces to fit, but your goal is to cover the container bottom of the pan with crackers.
Then spread half of the filling over the graham crackers. Add chopped cherries. Repeat. Graham crackers, filling, cherries, graham crackers. You'll top the icebox cake with whipped cream.
I added chocolate curls for good measure! I'll admit that I am not good at making chocolate curls. So I like to take the easy way – a bar of chocolate and a vegetable peeler. I heat the chocolate bar in the microwave for a few seconds so the chocolate is soft enough to form curls.
Once the icebox cake is assembled, cover and refrigerate for 4 hours (more time is fine!).
Then indulge in all of the black forest goodness!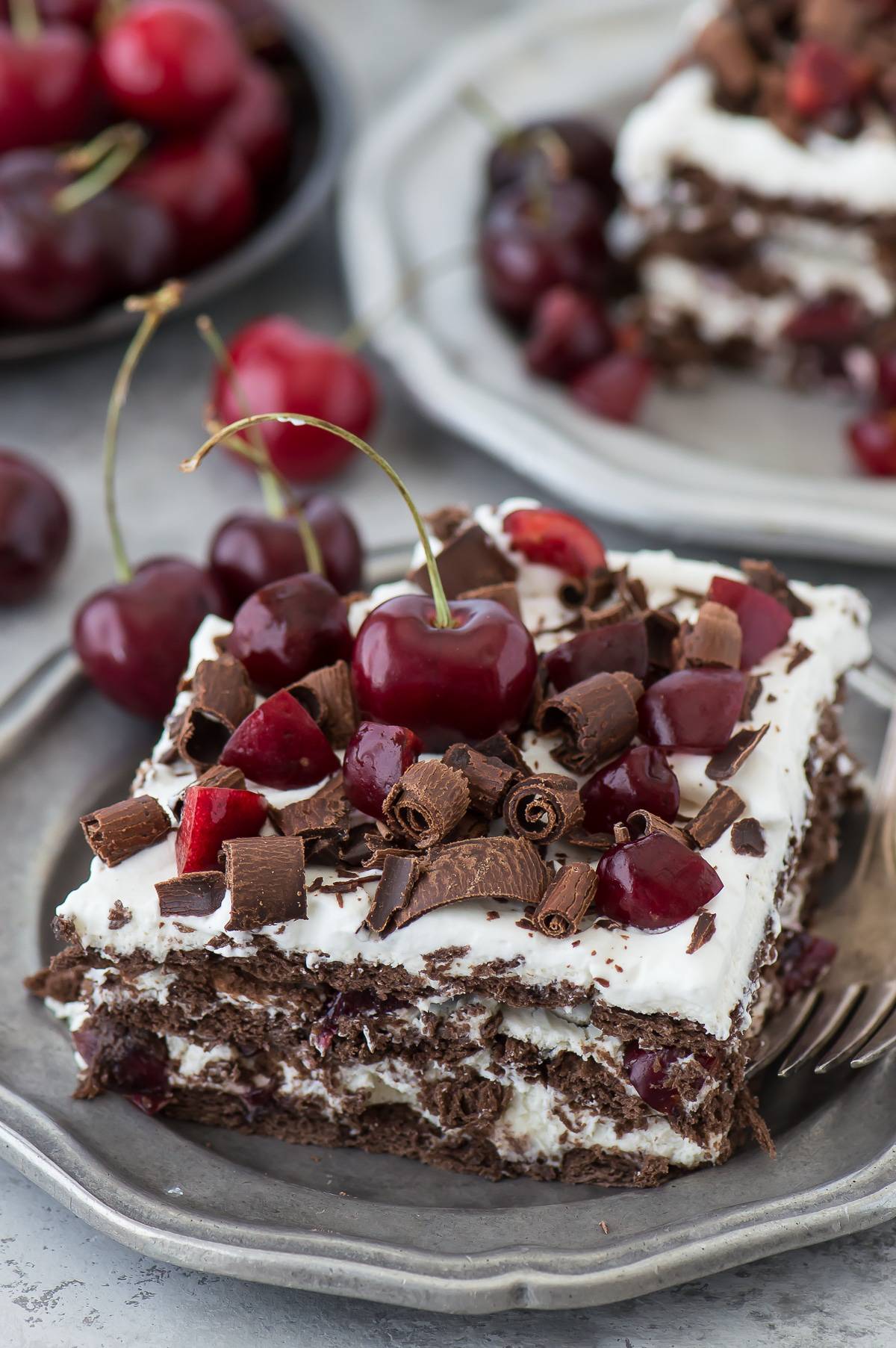 Black forest icebox cake video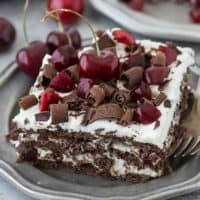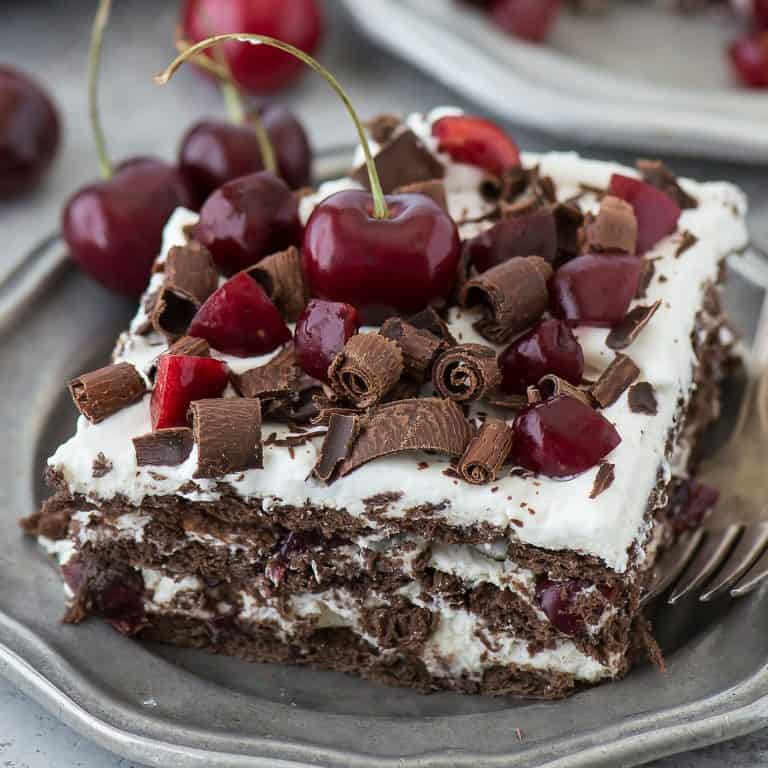 Black Forest Icebox Cake
5 easy ingredients, including fresh cherries, make up this classic icebox cake!
Print
Pin
Rate
Servings: 20 servings
Ingredients
Icebox Cake
1 box chocolate graham crackers 14.4 oz
1 pint heavy whipping cream 2 cups
8 oz cream cheese softened
½ cup powdered sugar
3 cups finely chopped cherries
Topping
1 cup heavy whipping cream
¼ cup powered sugar
Optional: chocolate curls chopped or whole cherries to garnish
Instructions
In a mixing bowl using an electric mixer, beat the cream cheese until fluffy, 1-2 minutes.

Pour in the heavy whipping cream (1 pint=2 cups) , beat the mixture until stiff peak forms, 4-6 minutes.

Add in 1/2 cup powdered sugar, beat one last time to incorporate.

Be sure to pit and finely chop at least 3 cups of cherries.

In a 9 x 13 inch pan, lay down a layer of chocolate graham crackers. You may need to break some of the crackers to get the pieces to fit.

On top of the first layer of crackers, spread 1/2 of the whipped cream mixture. Spread it evenly, covering all the crackers.

Add 1 & 1/2 cups chopped cherries on top of the whipped cream.

Repeat with next layer of chocolate graham crackers.

Add the other half of the whipped cream mixture, spreading it evenly.

Add 1 & 1/2 cups of chopped cherries.

Add the third and final layer of chocolate graham crackers.

Begin to make the topping for the icebox cake. In a mixing bowl, beat the 1 cup of heavy whipping cream and 1/4 cup powdered sugar until soft peaks form, 2-4 minutes.

Spread the topping over the chocolate graham crackers.

Cover the pan with a lid or tinfoil, refrigerate 4 hours.

Before serving garnish the cake with chocolate curls or chopped cherries if desired.
Video
Nutrition
Calories: 279kcal | Carbohydrates: 25g | Protein: 3g | Fat: 19g | Saturated Fat: 11g | Polyunsaturated Fat: 1g | Monounsaturated Fat: 6g | Cholesterol: 61mg | Sodium: 184mg | Potassium: 124mg | Fiber: 1g | Sugar: 12g | Vitamin A: 688IU | Vitamin C: 2mg | Calcium: 53mg | Iron: 1mg