White Chocolate Strawberry Scones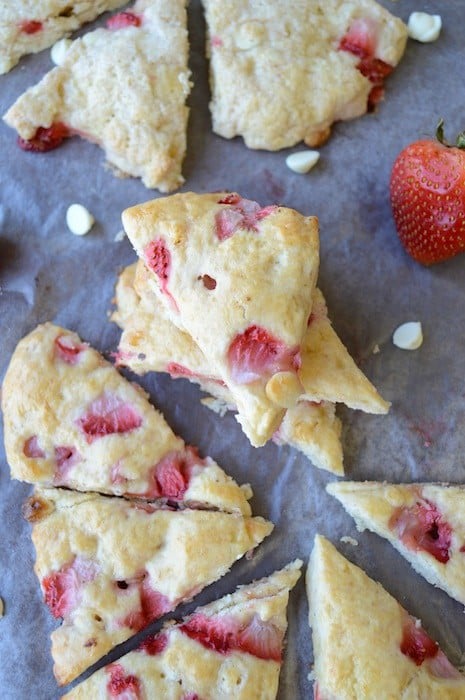 You make White Chocolate Strawberry Scones when the raspberries you intended to buy are ridiculously expensive and the strawberries are on sale.
That's what's great about fruit scones, you can swap in different fruit depending upon your preference and what's on sale.
Speaking of fruit, we went to the apple orchard this weekend with some friends from church!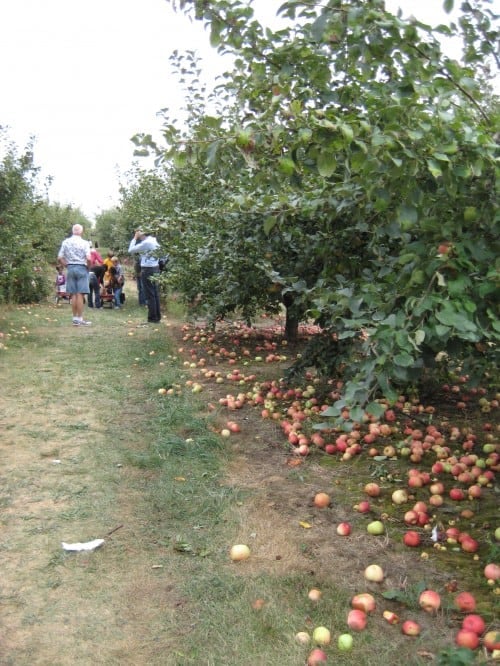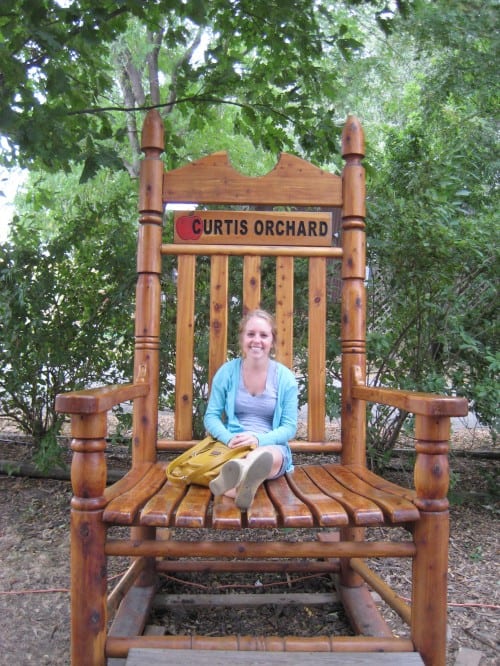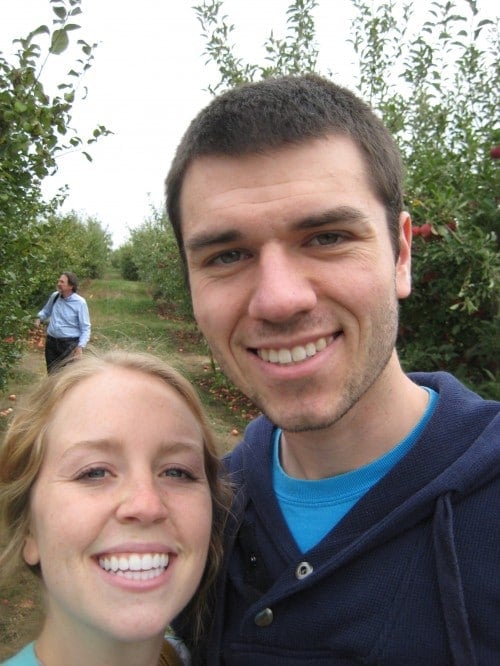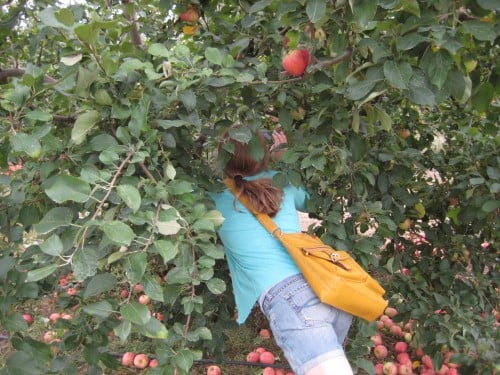 We got apple cider slushies and of course, tons of apples.
Maybe I could use this recipe to make White Chocolate Apple Scones.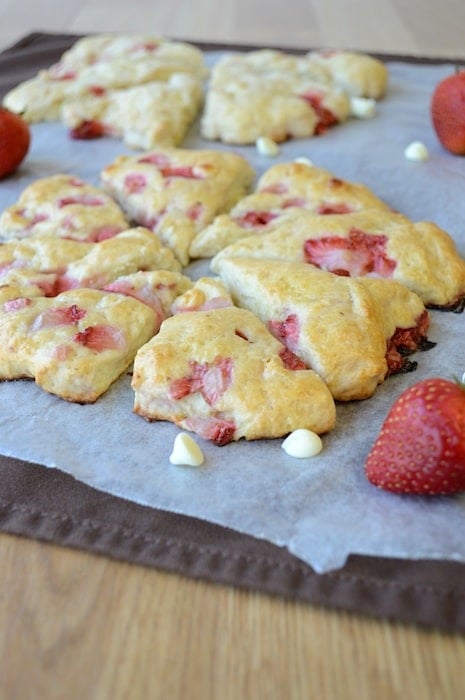 It makes sense because I love mini things (especially mini muffins) that I would make mini scones. If you want smaller scones, just make sure to use less dough when forming your dough circles.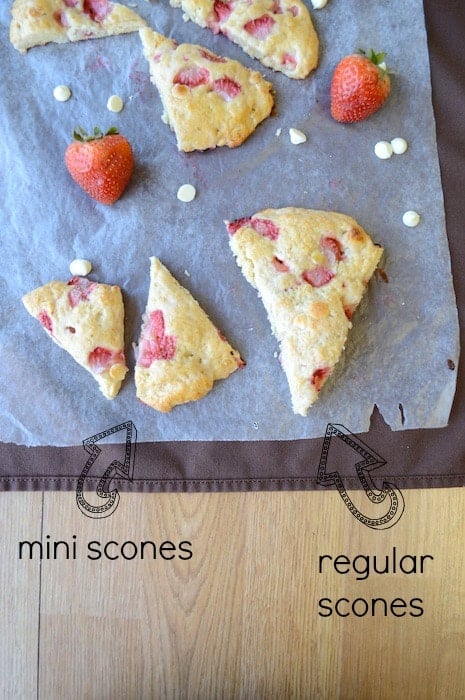 White Chocolate Strawberry Scones
Ingredients
2 cups all purpose flour
2 tbsp sugar
2 tsp baking powder
1/2 tsp salt
1/3 cup butter, softened
2 eggs
1/4 cup milk
1/2 cup chopped strawberries
1/2 cup white chocolate chips
1 tsp water
1 tbsp sugar
Instructions
Preheat the oven to 425 degrees F.
Place flour, sugar, baking powder, salt and butter in a bowl and mix until well blended.
Add one egg and milk; mix until soft. Fold in the strawberries.
Knead the dough slightly on a lightly floured surface, then pat the dough into a circle about 1/2 inch thick. The size of your circle will depend on how large you want your scones. I split my dough in half and used one half to make the "regular sized scones" and then split the other half in half again to make "mini sized scones".
Use a pizza cutter to cut into 8 wedges.
Place circles on a greased baking sheet (or use parchment paper/silpat).
Beat the other egg with water and brush egg mixture over the circles. Sprinkle the tops of the circles with sugar.
Bake for 10-12 minutes and serve warm.
https://thefirstyearblog.com/white-chocolate-strawberry-scones/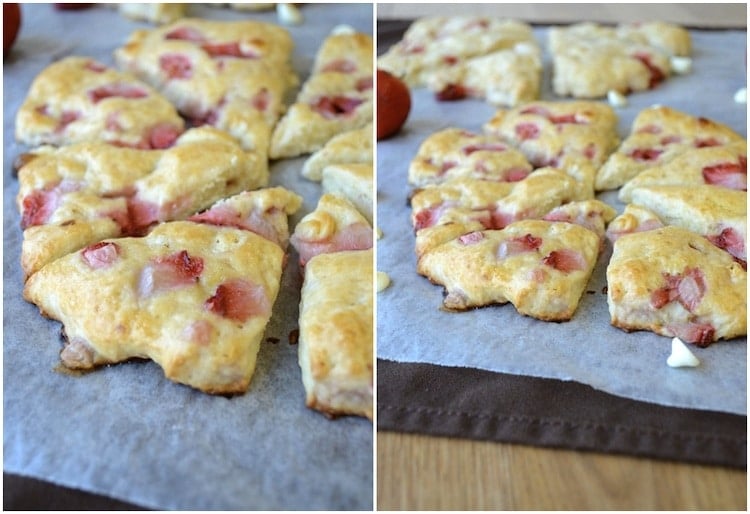 You could always swap the milk for heavy cream to make them slightly creamier/more rich.
And you could always add more chocolate chips or strawberries, just because more is usually better :-)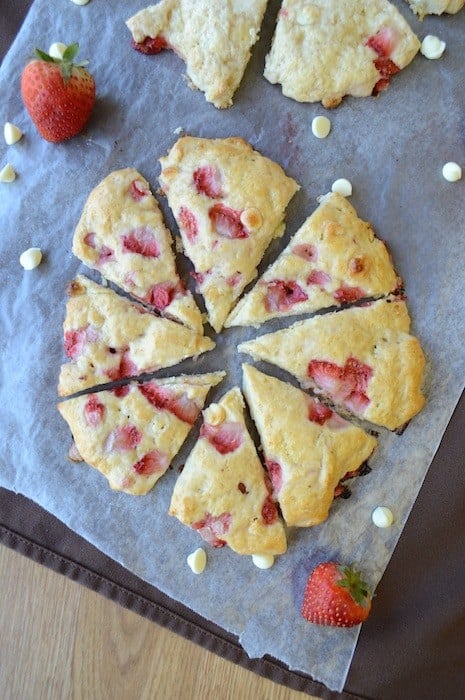 Now.. if I could only find a way to sneak spinach into these than they might be a nutritious breakfast.