Want our top 10 essential dessert recipes?
Get our favorite classic recipes in your inbox! It's 100% free, but we might make you hungry!
White Chocolate Blueberry Cheesecake Jars
White Chocolate Blueberry Cheesecake Jars – an easy no bake white chocolate cheesecake topped with blueberry coulis.
I created this recipe in partnership with the Soyfoods Assoication. As always, all opinions are my own, and thank you for supporting the organizations that make it possible for me to continue to provide quality content to you!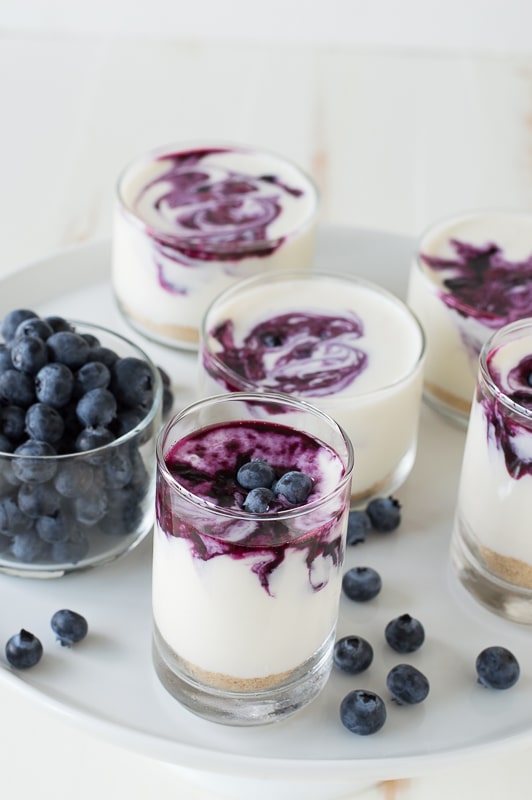 We're big on celebrating around here. Of course we celebrate all of the major holidays and birthdays but we also celebrate half birthdays. If you're in our family, you might even get half a cake on your half birthday! We will most certainly sing happy birthday to you, and our happy birthday jingle ends with "pizza pizza cha cha cha! And many moooore!!" Does anyone else sing it like that?
We also like to celebrate accomplishments, like Ryan publishing his first paper and when we broke our record for most visits in one day on the blog!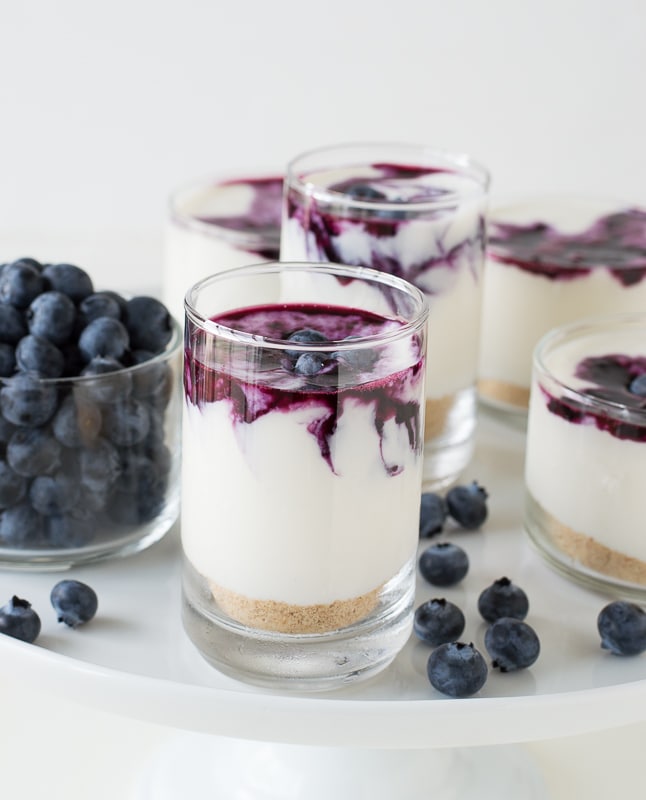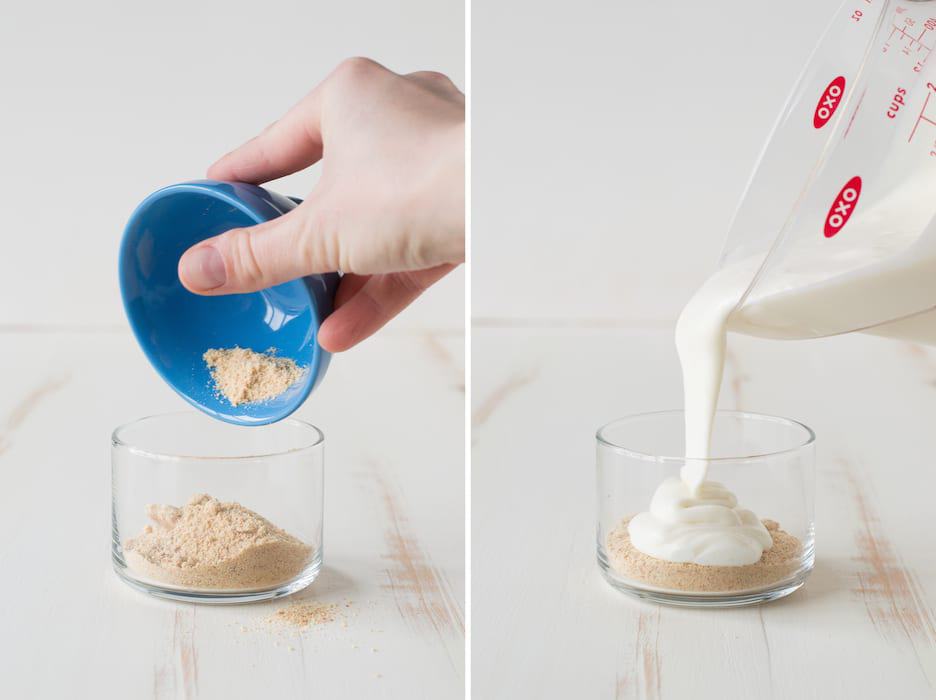 On all the other days of the year that aren't major holidays, birthdays or other fun things we decide to celebrate, sometimes the days can feel kind of mundane.
But since starting this blog, I've been paying more attention to national food holidays. If you're not familiar with national food holidays, it's pretty much the best excuse ever to eat more BLTs, pineapple upside down cake, or fill in the blank with your favorite food, because if it's a food.. there's a food holiday for it!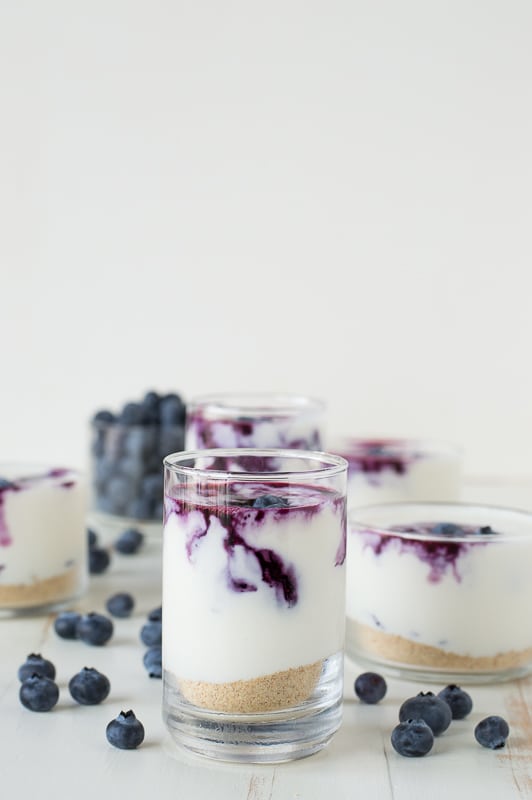 Some foods are celebrated for the whole month, like April is national grilled cheese month, and some food are celebrated on a specific day, like today, April 16th, is national eggs benedict day. It can be really fun to participate in national food holidays.. I know I won't miss out on cherry cheesecake day, chocolate parfait day, or chocolate chip cookie day, respectfully April 23, May 1, & May 15 :)
To continue the celebrations, we're partnering with the National Soyfoods Association to celebrate that April is National Soyfoods Month! You can join us by swapping out a dairy product for a soy based product. This recipe for White Chocolate Blueberry Cheesecake normally calls for heavy cream, but we swapped it for Silk soymilk. Soymilk works in place of dairy milk in almost any recipe and has more protein than all other milk substitutes. Learn more about National Soyfoods Month by visiting their website http://www.soyfoodsmonth.org.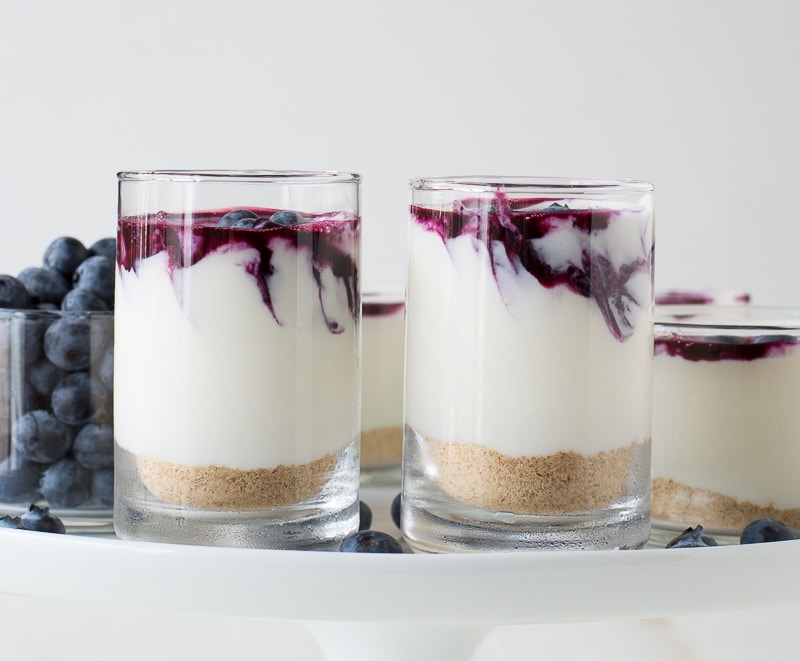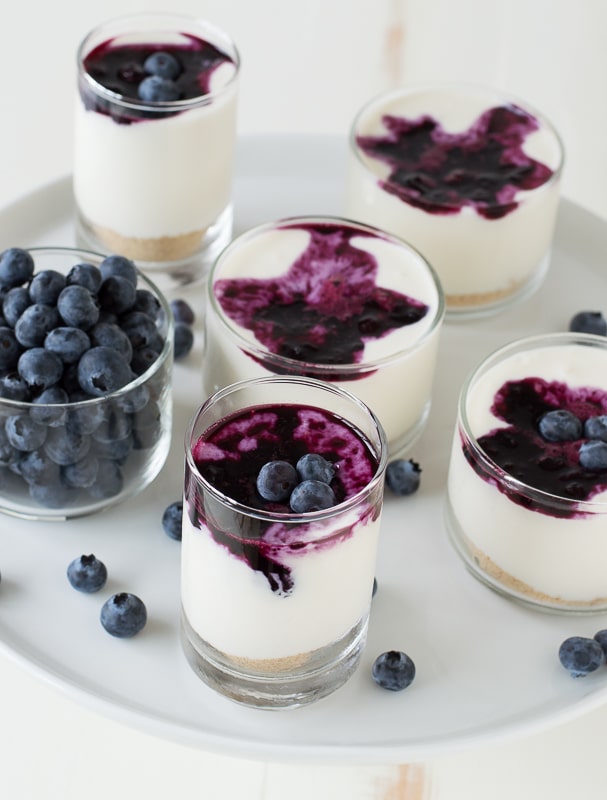 White Chocolate Blueberry Cheesecake Jars
Prep time:
Total time:
Serves:
5-6 cheesecake jars
Ingredients
White Chocolate Cheesecake
8 oz cream cheese, room temperature (or dairy free cream cheese substitute)
1/2 cup white chocolate chips (or dairy free white chocolate chips)
3 tbsp Silk soymilk
1 sleeve of graham crackers, crushed
Blueberry Coulis
1 pint blueberries
1/4 cup water
2 tbsp sugar
squirt of vanilla extract
squirt of lemon juice
Instructions
White Chocolate Cheesecake
Allow the cream cheese to come to room temperature.
Meanwhile, in a small saucepan over low heat, combine the white chocolate chips and Silk soymilk. Stir occasionally, until the chips are melted and smooth. This may take up to 10 minutes, but keep the heat on low or a little higher than low.
Once melted, remove the pan from the heat and allow it to cool in the refrigerator for 15-20 minutes.
Once the chocolate is cool, combine the melted chocolate and softened cream cheese in a mixing bowl. Beat using an electric mixer until the mixture is smooth and no lumps remain. Refrigerate for 20 minutes.
Crush the graham crackers by pulsing them in a blender or food processor. Once crushed, add 2 tbsp of graham cracker crumbs to each glass.
Pour some cheesecake into each glass.
If you plan to serve them later, refrigerate the glasses and be sure to cover with plastic wrap. Top each glass with a dollop of blueberry coulis before serving.
Blueberry Coulis
In a small saucepan over medium-high heat, combine the blueberries, water, sugar, vanilla extract and lemon juice. Stir the mixture occasionally, as it will begin to bubble and boil. Allow the sauce to thicken, this make take up to 10 minutes. Allow the sauce to cool slightly before adding it to the cheesecake.
Notes
Equipment used: [url href="http://www.amazon.com/gp/product/B0041OKZ74/ref=as_li_qf_sp_asin_il_tl?ie=UTF8&camp=1789&creative=9325&creativeASIN=B0041OKZ74&linkCode=as2&tag=thfiye-20&linkId=YETHBYGLFJERJBLK" target="_blank"]Libbey just desserts bowls[/url], [url href="http://www.amazon.com/gp/product/B007Q0QW9K/ref=as_li_qf_sp_asin_il_tl?ie=UTF8&camp=1789&creative=9325&creativeASIN=B007Q0QW9K&linkCode=as2&tag=thfiye-20&linkId=2GKGYLRKDX7R3B5M" target="_blank"]Style Setter tall glasses[/url].
This dessert would be perfect for national blueberry cheesecake day on May 26th which also happens to be my brother's birthday.. that day calls for a double celebration! If your curious about national food holidays, see of list of them here!