Vegetarian Quinoa Mexican Stuffed Peppers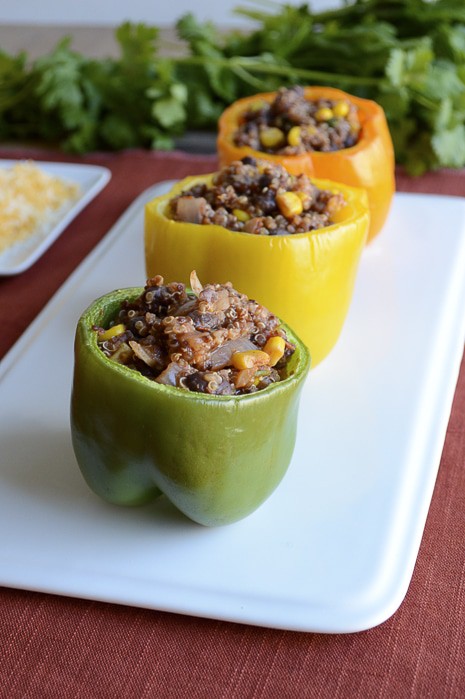 Ryan and I love peppers. They are one of those things that are always on the grocery list, along with ice cream :)
I really like that this recipe is vegetarian – we're not huge meat eaters. Don't get me wrong, I like a nice burger or a grilled piece of chicken, but we typically have a meat based dish only one or twice a week.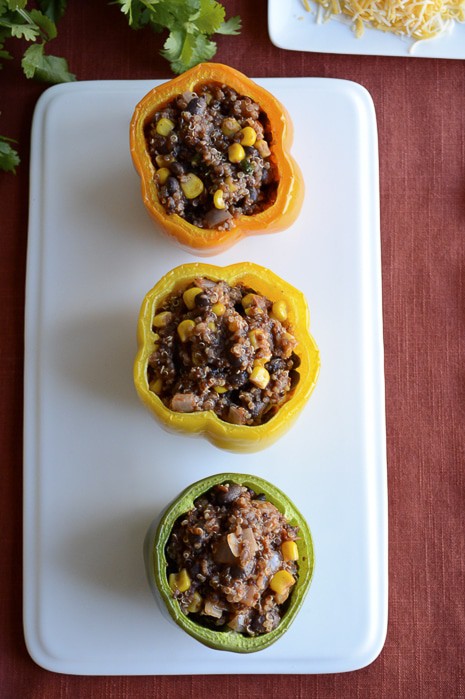 But quinoa is a different story – I could probably eat quinoa is various forms everyday, I even saw some quinoa cookies on Pinterest the other day!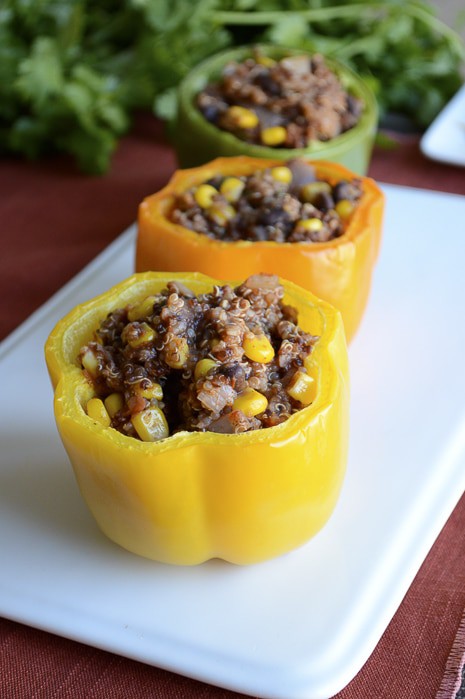 Vegetarian Quinoa Mexican Stuffed Peppers
Ingredients
6 medium-sized bell peppers (your choice of color)
2 & 1/2 cups cooked quinoa (cook according to package instructions)
1 tbsp canola oil
1 medium onion, diced
2 cloves garlic, minced
1 can (15oz) black beans, drained and rinsed
1 & 1/2 cups frozen corn
1 cup tomato puree
2 tsp chili powder
1 tsp ground cumin
2 tbsp chopped fresh cilantro
Shredded cheddar cheese, optional for topping
Instructions
Preheat oven to 375 degrees F.
Start by preparing the peppers. Slice the top off each pepper about 1? from the stem end, then remove any seeds or ribs left inside. If any of the peppers are a little crooked, slice a little off the bottom until they stand up straight. Arrange the peppers cut side up in a baking dish, and set aside.
Next, make the filling. In a large skillet set over medium-high heat, heat the canola oil.
Add the onion and garlic and sauté for 5-7 minutes or until soft.
Stir in the quinoa, beans, corn, tomato puree, chili powder and cumin, and continue cooking for 5 minutes or until everything is heated through.
Remove from heat and stir in the cilantro.
Spoon the quinoa mixture into the peppers, making sure not to pack too tightly.
Bake for 25-30 minutes or until peppers are tender.
If you'd like to add cheese: sprinkle the tops with cheese and bake for 5 more minutes.
Serve right away.
Note: 1 cup of uncooked quinoa equals 3 cups of cooked quinoa, so use about 3/4 cup uncooked quinoa to make 2 & 1/2 cups cooked quinoa.
Recipe adapted from Crumb Blog.
https://thefirstyearblog.com/vegetarian-quinoa-mexican-stuffed-peppers/