Vegetarian Quinoa Chili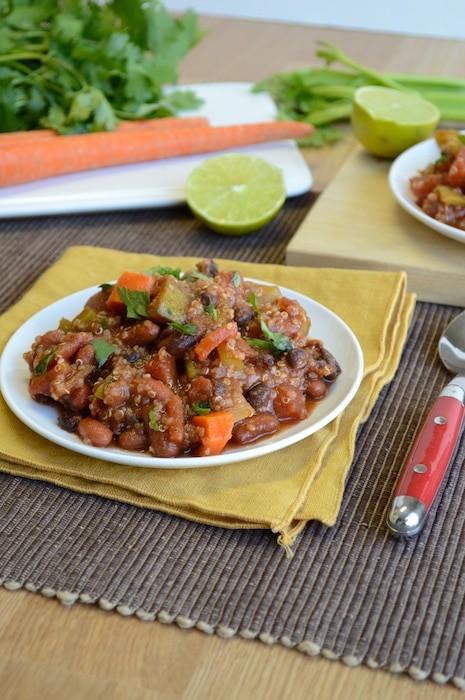 Meat lovers, don't be scared off by the title. Vegetarian. Quinoa. Yum.
We could just rename this dish "The Most Awesome, Stop Looking For Other Chili Recipes Chili".
Seriously guys, give this one a try.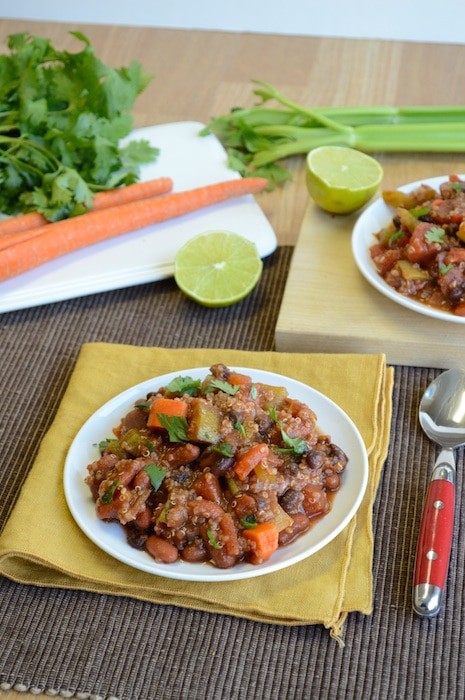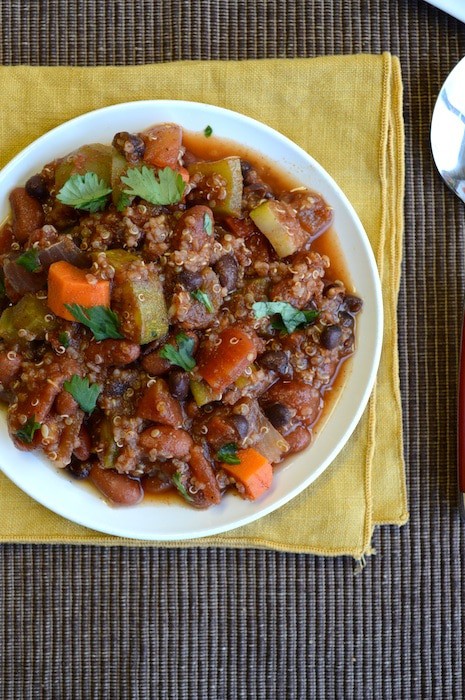 We are not vegetarians, but we probably only eat meat for 1 or 2 meals a week. So I like to find tasty meatless dishes that don't consist of PB&J or spaghetti.
And we've already talked about how much I like quinoa – it's a gluten free girl's best friend. Beans are also a huge staple in our house – we actually went to the grocery store today just for black beans to use in another recipe – black bean quesadillas.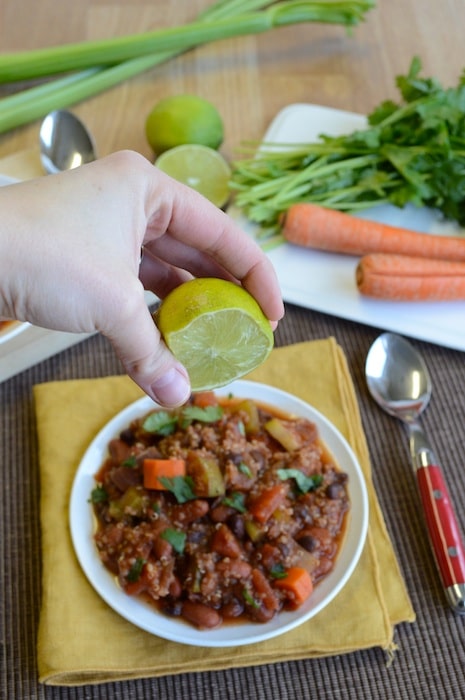 And a squirt of lime juice adds a nice fresh, citrus-y flavor.
Ingredients
1/2 cup uncooked quinoa
1 cup water
1 tbsp olive oil
1 small onion, chopped
3 cloves garlic, minced
1 large carrot, peeled and chopped
2 celery stalks, chopped
1 green bell pepper, chopped
1 red bell pepper, chopped
1 medium zucchini, chopped
2 (15 oz) cans black beans, drained and rinsed
1 (15 oz) can red kidney beans, drained and rinsed
2 (15 oz) cans diced tomatoes
1 (15 oz) can tomato sauce
2-3 tbsp chili powder, to taste
1 tbsp ground cumin
Salt and black pepper, to taste
Plus Desired Toppings - chips, green onions, sour cream, avocado, etc.
Instructions
In a medium sauce pan, combine the quinoa and water. Cook over medium heat until water is absorbed, about 15 minutes, following directions on package. Set aside.
In a large pot, heat the olive oil over high heat. Add the onion and cook until tender, about 5 minutes.
Stir in the garlic, carrot, celery, peppers, and zucchini. Cook until vegetables are tender, about 10 minutes.
Add the black beans, kidney beans, tomatoes, and tomato sauce.
Stir in the cooked quinoa.
Season with chili powder, cumin, salt, and black pepper.
Simmer chili on low for about 30 minutes. Serve with desired toppings.
https://thefirstyearblog.com/vegetarian-quinoa-chili/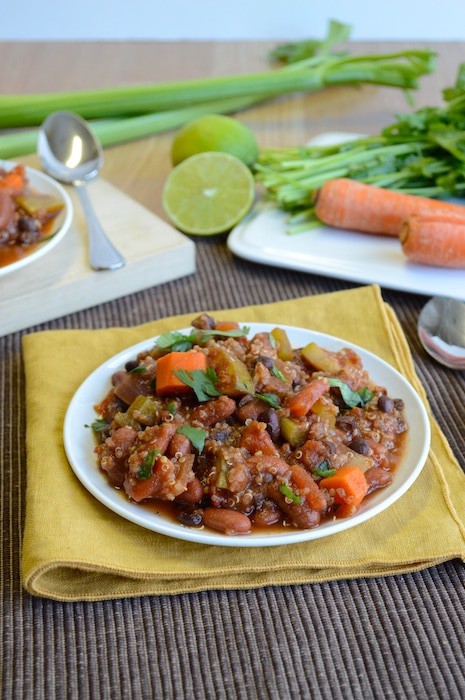 You know, the Super Bowl will be coming up soon.. and you might want to serve a delicious and easy chili instead of crock pot little smokies (again) this year. Good thing we're friends!