Want our top 10 essential dessert recipes?
Get our favorite classic recipes in your inbox! It's 100% free, but we might make you hungry!
Vegetarian Eggplant Lentil Chili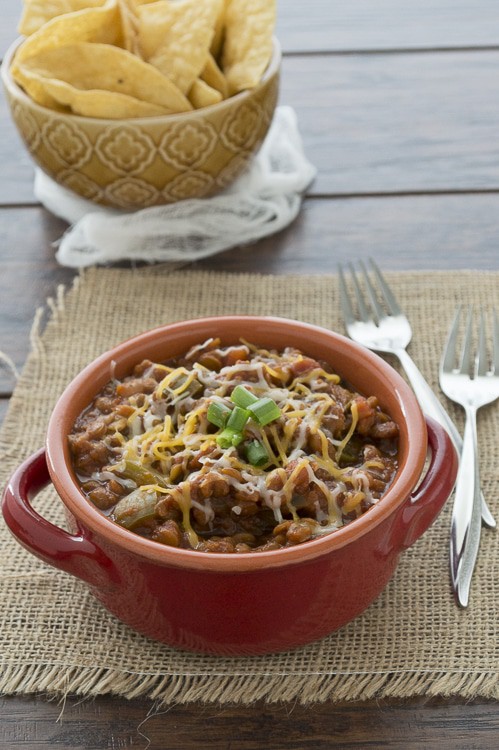 Well, it's almost October! One day left of September and then we're taking the plunge into the pumpkin patch. I try to not jump the gun on the next holiday around here. Or at least on the blog. Outside of the blog, we've been celebrating fall for a few weeks now. We've already made pumpkin bread 5 times, picked up fall leaves, and indulged in the famous pumpkin spice latte a time or two. But I kind of have a rule, no sharing of pumpkin recipes until October. But if you want to see our behind the scenes photos, we're always sharing them on our Instagram. You will be able to see that we've been working with pumpkin in preparation for October! So, let's just say you'll want to come back on Wednesday and help us kick off the month of October.
Also, on Tuesday we'll be sharing another "Out of the Kitchen" post. You'll get to see what we've been up to for the month of September. I recommend checking the series out to get to know Ryan and I a little bit better. Also, there is a picture of me throwing an entire pan of homemade cinnamon rolls in the garbage, you can't miss that! Yep, even food bloggers make bad food.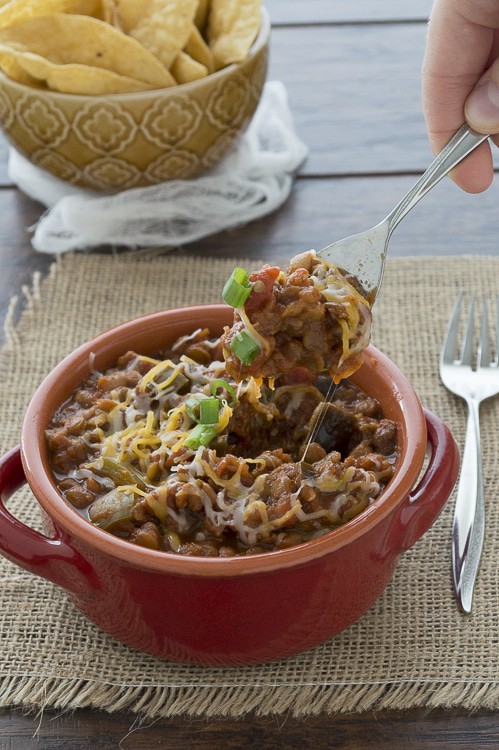 As much as I want to celebrate the start of October, I gotta be fair (and I've been been noted as the fairness queen) we should celebrate the end of September. And what better way to do so than to give you a recipe you can make all fall and winter long. But it gets even better, our vegetarian eggplant lentil chili is made in the…. magical crock pot! If there was a group called Women Who Love Their Crock Pots, I'd be in it. If I could only figure out how to make donuts in the crock pot, I'd be completely set.. chili, soup and donuts all winter long. But today I am completely content with the chili, especially if its topped with cheese.

Vegetarian Eggplant Lentil Chili
Ingredients
2 tbsp olive oil
1 large onion, diced
1 large eggplant, diced into 1 inch chunks
1 large bell pepper, diced
1, 16 oz, can diced tomatoes
3oz tomato paste
1 cup cooked lentils
1/2 tsp chili powder
1/4 tsp cayenne pepper
1/2 tsp italian seasoning
1/4 tsp cumin
1/4 tsp pepper
1 & 1/2 tsp apple cider vinegar
Instructions
Prepare the lentils as directed on the package, cook while sautéing the vegetables, see next set of directions.
Heat the oil in a medium skillet over medium heat. Add in the onion and sauté until soft, 3 to 4 minutes. Add in the eggplant and pepper and sauté for 2 to 3 minutes. Set aside.
Spray your crock pot with non stick cooking spray. Add the sautéed vegetable mixture and cooked lentils to the crock pot. Add the rest of the remaining ingredients to the crock pot, stir to combine and cook on low for 1 to 2 hours.
Serve with cheese and green onions/shallots.
Recipe adapted from Soup Night by Maggie Stuckey.
https://thefirstyearblog.com/vegetarian-eggplant-lentil-chili/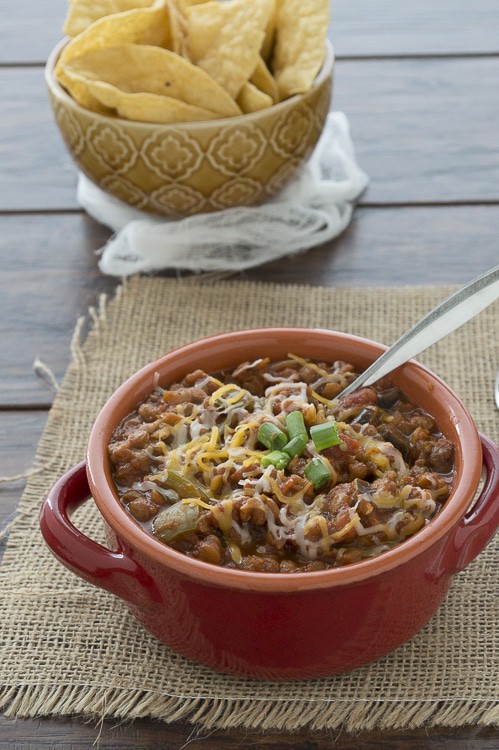 You can check out our recent crock pot recipes
here
and
here
.