Want our top 10 essential dessert recipes?
Get our favorite classic recipes in your inbox! It's 100% free, but we might make you hungry!
Vegetable Spring Rolls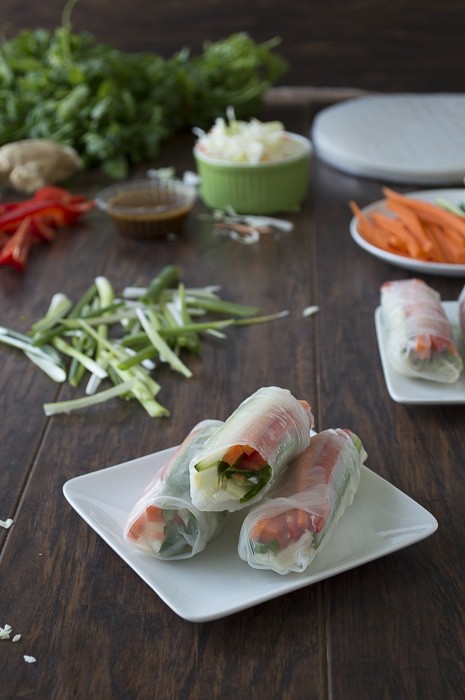 What took me so long to try spring rolls? I am already in love because you can stuff them with practically anything!
If you have picky eaters you can make a variety of rolls with different filling and I bet they would enjoy helping in the assembling process too!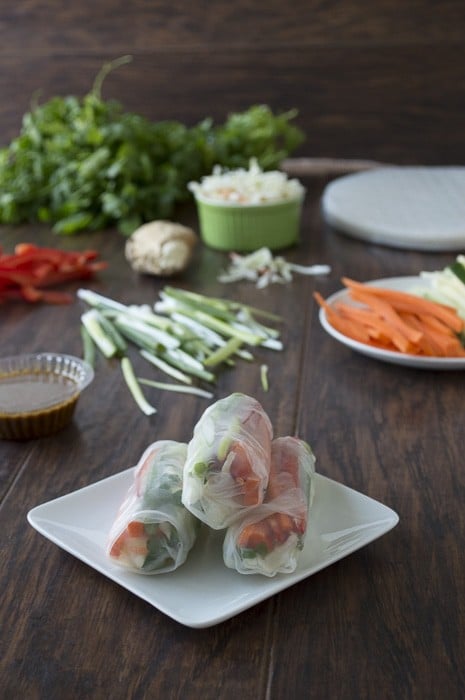 Spring rolls are great as appetizers or can be paired with rice/quinoa and your favorite meat to make a meal.
I brought this batch to our dinner study bible and they were a big hit, and something that you don't see all the time at a potluck.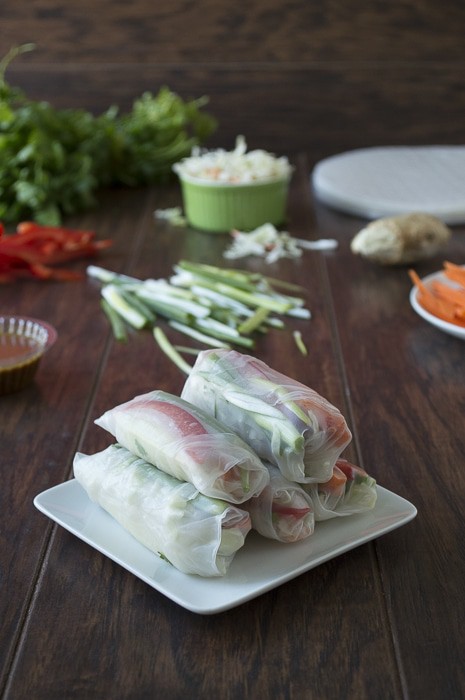 The sesame ginger sauce is simple to make, and really delicious if you like fresh ginger.
But you can also use teriyaki, soy sauce, peanut sauce, hoisin sauce, or whatever your favorite sauce is for dipping.
A light citrus sauce would be super tasty too.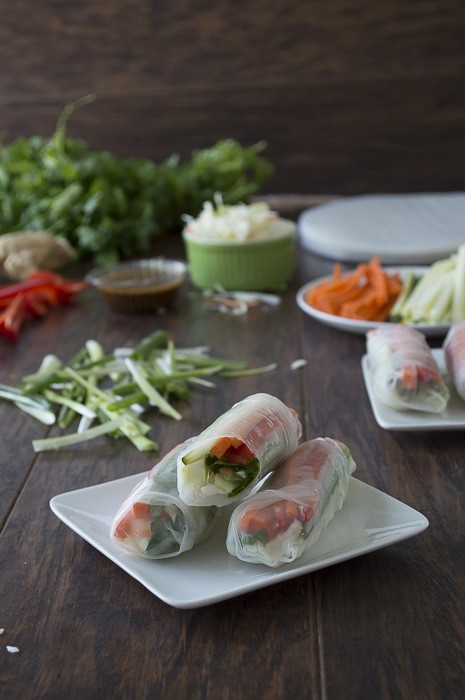 Vegetable Spring Rolls with Sesame Ginger Sauce
Ingredients
Spring Rolls

1 Package Spring Roll Wrappers + water
1 large Carrot
1 Pepper
1 Zucchini
5-6 Green Onions
Cabbage Mix or Cabbage
Cilantro

Sesame Ginger Sauce

1 tbsp low sodium soy sauce
1 tbsp dijon mustard
1/4 tsp sesame oil
1/4 tsp fresh ginger root, grated
2 & 1/2 tsp water
Instructions
Spring Rolls

Julienne the carrots, pepper, zucchini, and green onions, and set in separate piles. I like to slice mine fairly thin. If you are using a store bought cabbage mix, make a pile for that. If you are using cabbage, chop and julienne that.
Wash and dry the cilantro, removing from the steam. Make a separate pile.
Following the directions on your spring roll wrapper container, fill a shallow bowl large enough to fit the spring roll wrapper with warm water.
Put the wrapper in the water, rotating it to make sure every part of the wrapper becomes wet and bendable. You don't want to over soak the wrapper, so 1 wrapper should take 20 seconds.
Let the excess water quickly drip off the wrapper and place the wrapper on a clean surface for assembling.
Place a few pieces of each vegetable, all facing the same direction, half way between the center of the wrapper and the bottom edge.
Begin to wrap the spring roll on itself, wrapping away from your body. Once you are half way, fold the sides in and continue rolling. If you'd like to see the process in action, I suggest this video from youtube.
Continue to assemble spring rolls until you have made your desired amount.

Sesame Ginger Sauce

Combine the low sodium soy sauce, dijon mustard, sesame oil, grated ginger root, and water in a shallow bowl and mix with a fork.
Serve with the spring rolls.
https://thefirstyearblog.com/vegetable-spring-rolls/