Want our top 10 essential dessert recipes?
Get our favorite classic recipes in your inbox! It's 100% free, but we might make you hungry!
The best kitchen gadgets to buy on Amazon
The BEST kitchen gadgets to buy on Amazon!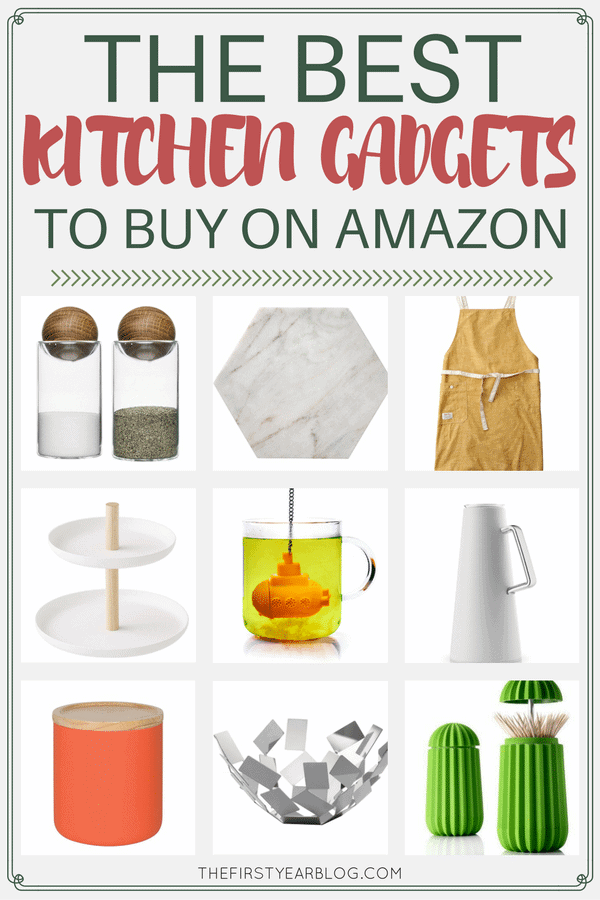 What did we do before Amazon?
WE ACTUALLY HAD TO GET IN THE CAR, DRIVE TO THE STORE (OR STORES) TO HUNT DOWN THE ITEM WE WERE LOOKING FOR!
Because we love Amazon and I bet you do too, we rounded up our favorite kitchen gadgets that you can buy on Amazon!
---

1. Eye Catching Canisters: comes in a set of 2 with different color options. | 2. Marble Hexagon Cutting Board: because I love all things hexagon right now. | 3. Lemon Slice Steam Releaser: keep a pot's lid open so it can steam.. in style!

4. Abstract Fruit Holder: also doubles as a piece of art. | 5. Chambray Bib Apron: enough colors to choose from to wear a different one all week. | 6. Hand-blown Salt and Pepper Shaker: with an oak ball stopper to keep your salt and pepper dry.

7. Vacuum Jug: the sleekest looking jug ever with heat indicator to keep your drink toasty. | 8. Yellow Submarine Tea Infuser: OH MY GOSH!! | 9. Purple Clay Coffee Pot: this special clay will keep drinks hotter for longer periods.

10. Glass Teapot: with removable infuser, good for blooming or loose leaf tea. | 11. Cactus Toothpick Holder: I will never want to hid my toothpicks in the cupboard again. | 12. Tiered Tray: display cupcakes or mini desserts or use it as a fancy catchall.
See more amazon gift guides. This post contains affiliate links.