Want our top 10 essential dessert recipes?
Get our favorite classic recipes in your inbox! It's 100% free, but we might make you hungry!
The Best Christmas Decor to buy on Amazon
The best Christmas Decor to buy on Amazon!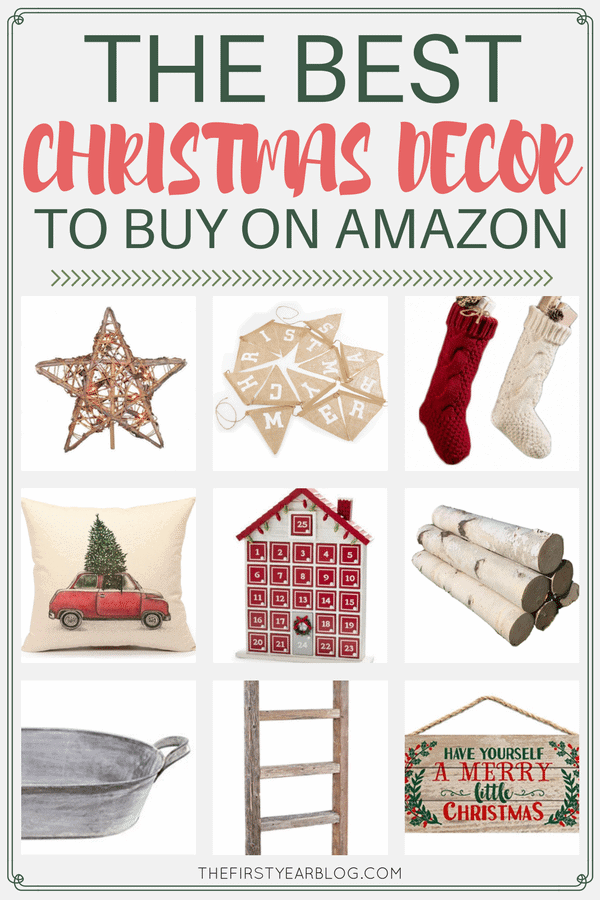 What did we do before Amazon?
We actually had to get in the car, drive to the store (or stores) to hunt down the item we were looking for!
Because we love Amazon and I bet you do too, we rounded up our favorite christmas decor that you can buy on Amazon!
---


1. Merry Christmas Bunting: white lettering printed on burlap, spells out "MERRY CHRISTMAS".
2. House Advent Calendar: A fun way to celebrate advent. Place candies, notes, or scripture inside each door.
3. Christmas Pillow: Vintage car carrying christmas tree print! Linen cover with zipper.


4. Wooden Birch Bark Christmas Tree: An adorable decoration for inside or outside.
5. Merry Christmas Sign: Real wood sign with distressed print, with hanging jute rope.
6. Knit Stockings: High quality heavy knitted stockings with silk hoop ribbon for hanging.


7. Natural Star Tree Topper: Made out of rattan for a natural look, has 10 lights woven throughout.
8. Metal Basin: Distressed metal bucket great for holding wood, blankets or decorative christmas balls.
9. Birch Logs: Kiln dried birch logs ready to display around your house!
10. Wood Ladder: Reclaimed old wooden ladder, makes the perfect blanket holder
See last year's holiday gift guide. This post contains affiliate links.