Want our top 10 essential dessert recipes?
Get our favorite classic recipes in your inbox! It's 100% free, but we might make you hungry!
Thai Coconut Lemongrass Soup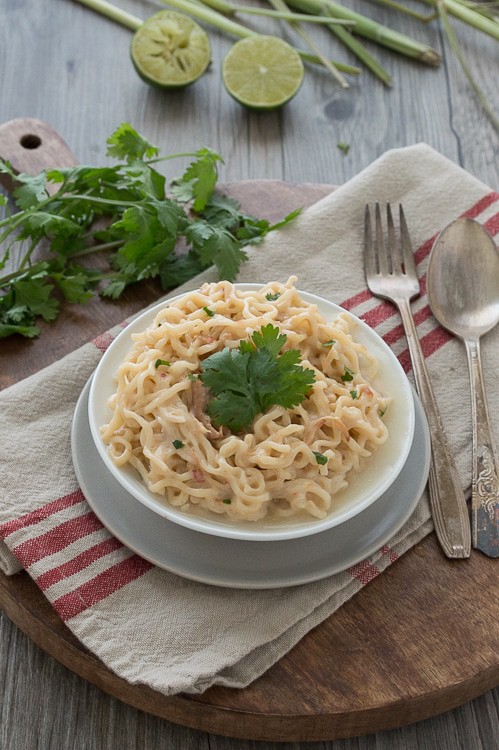 Wheeew! It's Monday again. How was your weekend? Did you get to relax or do something fun?
We were busy, like usual.. Ryan in the lab and I was in the kitchen. But we did get to celebrate fancy friday by ordering pizza and watching Extreme Homes. We like to daydream about our future home, especially since we live in 600 square feet. So far we decided that our dream home needs to in the woods with lots of window, it has to be able to rotate 360 degrees and it must have a slide, of course!
I also spent a good part of my weekend driving around town looking for lemongrass.
I wanted to make this thai coconut lemongrass soup for Ryan because he's into thai flavors. I thought I'd be able to pick up some lemongrass while I was at the grocery store doing my regular shopping. Nope, no luck. So I went to another store on my way home, thinking they'd have it for sure.. but nada. I had everything else I needed to make this soup except for the lemongrass, and it's a crucial ingredient – I mean it's called thai coconut lemongrass soup. I couldn't make it without the lemongrass. So I went to another store, called World Harvest, but apparently they only carry packaged items, no fresh ingredients. But luckily they were able to point me to an asian ethnic grocery store and they had it!
All that hoopla for just 2 inches of lemongrass. So unless you want to run around town looking for lemongrass, I suggest you start by going to an ethnic grocery store. :)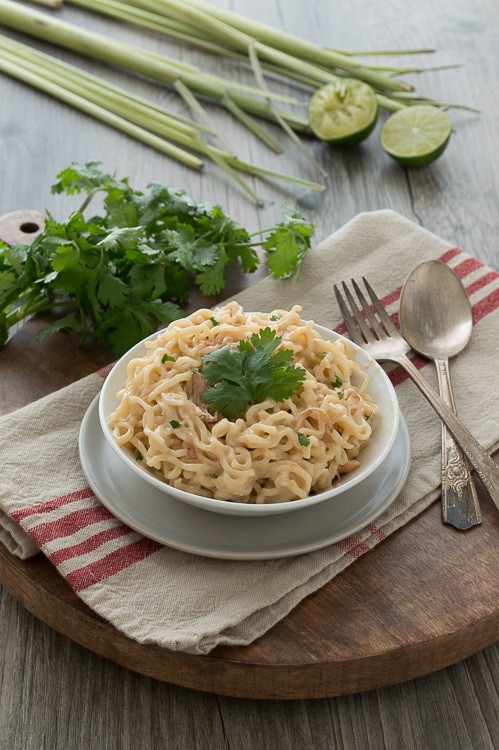 But all that driving around was completely worth it. This soup is light and creamy, but has distinct thai flavors. And I like that it uses ramen noodles. There's just something fun about those long, curly ramen noodles. This soup is a healthy alternative to actual ramen noodles – it doesn't use the seasoning packet which is loaded with who knows what. This way you can still enjoy a bowl of ramen noodles.. I like to think of it as fancy ramen.

Thai Coconut Lemongrass Soup
Ingredients
1 13.5 oz can coconut milk
2 cups chicken broth
1, 2 inch piece of fresh lemongrass, can find at ethnic grocery store
1 tsp grated fresh ginger
1 tsp thai chili sauce
2 tbsp fish sauce
1 tbsp brown sugar
1 chicken breast, already cooked and shredded
1 package ramen noodles, discard flavor packet
juice of 1 lime
fresh cilantro, to top
Instructions
In a small pan over medium-high heat, combine the coconut milk, chicken broth, lemongrass, ginger, chili sauce, fish sauce, and brown sugar.
Bring this mixture to a simmer for about 3 minutes.
Add in the ramen noodles and shredded chicken, and cook for 3 more minutes, or until the noodles are cooked.
Stir in the lime juice. Divide into bowls and top with cilantro.
Recipe inspired Ramen to the Rescue Cookbook by Jessica Harlan
https://thefirstyearblog.com/thai-coconut-lemongrass-soup/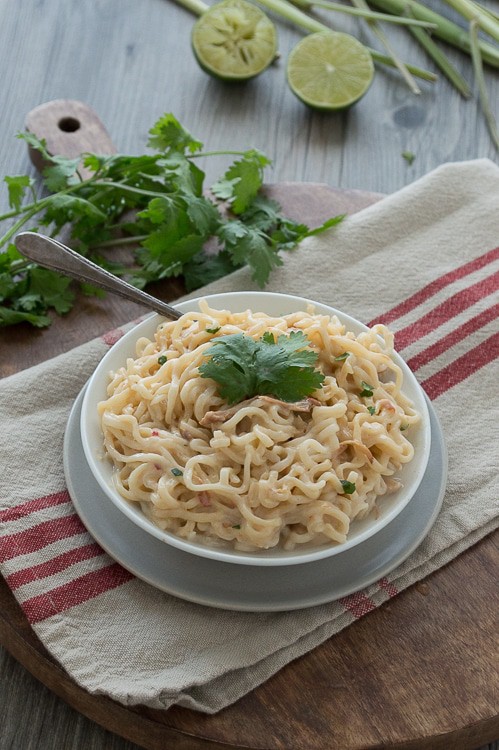 This soup has the tendency to thicken as it sits, the noodles like to absorb all that broth goodness. So doesn't be afraid to add more chicken broth if needed.
This one's for you Ryan :)