Want our top 10 essential dessert recipes?
Get our favorite classic recipes in your inbox! It's 100% free, but we might make you hungry!
Tex Mex Frito Salad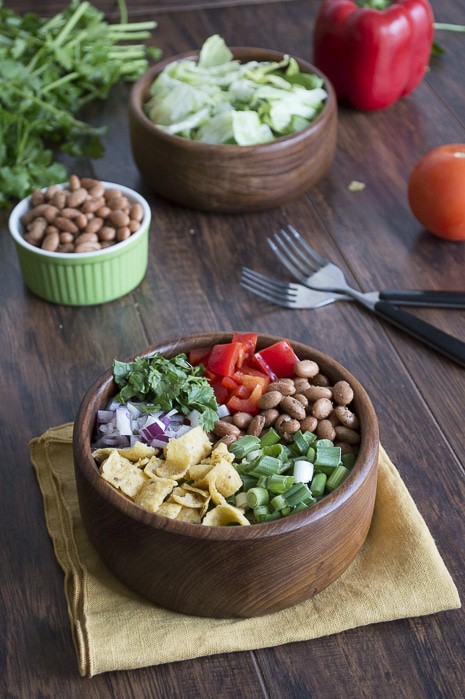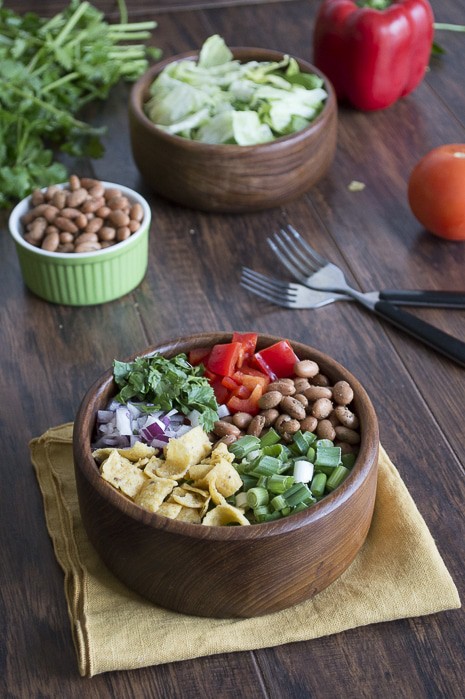 Let's talk salad – aka summer's best friend (besides popsicles!).
I love digging into a big salad packed with veggies from the farmer's market and loaded with beans or chicken.
If you're like me, then you'll enjoy this Tex Mex Frito Salad, YEEE-HAW!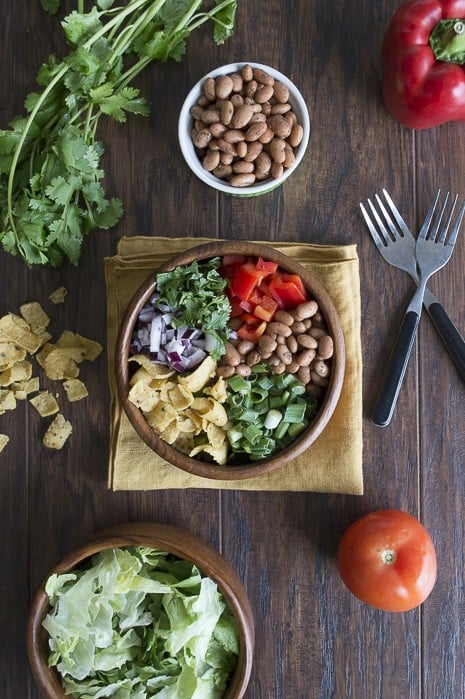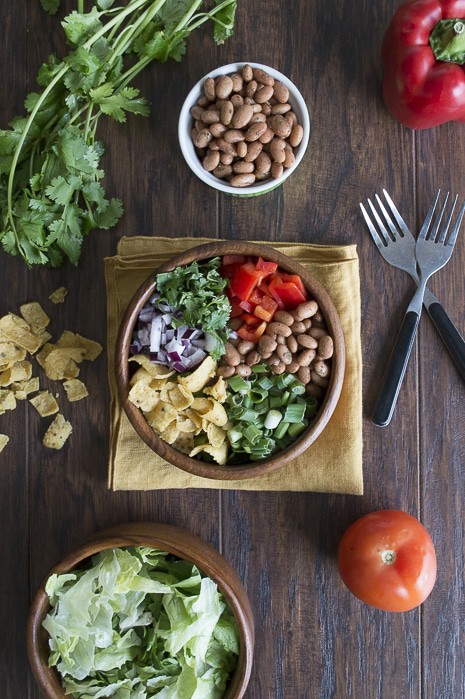 This salad is fairly easy to prep – if you know how to use a knife, you can make this salad, but watch the fingers, you don't want to mistake it for a carrot!
I know I'm more likely to eat salad if it's already prepped and ready to go in the fridge, so I like to get all my prepping done at one time.
This recipe makes a big batch so plan to have leftovers or bring it to your next summer dinner party.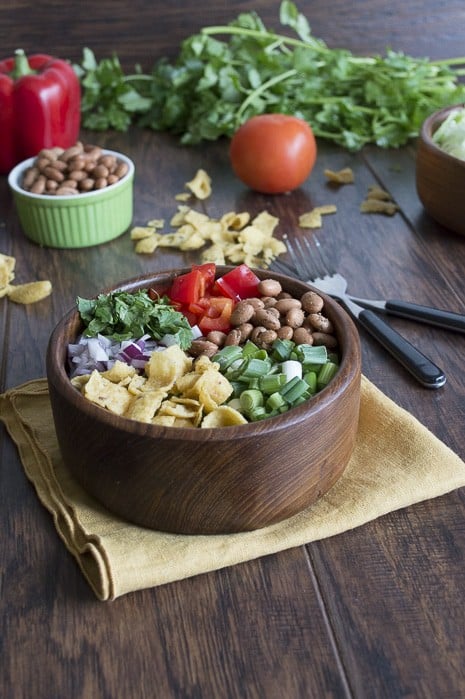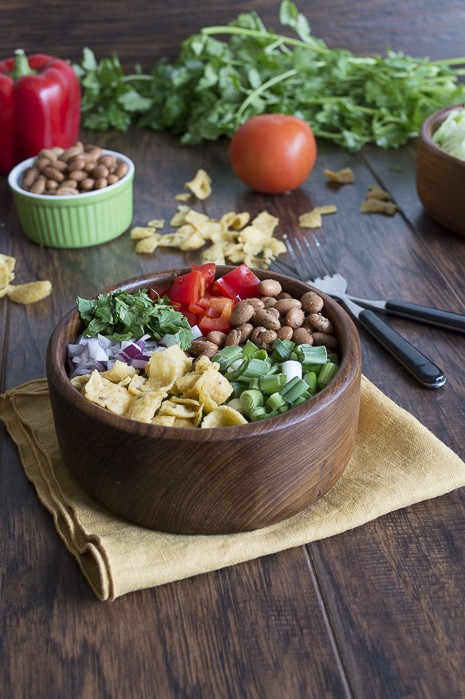 But my favorite thing about this salad, besides eating it, is that it's a "empty the vegetable drawer" recipe – meaning if you have vegetables that need to be used, put them in the salad!
There's lots of wiggle room to add more vegetables, so we'll give you a recipe to start with.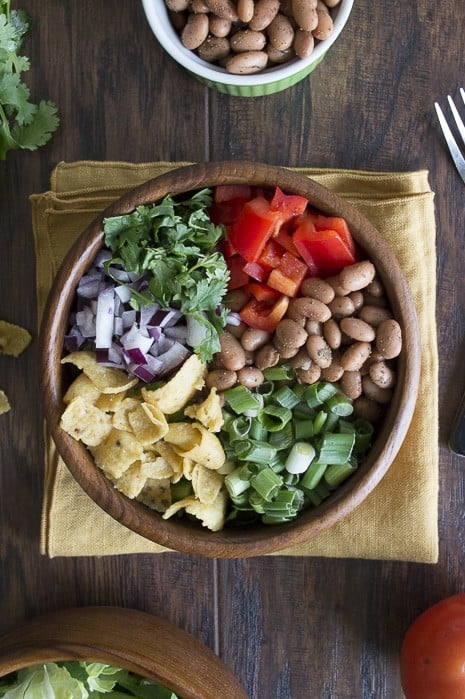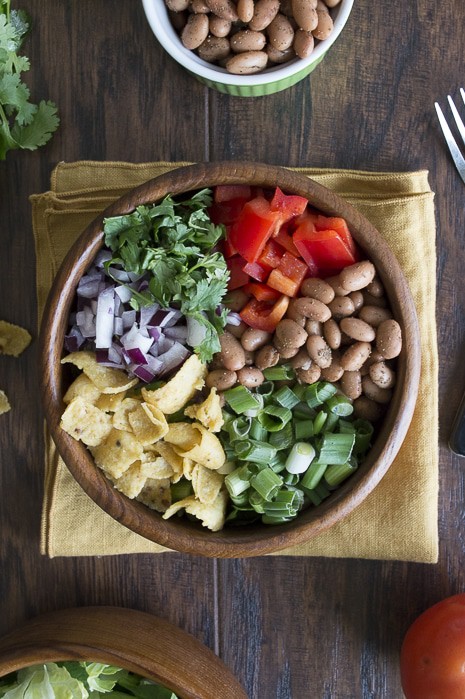 Ingredients
1 can pinto beans, drained and rinsed
1/2 to 1 tsp cumin
1/2 tsp garlic powder
1/4 tsp pepper
A big bunch of your desired leafy greens (ex. lettuce, spinach, kale, arugula, or a combination) washed, dried, and chopped
1-2 peppers, diced
1-2 tomatoes, diced
7-8 green onion stalks, diced
1 medium onion, diced
1 bunch of cilantro, washed and chopped
1 bag of Fritos, slightly crushed
Cheese or Mexican cheese, to top
Catalina Dressing (Kraft brand)

Additional vegetables we've thrown in: carrots, olives, celery, zucchini.
Instructions
Prep and chop all vegetables and leafy greens. Mix in a large bowl.
Drain and rinse the pinto beans. In a small bowl, combine the beans, cumin, garlic powder and pepper, mix. Set aside.
Slightly crush the Fritos.
When ready to eat, combine your desired amount of vegetables/leafy greens with several scoops of pinto beans, topped with Fritos, cheese and Catalina dressing.

Do not mix the beans, Fritos, and cheese into the salad if you will be storing it in the refrigerator for some time. Add those items right before serving.
https://thefirstyearblog.com/tex-mex-frito-salad-2/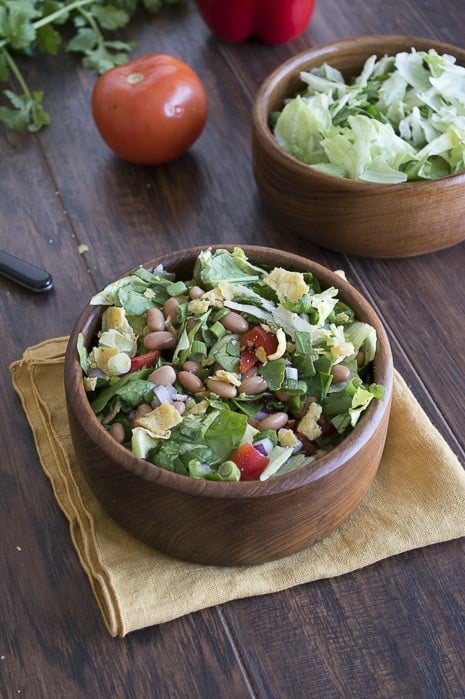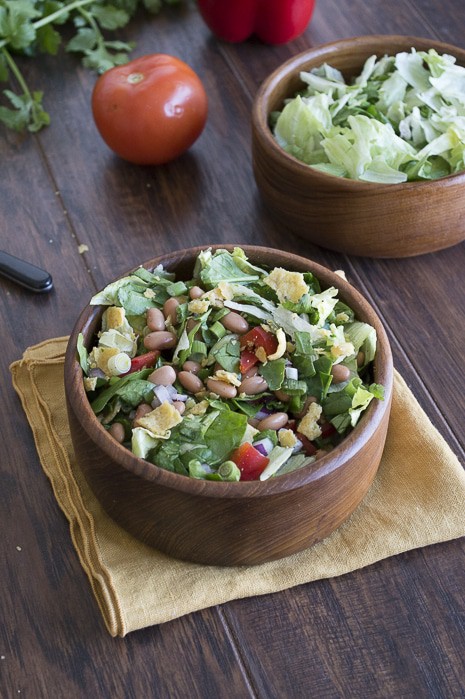 I like to use a tupperware container with the lid on to mix it all together.