Szechuan Peanut Chicken

When you love your husband you'll do crazy things for him, like cook Szechuan Peanut Chicken for dinner.
This one is for Ryan :-)
He loves spicy, bold oriental flavors, especially peanut, ginger, or srircha infused food. I like to be able to taste my food without feeling like my lips are on fire.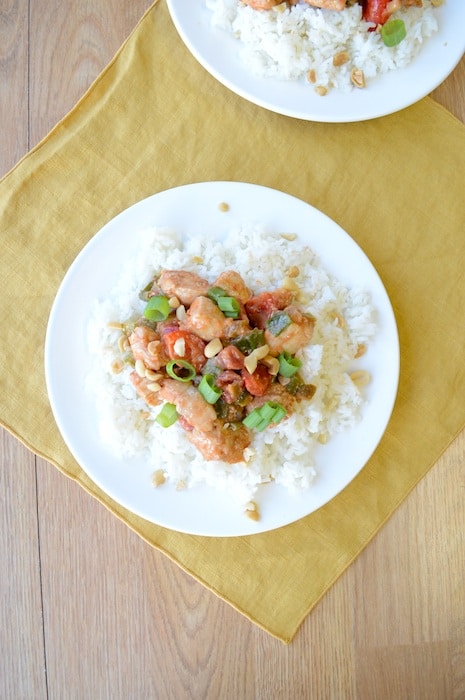 Luckily this dish satisfies both of our palates.
It has a bold ginger-peanutty flavor without the heat. Don't worry, I put the srircha on the dinner table in case Ryan wants to add a kick.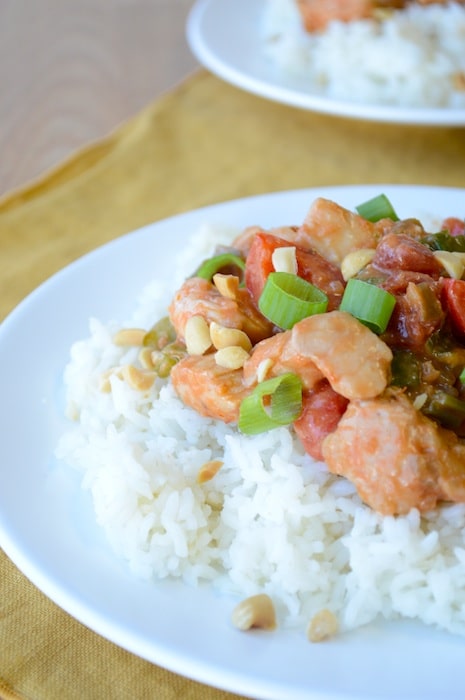 Sometimes I get a little nervous when dinner dishes call for peanut butter. I like peanut butter, but I don't want my dinner to taste like it came from the peanut butter jar. This dish is well balanced, it didn't taste like peanut butter, but still had a distinct peanutty taste without being overwhelming.

Ingredients
2 boneless skinless chicken breasts - cut into 1" pieces
4 tsp soy sauce
1 garlic clove, minced
2 tsp ginger-root, fresh & minced
1 tbsp vegetable oil
1 red bell pepper, diced
1/2 cup salsa (like pace picante sauce)
1-2 tbsp peanut butter (try 1 tbsp, and add more to taste)
3-4 green onions, chopped
Hot cooked rice
1/4 cup peanuts, coarsely chopped
Instructions
Combine the chicken, soy sauce, garlic and ginger in a ziploc bag; set aside for about 10 minutes. You can choose to marinade the chicken longer if you have the time.
After 10 minutes, heat the oil in a skillet over medium-high heat.
Cook the chicken mixture in the oil until no longer pink, about 4-6 minutes.
Add the red pepper, salsa and peanut butter; cook and stir for 4 minutes.
Add the green onions.
Serve over rice and sprinkle with chopped peanuts and additional salsa to your liking.
https://thefirstyearblog.com/szechuan-peanut-chicken/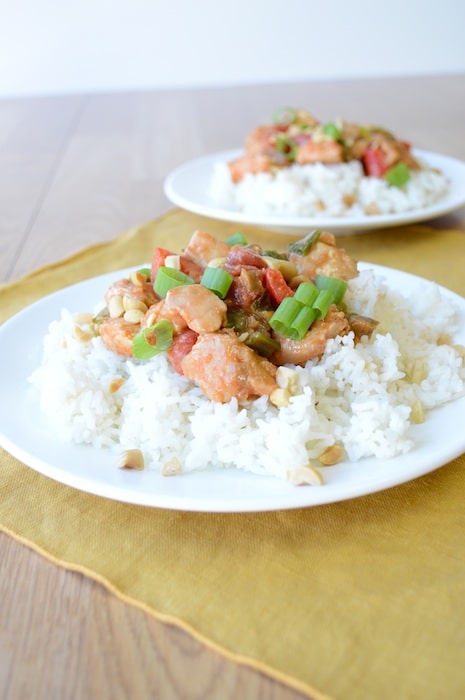 Be a little bold and adventurous and put this dish on your menu plan – I know it will be going on our 'to make' again list!