Sweet Potato Topped Turkey Pot Pie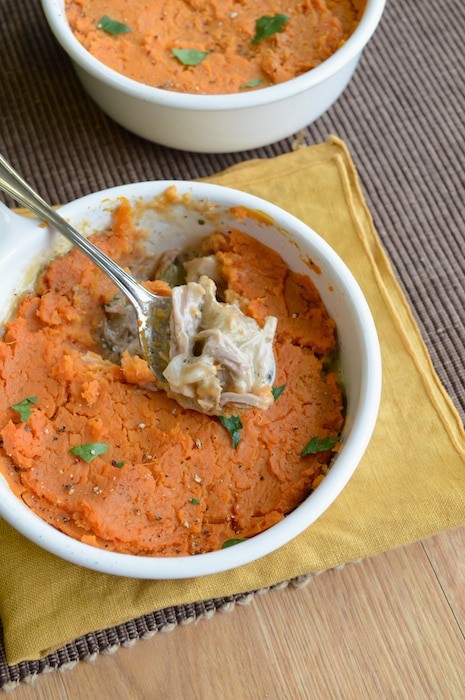 I saw this recipe in Better Homes and Gardens magazine last month and I had to give it a try.
The picture they showed was absolutely gorgeous (as always) and the recipe looked doable. And I loved that it was crustless – I just subbed the 3 tbsp of flour for gluten free flour and ta da – now I can enjoy it too!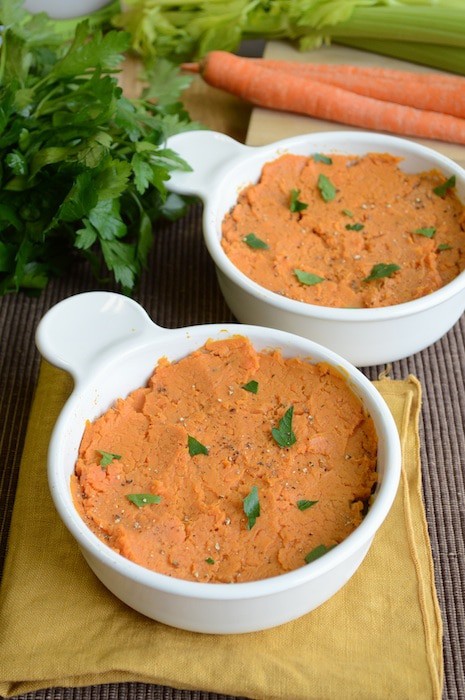 This is the perfect recipe for the day after Thanksgiving.
You can use leftover sweet potatoes or regular mashed potatoes for the top and leftover turkey, chicken or probably even ham.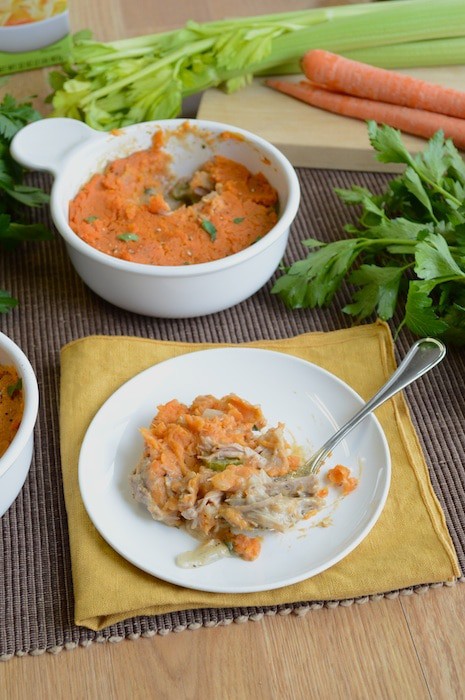 Here's the time break down:
15 minutes to boil and mash the sweet potatoes
20 minutes to make and simmer the filling (if using pre cooked meat)
20 minutes to bake
Doable!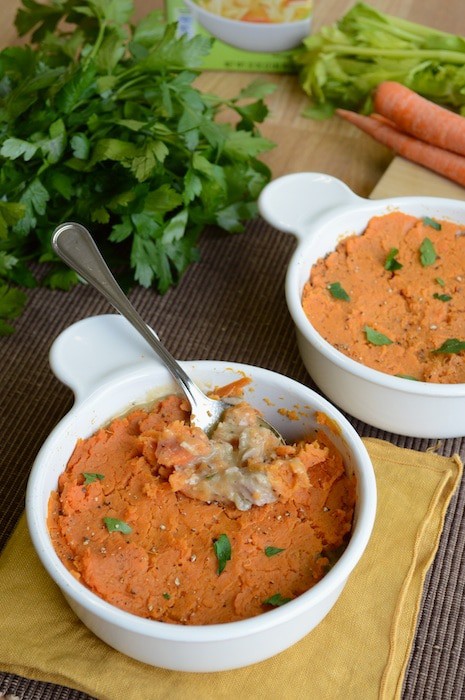 Sweet Potato Topped Turkey Pot Pie
Ingredients
Sweet Potato Topping

2 pounds sweet potatoes (about 3-4 large ones) peeled and cut into 1-inch cubes
2 tsp salt
3 tbsp unsalted butter, melted
1/4 tsp freshly grated nutmeg
Freshly ground pepper

Filling

2 tbsp unsalted butter
2 tbsp canola oil
1 large onion, diced
3/4 cup diced celery
3/4 cup peeled and diced carrot
Salt
3 tbsp all-purpose flour
1 & 1/2 cups chicken or turkey stock or canned low-sodium chicken broth
1/2 cup whipping cream, half-and-half, or light cream
2 & 1/2 cups shredded roast turkey or chicken
2 tbsp finely chopped fresh flat-leaf parsley
1 tbsp finely chopped fresh sage (or dried)
1 tbsp minced fresh thyme (or dried)
Instructions
Sweet Potato Topping

In a saucepan combine the sweet potatoes, 1 tsp of the salt and enough water to cover them by 1 inch. Cover partially.
Bring to boil over medium-high heat. Reduce the heat to medium. Simmer until the potatoes are fork tender, about 10 minutes.
Drain potatoes; return to the warm pan.
Using a potato masher, mash potatoes.
Stir in melted butter, nutmeg, the remaining 1 tsp salt, and freshly ground black pepper.
Set aside. Position a rack in center of oven. Preheat oven to 400 degrees F.

Turkey Filling

In a large saucepan melt butter with the oil over medium heat.
Add onion, celery, and carrot. Cook and stir, about 2 minutes.
Add salt. Cover partially. Reduce the heat to medium-low. Cook until vegetables are very tender, about 12 minutes.
Sprinkle the flour over vegetables. Stir to combine.
Slowly stir in the stock. Simmer, stirring occasionally, until smooth and thickened, about 2 minutes.
Stir in cream and bring to a simmer.
Add the turkey (or other meat), parsley, sage, and thyme. Stir to combine and simmer for 5 minutes.
Remove from the heat.
Spoon the filling into a 2 1/2-to 3-qt. rectangular baking dish (3 qt is a 9 x 13 inch pan). Using a rubber spatula, carefully spread and mound spoonfuls of the mashed sweet potatoes over the filling, leaving some of the filling visible. Bake until bubbly, about 20 minutes.
Recipe adapted from BH&G.
https://thefirstyearblog.com/sweet-potato-topped-turkey-pot-pie/
If you happen to have a lot of left over sweet potatoes, we have a recipe for sweet potato raisin pecan cookies, see it here, that only needs 1/2 cup  of sweet potatoes.