Want our top 10 essential dessert recipes?
Get our favorite classic recipes in your inbox! It's 100% free, but we might make you hungry!
Sun Dried Tomato Spinach Pasta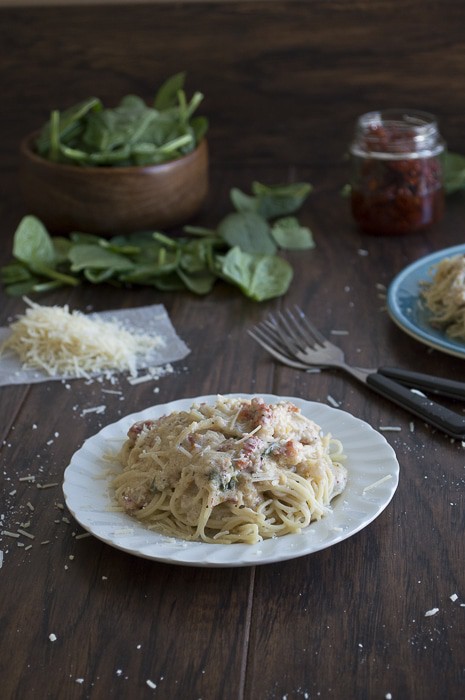 Does your family prefer a certain type of noodle?
Wheels? Elbows? Fettuccine? Angel hair? Alphabet pasta?
Whatever your favorite noodle is you can use that to make this sun dried tomato spinach pasta!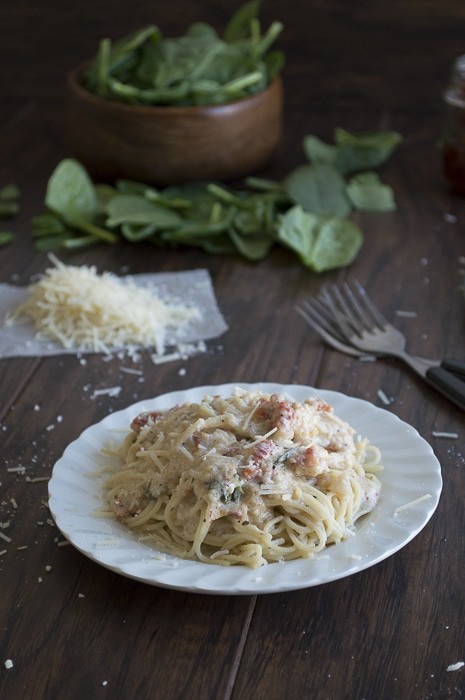 Bow ties are my favorite. Well, to look at.. because I've never found gluten free bow tie noodles before, so I am not exactly sure if I'd like to eat them. If you ever find a box, mail me some! Otherwise I like elbows and spaghetti.
So I used spaghetti noodles for this dish.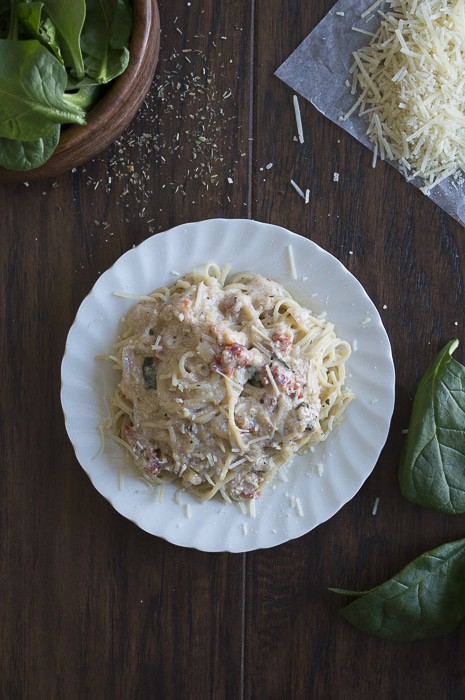 And lots of parmesan cheese :-)
Love this recipe? Just click the blue "SAVE" button in the recipe card below, and it will be automatically saved in your ZipList Personal Recipe Box along with all of your other favorites. Sign up for a free Ziplist account where you can save recipes, meal plan and create grocery lists all in one place!

Sun Dried Tomato Spinach Pasta
Ingredients
2 tbsp olive oil
1 onion, diced
3 handfuls spinach, hand toren
3 garlic cloves, minced
3.5 oz sun dried tomatoes, finely chopped in a magic bullet, drained of oil
2 cups chicken broth
1/2 cup half and half or heavy cream (your preference, you may need to add another 1/2 cup)
1/2 cup shredded Parmesan cheese
1 tbsp dried or fresh basil
1/2 tsp dried oregano or italian seasoning
Pepper, to taste
1/2 pound pasta
Instructions
In a large pan, heat the olive oil on medium-high heat, add the garlic and onions, sauté for 2-3 minutes. Add the sun dried tomatoes. Reduce the heat to medium-low.
Add the chicken broth to the pan, allowing the vegetables to cook and absorb some of the broth.
Add the half and half or heavy cream and bring to a quick boil, then reduce the heat again to medium-low.
Add in the parmesan cheese, continually stirring until the cheese melts, about 2-3 minutes. Add in the basil, pepper, and oregano or italian seasoning, stir to combine. If the sauce is too thick, add another 1/2 cup of half and half.
Meanwhile, cook your favorite noodle according to the package directions, drain and rinse. Add the pasta to the hot pan of sauce, and cook and stir for 2-3 minutes.
Serve and enjoy!
https://thefirstyearblog.com/sun-dried-tomato-spinach-pasta/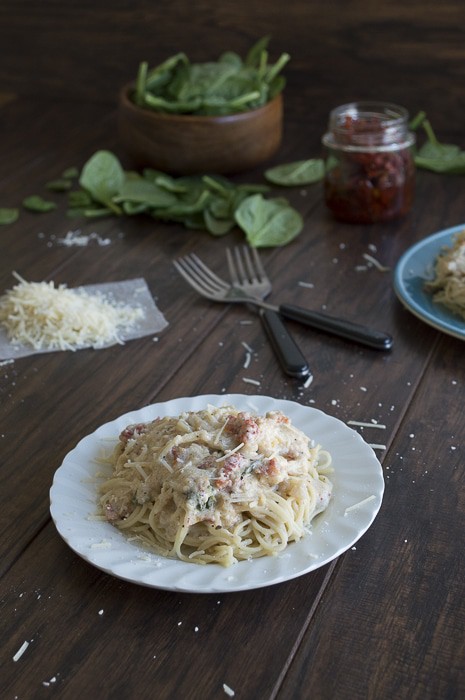 What's better than Olive Garden made in your own kitchen!