Want our top 10 essential dessert recipes?
Get our favorite classic recipes in your inbox! It's 100% free, but we might make you hungry!
Spinach Salad with Strawberries + Roasted Pine Nuts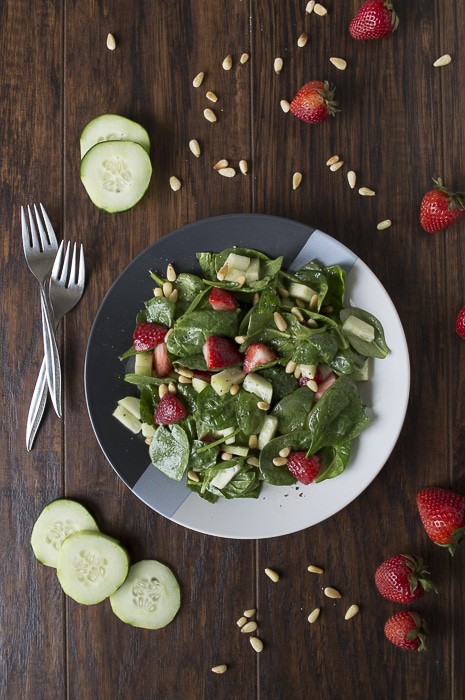 Spinach salad with strawberries and roasted pine nuts is the kind of salad you'd want to eat to get yourself back on track.
Especially when you were on vacation for 10 days visiting family and the only thing you can remember eating is ice cream. Everyday. Sometimes twice a day.
I'm detoxing from ice cream.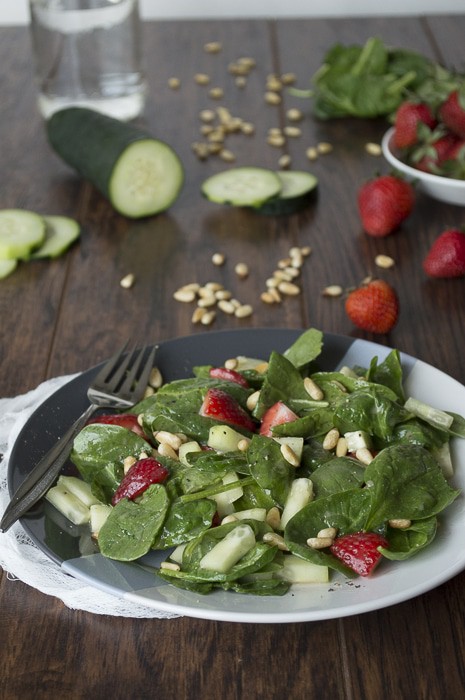 This salad is extra fresh with the cucumbers and strawberries, and I like the flavor the dijon mustard adds. Let's not forget how easy it is to toss together, bring it to your next picnic and it will be a hit.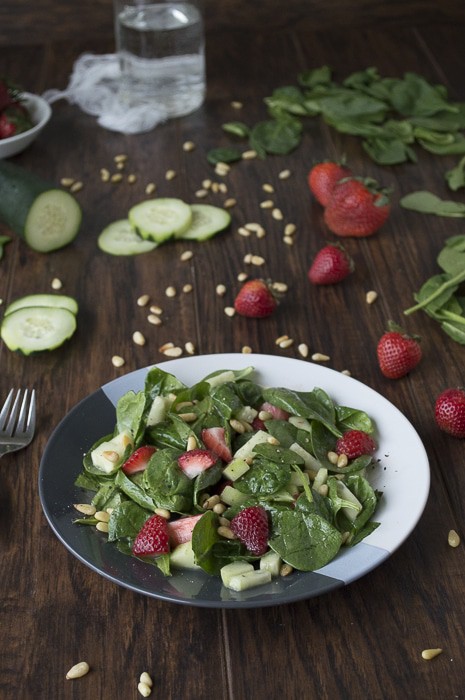 Spinach Salad with Strawberries + Pine Nuts
Ingredients
1 cucumber, peeled and diced
2 & 1/2 cups spinach
2 cups quartered strawberries
3 tbsp roasted pine nuts (roasted on a skillet over the stove on medium heat for 4-5 minutes, stirring)
1/2 tbsp dijon mustard
1 tbsp honey
1 tbsp white wine vinegar
2 tbsp canola oil
salt and pepper to taste
Instructions
Peel and dice the cucumber, and slice the strawberries. Roast the pine nuts in a skillet on medium heat for 4-5 minutes, stirring frequently, until slightly roasted. In a bowl combine the cucumber, spinach, strawberries, and pine nuts. Mix the dijon mustard, honey, white wine vinegar, and canola oil in a small cup. Add the dressing to the salad and toss to mix, adding some salt and pepper to taste. Serve immediately.
https://thefirstyearblog.com/spinach-salad-with-strawberries-roasted-pine-nuts/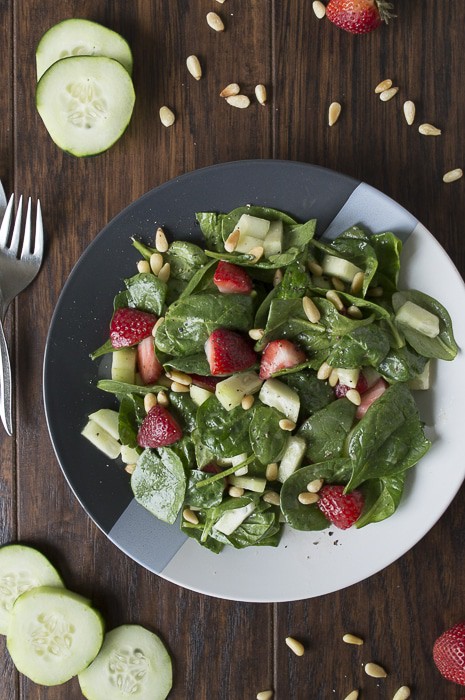 I need less ice cream and more salad in my diet.