Spinach Edamame Pesto Pasta with Lemon and Toasted Almonds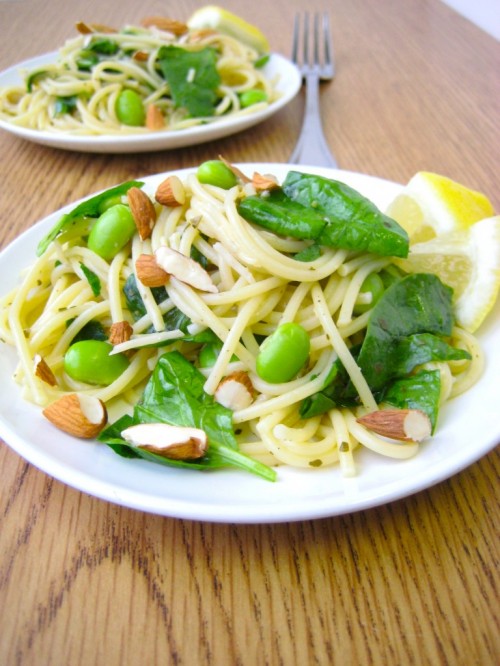 Last week I shared that I like trying new pasta recipes, and I am adding another to the recipe box – spinach edamame pesto pasta with lemon and toasted almonds. Woah, that was a mouthful.. maybe we should call it SEPPLTA :-)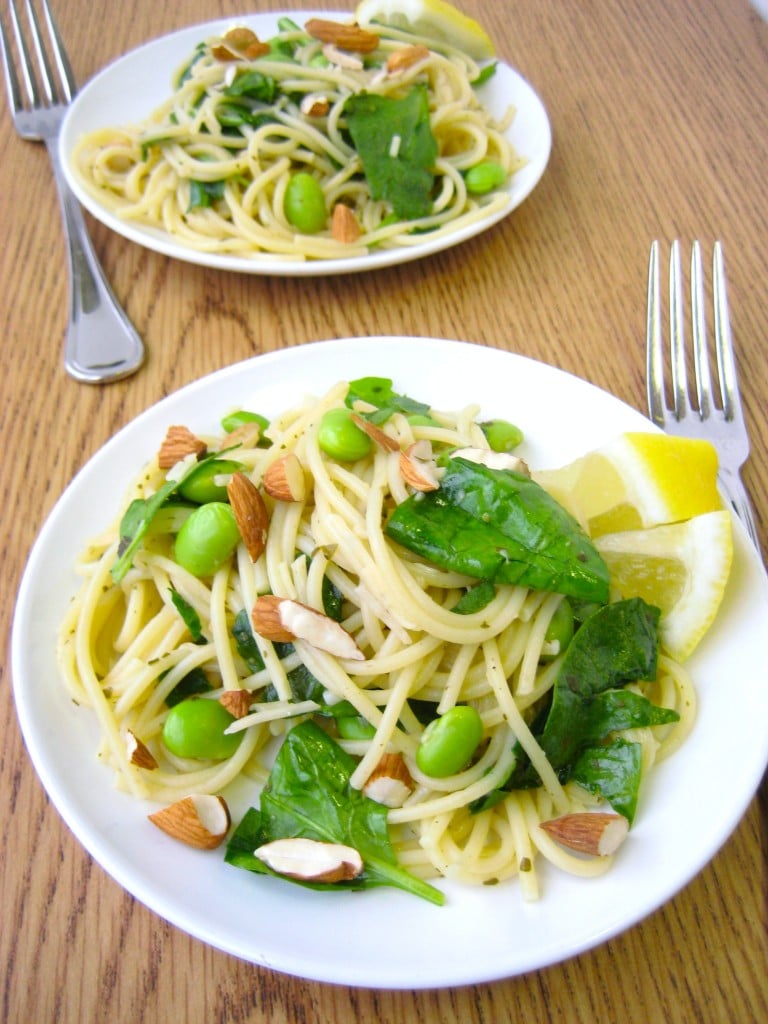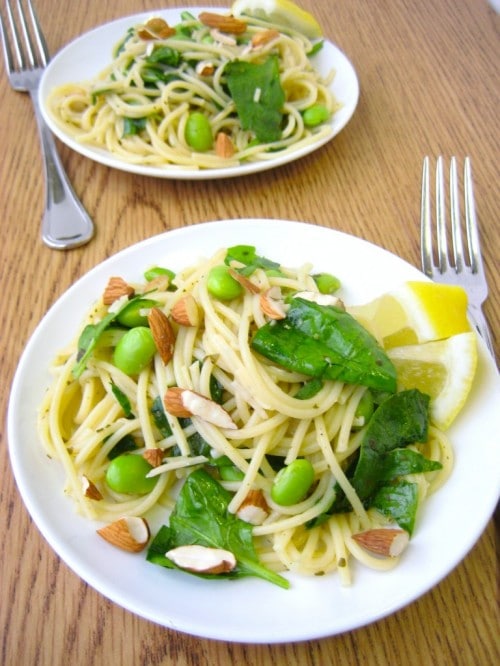 June went by so fast, and I can't believe it's already July 1st. But I love July because it's my birthday month! July also means the beginning of the final season of Dexter – we love crime dramas. And today is probably Ryan's favorite day ever because when he got home from work he had 2 envelopes from Coca Cola. He had sent them an e-mail because a pop he bought out of the vending machine was expired. So what did he get in the mail? 3 coupons each for a free 12 pack of pop and 4 coupons each for a free liter of pop. I am not a pop drinker.. maybe I'll have to buy him a new toothbrush :-)
Have you ever received free stuff from a company because you wrote in about a problem? Now I am looking in my cupboard trying to see who I can snag free stuff from!
Spinach Edamame Pesto Pasta with Lemon and Toasted Almonds
Ingredients
8oz spaghetti
1/2 cup pesto
8oz fresh spinach
2 cups edamame (just the peas, make sure to shell them)
juice from 2 lemons (optional: plus fresh lemon wedges for serving)
3/4 cup almonds, crushed and lightly toasted (or skip the toasting and use almond slices)
Instructions
Heat a large pot of water to boiling, cook pasta until al dente.
Remove from water, strain and rinse with cold water.
In the same large pot, mix pasta, pesto and spinach until combined.
On a low heat, toast crushed almonds until just fragrant (1-2 minutes).
Toss in the edamame & almonds.
Top with freshly squeezed lemon juice.
Reserve a few lemon slices for people to add more if they like.
https://thefirstyearblog.com/spinach-edamame-pesto-pasta-with-lemon-and-toasted-almonds/
Recipe adapted from
The Kitchn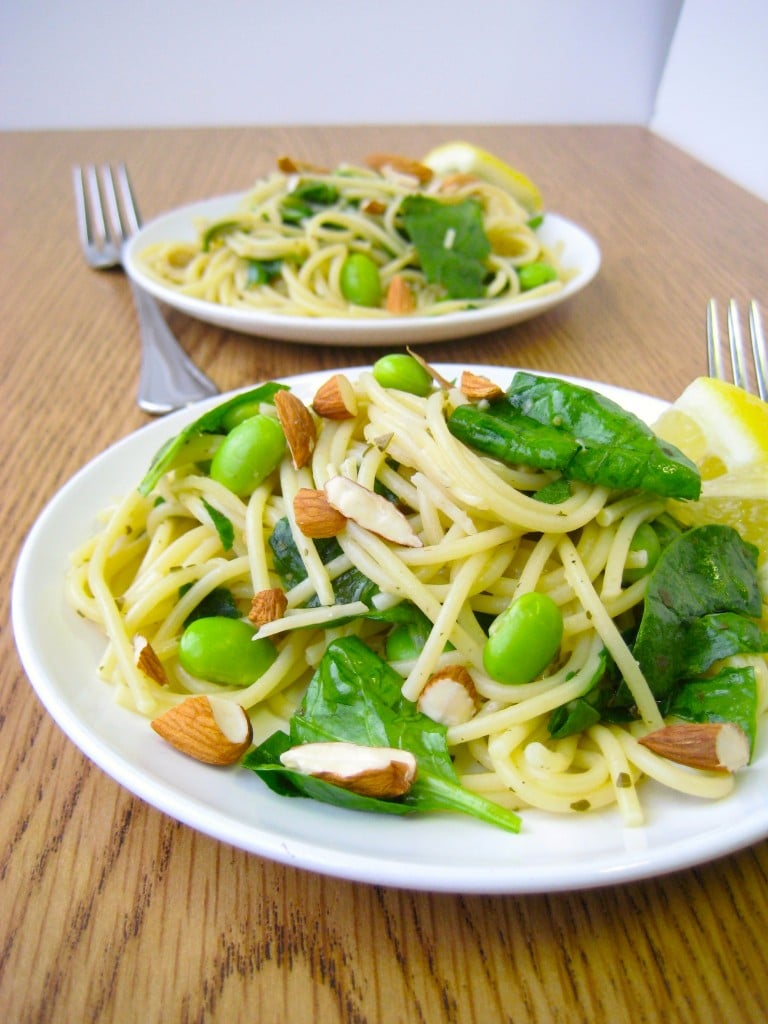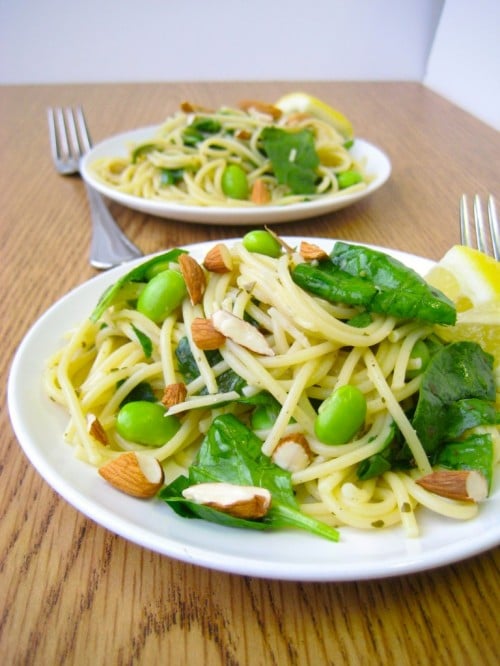 Ryan's family is coming to visit this weekend, and I am trying to decide what dishes to make. Hmm, now I just got the idea to make stuffed french toast. Yum!
This Wednesday I will be back over at A to Zebra Celebrations sharing a festive 4th of july dessert. It might just be full of red, white, and blueberries!