Spicy Peanut Thai Ramen Noodle Upgrade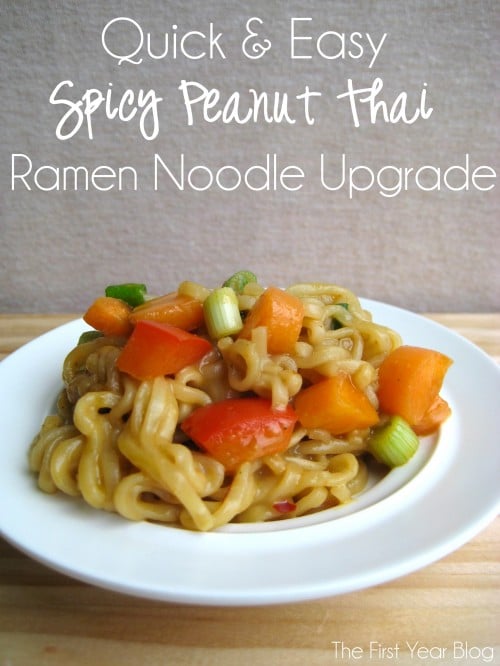 This has my husband's name written all over it! This Spicy Peanut Thai Ramen Noodle Upgrade is a super quick dish to prepare if you don't have a lot of time, and it's much better tasting than just regular ramen noodles. 
Ingredients
1 package Ramen noodles (I used picante chicken)
1 packet noodle flavoring
1 tbsp soy sauce
2 tbsp chunky peanut butter
2 tsp Sriracha
Green onions, pepper, carrots, all diced
Directions
Boil the noodles with the flavor packet mixed into the water. Once it's done, drain off most of the water/broth, you don't want it soupy, but leave a little bit of pasta water in there. Next, toss with soy sauce, peanut butter, Sriracha, and vegetables.
This recipe can be easily double or tripled, but consider starting with 2 tbsp of peanut butter if you do make a larger quantity, you don't want it to be too peanut buttery. Add more to your liking.
Adapted from Martha Stewart
We are enjoying summer like weather right now (once I am finished posting this, I am going outside..71 degrees!) Too bad our family back in Minnesota is stuck in the 40s.. my body is a little confused and thinks it's June since we would hardly ever get warm weather this early in Minnesota. Today I am thankful for the several hundred mile difference :-)