Spicy Dijon French Fries
Spicy Dijon French Fries – this recipe for homemade french fries is easy and only takes 35 minutes to bake! Serve them in mini glasses with ketchup.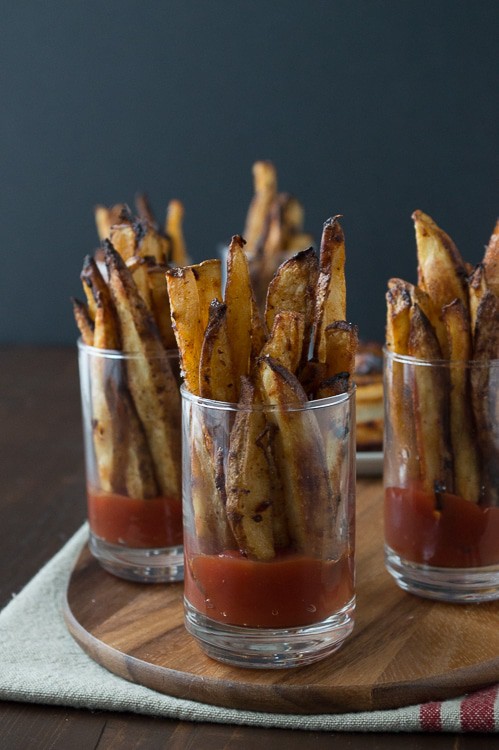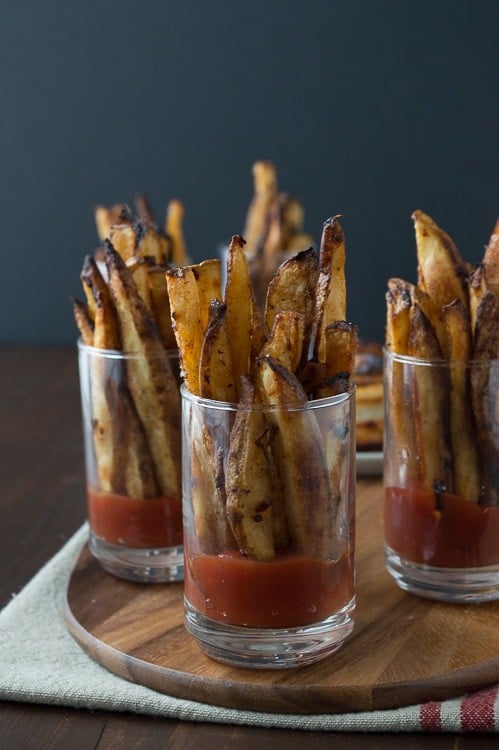 On Sunday I was making mac & cheese for dinner, fancy, I know. The story gets better. The noodles had boiled and I just drained them, I added the cheese and the milk to the pan and I was in the process of adding the butter. I had the stick of butter in one hand and a butter knife in the other, and I was just going to slice the butter straight into the pot. But instead of slicing down, towards the pot, I sliced up, like towards my face. I wasn't really thinking about it.
Lucky for me the slab of sliced butter missed my face, but it went flying across the room and landed with a thud. I wasn't quite sure where it landed, but I knew that it landed because I heard it. I turned around and I didn't see the butter on the floor, but I saw Ryan sitting at the kitchen table, totally oblivious to the fact that the butter landed on his leg!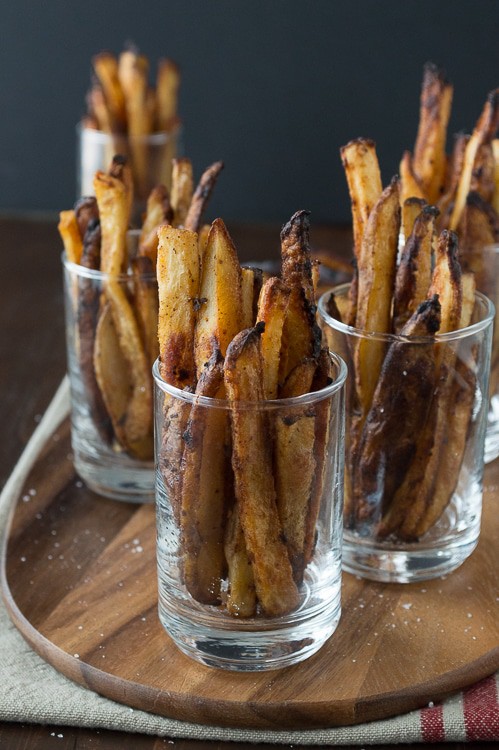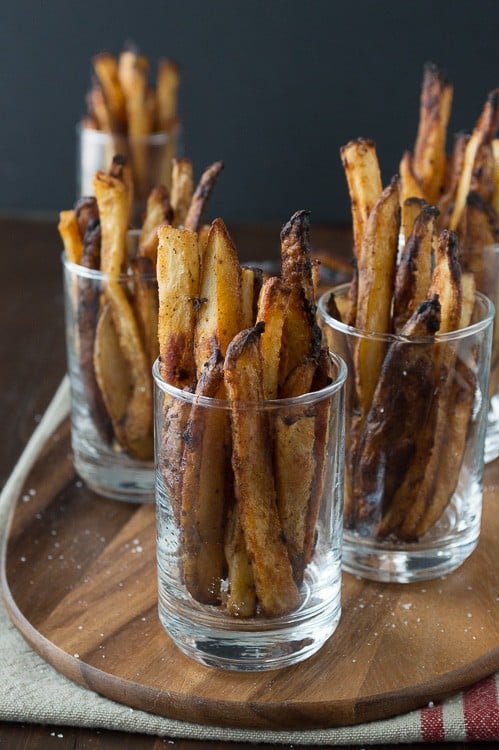 It wasn't by his calf or foot, it landed in the middle of his thigh and it even left a little butter print. It was very funny, but than I realized it would have been a better story if it landed on his head or in the bowl of veggies he was eating.
My butter story has absolutely nothing to do with this recipe for spicy dijon french fries. :)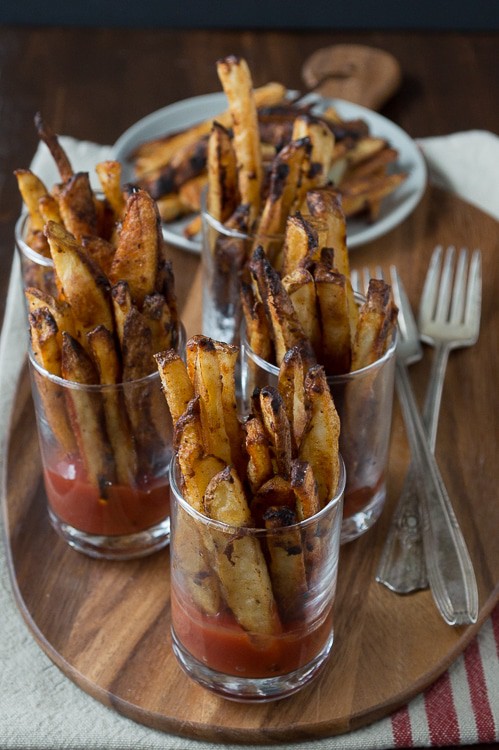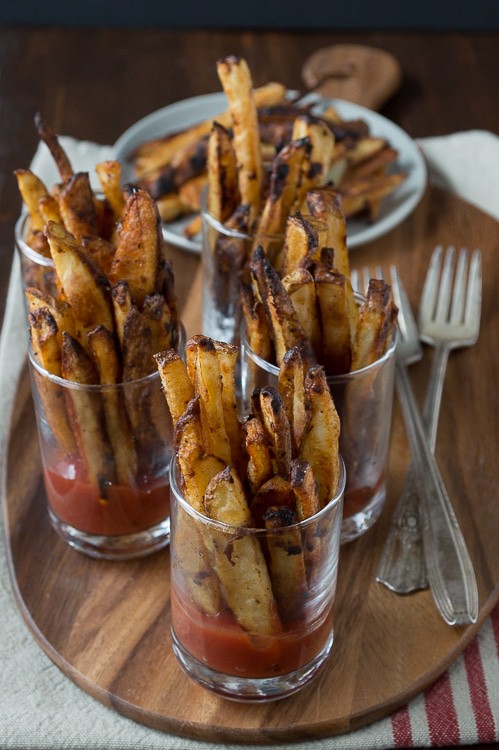 Homemade french fries weren't even on my radar until I went to college. Actually, until my senior year of college. My roommates started making french fries and every time they came out of the oven, all 11 of us, (yes I had 10 roommates!) would crowd around the pan and devour them.
They were delicious and perfectly crispy, and that's how I got hooked on homemade french fries. Ryan and I don't make homemade french fries often, but every time we do, we're reminded of how delicious they are.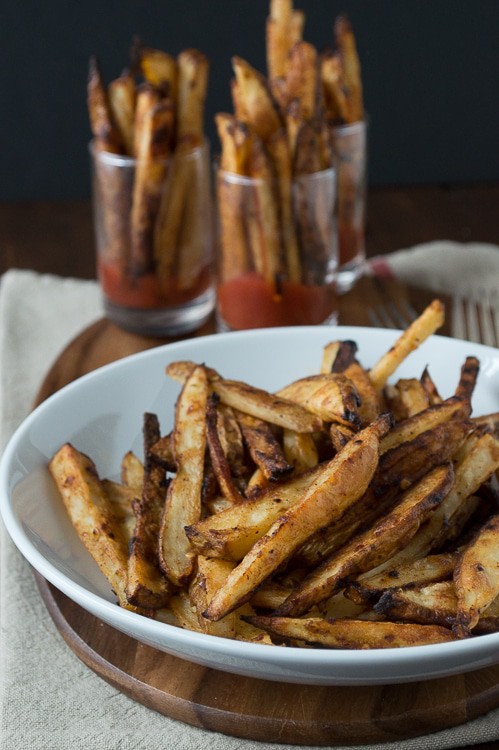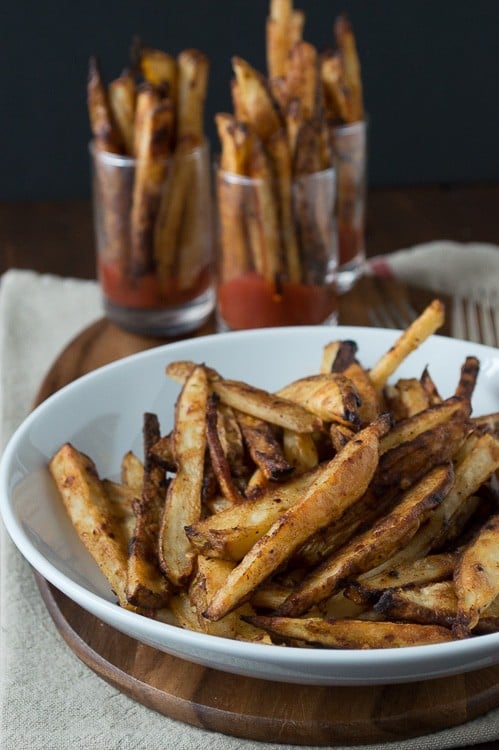 These spicy dijon french fries would be great to serve at a Super Bowl party. Place ketchup in the bottom of mini glasses or cups and add in a handful of french fries for your friends to enjoy while watching the game!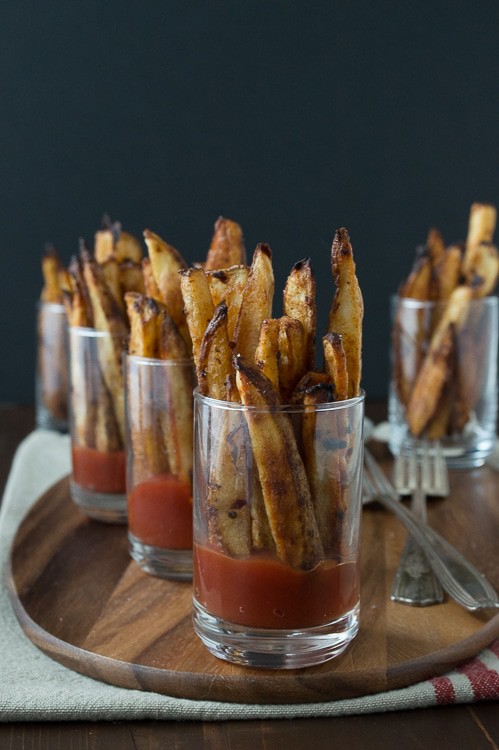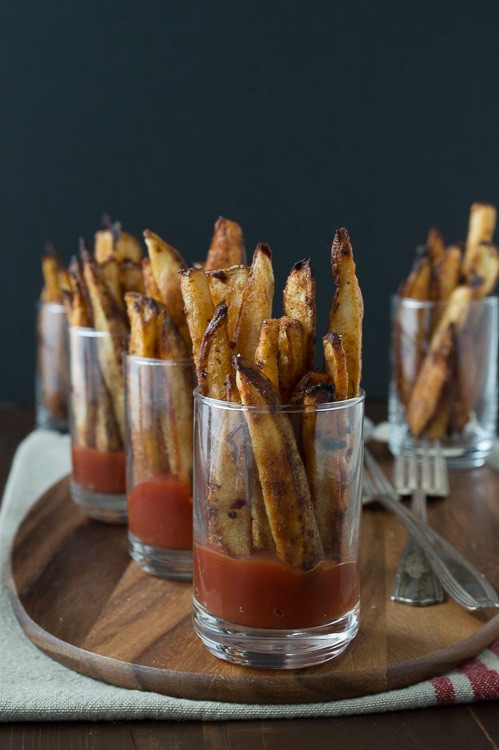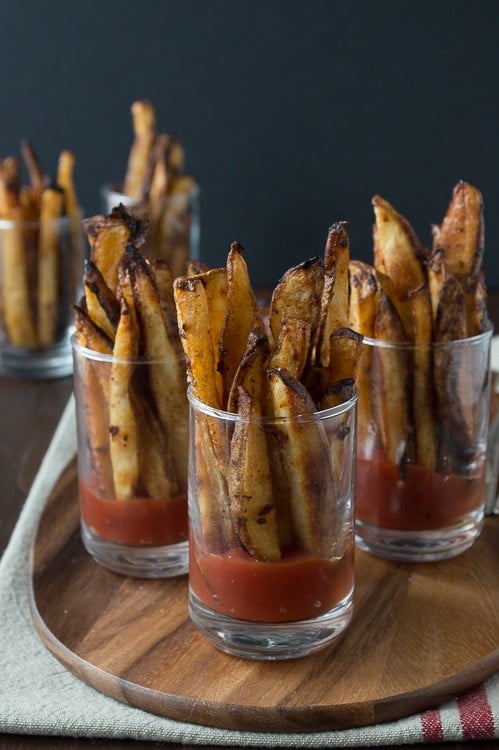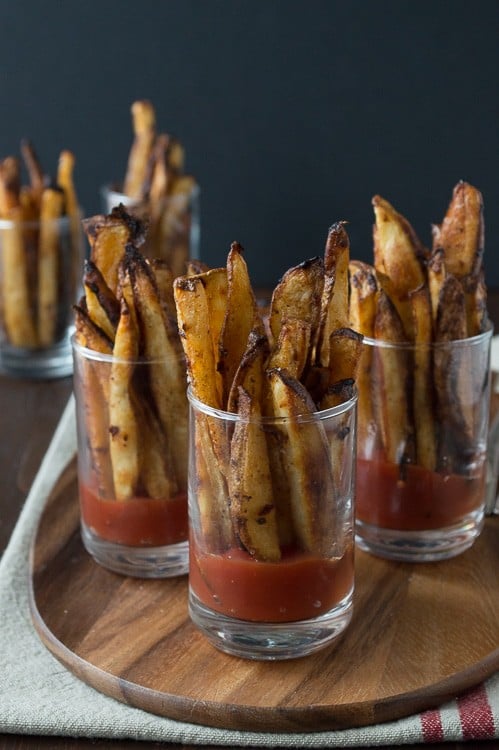 If you want to take your french fry dipping sauce to the next level, try spicy beer mustard or espresso bbq sauce, the possibilities are endless!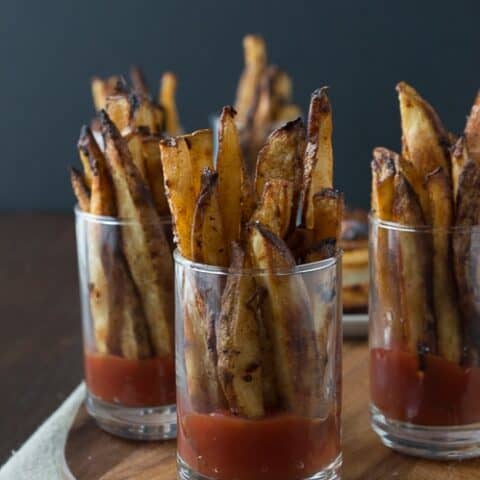 Spicy Dijon French Fries
Prep Time: 10 minutes
Cook Time: 35 minutes
Total Time: 45 minutes
Ingredients
6 potatoes, sliced into thin strips
3 tbsp olive oil
1 tbsp lime juice
2 garlic cloves, minced
1/2 tsp red pepper flakes
1 tsp chili powder
2 tbsp dijon mustard
1 tsp season salt
Instructions
Preheat the oven to 400 degrees F.
Wash and dry the potatoes and cut them into thin strips.
Place all of the cut potatoes in a large bowl.
On top of the potatoes add the olive oil, lime juice, minced garlic, red pepper flakes, chili powder, dijon mustard, and season salt. Use a spoon to mix everything together, making sure the potatoes are coated.
Arrange the potatoes in a single layer on a large baking sheet (you may need 2 or 3 baking sheets depending on the sizes you have).
Bake for 20 minutes then turn the fries over and bake for 10 to 15 more minutes, until crispy.**The flip is the most important step in making sure the french fries are crispy. I like to flip each fry individually, making sure each one got turned.
Once they are golden and crispy, remove them from the oven, and allow them to cool slightly before serving.