Want our top 10 essential dessert recipes?
Get our favorite classic recipes in your inbox! It's 100% free, but we might make you hungry!
Small Batch Cinnamon Rolls with Espresso Glaze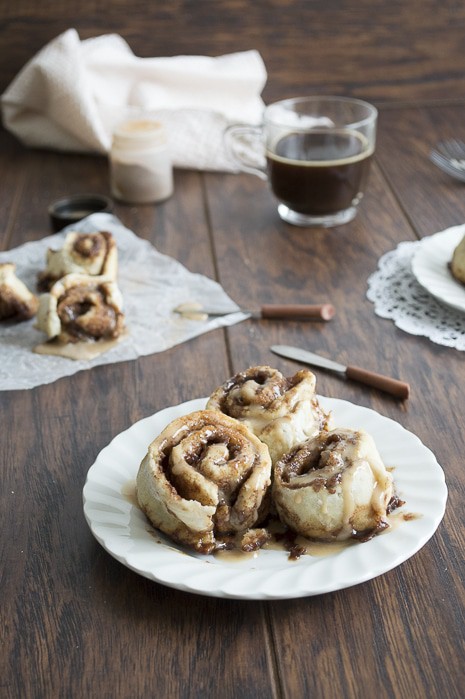 Do you ever feel like making cinnamon rolls but you don't need 8 HUGE rolls?
A small batch of cinnamon rolls is perfect for Ryan and I.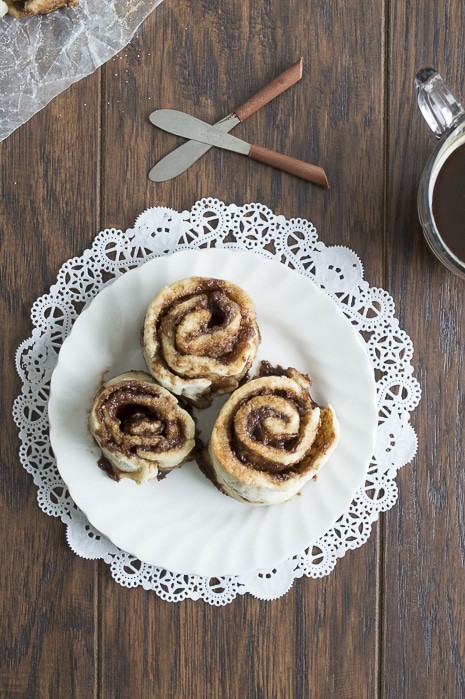 With this recipe you could either make 8 cinnamon rolls, just smaller ones, or you could make 4 regular sized rolls.
I chose to make 8 smaller rolls.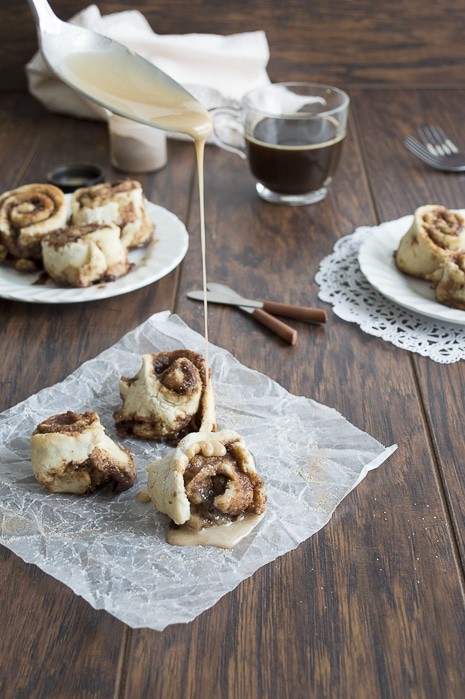 I love infusing the flavor of coffee into baked goods, so we made an espresso glaze.
It's amazing and really simple to make. All you need is brewed espresso and powdered sugar.
And something to dunk into your espresso glaze :)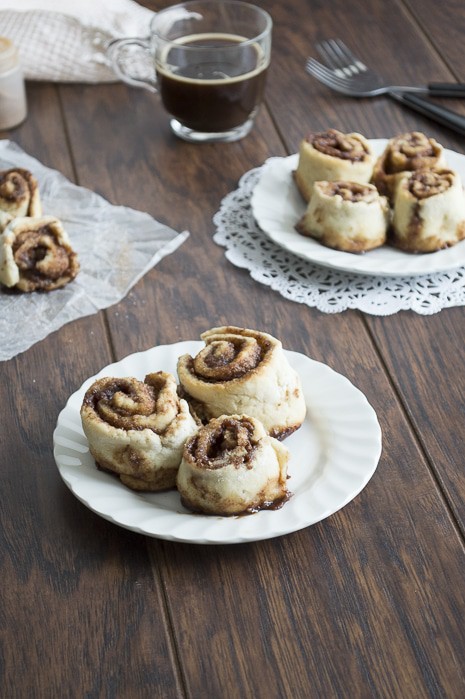 Mmmm, I'm dreaming about adding this glaze to banana bread.
Or on pancakes.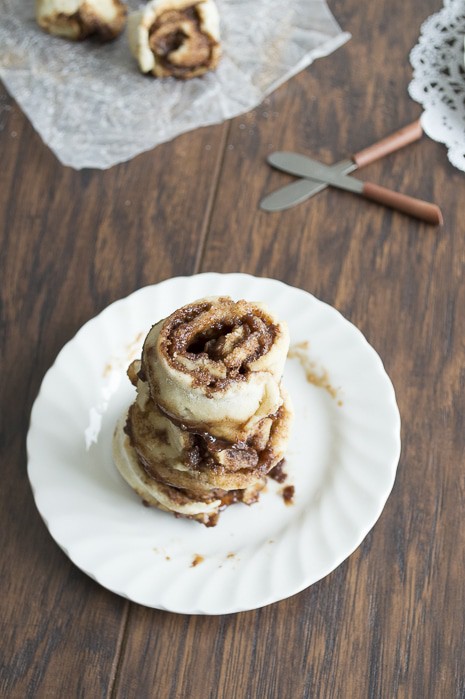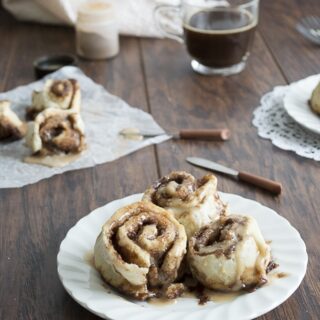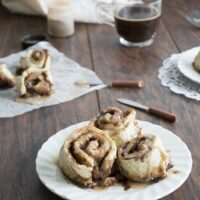 Small Batch Cinnamon Rolls with Espresso Glaze
Yield: 8 smaller cinnamon rolls

Additional Time: 40 minutes

Total Time: 40 minutes
Ingredients
Filling
6 tbsp brown sugar
2 tbsp sugar
1 & 1/2 tsp cinnamon
1/4 tsp vanilla
1/8 tsp salt
1 tbsp butter, softened
Dough
1 & 1/4 cups flour
1 tbsp sugar
1/2 tsp baking powder
1/4 tsp baking soda
1/4 tsp salt
1/2 cup buttermilk
2 tbsp milk (I used skim)
1 tbsp butter, melted (goes in the dough)
2 tbsp butter, soft (on top of the dough before filling goes on)
Espresso Glaze
2 tsp brewed espresso
1 cup powdered sugar
Instructions
Preheat the oven to 350 degrees F. Grease the bottom of a small cake pan with butter, set aside.
For the filling, combine the brown sugar, sugar, cinnamon, and salt. Add the vanilla and cut in the butter. Set aside.
For the dough, combine the flour, sugar, baking powder and soda, and salt. Add in the buttermilk, milk, and 1 tbsp melted butter and mix.
Add the wet ingredients to the dry ingredients and knead until just combined. You may need extra flour to keep your hands from becoming sticky.
On a floured surface, shape the dough into a rectangle (your desired size). Spread the 2 tbsp of softened butter over the dough.
Add the filling, spreading evenly on the dough. Lightly press the filling into the dough.
Roll the dough into a long log, rolling the long side around itself. Press the edges and ends down.
Cut the dough into your desired amount of rolls.
Place the rolls into the cake pan and bake for 12-18 minutes.
Take the rolls out of the oven and prepare the espresso glaze.
Mix the powdered sugar with the espresso. You can add more or less powdered sugar depending on your desired consistency.
Drizzle the glaze over the rolls and enjoy.