Want our top 10 essential dessert recipes?
Get our favorite classic recipes in your inbox! It's 100% free, but we might make you hungry!
Skillet Ziti with Chicken and Broccoli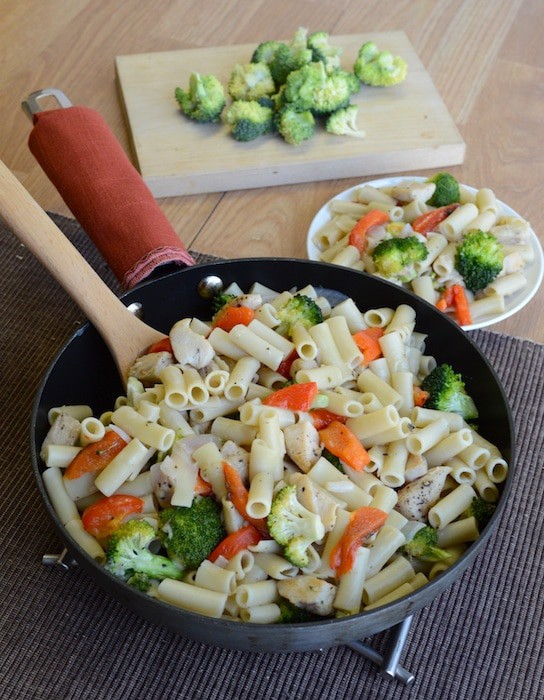 It's getting cooler and darker outside – which by the way, does anyone else dislike the weird phenomenon of daylight saving time? My body is still confused about it even after 24 years.
It's causing me to get up at 6:15am, bake coconut citrus bars and go to the grocery store all before 9am. Of course this all happened while Ryan was enjoying his extra hour of sleep.
How did you spend your extra hour? Trying to convince your kids to go back to bed when they woke up at 5am? I'm sure that will be us in several years.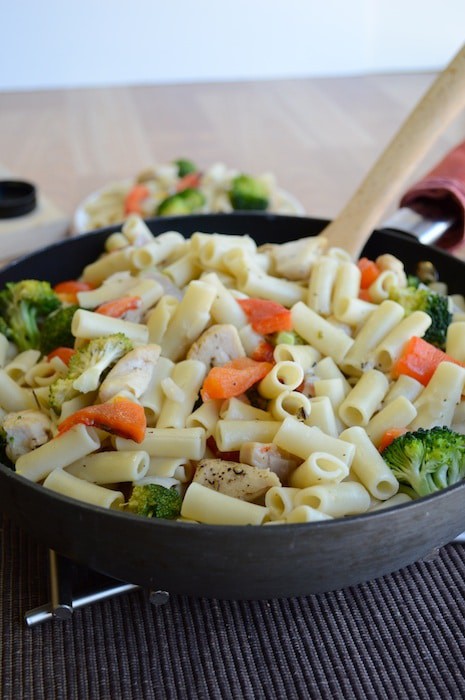 With the seasonal changes a lot of families, mine included, want something hot, tasty, and easy for dinner.
Let's see if this skillet ziti dish with chicken, broccoli, and homemade roasted red peppers meets those requirements –
Hot: I mean have you ever cooked something in a skillet that was cold?!
Tasty: Chicken, broccoli, roasted red peppers, and parmesan cheese, yum.
Easy: Ready in about 30 minutes if you make the roasted red peppers ahead of time or buy jarred ones from the store.
But if you have the time, I would suggest taking the adventure to make your own roasted red peppers. It really is easy and a whole lot cheaper than those jarred ones. I used 2 peppers for this 1 dish, but I easily could have enjoyed 3, 4, 5, .. I love red peppers.
But in seriousness, you probably don't want to use more than 3.
Every time I make homemade roasted red peppers, I use Ina Garten's tutorial, she's great and makes the process simple. Check it out by clicking here.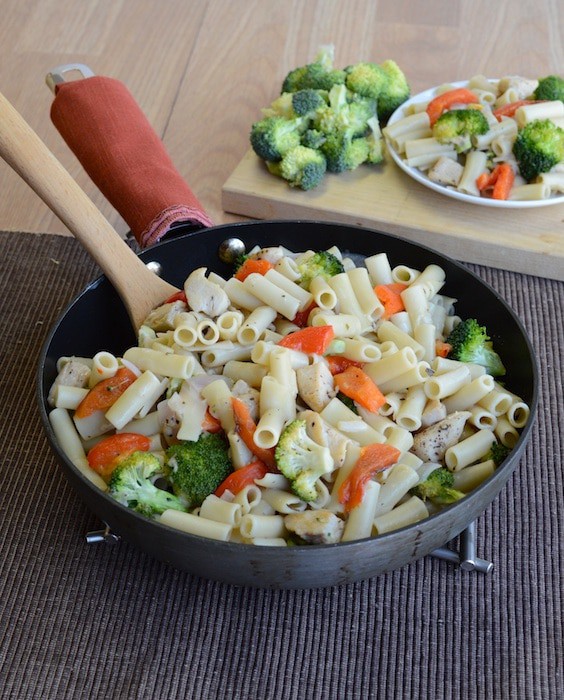 Skillet Ziti with Chicken and Broccoli
Yield: 4 servings

Additional Time: 30 minutes

Total Time: 30 minutes
Ingredients
1 pound boneless skinless chicken breasts, cut into 1/2-inch strips (about 1.5 chicken breasts)
1/2 tsp pepper
1/4 tsp salt, divided
2 tbsp butter, divided
1 small onion, chopped
3 garlic cloves, minced
1/4 tsp crushed red pepper flakes, optional
1/4 tsp dried oregano
2 cups chicken broth
1 cup milk
2 & 1/2 cups uncooked ziti (or similar pasta)
1 bunch broccoli, cut into florets
1 cup julienned roasted red peppers (homemade or jarred)
1/2 cup grated parmesan cheese
Instructions
Sprinkle chicken with pepper and 1/8 teaspoon salt.
In a large skillet, saute chicken in 1 tablespoon butter until no longer pink. Remove and keep warm.
In the same skillet, saute onion in remaining butter (1 tbsp) until tender.
Add the garlic, pepper flakes, oregano and remaining salt; cook 1 minute longer.
Stir in broth and milk; bring to a boil.
Add the pasta; cook for 7-8 minutes or until it's tender, adding the broccoli and red peppers during the last 5 minutes of cooking.
Return chicken to skillet; heat through. Sprinkle with cheese.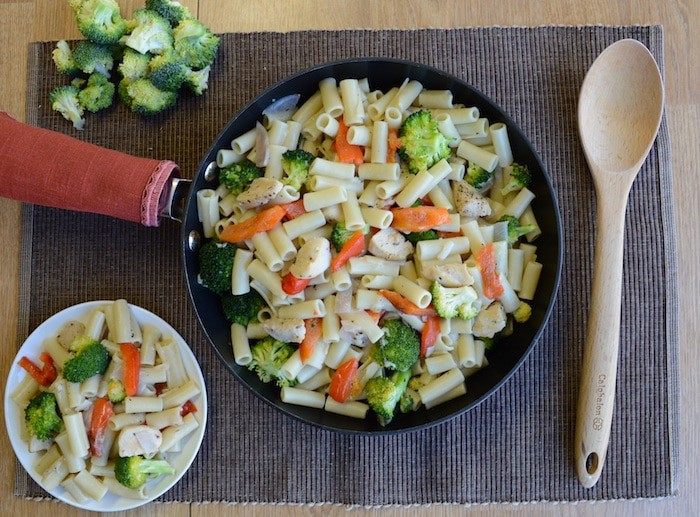 Somehow I forgot to mention that this is a 1 dish meal, and that is a beautiful thing.
Can I get an amen for that?!
So, will this dish be a crowd pleaser in your house?