Want our top 10 essential dessert recipes?
Get our favorite classic recipes in your inbox! It's 100% free, but we might make you hungry!
Salted Caramel Sundae with Bananas and Pecan Praline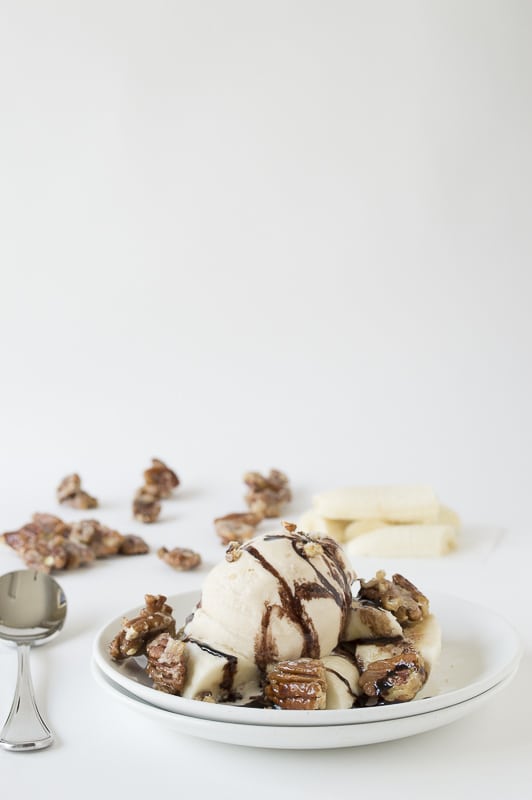 This is a goofy time of year. It's the end of August and I am not sure if I should still be eating ice cream and popsicles or if I should be looking at fall recipe books and stocking up on pumpkin.
Actually, this past weekend I ate this salted caramel sundae with bananas and pecan praline while I was bookmarking recipes from fall cookbooks. Talk about jumbling the seasons! With being a food blogger, I am always eager for the next season, well.. I am mainly just eager to make oatmeal and dishes with lots of pumpkin, but I am dreading what comes after fall… winter. So I am trying to remind myself to enjoy the last few weeks of August without jumping too far ahead. But I am already guilty of pinning fall and halloween recipes onto my Pinterest boards. I am still putting off buying canned pumpkin until at least September and if I can, I am hoping to hold off posting any pumpkin related recipes until October.. or at least the last week of September. While food bloggers love jumping the gun on the next season, I am not sure if everyone else does, so I am trying to be mindful about what recipes I post until it's actually fall.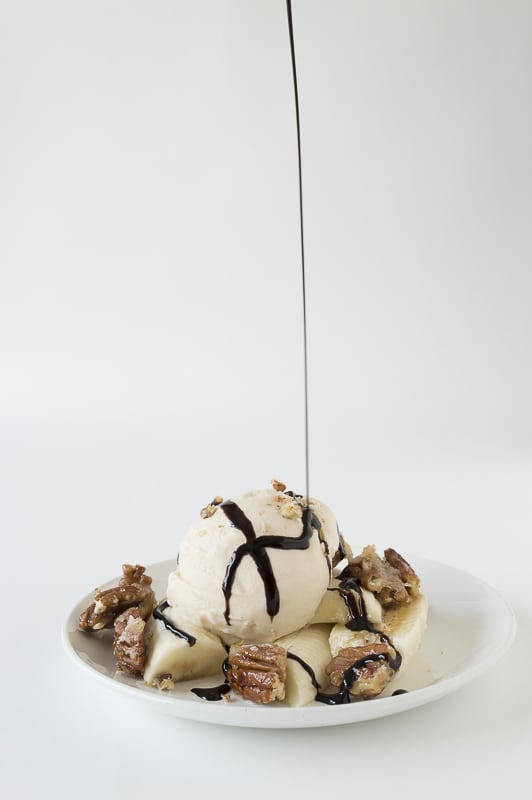 But this will be our last ice cream recipe for the summer! But just because this is the last ice cream recipe doesn't mean any of us should stop eating ice cream – ice cream is totally a year round food. It's been really fun celebrating summer at home and on the blog this year. I bought a popsicle maker at the beginning of the summer and completely want popsicle crazy. I also shared several berry inspired recipes, which I need to make our out of the the pan triple berry pie one more time before the fresh berries disappear in the grocery store. There were also several ice cream treats that made their debut onto the blog. You can see all of our summer recipes right here! As much as I don't want the summer sun to go away, I am relieved that I won't have to deal with melting ice cream or dripping popsicles during photo shoots for a while. I am already trying to figure out how I can turn my kitchen into an ice box for next summer so it's easier to photograph frozen treats. If anyone can loan me an igloo, let me know!

Salted Caramel Sundae with Bananas and Pecan Praline
Ingredients
1/8 cup granulated sugar
1/4 cup pecan halves
1 & 1/2 tbsp water
4 scoops of salted caramel ice cream
Drizzle of hot fudge, warmed
1 banana
Instructions
Find a baking sheet that will fit in your freezer, line it with parchment paper and stick it in the freezer to chill.
In a skillet over medium heat, bring the granulated sugar and water to a boil, about 4 to 5 minutes, stirring until the sugar turns a caramel color.
Add in the pecan halves, boil and stir for 1 additional minute. Remove the baking sheet from the freezer and pour the pecans onto it, spreading them out as much as possible.
Let the pecans cool until they are brittle, break up any large chunks after they are cool.
Peel and slice the banana lengthwise and once in half (should have 4 pieces), and arrange the pieces on 2 plates.
Slightly warm the hot fudge in the microwave.
Remove the salted caramel ice cream from the freezer, and place 2 scoops on top of the banana pieces on each plate.
Add the some pecan praline to each plate and drizzle with the warmed hot fudge.
Recipe inspired from Yummy by Caroline Brewester
Don't forget, you can save our recipes to your Ziplist Recipe Box for later use and create meal plans and a shopping list by clicking "Make Recipe."
https://thefirstyearblog.com/salted-caramel-sundae-with-bananas-and-pecan-praline/
Readers, what are your feelings about the transition between summer and fall?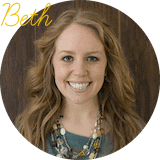 Similar recipes: Salted Caramel Chocolate Chip Milkshake and Neapolitan Oreo Ice Cream Bites.