Want our top 10 essential dessert recipes?
Get our favorite classic recipes in your inbox! It's 100% free, but we might make you hungry!
Salted Caramel and Espresso Glaze Chocolate Crostini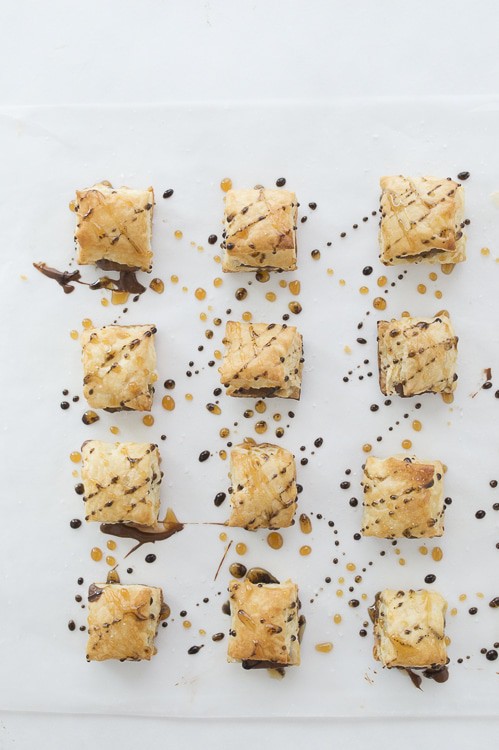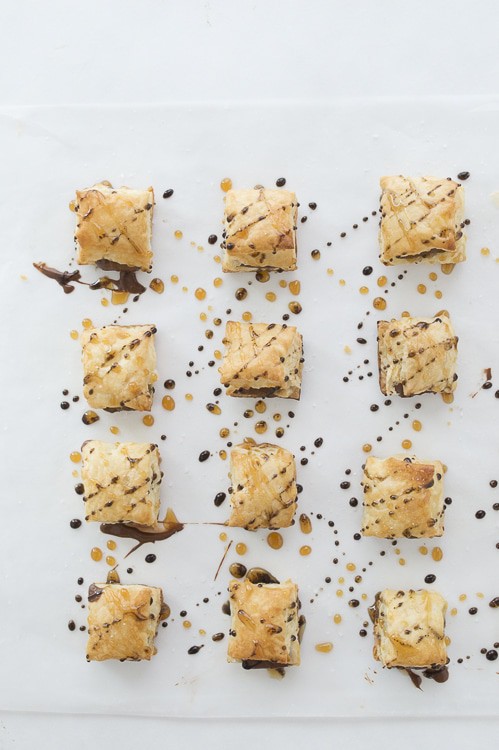 Last weekend these chocolatey espresso crostini were exactly what I needed. Let me explain.
I've been looking for fall boots for over a year.. I guess the shoe stores are slim pickings in a smaller city. Growing up I lived 30 minutes from the Mall of America where, well if you've ever been there, has every store you could ever want! There is not even a Famous Footwear where I live. After exploring all of our local stores, and coming home ended handed, Ryan offered to take a trip to Chicago with me. On our way to Chicago everything was going well, or so we thought. Lola, our GPS is about 6 years old and we probably should have updated her because she was taking us all over the city and way out of our way. We ended up going through 3 tolls in 20 minutes. The first toll was $3.80, the next was $1.90 and the third was $1.50. Talk about breaking the bank, I was lucky Ryan had cash on him because I was unprepared.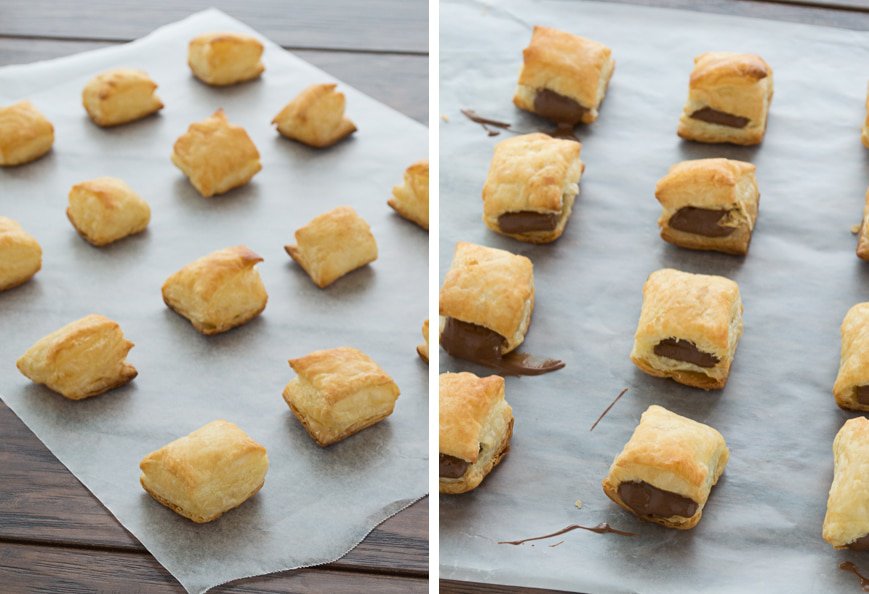 We did our shopping and I ended up finding some boots and a few blog props. As we were getting ready to leave, we decided to use the iPhone GPS to avoid the hoopla we ran into before. But, oh my goodness, it was worse! We got on the highway and had to pay a 90 cent toll. We took the next exit, as the iPhone said, and it took us off the highway and made us go back on the highway simply going the other direction, another 90 cent toll. That was a little ridiculous. Well, the two additional tolls that came after that, a $1.50 each, didn't even phase me at that point, I just wanted to be home.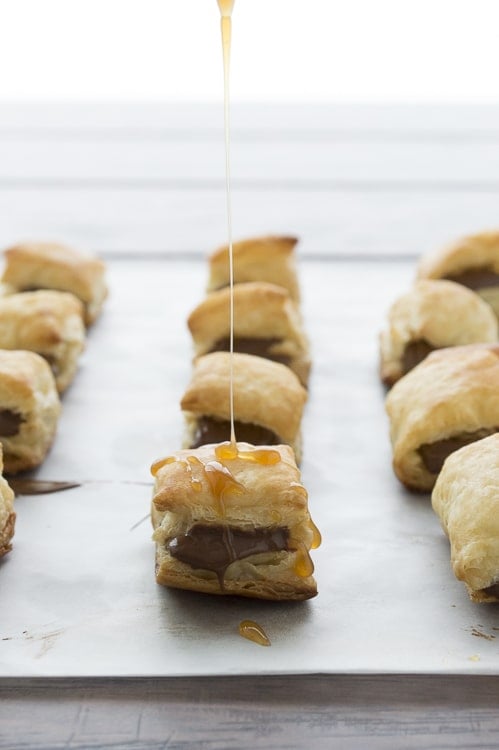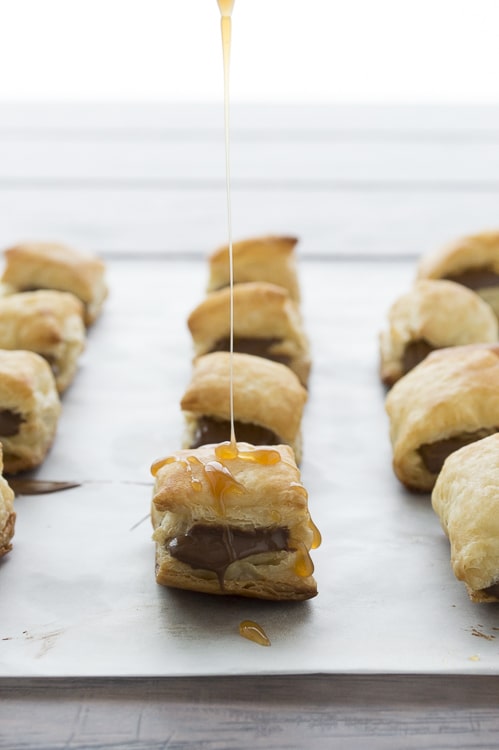 After driving through crazy traffic and paying at least $12 in tolls, we needed a chocolate treat. Good thing you can pretty much make anything with frozen puff pastry sheets. We made salted caramel and espresso glaze chocolate crostini. In non-food terms that means a fluffy piece of pastry stuffed with a chocolate bar and drizzled in salted caramel sauce and espresso glaze. Does it sound like something you would eat? It hit the spot after our hectic day.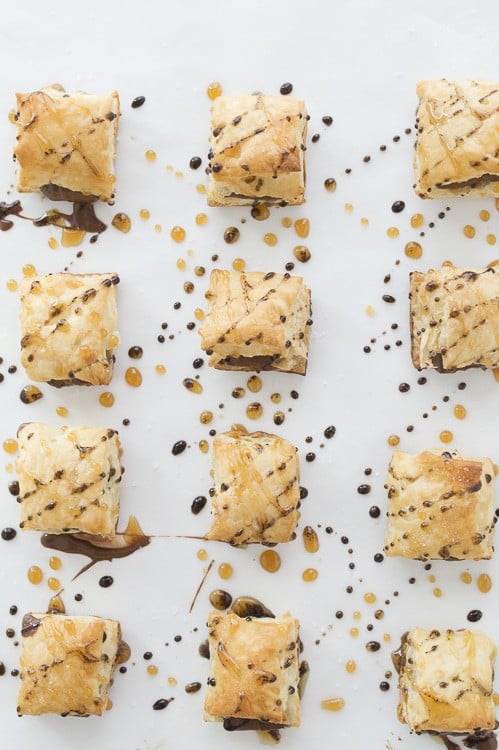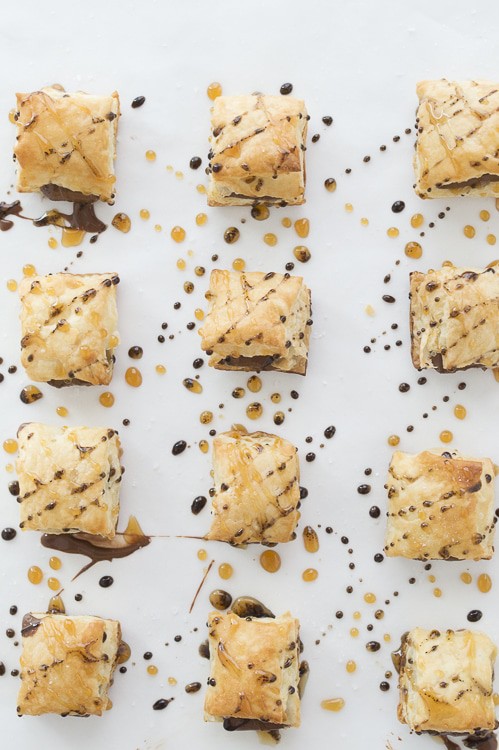 Salted Caramel and Espresso Glaze Chocolate Crostini
Ingredients
1 puff pastry sheet, thawed (can find in the freezer section)
2-3 milk chocolate bars, broken into rectangles (you'll need about 36 small chocolate rectangles)
caramel sauce for drizzling
espresso glaze for drizzling
sea salt, to top

Espresso Glaze

small amount of brewed espresso, 1 tbsp or less and a small amount of powdered sugar, to give the espresso a thicker consistency. Mix the two together to get a glaze.
Instructions
Thaw the puff pastry sheet on the counter, according to the directions on the package. Meanwhile, divide the chocolate bars into small rectangles. Set aside.
After the puff pastry is thawed, pre-heat the oven to 400 degrees F. Line a baking sheet with a silpat. Unfold the puff pastry and cut using a pizza cutter into 3 strips, cutting along the fold marks that are already there. Cut each strip into 6 even pieces, then cut each of those 6 pieces in half, making small squares.
Place the squares on the baking sheet. Bake for 10-15 minutes or until golden brown.
Remove the pastry squares from the oven and allow them to sit until they are cool enough to touch.
Using a knife, cut a small slit in the side of each square, do not cut all the way through. Add 1 chocolate piece to the center of each square, inserting them through the slit in the side.
Drizzle with caramel sauce and espresso glaze. Top of sea salt.
If you'd like to use a different chocolate candy bar, simply cut it into small pieces so each piece will fit inside the pastry square.
Recipe inspired from Pepperidge Farm.
https://thefirstyearblog.com/salted-caramel-and-espresso-glaze-chocolate-crostini/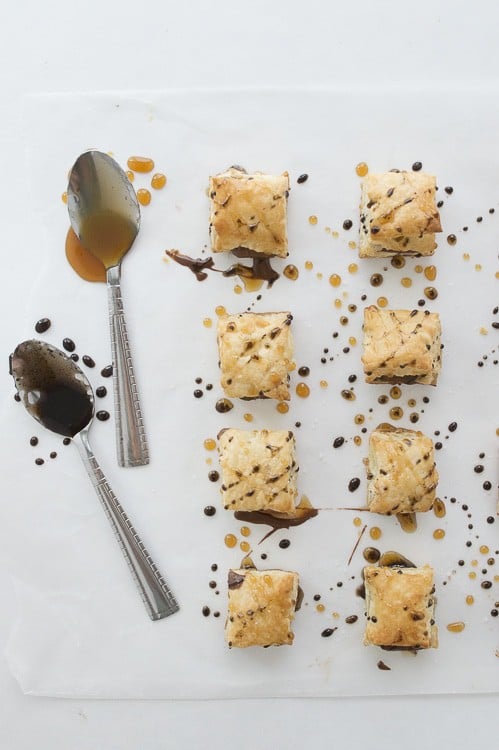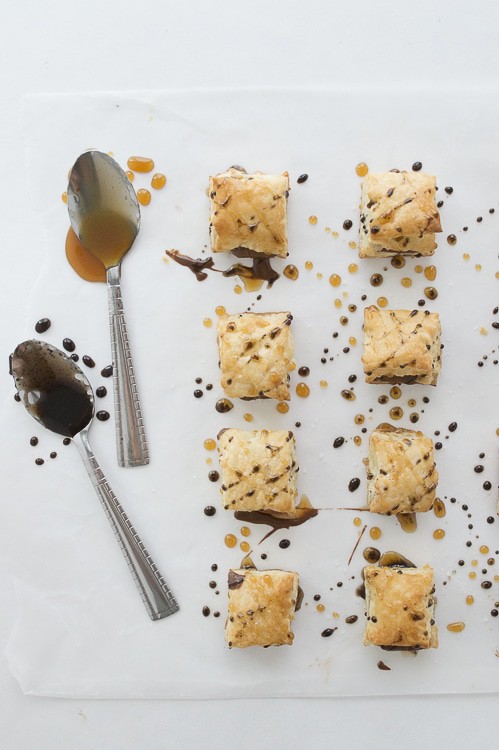 You could use various chocolate candy bars with this recipe, so either dig into your stash of halloween candy or remember this recipe for later, because it's a great one to help you use up that candy!