Want our top 10 essential dessert recipes?
Get our favorite classic recipes in your inbox! It's 100% free, but we might make you hungry!
Rocky Road Cookies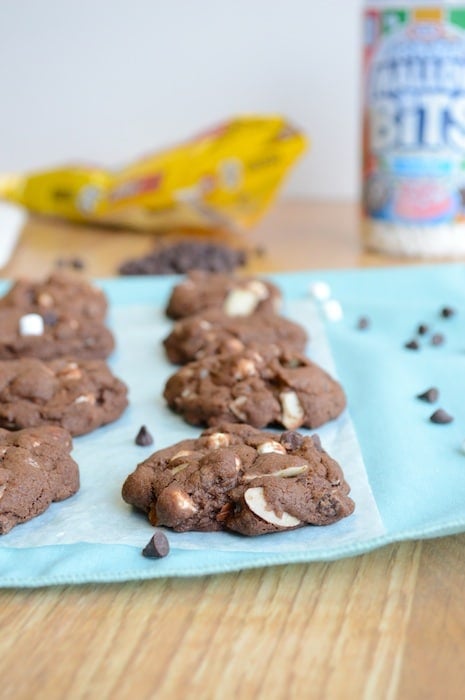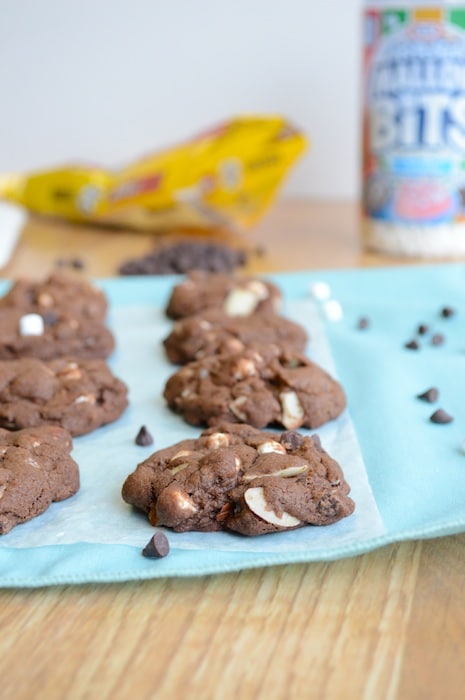 These rocky road cookies are deliciously decadent.
Possibly my favorite cookie ever.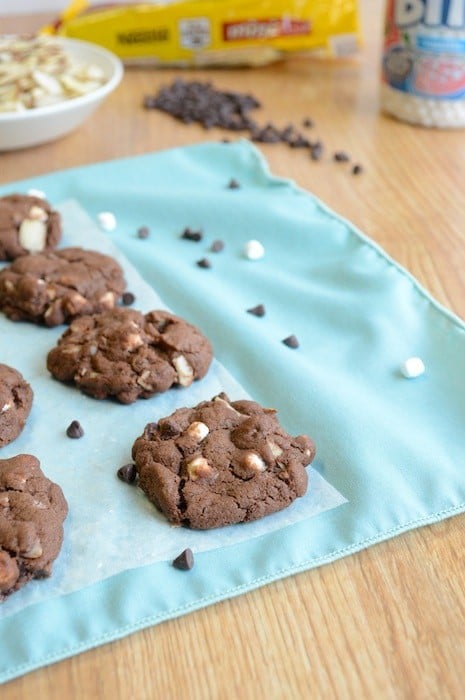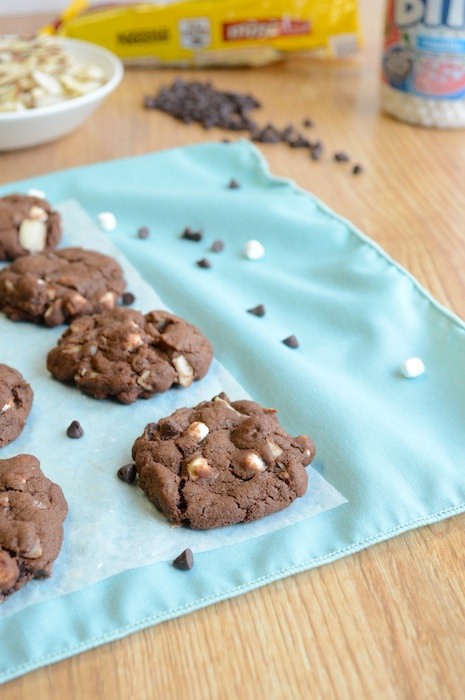 I know you're probably thinking what is so decadent about rocky road?
Well, let's start with chocolate, and add almonds, and then mallow bits.
But it's not just chocolate. It's cocoa and chocolate chips – decadent when paired together.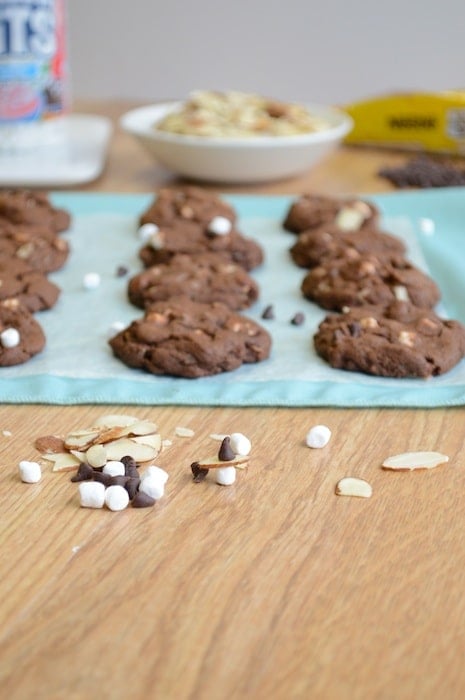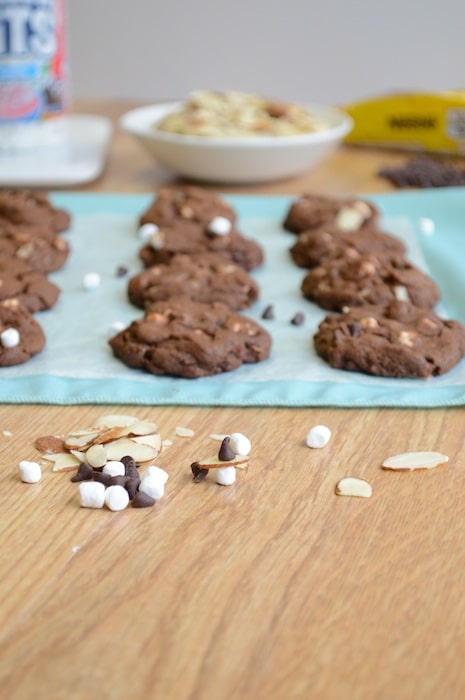 Do you see that little chocolate chip, almond sliver, mallow bit sandwich?
Everything mini – just what I love.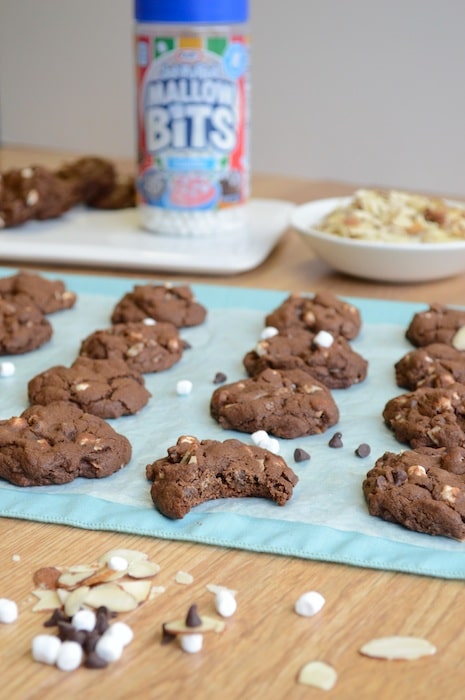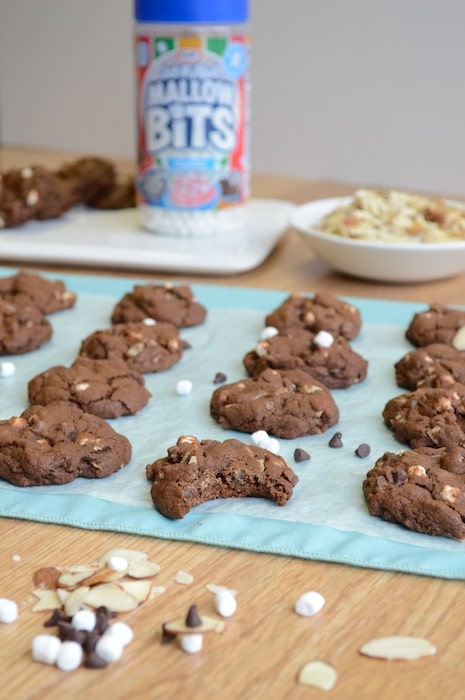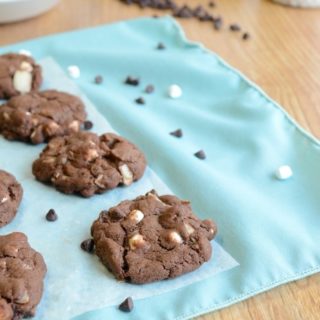 Rocky Road Cookies
Additional Time:
30 minutes
Ingredients
1 & 1/4 cups all-purpose flour
1/2 tsp baking soda
1/8 tsp salt
6 tbsp cocoa
1/2 cup butter (1 stick), at room temperature
1/3 cup granulated sugar
1/3 cup light brown sugar
1 egg
1 tsp vanilla
1/3 cup mini chocolate chips
1/2 cup mallow bits
1/3 cup chopped/slivered almonds
Instructions
Preheat the oven to 350 degrees F. Line a baking sheet with parchment paper or a Silpat. Set aside.
In a medium bowl, whisk together flour, baking soda, salt, and cocoa. Set aside.
With a mixer, cream butter and sugars together until smooth. Add the egg and vanilla. Mix until blended.
Slowly add flour mixture to sugar mixture and mix until flour disappears.
Stir in the chocolate chips, mallow bits, and almonds. Drop cookie dough by rounded half tablespoons onto prepared baking sheet, about 1 inch apart.
Bake cookies for 8 minutes, or until the cookies are set around the edges, but still soft in the center. Don't over bake. Remove from oven and let sit on baking sheet for 2 minutes. Move to a cooling rack and cool completely.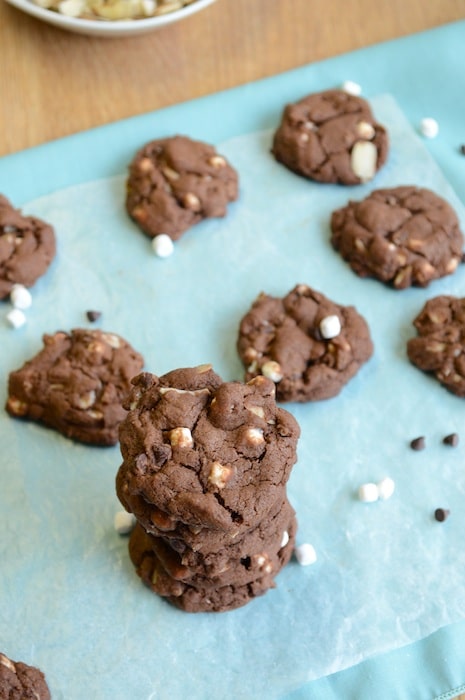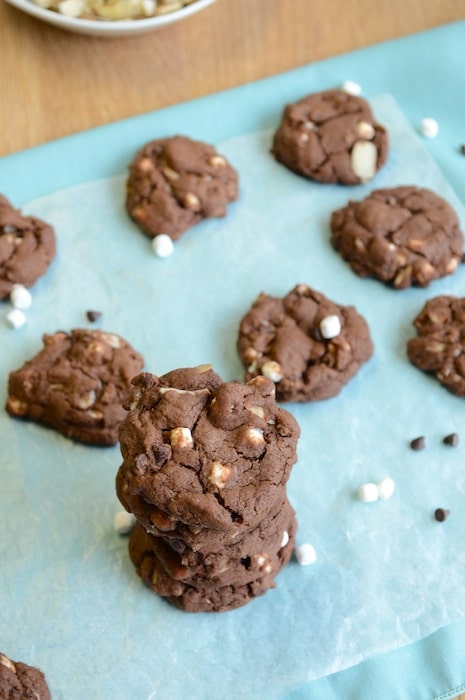 We love chocolate (and these cookies, like we really really do), so if we don't freeze some of them they will disappear before our eyes. But somehow they still disappear :-)