Roasted Red Pepper Vegan Lentil Chili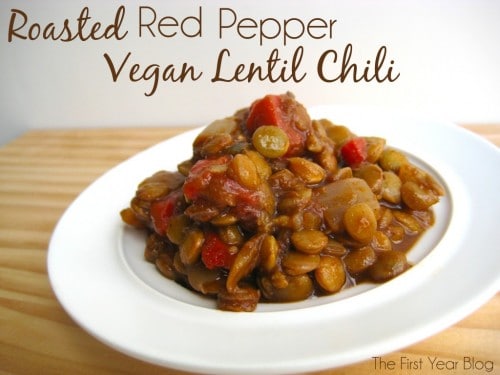 This is our new favorite chili, hands down. I've been on a roasted red pepper kick lately. And lentils, they are completely new to me, but I think I will always add them to chili now!
Ingredients
2 tsp olive oil
1 medium onion, diced
2 tsp garlic
2 tbsp chili powder
1 tbsp ground cumin
1 tsp dried oregano
1 cup brown lentils
1/4 cup red lentils (I could only find brown lentils, so I used 1 1/4 cups)
42 oz vegetable broth
14 oz water
1 can tomato sauce, 8 oz
1/2 cup green onions, diced
1 can (6 oz) black olives, drained and sliced (omitted..no way, not in my chili!)
1 jar (12 oz.) roasted red peppers, drained and chopped OR check out how to make homemade roasted red peppers HERE. It's so easy and delicious!
lime slices for serving (optional)
Directions
Using a large pan, heat olive oil over medium heat, then saute the onion until it's starting to brown.  Add garlic and saute about 1 minute more.  Add the chili powder, ground cumin, dried oregano, and saute about 90 seconds more, or until the spices are fragrant.
Add the lentils, vegetable broth, water, and tomato sauce and heat until the mixture comes to a low boil.  Reduce heat to a low simmer and let the mixture cook until the lentils are well-softened. The cooking time will depend on how fresh the lentils are, but I let the dish simmer for 20 to 30 minutes, stirring occasionally. If the chili begins to get too thick, you can add more water or vegetable broth.
While the mixture cooks, slice the green onions, drain olives and cut into slices, and drain the roasted red peppers and chop into small pieces if store bought.  When the lentils are cooked, add the green onions, olives, and roasted red peppers and let the mixture simmer 15 to 20 minutes longer.  If you're feeling adventurous, top with freshly squeezed lime juice.
This dish can also be easily frozen and re-thawed when needed.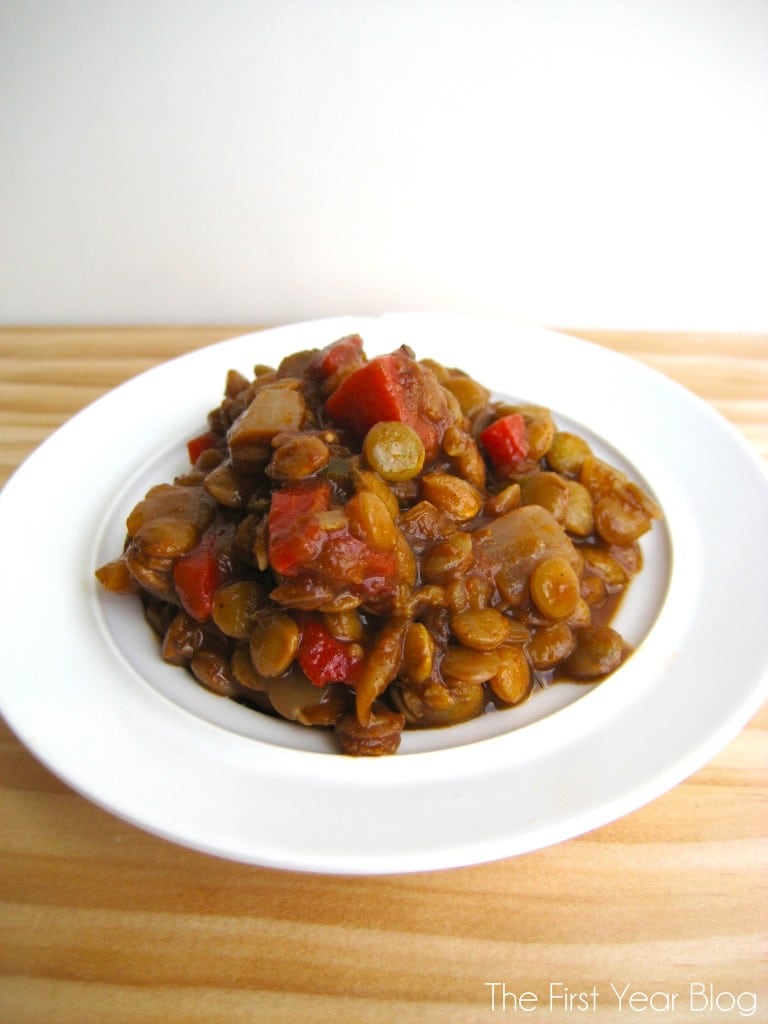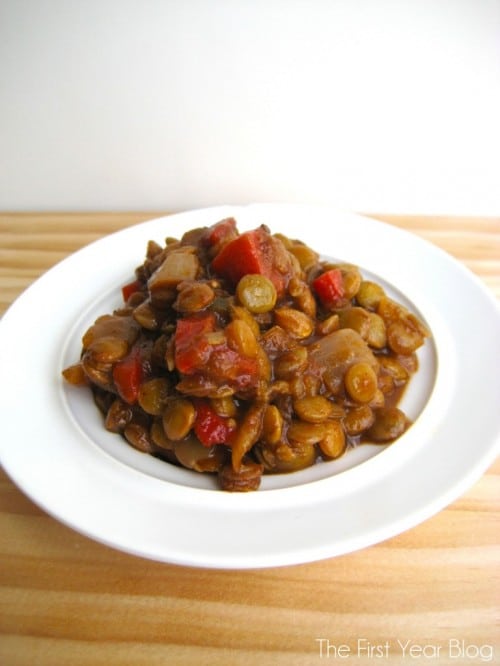 Adapted from Kalyn's Kitchen
Nom nom, I love lentils!
Linking to these parties!