Reese's Pieces Monster Cookies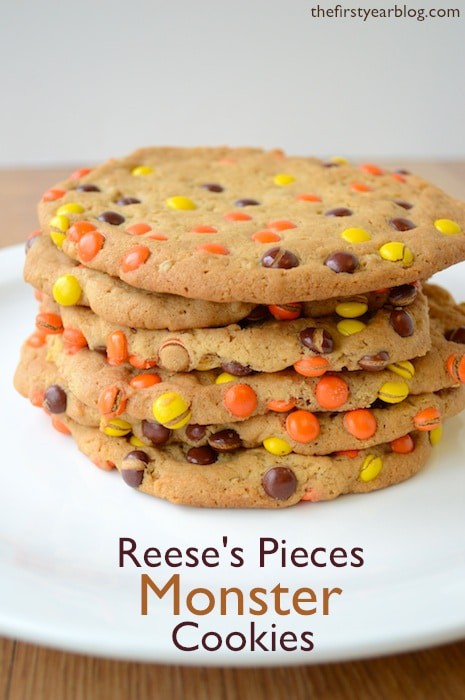 We've been going a little crazy over Reese's Pieces in our house. Why not throw them in your ice cream, your pancakes … your mouth!
Because they're so tiny they're harmless to your waistline right?
First, things got a little creative around here with Reese's Pieces Brownie Puppy Chow, click here to see that post. Instead of using powdered sugar in that recipe, we used powdered brownie mix and added brownie pieces and reese's pieces – delish!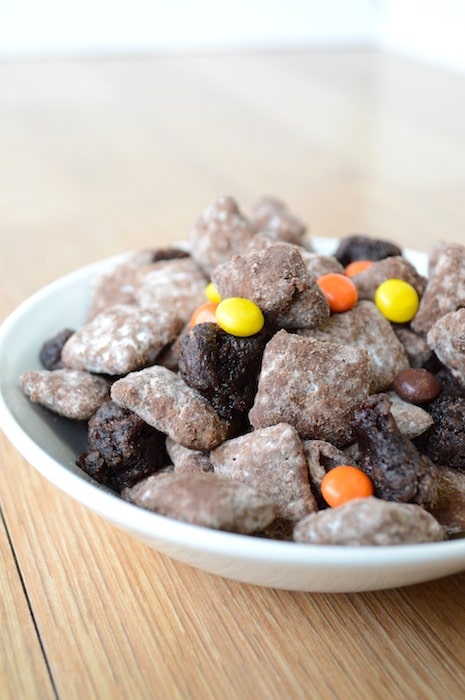 And look at all of those fall colors!
Between the puppy chow and these reese's pieces monster cookies, I might just have to bring both to our next halloween party.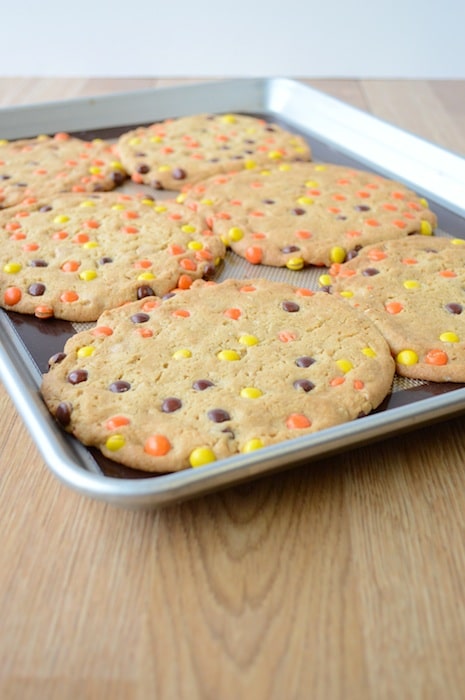 Look at these cookies, they really are monstrous! Which makes them all the more perfect for halloween.
You could definitely use this recipe to make regular sized cookies, but monster cookies are just so fun to eat.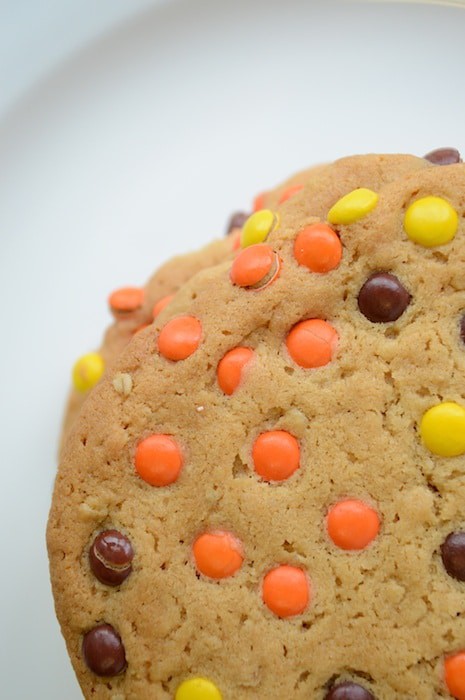 I post a lot of recipes that are adaptable to your taste preferences. For example, maybe Reese's Pieces aren't your thing, but you really love raisins – well substitute raisins then!
The base of this cookie is so good that you could actually make plain monster cookies without any added toppings. And that's just what I did.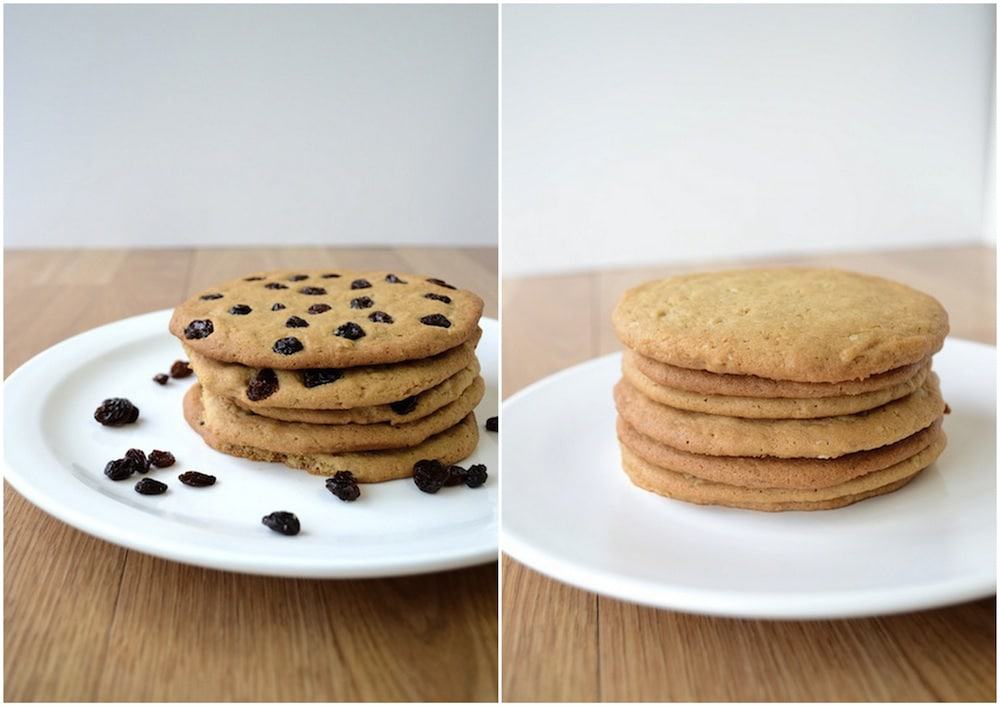 But the sky is the limit on these, get creative and throw in whatever you have on hand.
Or you can go to the grocery store to buy reese's pieces, like I did!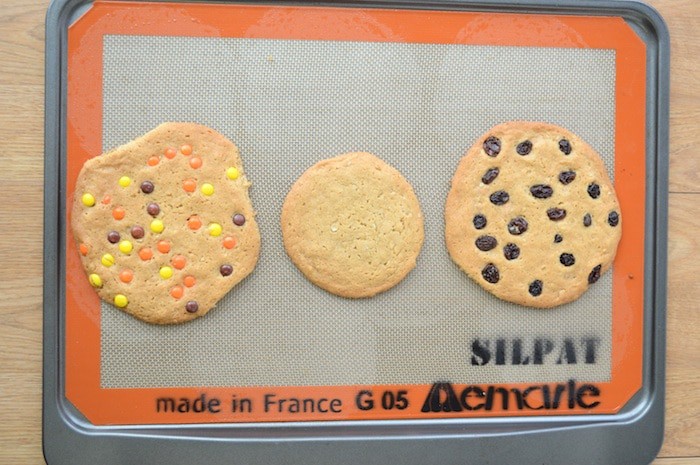 Reese's Pieces Monster Cookies
Ingredients
2 cups all-purpose flour
2 & 1/4 tsp baking soda
1/2 tsp salt
1 cup unsalted butter, softened
1 cup peanut butter
1 cup sugar
2/3 cup brown sugar, packed
2 large eggs at room temperature
1 tsp vanilla
1/2 cup rolled oats
1 bag of Reese's Pieces (or other desired toppings)
Instructions
In a small bowl, whisk together the flour, baking soda and salt. Set aside.
In a large bowl (or the bowl of a stand mixer) cream together the butter, peanut butter, sugar and brown sugar. Beat until light and fluffy.
Add the eggs, one at a time.
Add in the vanilla and mix.
Slowly add the dry ingredients to the wet ingredients and mix until combined. Don't over beat.
Stir in the oats.
Cover and refrigerate the dough for 15 minutes, meanwhile preheat the oven to 350 degrees F.
Prepare a cookie sheet with parchment paper or silpat.
Pour the Reese's Pieces onto a plate or into a flat bowl.
Using a large cookie scoop or about 1.5-2 tbsp of dough, drop the cookie dough into the bowl of reese's pieces, and cover the top of the cookie.
Gently use your hands to flatten the dough into a disc, also pressing the reese's pieces into the dough, then transfer to cookie sheet.
Be sure to leave space between your cookies. Bake for 12-15 minutes or until the edges are just beginning to darken.
Allow the cookies to cool on the cookie sheet for 5-10 minutes. This is important since the cookies are so large, if you don't wait they may crumble.
*Baking time will vary if you make smaller cookies
https://thefirstyearblog.com/reeses-pieces-monster-cookies/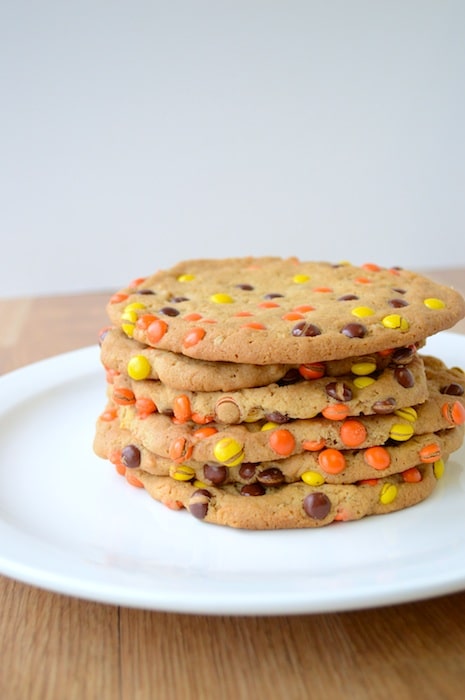 I can definitely see these monster cookies making another appearance on the blog – maybe white chocolate peppermint for christmas? :-)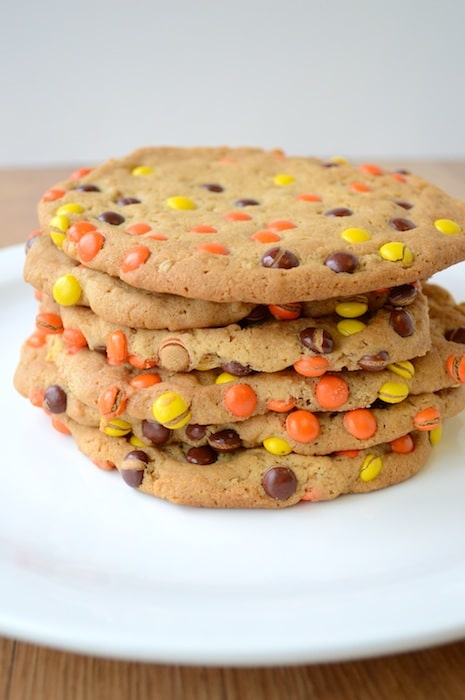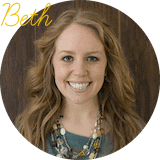 Similar recipes: Starbucks Pumpkin Pound Cake and Apple Cinnamon Graham Crackers.