Want our top 10 essential dessert recipes?
Get our favorite classic recipes in your inbox! It's 100% free, but we might make you hungry!
Raspberry Ripple Tarts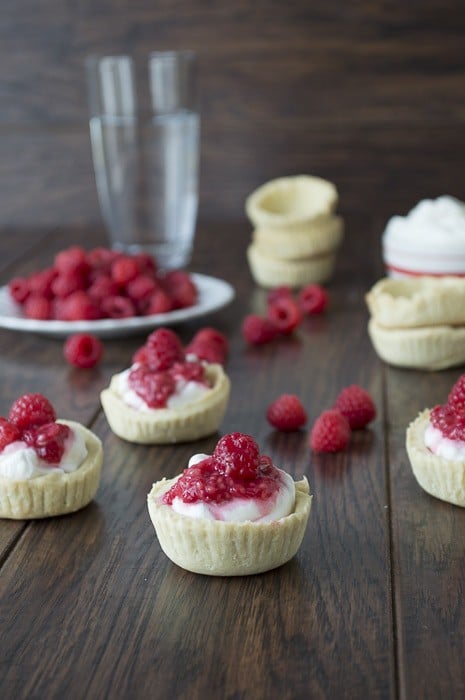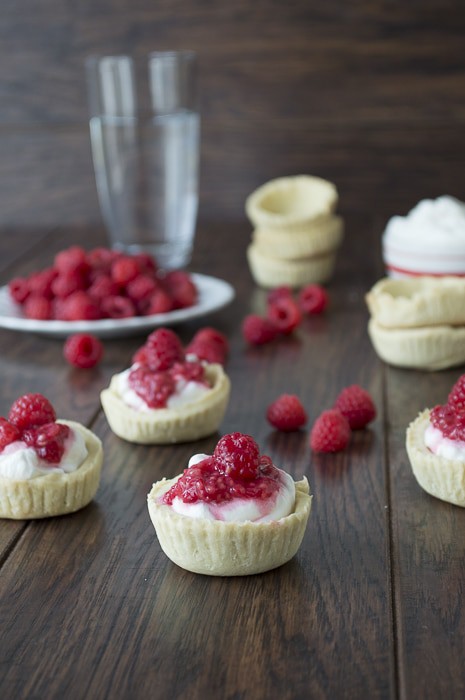 Say hello to bite sized deliciousness!
Fresh raspberry ripple tarts.
Mini. Yummy. And we could call them tartlets.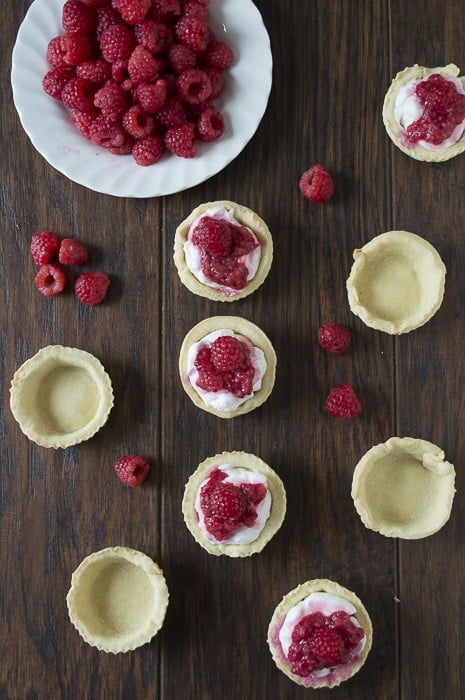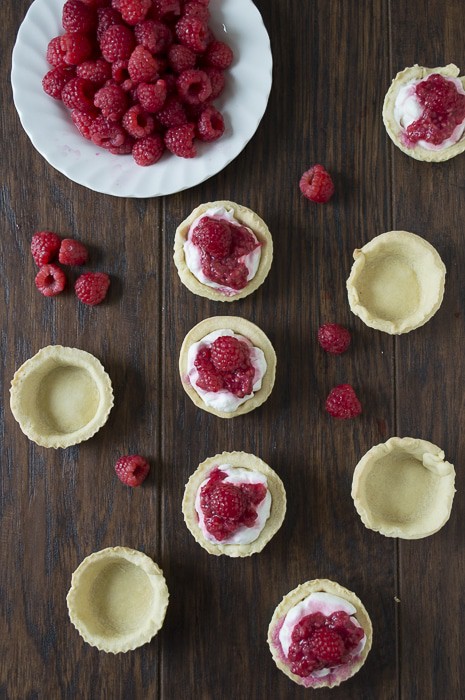 We're having these uber cute raspberry ripple tarts for dessert tonight, so if you'd like to bring dinner, come on over :)
Then you can watch Ryan devour these little babies in ONE bite.
I already saw him do it. So if you're a man or a gorilla this is a one bite dessert. If you're like me, this is a 4 bite mini tart.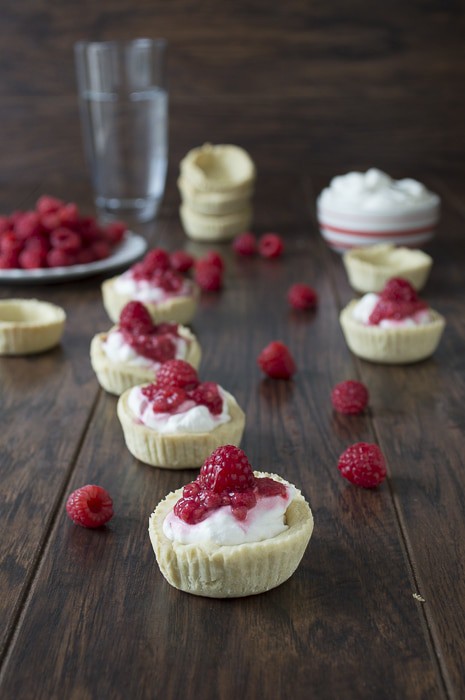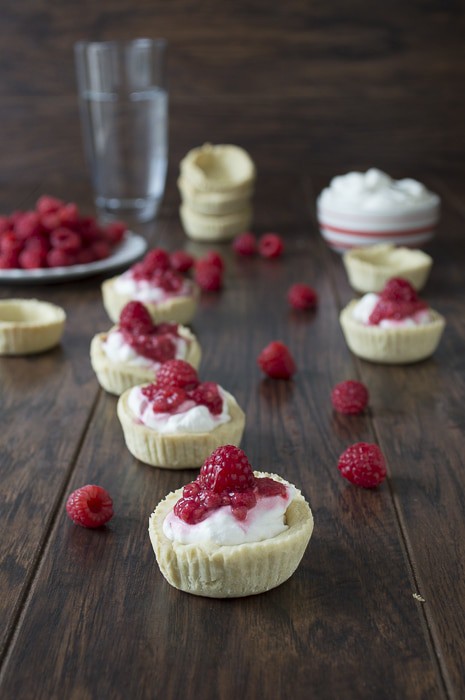 I can't get over how cute the tart shells are.
The shells are a great thing to make ahead of time and keep in the freezer. They'd add a bit of flare to any dessert.
Fill them with fresh fruit, ice cream, sorbet. Or homemade whipped cream and fresh raspberries.

Ingredients
Tart Shells

1 cup flour
1/4 cup confectioners sugar
a pinch of salt
5 tbsp butter, cubed
1 egg yolk
1/2 tbsp cold water

Whipped Cream

1 cup heavy cream
1 tbsp powdered sugar
3 tsp vanilla
handful of raspberries
Instructions
Tart Shells

Mix the flour, confectioners sugar, and salt. Use your hands to cut in the butter until it disappears. In small bowl, combine the egg yolk and water, add this to the dry ingredients and mix. The dough may seem too dry, but your use hands to knead the dough and it will come together.
Roll into a ball and wrap in plastic wrap, then chill in the refrigerate for 30 minutes.
Pre-heat the oven to 325 degrees F.
Roll the dough out, about 1/8 to 1/4 inch thick. Use a round cookie cutter or cup to make circles of dough.
Line a muffin pan with liners, and place one circle in each hole, pushing the centers down to make little bowls. (The muffin liners are there to keep the dough from sticking to the muffin cup and they also make it easier to remove the tart shells after baking.)
Bake for about 20 minutes or until the shells are golden. Allow them to cool completely, then remove them from the pan.

Whipped Cream

In a bowl, combine the heavy cream, confectioners sugar, and vanilla. Beat using an electric mixer until stiff peaks form (5+ minutes).
Divide the whipped cream among the shells.
First, reserve enough raspberries to top each tart with one. With the rest of the raspberries, slightly crush them with a spoon to release the juices. Add the crushed raspberries on top of the whipped cream, and top each tart with a fresh raspberry.
Recipe adapted from Short & Sweet by Dan Lepard
https://thefirstyearblog.com/raspberry-ripple-tarts/