Want our top 10 essential dessert recipes?
Get our favorite classic recipes in your inbox! It's 100% free, but we might make you hungry!
Raspberry Blondies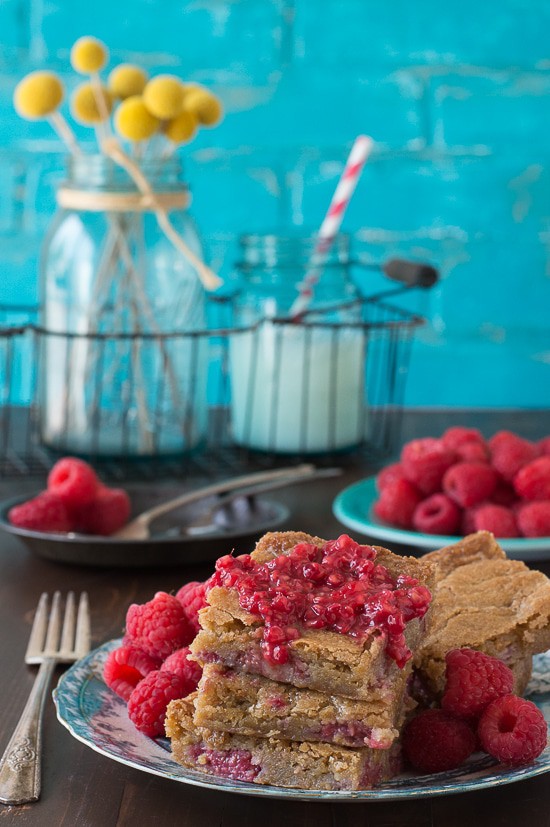 My brain and body are so confused. It's August, it's hot and humid. I'm sun burnt and we're eating ice cream on the daily. Strawberries, blueberries and raspberries are lining the grocery store shelves.. yet I just made my first apple pie of the season.
I'm the crazy lady buying bags and bags of apples at the store while everyone else is buying containers of berries. I even sent Ryan out to buy a bag or two because when you're making apple pie, you need a lot of apples.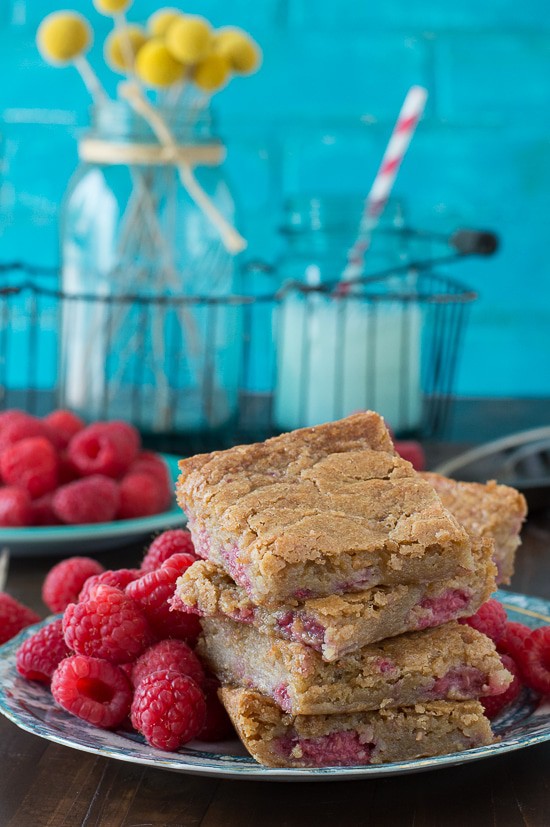 Even though my kitchen is transforming into an apple orchard, we still have a whole month's worth of summer recipes stocked up and ready to share. I gotta get my mind off of apple pie (because you're not ready for fall yet, either!) and I need to keep dreaming of berries!
No complaints here! I could easily list all of the things I love about summer. And if I had to pick one season to live in FOREVER, it'd be summer. I'm going to take a cue from today's recipe, slow down and just enjoy summer! And all of the berries that come with it :)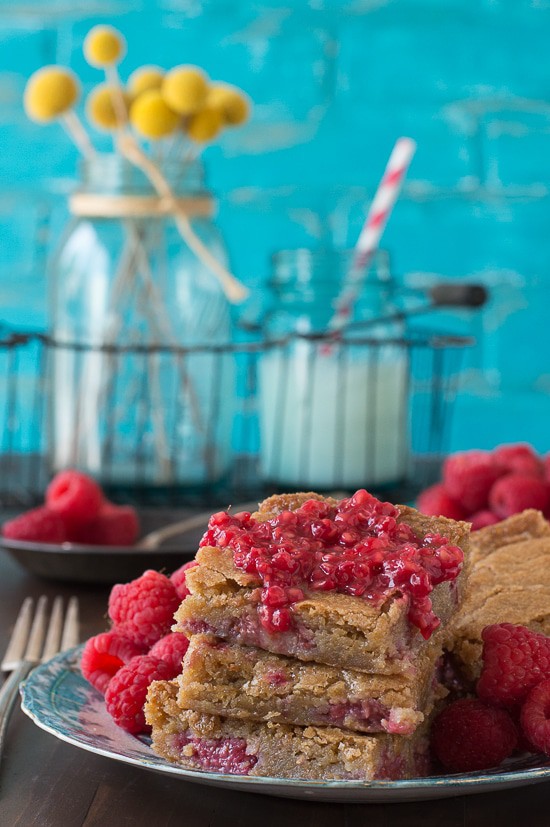 A few notes about the recipe – raspberries contain a lot of water, so they can potentially make your blondies more doughy and a bit under-baked. If you like doughy cookies or brownies then you'll probably like the consistency of these blondies, but if you like your blondies to be more baked, bake them for a longer amount of time. Or instead of putting whole raspberries into the dough, break the raspberries apart and scatter the pieces evenly in the dough. But one thing's for sure, the sweet and tart combo are good together!
Raspberry Blondies
Yield: one 8x8 inch pan
Total Time:1 hour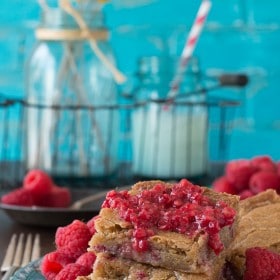 Ingredients:
1 stick butter, melted
1 cup brown sugar
1 egg
1 tsp vanilla
1/2 tsp baking powder
1/8 tsp baking soda
pinch of salt
1 cup flour
1/2 cup raspberries
Directions:
Preheat the oven to 350ºF.
Butter an 8 inch square baking dish.
In a mixing bowl, combine the melted butter and brown sugar.
Add in the eggs and vanilla, and mix.
Fold in the baking powder, baking soda, salt, and flour.
Gently fold in the raspberries. Some of the berries may break apart.
Spread the batter evenly in the pan, it will be thick.
Bake for 40-50 minutes. They may need more time baking due to the excess water from the raspberries.