Quinoa Black Bean Tacos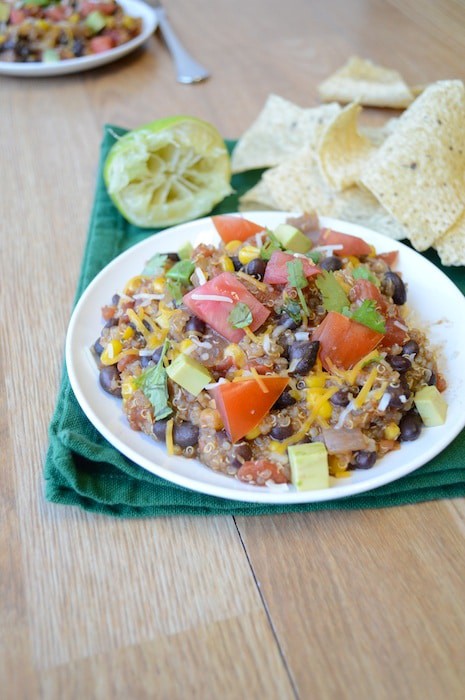 Where has this recipe been all my life? It is delicious, filling, and healthy!
A little fun fact about me, tacos are one of my favorite foods, along with potatoes and peppers, oh and chocolate :-)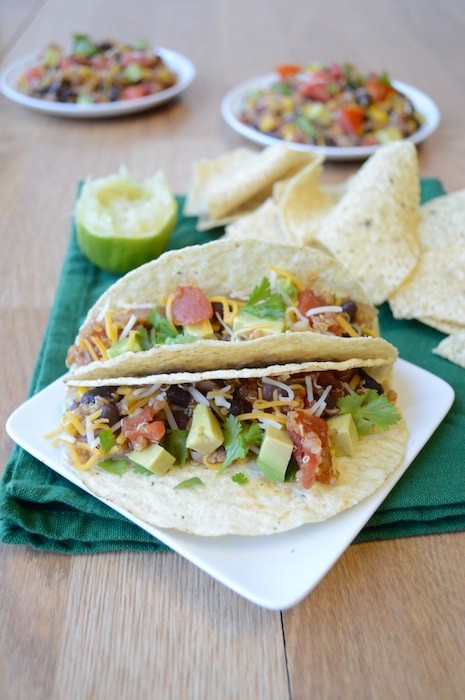 I titled this post "Quinoa Black Bean Tacos" but this recipe could also be for taco salad, filling for quesadillas, or even for breakfast burritos.
And now I found I way to eat this for breakfast, lunch and dinner – mmm!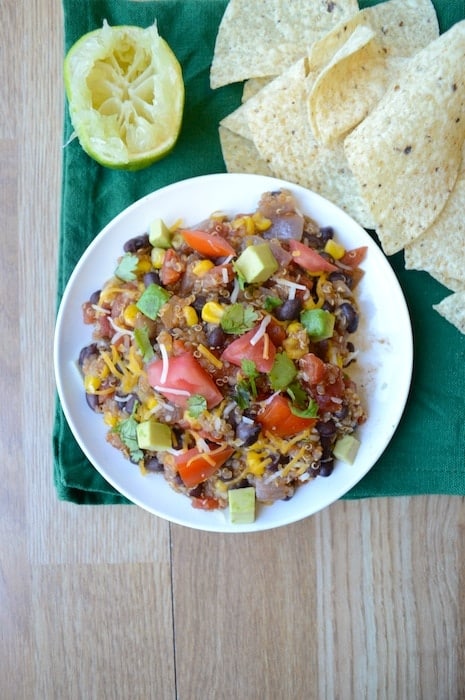 If you use vegetable broth in place of the chicken broth this recipe easily becomes vegetarian.
You might have a man in your life who can't live without meat, but if you put this dish on the dinner table and serve it with all of their favorite toppings, they won't notice that it's meatless.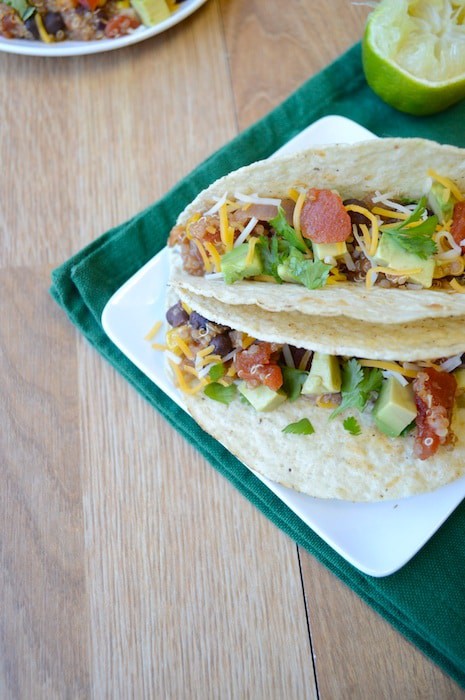 We love quinoa. I've seen some crazy recipes like quinoa cookies, bread and pizza bites – maybe those will be coming to the blog!
If you're looking for more quinoa based dished – we have an amazingly fresh recipe for asian quinoa salad, click here to see the post. It incorporates quinoa, edamame, red cabbage, and a cilantro dressing.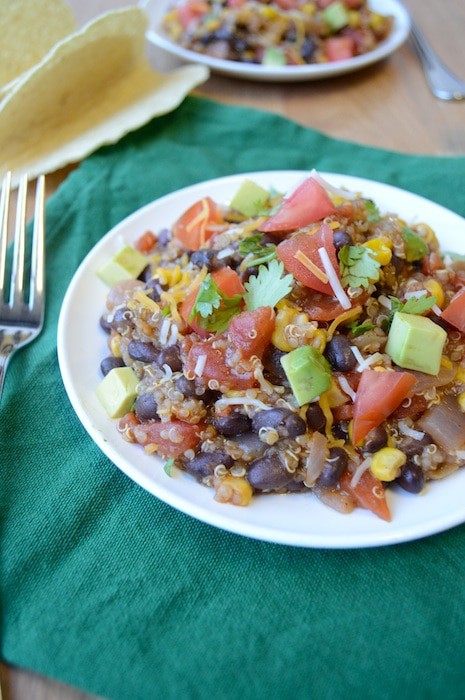 Ingredients
1 & 1/2 cups cooked quinoa (about 3/4 cup uncooked quinoa)
1 tbsp olive oil
1 medium onion, diced
3 cloves garlic, finely minced
1 cup vegetable broth or chicken broth
1 (14.5 oz) can diced tomatoes with green chilis, undrained
1 & 1/2 tsp chili powder
1 tsp ground cumin
1/2 tsp paprika
1/4 tsp cayenne pepper
Salt and freshly ground black pepper, to taste
1 & 1/2 cups frozen corn
2 (15 oz) cans black beans, drained and rinsed
juice of 1 lime
1/2 cup cilantro, chopped

Serve with:

Corn or wheat tortillas
Corn Chips
Chopped lettuce/spinach
Cheese
Avocado slices
Fresh tomatoes
Salsa
Instructions
Heat the olive oil in a large non-stick saucepan over medium high heat. Also prepare the quinoa in a separate pot as directed on the package.
Once hot, add onion and saute until golden and tender, about 3 minutes.
Add in garlic and saute 30 seconds longer.
Stir in the broth, diced tomatoes, cooked quinoa, chili powder, cumin, paprika, cayenne, and season with salt and pepper to taste.
Bring mixture to a boil, then reduce heat, cover saucepan with lid and simmer about 20 minutes, until mixture has thickened.
Stir in the corn and black beans and simmer, uncovered 5 - 10 minutes, stirring occasionally.
Mix in the lime juice and cilantro. Serve with desired toppings.
https://thefirstyearblog.com/quinoa-black-bean-tacos/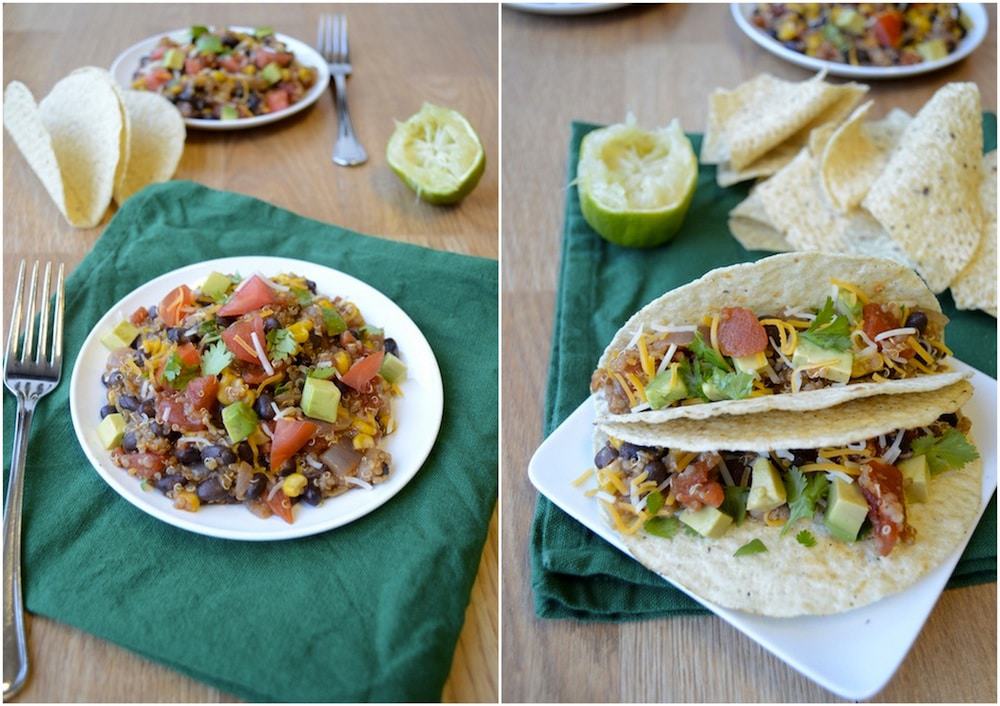 Take your pick – taco salad or tacos!