Want our top 10 essential dessert recipes?
Get our favorite classic recipes in your inbox! It's 100% free, but we might make you hungry!
Pumpkin Yogurt with Chocolate Walnut Granola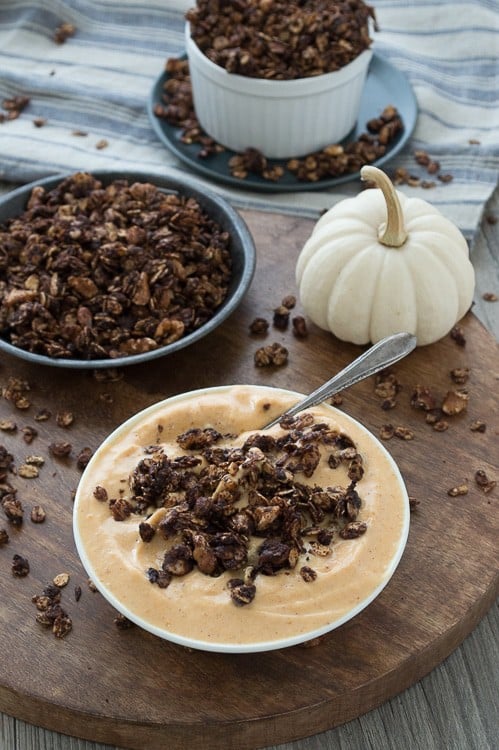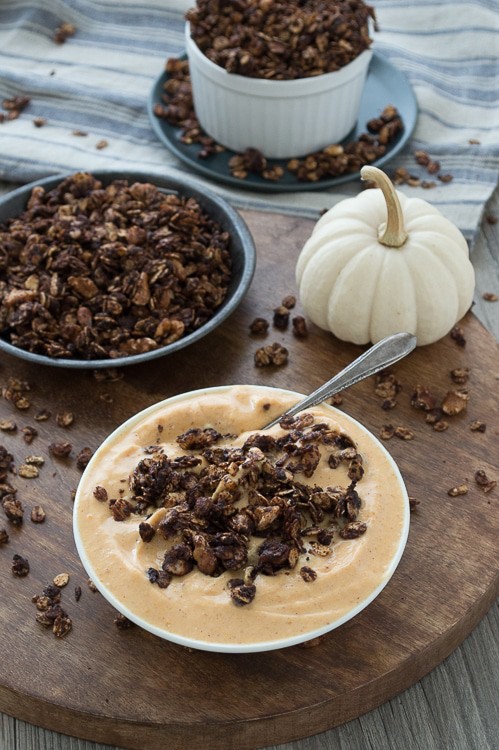 Am I the only one who goes to the grocery store at bizarre times? I've found myself going at 7am on a sunday morning and 9:45pm on a friday night. When I head to the store on a friday night, I'm thinking, 'Uhh, shouldn't I have plans? I'm only 25!' But, I think I have a whole lotta grandma-ness in me. I get up early, I go to bed early, I wear a bazillion layers all the time because I am cold. What's another thing that makes me like a grandma? The sun blinds me when I've driving during sunrise or sunset, and I think I would benefit from some of those HUGE sunglasses. I'm talking about the kind that have plastic edges all around them, ensuring that no light will get in. Take a look here.
Yesterday an infomercial came on TV for a product called the EZ View and I got so excited because I will not be needing a pair of those grandma glasses! The infomercial had me totally hooked and I realized that the EZ View is the best invention! It's a sun visor extender that flips down from your regular visor. I hope it's not grandma-ish because I really need it for all my grocery store trips. Anyone else want one? We could order in bulk :)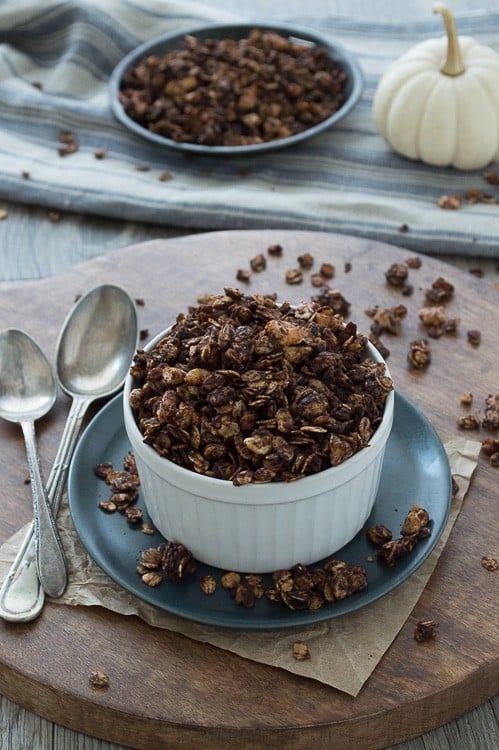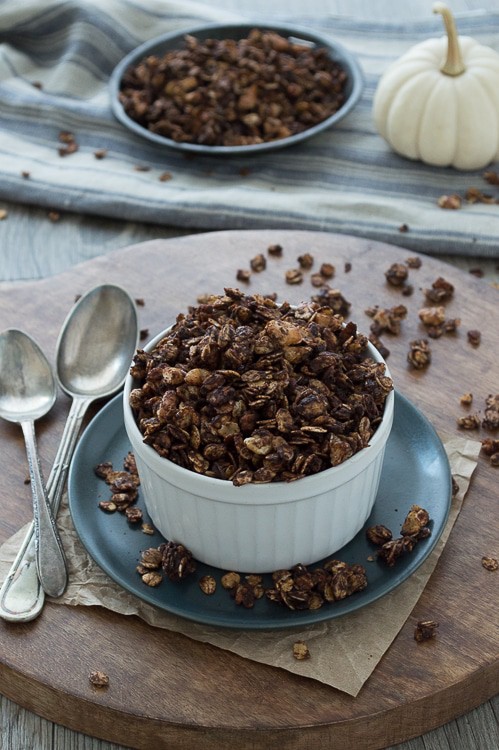 Luckily I made it to the store and back, even through all the sun glare, to get the ingredients to make pumpkin yogurt with chocolate walnut granola. Whatever squinting I had to do was worth it to eat this for breakfast. This delicious fall recipe took me 20 minutes from start to finish, 2 minutes to make the yogurt and about 18 minutes to prep and bake the granola. I decided to bake up some extra granola so we could snack on it throughout the week – since the pumpkin yogurt only takes a minute or two to make, it's easy to make whenever.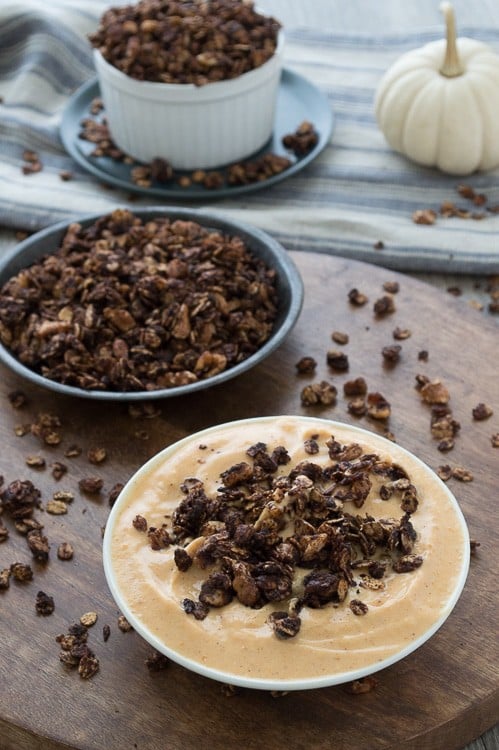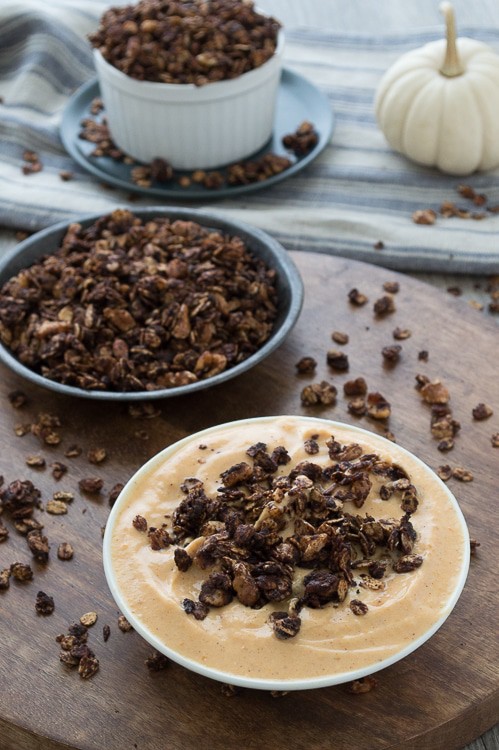 Pumpkin Yogurt with Chocolate Walnut Granola
Ingredients
Pumpkin Yogurt

1/2 cup vanilla yogurt
2-3 tbsp pumpkin puree
1/8-1/4 tsp pumpkin pie spice

Chocolate Granola

1 cup oats, steel cut
1/4 cup walnuts
4 tsp oil
2 tbsp honey
dash of vanilla
1/4 cup cocoa powder, very good quality like Valrhona
2 tbsp coconut sugar or brown sugar
Instructions
Pumpkin Yogurt

In a small bowl combine the vanilla yogurt, pumpkin puree, and pumpkin pie spice. Mix until well combined. Serves 1-2.

Chocolate Walnut Granola

Preheat the oven to 350 degrees F. In a bowl, combine the oats and walnuts. In a smaller bowl, combine the oil, honey, vanilla, cocoa powder and coconut sugar, mix until a paste forms. Pour this into the bowl with oats and walnuts and stir until everything is well combined. Pour the granola mixture onto a baking sheet (easiest if it has sides) and bake for 16 minutes, stirring once.

Serve the pumpkin yogurt with a scoop of chocolate walnut granola.
https://thefirstyearblog.com/pumpkin-yogurt-with-chocolate-walnut-granola/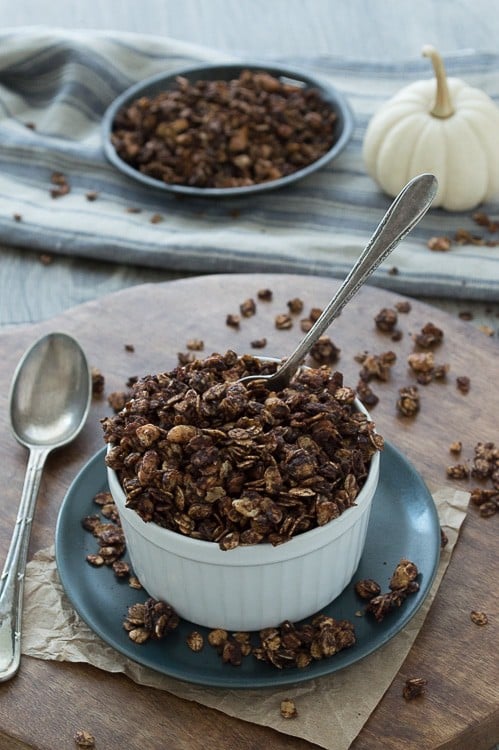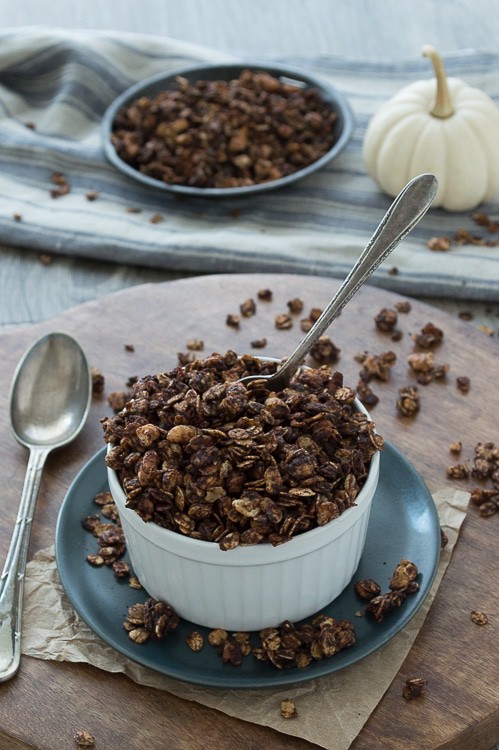 And when I run out of pumpkin yogurt, I will eat the granola with a spoon :)