Want our top 10 essential dessert recipes?
Get our favorite classic recipes in your inbox! It's 100% free, but we might make you hungry!
Pumpkin Pie Bars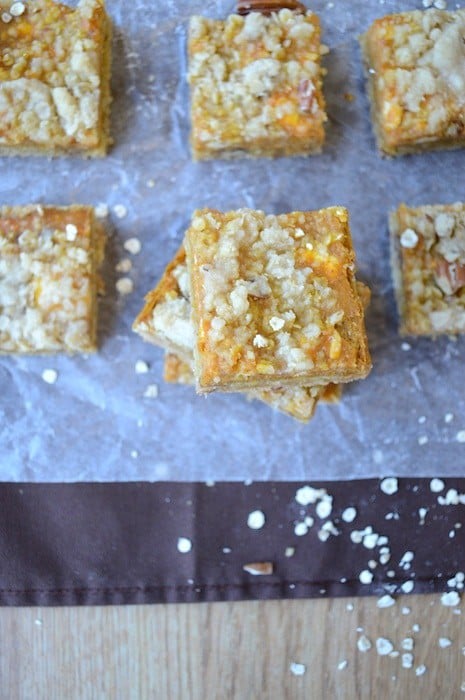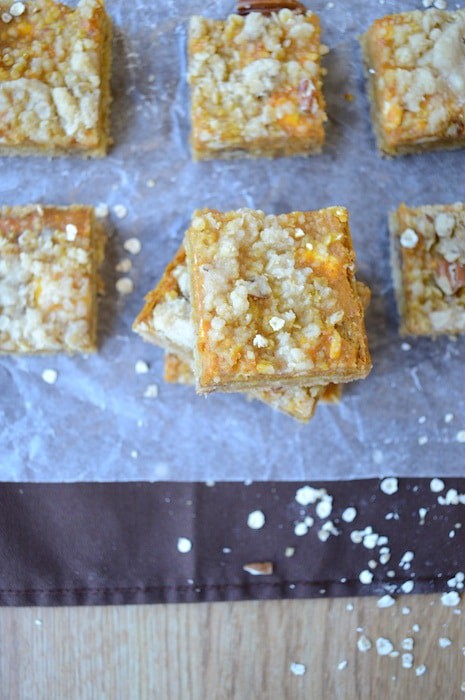 Aww, our last pumpkin recipe of the season.
Simplify your Thanksgiving by making pumpkin pie bars – there will be more to go around for your guests and it costs less than serving multiple pumpkin pies!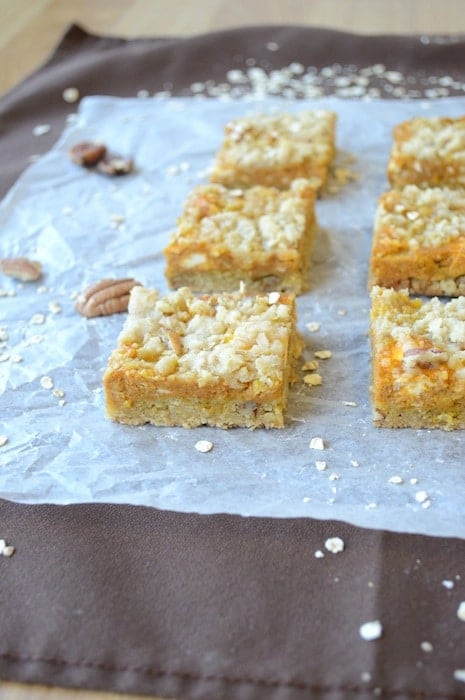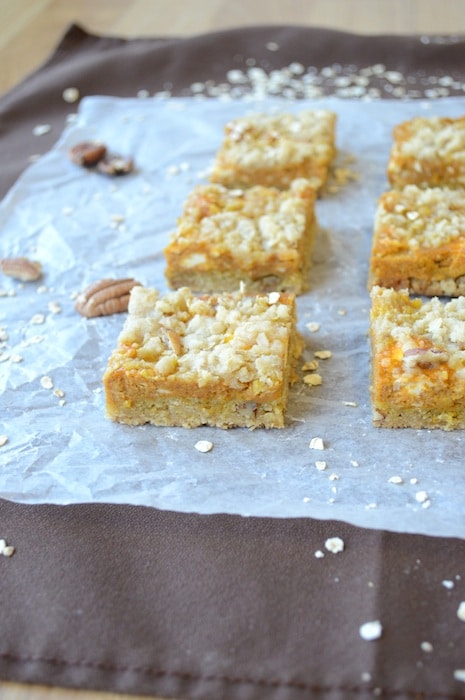 This easy take on pumpkin pie incorporates oats and pecans. And just because it isn't pie doesn't mean you can't still add whipped topping :-)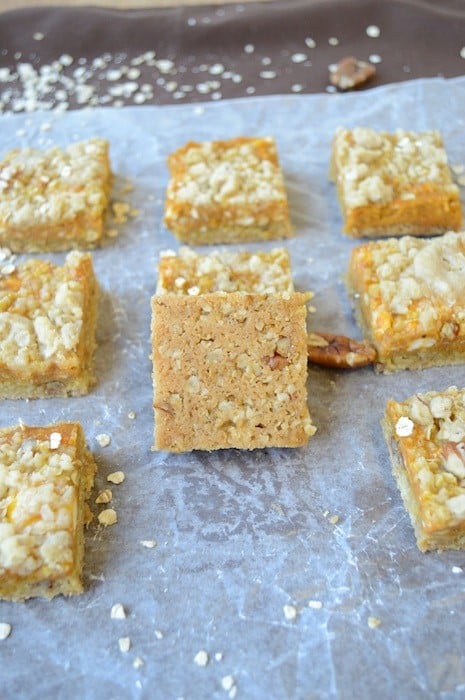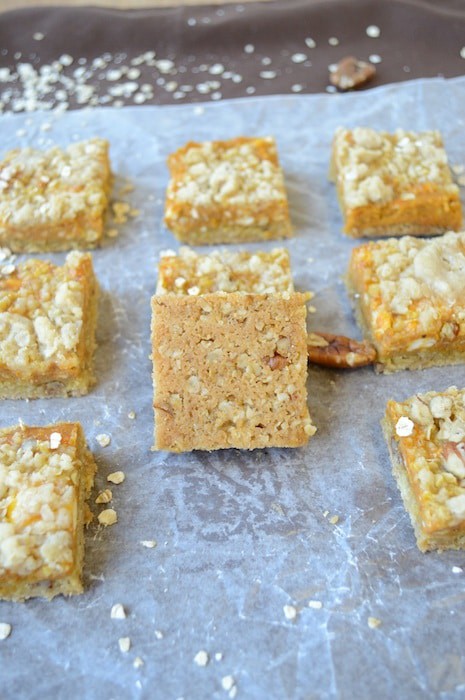 Guys, look at the crunchy, not too crumbly oat pecan bottom… yum.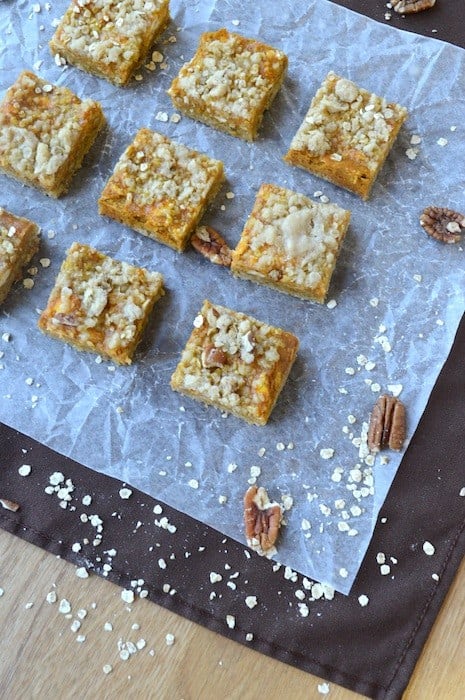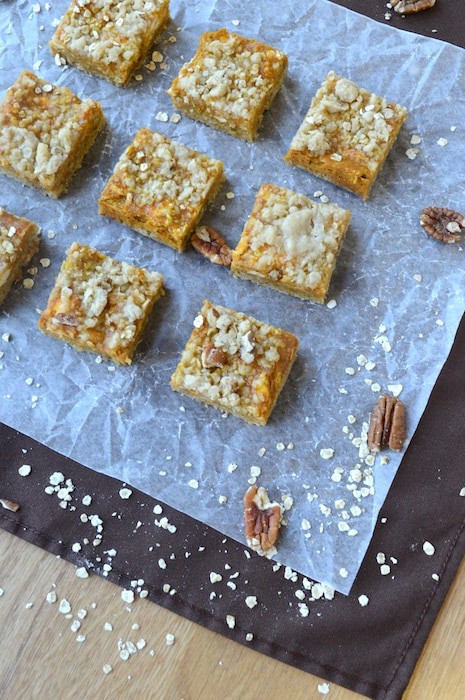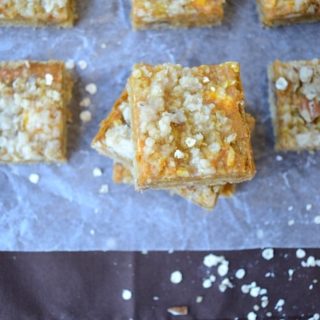 Pumpkin Pie Bars
Additional Time:
50 minutes
Ingredients
1 & 1/3 cups flour
1/2 cup packed brown sugar
3/4 cups sugar, divided
1 & 1/2 sticks cold unsalted butter
1 cup old fashioned oats
1/2 cup chopped pecans
One 8 oz package of cream cheese, softened
3 eggs
1 can pumpkin (15 oz) (not pumpkin pie flavored)
1 tbsp pumpkin pie spice
Instructions
Preheat oven to 350 degrees F.
Line a 9×13 inch pan with foil or parchment paper and grease slightly.
Mix the flour, brown sugar and 1/4 cup regular sugar in a bowl.
Cut in butter with pastry blender or fingers until mixture resembles coarse crumbs.
Stir in the oats and pecans. Reserve 1 cup of this mixture. Press the remaining into the bottom of the pan. Bake for 15 minutes.
Beat the cream cheese, remaining sugar, eggs, pumpkin and pumpkin pie spice in the bowl of a mixer on medium speed until well blended.
Pour this over the baked crust and sprinkle with the reserved crumb mixture.
Bake for 25 minutes. Cool slightly. Lift the bars from the pan using the foil/parchment paper. Cool completely and cut into bars.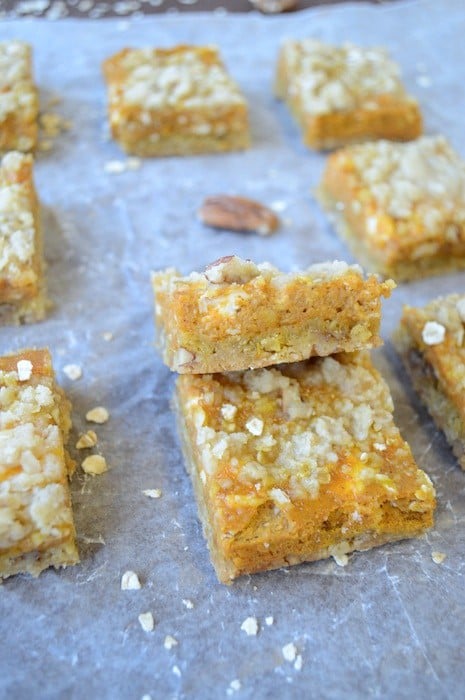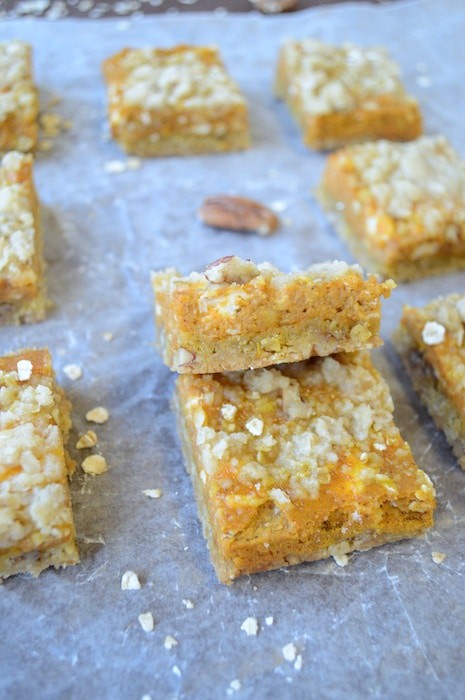 I've really enjoyed all the pumpkin goodness we've been whipping up, but I'm ready for hot chocolate, peppermint, chocolate, chocolate, and more chocolate :-) – What's your favorite holiday treat?