Photo Display Wall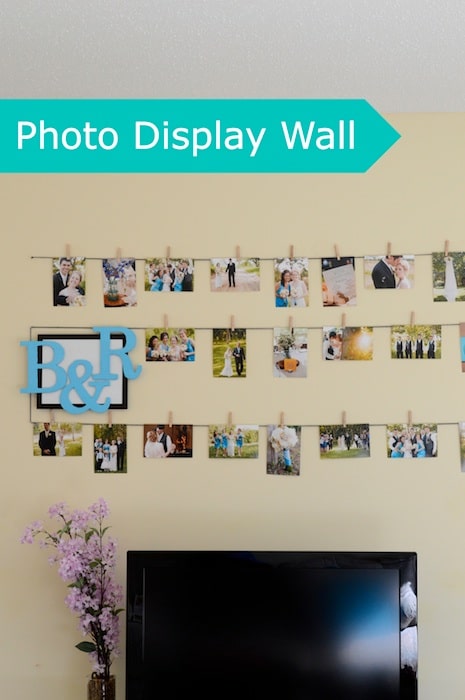 If you were hoping for another tasty recipe, don't worry we'll be back with another one soon, but I wanted to share our easy photo display wall today.
Here's what I used to create this photo display wall:
-six 3/4 inch nails
-black bakers twine, 1 long piece (not really twine, more like string)
-mini clothespins
-a level
-a hammer
-a measuring tape
-photos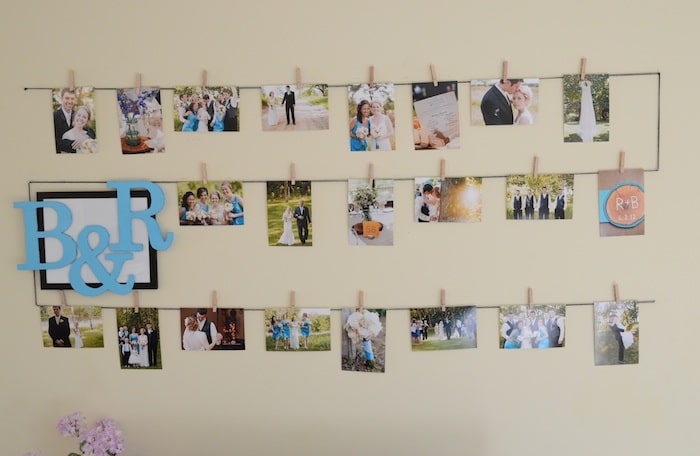 Who doesn't love displaying pictures?
I came up with an easy way to display photos without putting a ton of holes in our walls – a plus since we're renting our tiny home.
Our living room space is small, so I used 4X6 inch photos, but you could use larger photos such as 8X10, however you may need 2 clothespins per photo to attach them to the twine/string.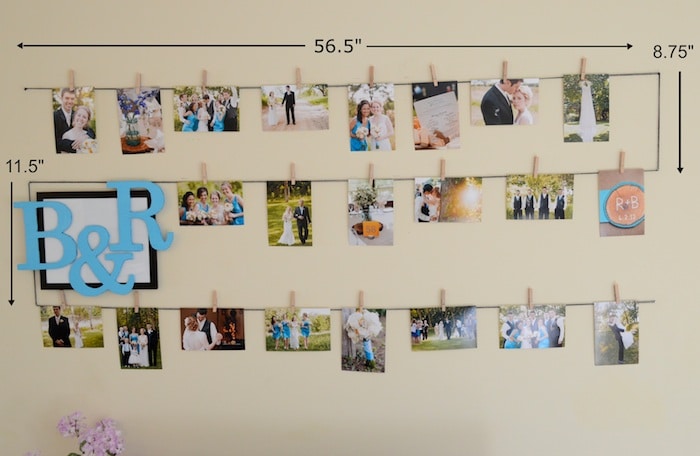 First, select how long you want your string to be, this will depend on the size of your room and how many photos you want to display. You can see the measurements I used in the above picture.
The vertical heights can also vary. They will depend on how big your photos are, for example if you want to hang 8X10 inch photos, you'll want to make sure you have enough space below the photo so it doesn't hit the next string.
I adjusted the second vertical height to 11.5″ so I could fit our B&R frame in.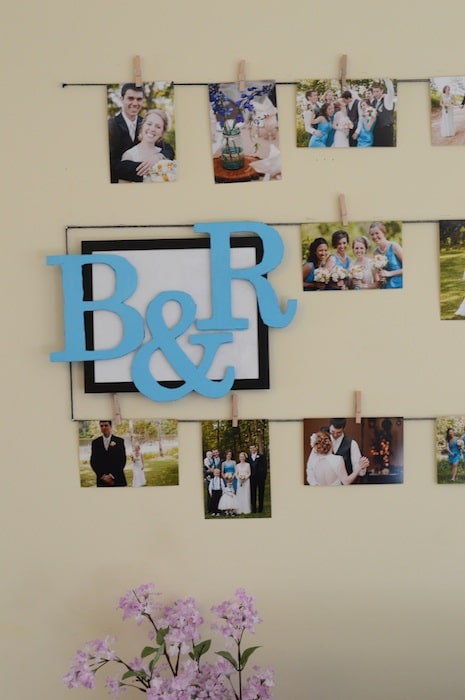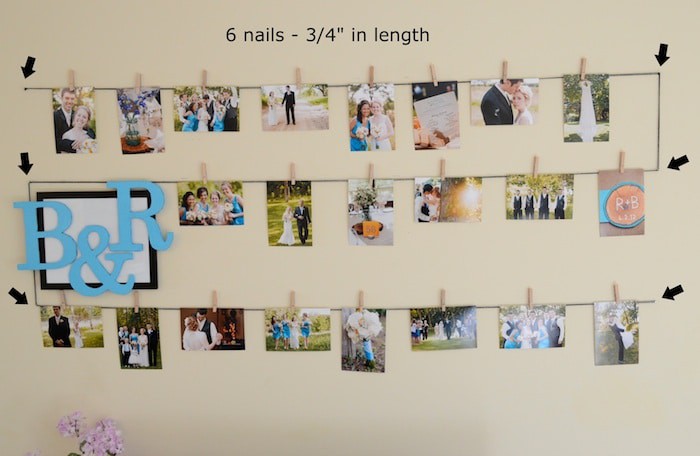 You will want to use nails that have a large enough head so the string doesn't slip off the end. The size of the heads on the nails I used were #18.
If you make your display string longer than 56.5″, I would suggest adding another nail in the middle of each section to keep it from drooping.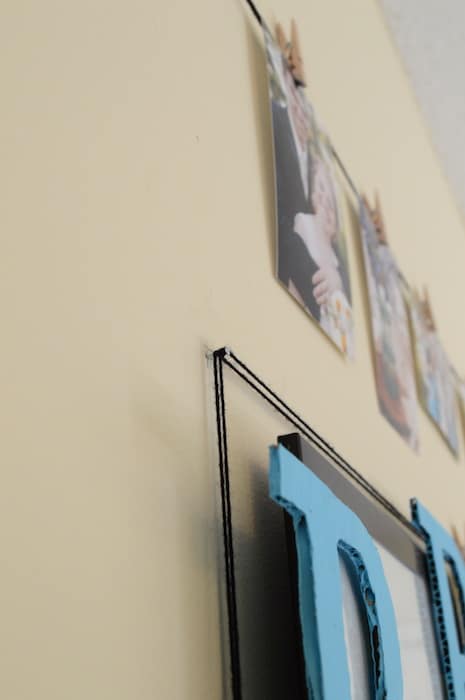 I used 1 long piece of bakers twine to complete the whole display. This picture will give you an idea. Follow the black arrows first, than the blue arrows.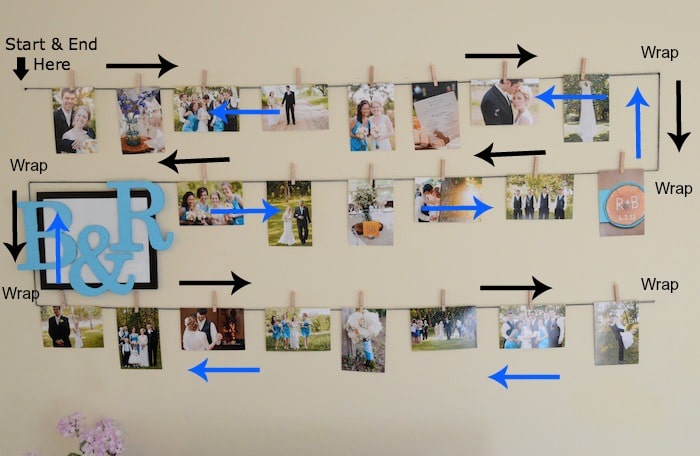 Each time I wrapped the twine around the nail, I pulled it as tight as I could without breaking the twine or pulling the nail from the wall. This will ensure that your pictures don't droop. However, adding after multiple pictures and clothespin, it may droop like mine did slightly.
When wrapping the string, feel free to wrap it several times before moving onto the next section.
I only tied 1 knot, which was at the very end, after I followed the blue arrows back to the beginning.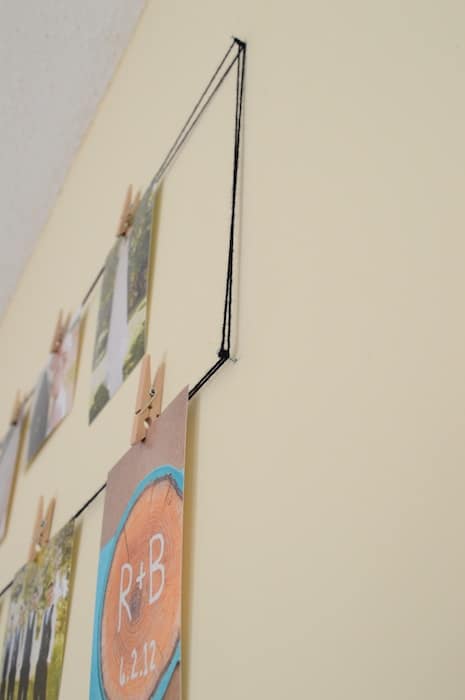 In the above picture you can see the 2 separate strings, 1 from going down and the other from coming back up.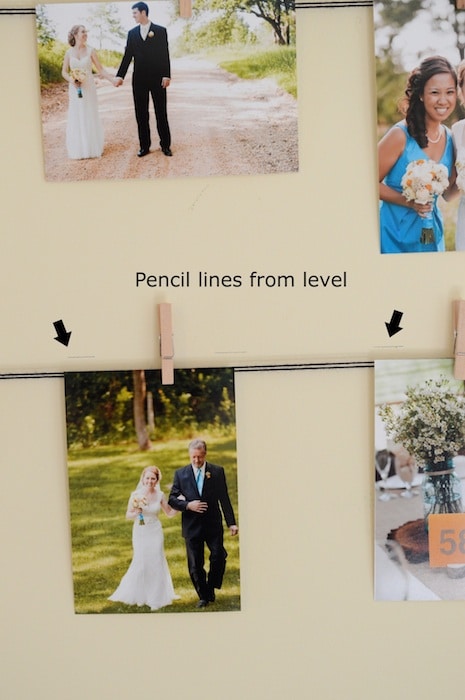 In order to get your strings (and the whole display wall) level, you'll want to use a level and measuring tape. Use the measuring tape to determine how far down from the ceiling you want the first string to be. Using the level, I put small pencil lines on the wall, almost like I was drawing the photo display on the wall so I would have a template to follow.
I did this for all the vertical and horizontal lines.
After adding my photos and clothespins you can see that the string dropped a little from where the pencil lines were, but the string still looks straight when you step back.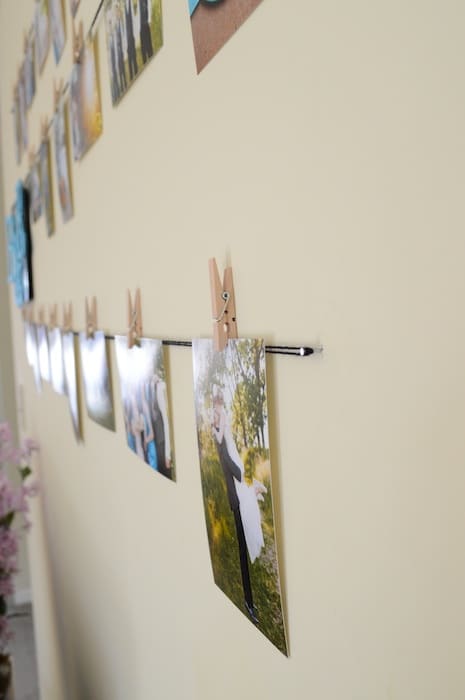 This is a great system if you like to frequently change your photos, or your kids art work!
This project can be done by yourself and may take 30-60 minutes, depending on how precise you want to be with your leveling.