Want our top 10 essential dessert recipes?
Get our favorite classic recipes in your inbox! It's 100% free, but we might make you hungry!
Pear Pie with Pecan Streusel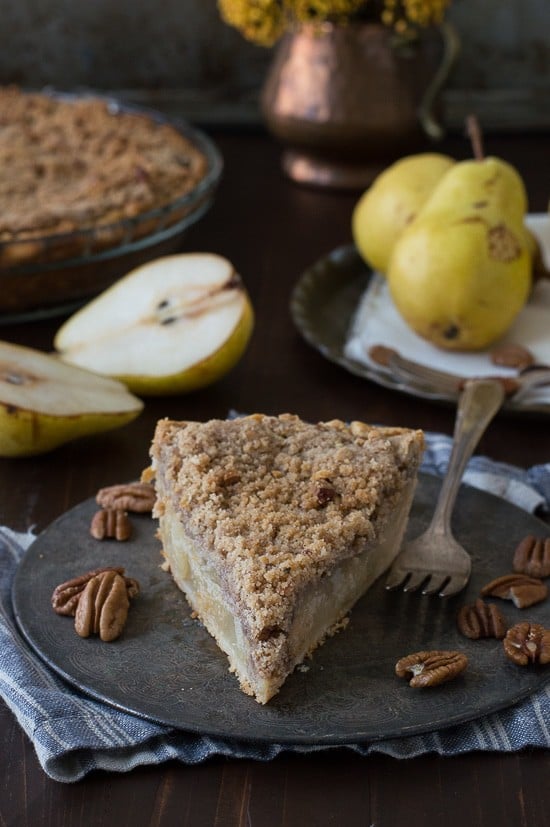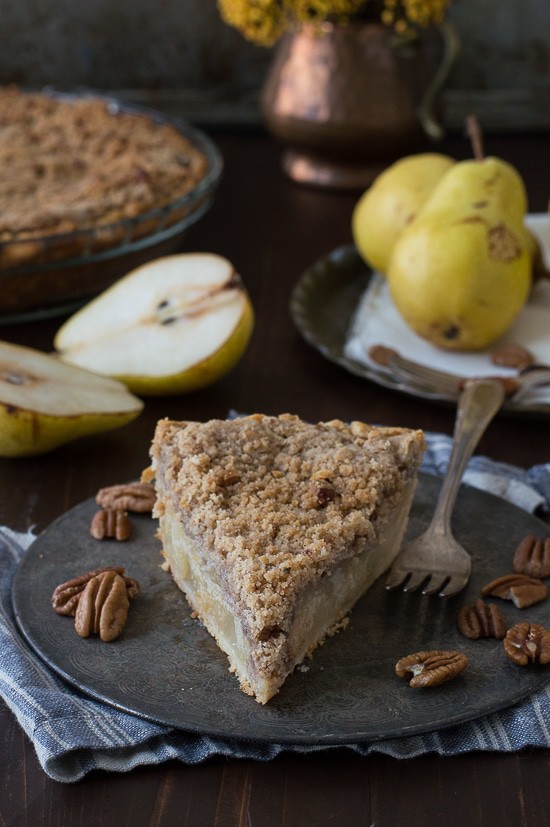 My sweet blog friend, Megan, is having a baby so we're celebrating her today! Her baby boy is due right before Halloween so we're throwing an all things fall virtual baby shower!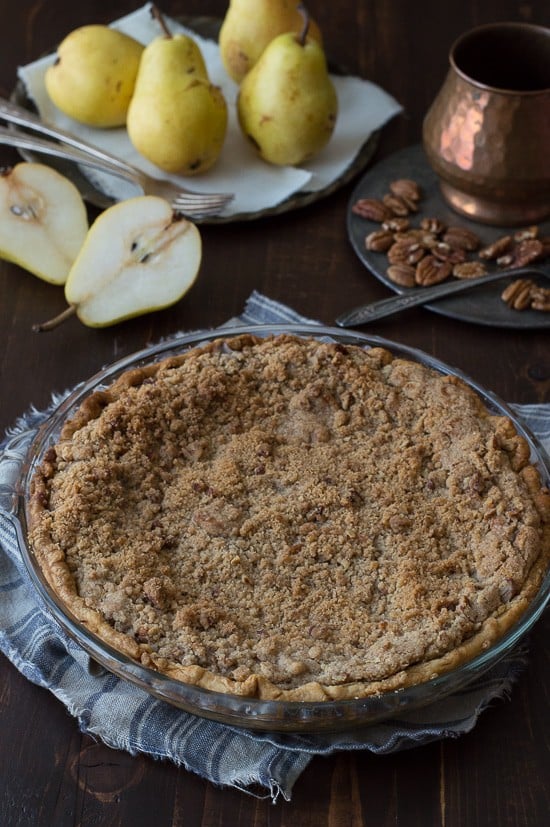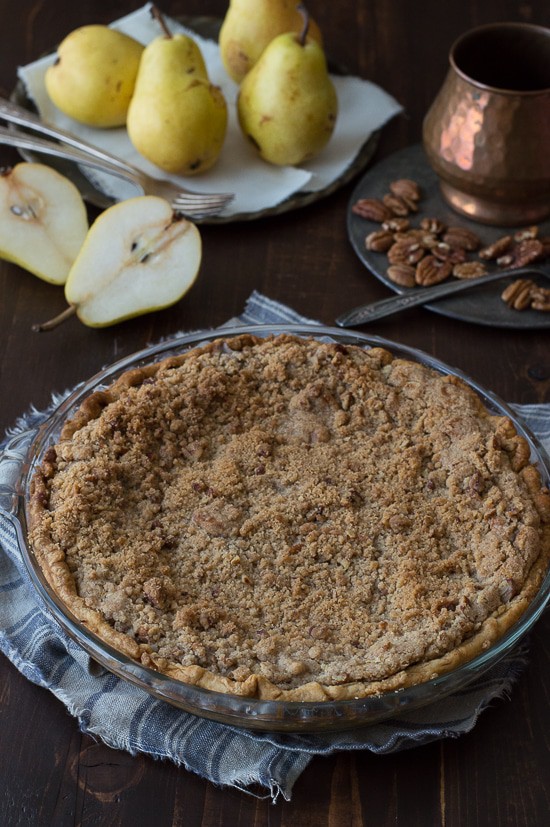 Having a fall baby seems pretty great because you can dress them up like a pumpkin for halloween and a cute little turkey for thanksgiving! You also get to dress them in adorable fall clothes like vests, flannel, and extra cozy socks!
I was peeking through Megan's baby registry and she has awesome taste! I just want one of everything on her registry when it comes my time! I saw these super cute red suede moccasins on the list and I had to buy them for her and baby! Now we're just waiting for some little baby feet to fill them!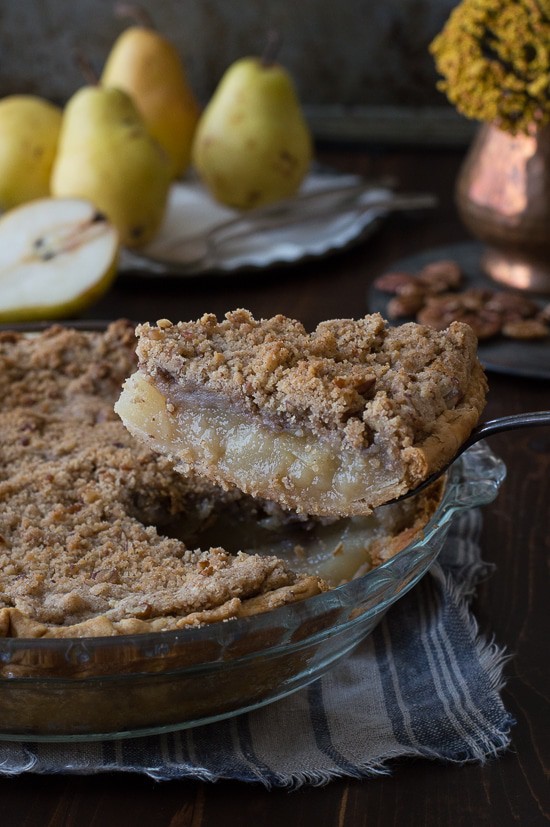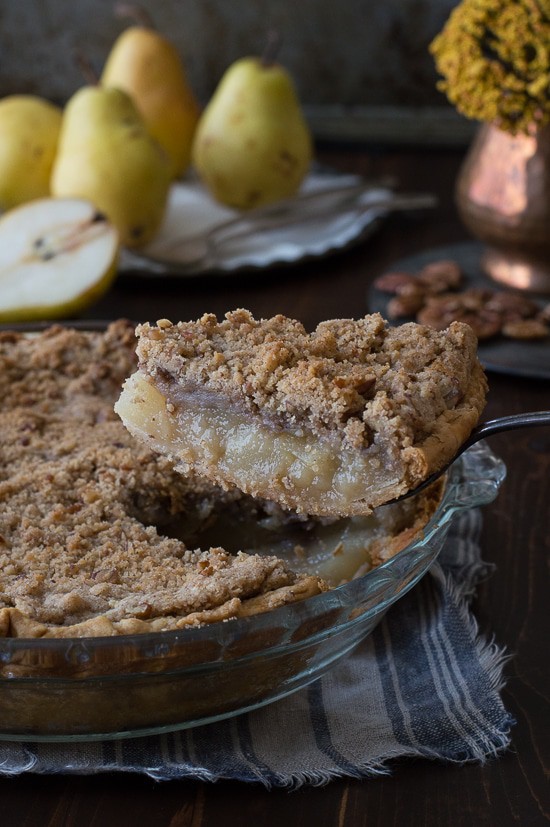 If your brain is like mine, you associate fall with apples. And sometimes we forget about the other fall fruit – PEARS!
Since we already apple pie-ed all the things (see our slab apple pie and skillet apple pie) we couldn't make another apple pie. Just kidding, I could probably come up with a few different versions of apple pie still, but it's time to let pears shine.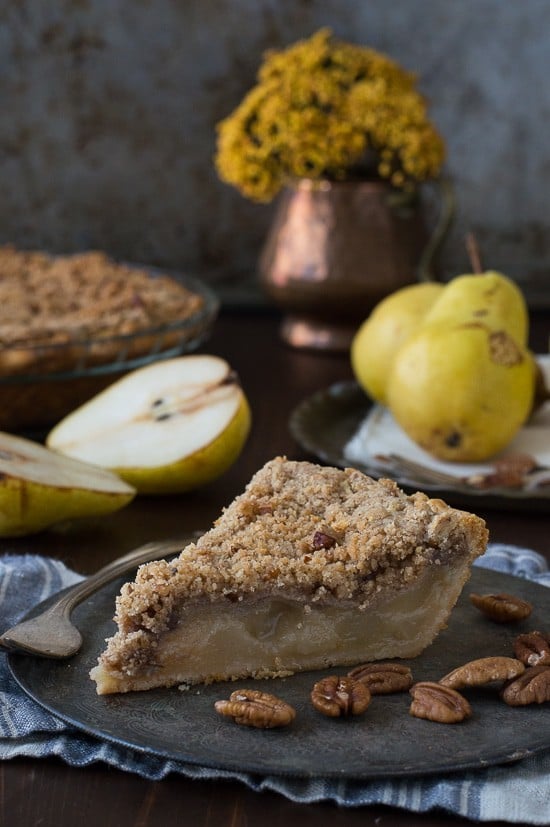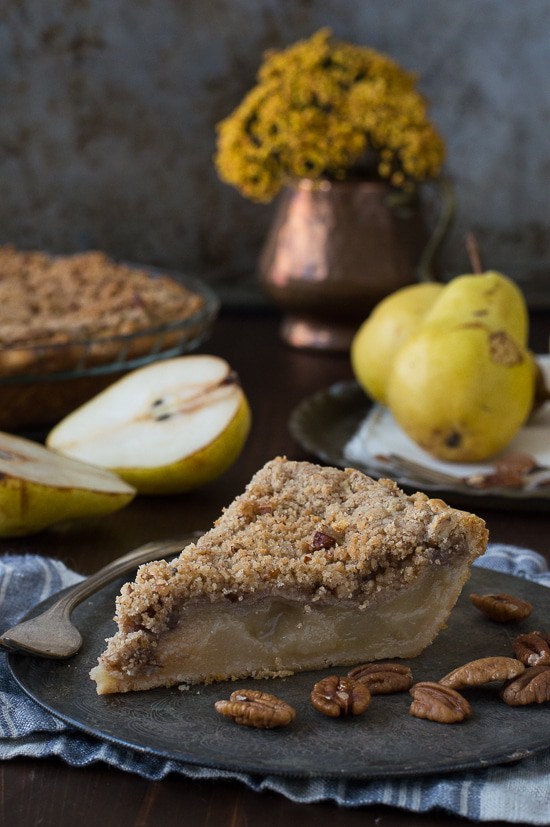 I think this pear pie could rival an apple pie. The pears are sweet, soft, and have the perfect balance of cinnamon. The pecan streusel adds a sweet and nutty crunch. Plus it's easy to make! You can use either homemade pie dough or one store bought crust. I'd say the hands on time would be 45 minutes if you use homemade dough and 25 minutes if you use store bought!
This pie definitely says fall, so put on a sweater and brew a pot of tea, because nothing is better!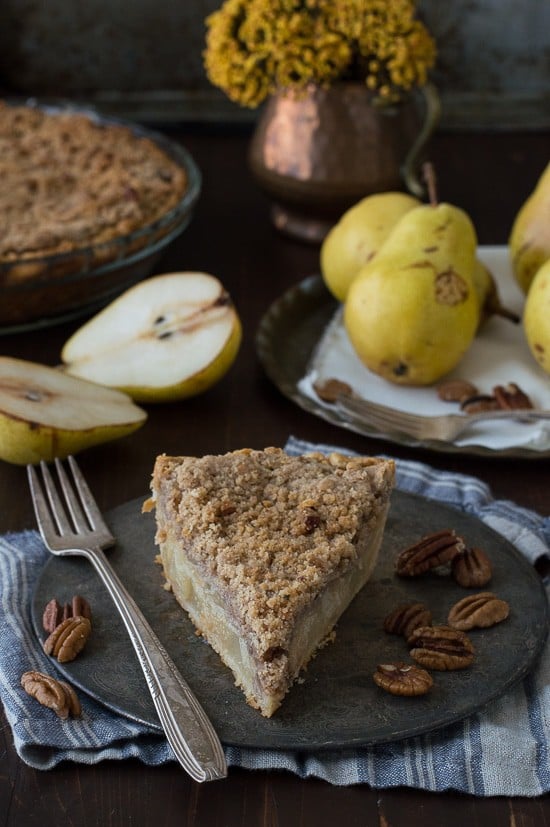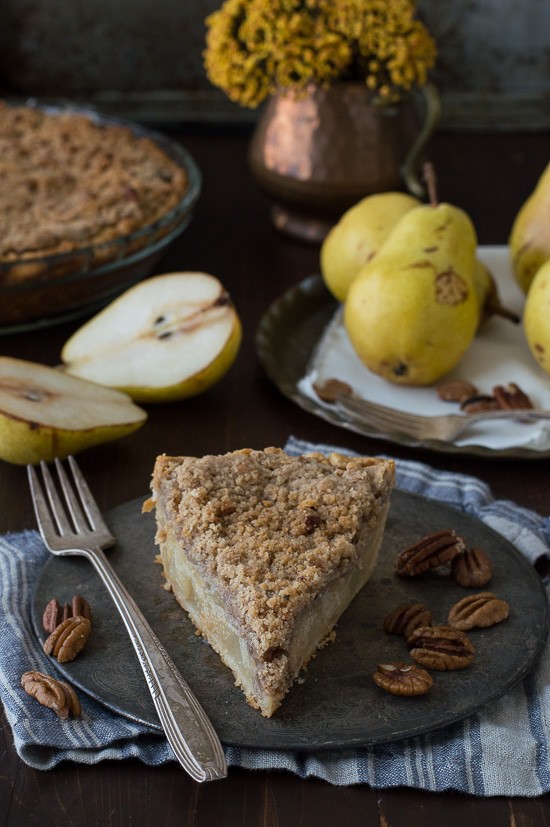 Pear Pie with Pecan Streusel
Yield: one pie
Total Time:2 hours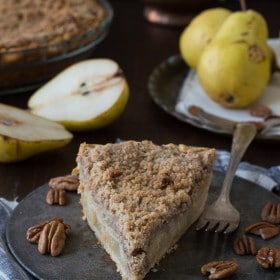 Ingredients:
Pie Dough
1 cup all purpose flour
1/4 tsp salt
1/4 cup vegetable shortening
1/2 stick butter, cold and diced
1 egg, large
1 tsp white vinegar
1 tbsp water, ice cold
Pie Filling
7-8 firm pears, peeled and diced
3 tbsp sugar
2 tbsp orange juice
6 tbsp flour
6 tbsp light brown sugar
Pecan Streusel
1 cup flour
1/2 cup light brown sugar
1/2 tsp cinnamon
1/4 tsp salt
1/2 cup pecans, chopped
1 stick butter, cut into small chunks
Directions:
Pie Dough
In a large bowl, combine the flour and salt.
Using your fingers or a pastry cutter, cut the vegetable shortening and butter into the flour mixture. It's okay to have several pea-sized pieces of butter remaining.
In a separate bowl, whisk together the egg, vinegar and ice cold water.
Pour the wet mixture over the flour mixture and use a spatula to mix everything together until combined. The dough shouldn't be overly sticky, you should be able to form it into a ball with your hands.
Wrap the ball of dough in plastic wrap, flatten into a disc and refrigerate for at least 20 minutes or up to 4 days.
To prepare the filling
In a medium pot over medium heat, combine the diced pears, sugar, and orange juice. Cook for 5 minutes, stirring occasionally. You want the pears to soften but to maintain their shape. Remove the pot from the heat.
In a mixing bowl, combine the 6 tbsp of flour and brown sugar. Add in the cooled pears and mix to combine.
To prepare the pecan streusel
In a medium mixing bowl, combine the flour, brown sugar, cinnamon, salt, pecans and butter.
Use your fingers to cut the butter into the flour until pea sized pieces of butter remain.
How to assemble the pie
Remove the dough from the fridge and allow it to soften slightly.
Preheat the oven to 350ºF.
Using a rolling pin and extra flour, roll out the dough into a large 8 or 9 inch circle.
Carefully place the dough in the pie pan.
Trim off any excess hanging dough, then crimp the edges.
Spoon in the pear filling.
Sprinkle the pecan streusel on top of the pears.
Bake for 1 hour, or until the filling is bubbling and the streusel is golden.
Allow the pie to cool for 20-30 minutes before serving.
Enjoy the pie warm or cold.
Recipe adapted from 500 Pies & Tarts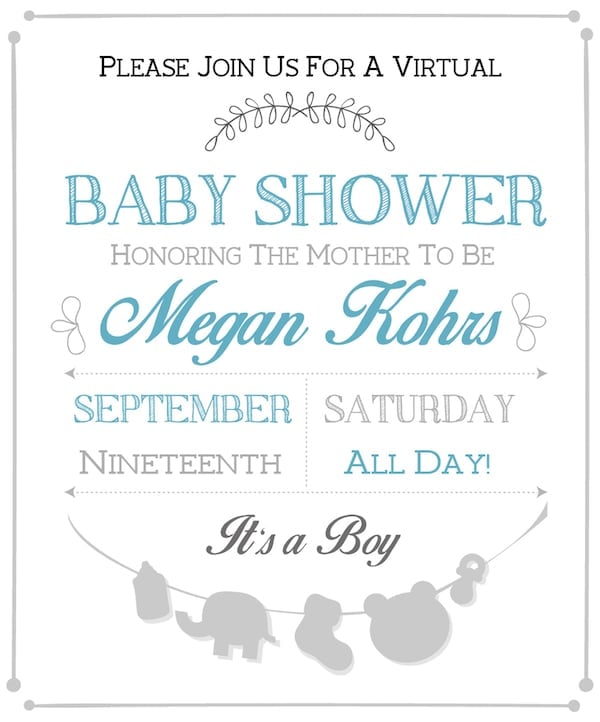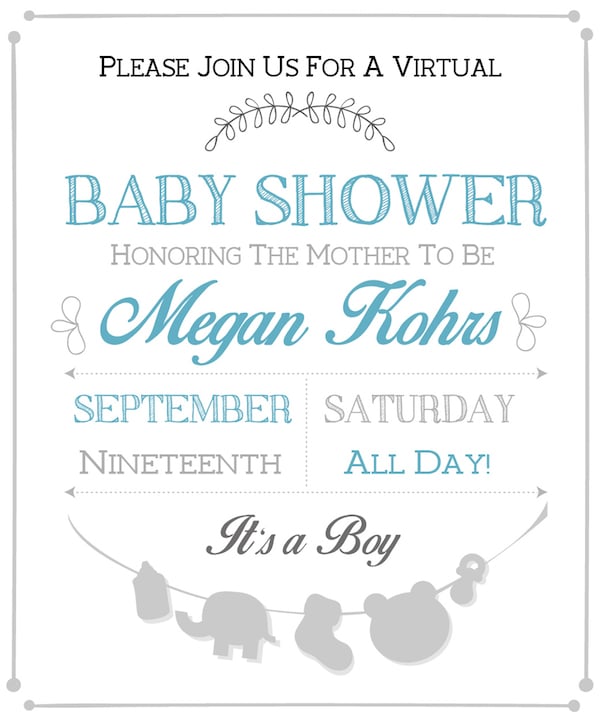 Caramel Apple Cheesecake Dip
– The Cookie Rookie
Butternut Squash, Pear and Ricotta Bruschetta
– Floating Kitchen
No Churn Pumpkin Caramel Ice Cream
– Pumpkin n' Spice
Pumpkin Pie Fluff Dip
– A Latte Food
Chocolate Pumpkin Cheesecake Muffins
-Dinner at the Zoo
Pumpkin Polenta Cups
– Cooking and Beer
Pumpkin Cheesecake French Toast
– Whole and Heavenly Oven
Slow Cooker Turkey Breast
– The Weary Chef
Turkey Cranberry Sandwich
– The Gunny Sack
Caramel Apple Mini Pie Cups
– The Creative Bite
Pumpkin Spice Latte Coffee Cake
– Joyful Healthy Eats
Pumpkin Chocolate Chip Bread
– Deliciously Sprinkled
Pumpkin Cupcakes with Cream Cheese Frosting
– Chez Catey Lou
Apple Cheesecake French Toast with Cider Maple Syrup
– Mariah's Pleasing Plates
Pear Pie with Pecan Streusel
– The First Year
Apple Pie Rolls
– Amy's Healthy Baking
No Bake Apple Pie Bites
– The Recipe Runner
Pumpkin Pie Mousse
– Petite Allergy Treats
Pumpkin Chocolate Chip Bars
– Diary of a Recipe Collector
Cranberry Apple Cider Punch
– Diethood