Peanut Butter Pretzel Granola Bars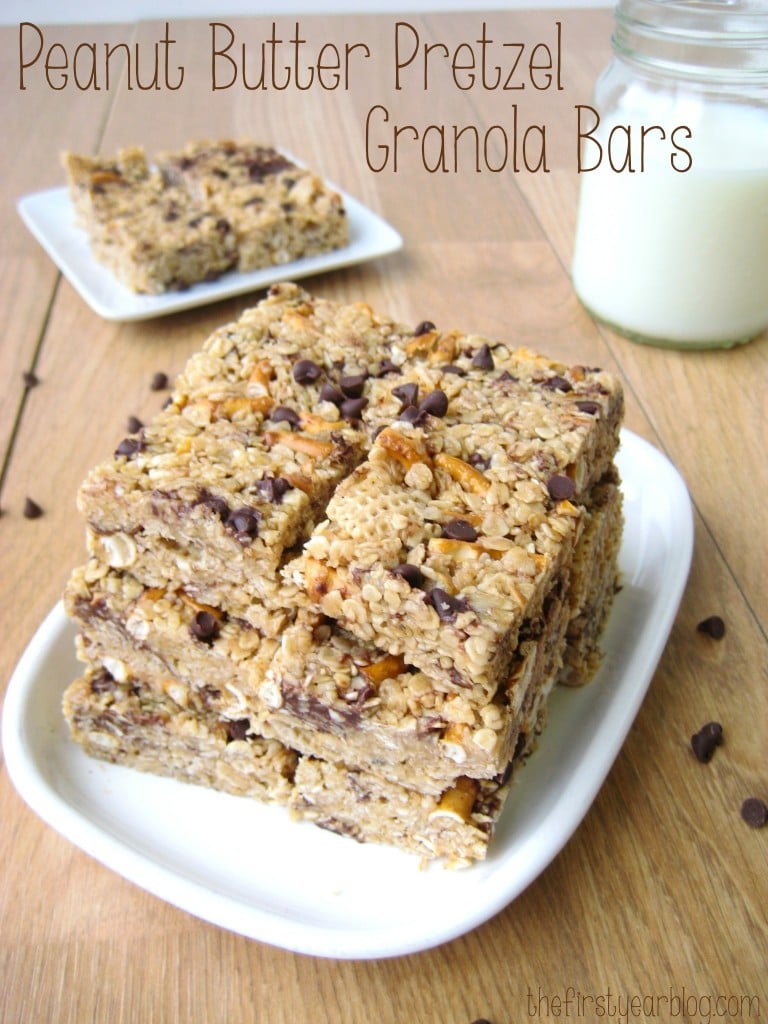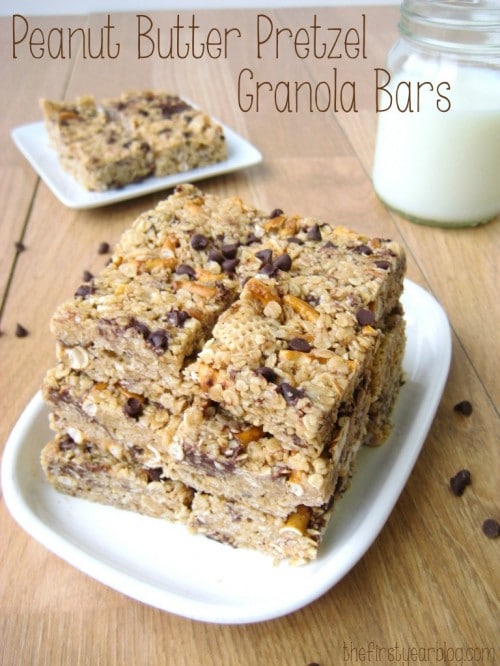 Making homemade granola bars is so easy. If you've never done it before, I kind of equate the process to making rice krispie treats – mix, dump, and press into a pan!
Also, I can guarantee that these are very delicious and will be quickly devoured by all.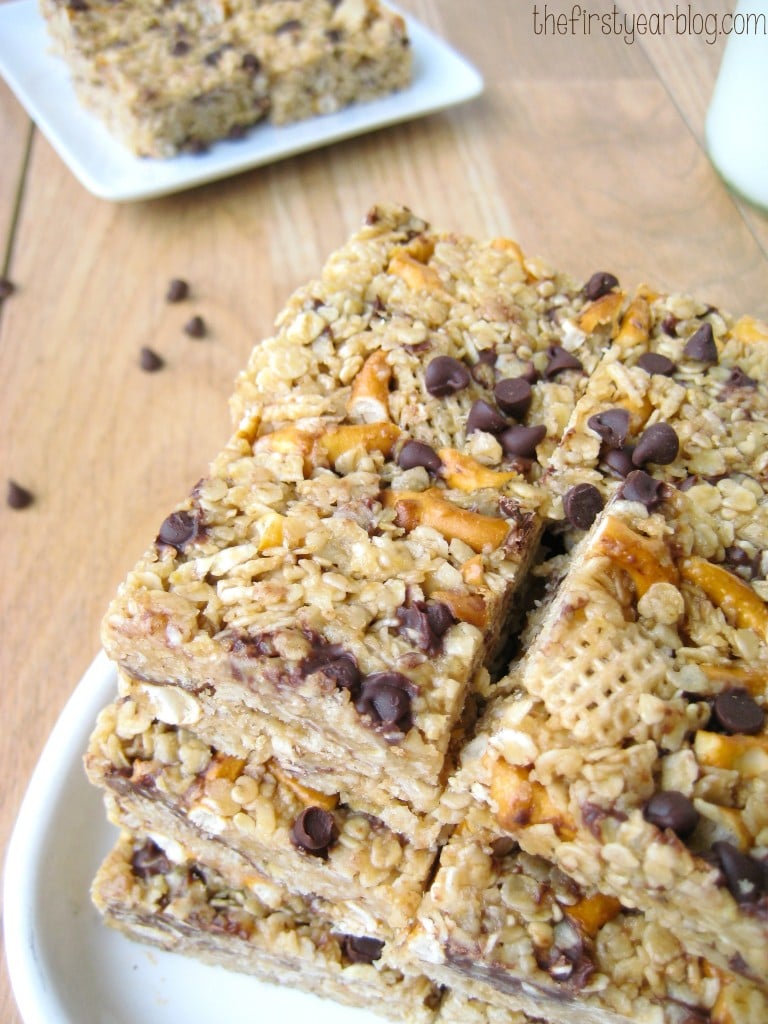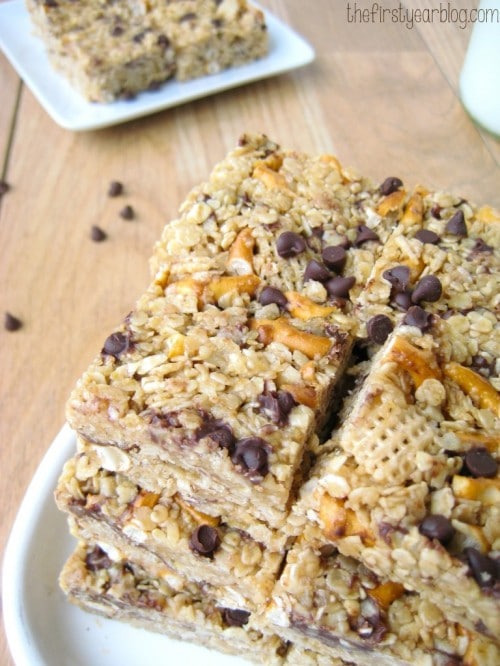 What's in these no bake granola bars? Oatmeal, chex cereal, pretzels, peanut butter, and chocolate chips.
I love that this recipe can be easily changed depending upon what you have on hand or prefer. The original recipe actually called for rice krispie cereal, but we didn't have that so I used chex cereal and it worked great.
Other ingredients that you could substitute include raisins, peanut butter chips, m&m's, coconut, chopped nuts or pecans, craisins, sunflower seeds, or other cereals. Mmmm mmm, I am sure another version of this recipe will show up on the blog later.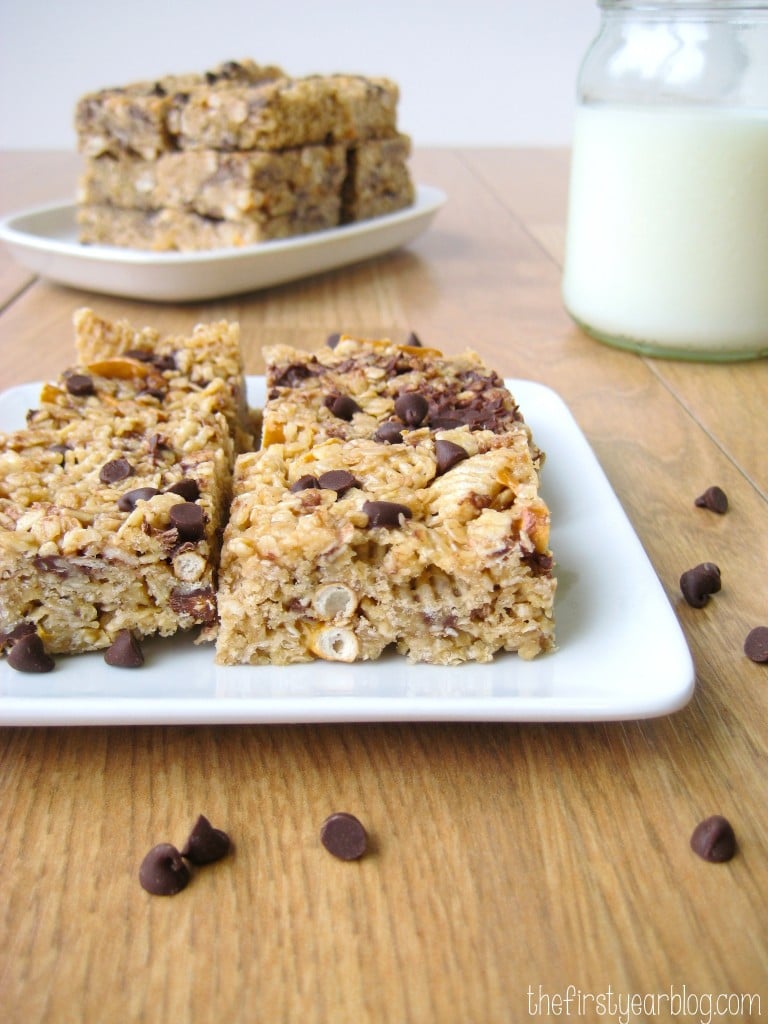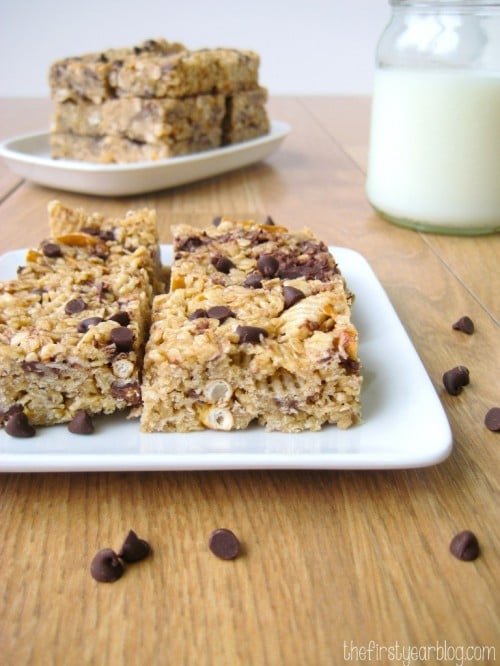 Peanut Butter Pretzel Granola Bars
Ingredients
4 cups oatmeal (regular or quick cooking)
1 cup cereal, rice krispie or chex
1 1/2 cups pretzels, chopped
1/2 cup butter
1/2 cup brown sugar
1/2 cup honey
1/2 cup creamy peanut butter
1 tablespoon vanilla extract
1/2 - 3/4 cup chocolate chips, mini or chopped
Instructions
Line a 9x13 pan with foil/parchment paper/wax paper and lightly spray with cooking spray.
If you are using regular oats, pulse them a few times in a food processor/blender to chop them up a bit.
Add oats, your choice of cereal and chopped pretzels to a large bowl.
In a saucepan over medium-low heat, melt butter, along with brown sugar, honey and creamy peanut butter. Once the mixture begins to bubble, heat for 2 more minutes, stirring often.
Remove the pan from the heat and stir in the vanilla.
Pour this mixture over the dry oat mixture, mix well.
Add in the chocolate chips right before transferring the mixture to the pan, don't mix too much.
Press everything into the pan, using your hands or the back of a spatula.
Chill in fridge for 30 minutes before cutting.
Store in the fridge after cutting.
https://thefirstyearblog.com/peanut-butter-pretzel-granola-bars/
I love these no bake granola bars because I can easily make them to be gluten free, by using gluten free rice krispies or chex, gluten free oat, and gluten free pretzels. Definitely a lot cheaper than buying gluten free granola bars.