Want our top 10 essential dessert recipes?
Get our favorite classic recipes in your inbox! It's 100% free, but we might make you hungry!
Peanut Butter M&M Monster Cookies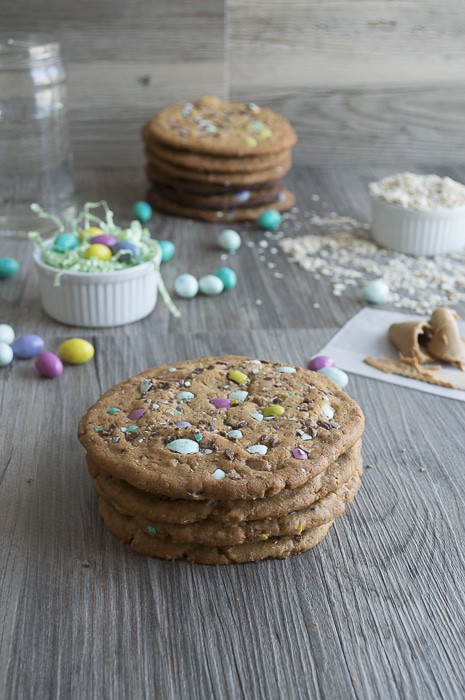 Hello Easter monster cookies!
Monster cookies are just too fun.
It doesn't matter if you're an adult or kid, everyone's eyes get big knowing that get to eat a monstrous cookie.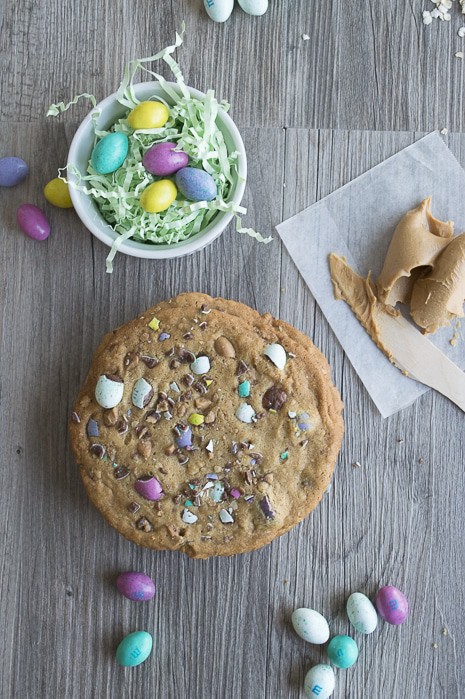 And eating 1 monster cookie seems way healthier in my brain than eating 4-5 regular cookies.
They are a few guidelines to making monster cookies..
1. Don't try to fit 8 cookies on one pan, unless you want one giant pan cookie. I recommend baking 2-3 cookies on a sheet at a time. I realize this isn't as efficient as making a whole pan of regular cookies, but monster cookies are special and need special treatment.
2. Form your dough ball and put in on the sheet to bake, and it will expand to the size of Texas. It takes a little practice to figure out how large your dough ball should be to get the right size of monster cookie.
3. Once your cookies are done baking, leave them on the baking sheet on top of a cooling rack for at least 12 minutes. Patience is key here otherwise you're monster cookies will crumble because they won't be firm enough to move.
4. Use multiple cookie sheets so you can bake some more while you're waiting for the others to cool on their cookie sheet.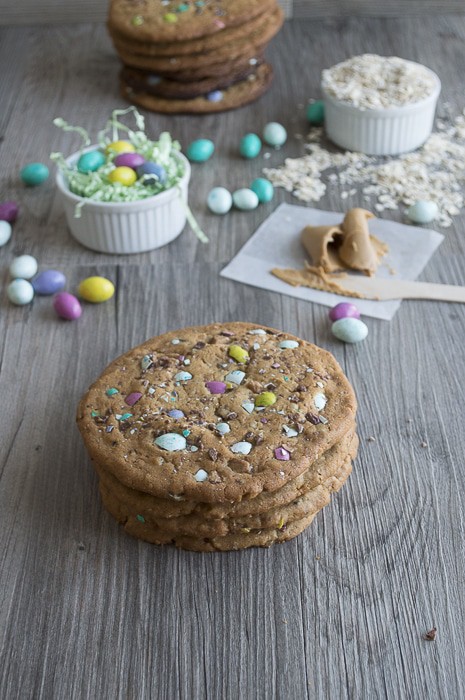 Keep this recipe handy! You can easily switch the candy or item that you put on top of the cookies for seasonal holidays. For example, for Halloween we made Reese's Pieces Monster Cookies because the colors fit nicely!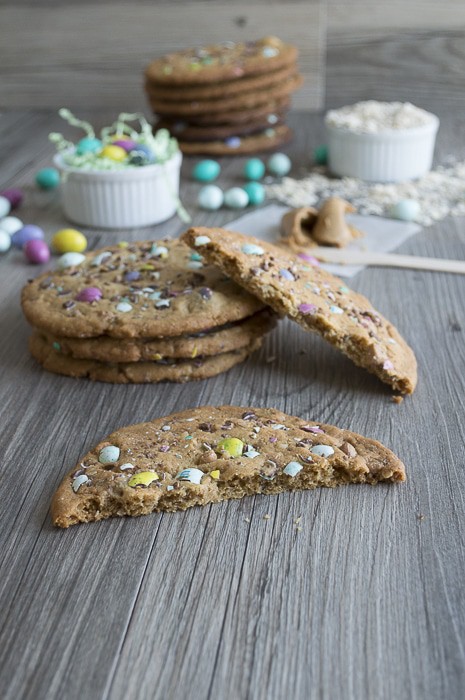 Peanut Butter M&M Monster Cookies
Ingredients
2 cups all-purpose flour
2 & 1/4 tsp baking soda
1/2 tsp salt
1 cup unsalted butter, softened
1 cup peanut butter
1 cup sugar
2/3 cup packed brown sugar
2 eggs
1 tsp vanilla extract
1/2 cup rolled oats
1 bag Peanut Butter M&Ms, rough chopped (or other desired topping)
Instructions
In a small bowl, mix together the flour, baking soda and salt and set aside.
In a large bowl, cream together the butter, peanut butter, sugar and brown sugar until light and fluffy.
Add the eggs and vanilla and mix.
Add the dry ingredients to the wet ingredients and mix until combined.
Stir in the oats.
Gather the dough into a ball and cover and refrigerate for 15 minutes.
Meanwhile, preheat the oven to 350 degrees F.
Rough chop the peanut butter M&Ms. If you use something small, like Reese's Pieces, there is no need to chop, but the peanut butter M&Ms need to be chopped in order to stay on the cookies.
Line cookie sheets with parchment paper or silpat.
Use about 2-3 tbsp of dough per cookie, and slightly flatten with your hands.
Place the cookie on the baking sheet and press some chopped peanut butter M&Ms into the top of the dough. Use as many as you'd like.
Continue forming cookies and adding the peanut butter M&Ms, remembering to only place 2-3 cookies per baking sheet.
Bake for 12-15 minutes or until the edges begin to brown.
Remove the pan from the oven, and allow the cookies to cool on the pan for 12 minutes before moving them to a cooling rack.
Store in an airtight container and enjoy!
https://thefirstyearblog.com/peanut-butter-mm-monster-cookies/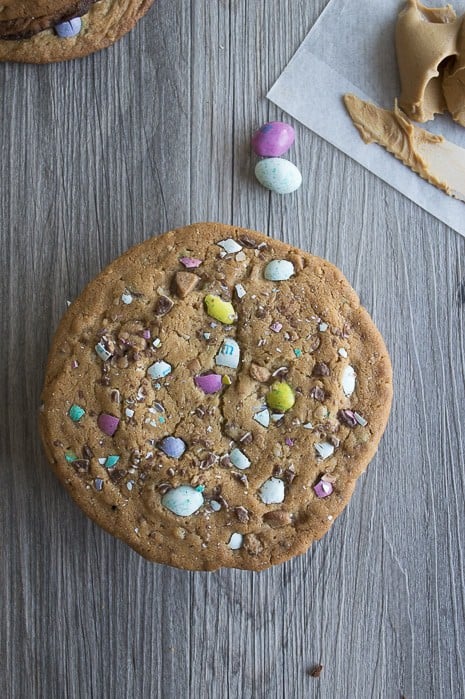 I sure hope the Easter bunny brings these to my house!