Peanut Butter Fudge Brownies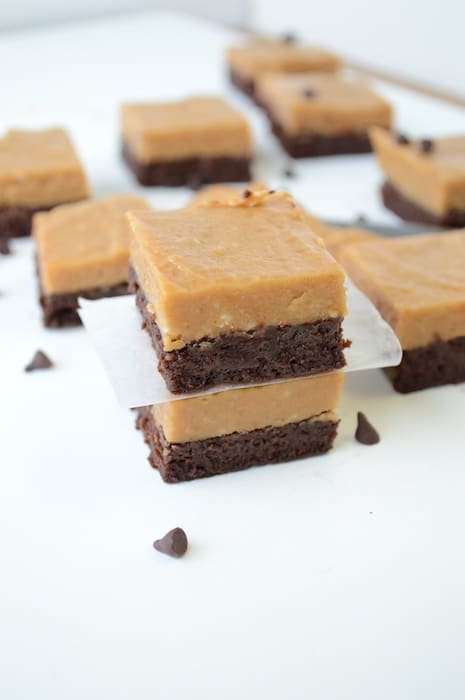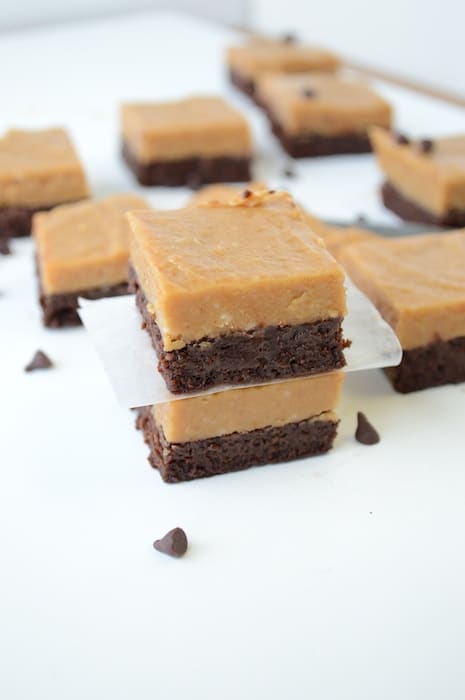 Drum roll… this is our first fudge recipe!
Fudge is great, but chocolate is really great, which means fudge with chocolate brownies has my name written all over it.
Would you like to try one of these scrumptious bites?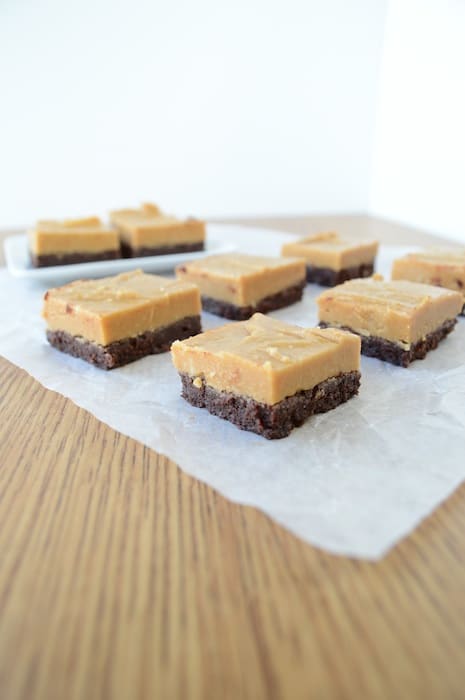 These taste similar to Reese's Cups with all the peanut butter chocolately goodness in them. But they are more chewy, dense, and fudgy :-)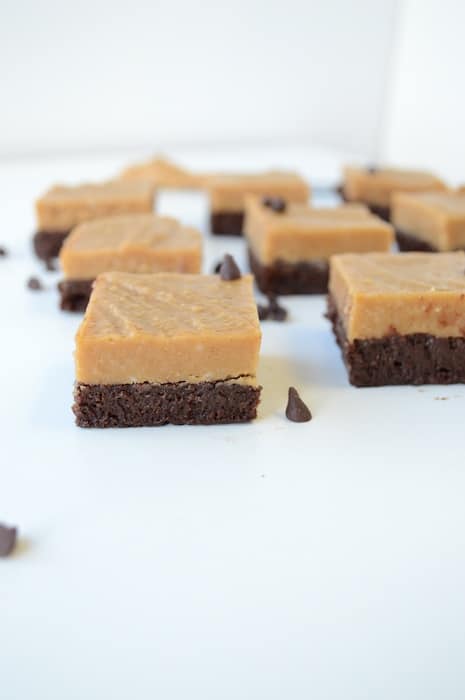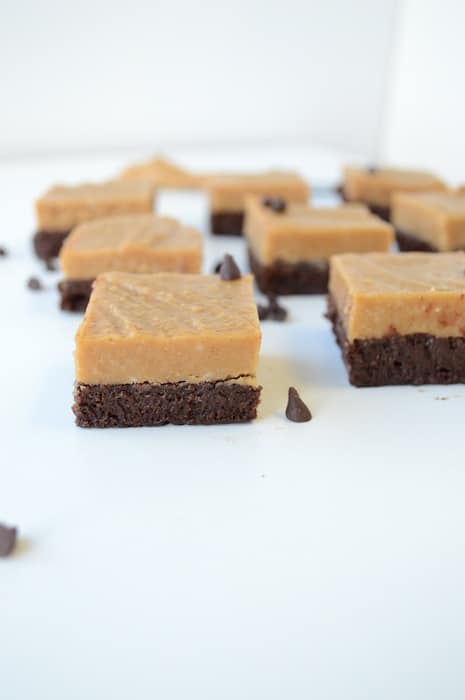 As the holiday season approaches I'm getting really excited about seasonal desserts and cookie exchanges. And I don't think anyone would mind if contributed this peanut butter brownie fudge to a cookie exchange.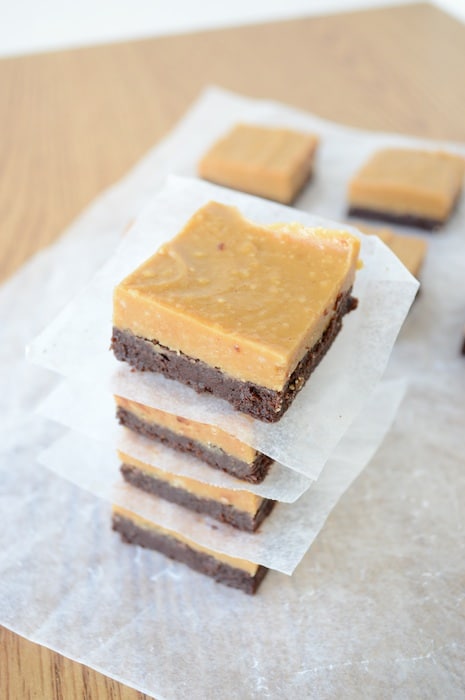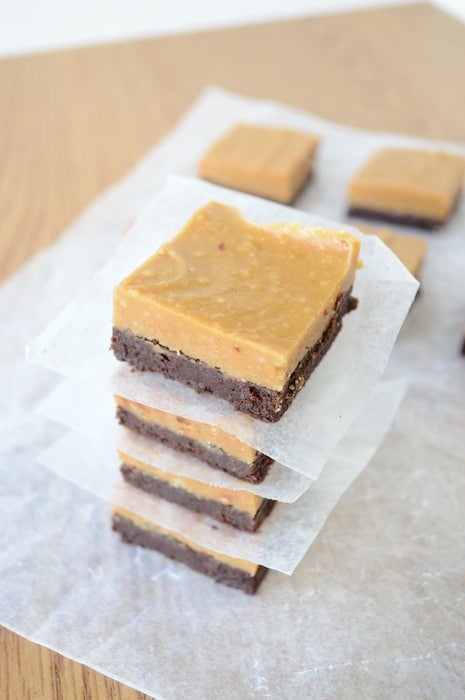 I would suggest cutting these into small squares because they are rich, and that way you can have more than one!
If you want to speed up the baking process, you could swap boxed brownies for the homemade ones in the recipe.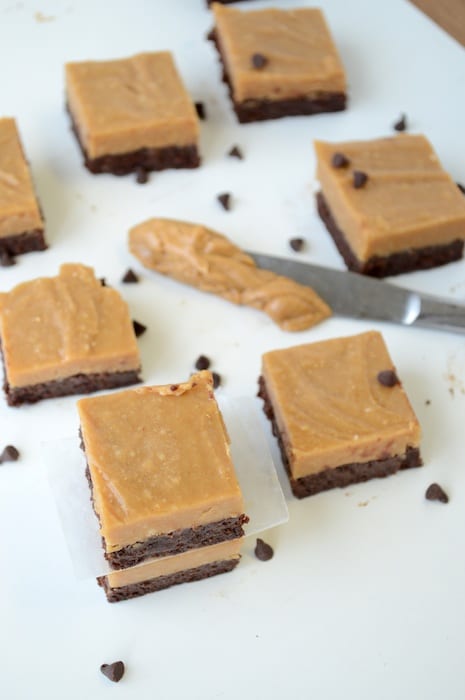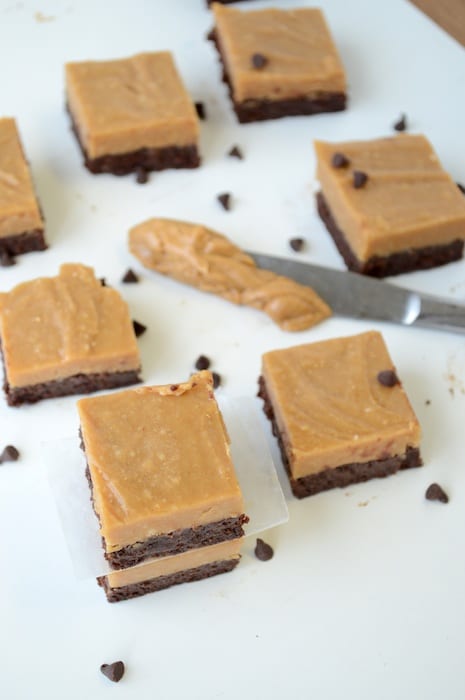 Peanut Butter Fudge Brownies
Yield: One 9x13 inch pan
Additional Time: 1 hour 30 minutes
Total Time: 1 hour 30 minutes
Ingredients
Brownies
10 tbsp butter
1 & 1/4 cups granulated sugar
3/4 cup plus 2 tbsp unsweetened cocoa powder
1/2 tsp salt
1 tsp vanilla extract
2 large eggs
1/2 cup all-purpose flour
Peanut Butter Fudge
1 cup smooth peanut butter
11 tbsp butter
1 tsp salt
1 tsp vanilla extract
2 cups powdered sugar
Instructions
*For the brownies*
Position a rack in the lower third of the oven and preheat the oven to 325 degrees F.
Line the bottom and sides of a 9x13-inch baking pan with parchment paper. Lightly grease with cooking spray and set aside.
Combine the butter, sugar, cocoa, and salt in a medium microwave-safe bowl. Microwave for one minute intervals, stirring in between, until the butter is melted and the mixture is smooth.
Set the mixture aside until it cools to room temperature. (You can pop it in the fridge to speed up this process.)
Stir in the vanilla.
Add the eggs one at a time, stirring vigorously after each one.
When the batter looks thick, shiny, and well blended, add the flour and stir until you cannot see it any longer, then beat vigorously for about 40 strokes with spoon or a rubber spatula.
Spread evenly in the lined pan.
Bake until a toothpick inserted into the center emerges slightly moist with batter, 20 to 25 minutes.
Let pan cool completely on a rack, or stick in the fridge to cool for at least 30 minutes.
Next, spread the prepared peanut butter fudge (see instructions below) in a single layer on top of the brownies, smoothing with a rubber spatula.
Cover and refrigerate for at least 1 hour, or until the fudge has set.
Then carefully lift the peanut butter fudge brownies out of the pan by pulling on the parchment paper.
Cut the brownies into squares and serve.
*For the peanut butter fudge*
Bring butter and peanut butter to a boil in medium saucepan over medium-high heat, stirring occasionally until combined and smooth.
Remove from heat and stir in salt and vanilla until combined.
Gradually add in the powdered sugar, stirring until combined.
Then immediately add fudge to brownies.
The fudge may have some lumps from the powered sugar and that is fine.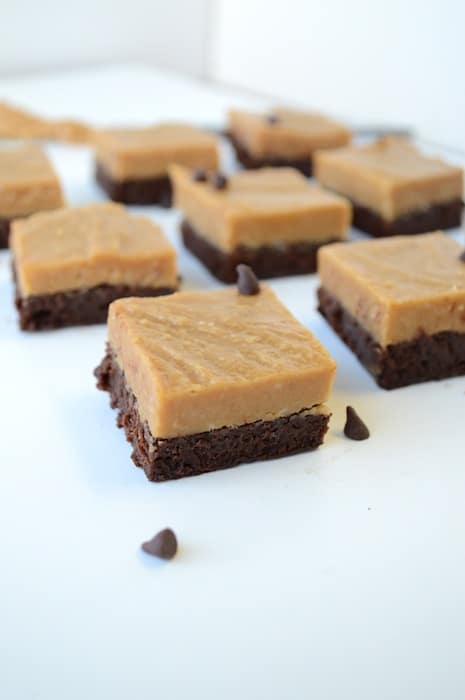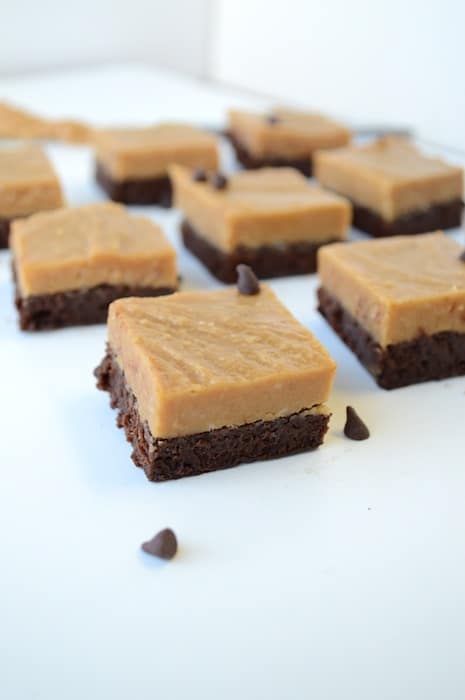 If you're like me, I don't like having too many sweets on hand, so into the freezer they go, and these freeze well.