Peanut Asian Lettuce Wraps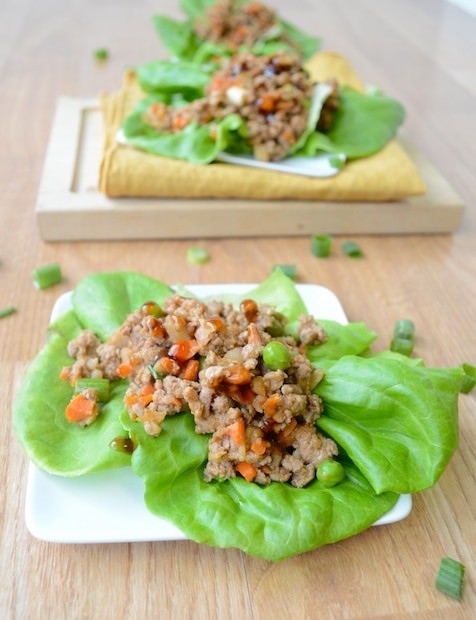 Even though it's the holiday season and you probably see lots of chocolate, peppermint, and gingerbread recipes (guilty!) we still need to eat real food.
As least, I still need to eat real food, aka- non sweets.
These peanut asian lettuce wraps pack a punch of flavor and are fantastic as a main dinner dish or appetizer.
Peanut Asian Lettuce Wraps
Ingredients
1 & 1/2 pounds ground beef or turkey
1/2 cup shredded carrot
2 tbsp minced fresh ginger (try your best to use fresh!)
4 garlic cloves, minced
1 can (8 ounces) whole water chestnuts, drained and chopped
4 green onions, chopped
1/2 cup peas
1/3 cup reduced-sodium teriyaki sauce
1/4 cup hoisin sauce
3 tbsp creamy peanut butter
1 tbsp rice vinegar
1 tbsp sesame oil
12 bibb lettuce leaves
Additional hoisin sauce, optional
Instructions
In a large skillet, cook the meat over medium heat until it's no longer pink, drain grease.
Add the shredded carrot and cook, stirring, for 3-4 minutes.
Add the ginger and garlic; cook 1 minute longer.
Stir in the chestnuts, onions, peas, teriyaki sauce, hoisin sauce, peanut butter, vinegar and oil; heat through.
Divide among lettuce leaves; drizzle with additional hoisin sauce if desired. Fold lettuce over filling.
https://thefirstyearblog.com/peanut-asian-lettuce-wraps/
We added brown rice alongside our meat in the lettuce wraps – it was delicious. Mmm, I love real food!