Want our top 10 essential dessert recipes?
Get our favorite classic recipes in your inbox! It's 100% free, but we might make you hungry!
Peace Popsicles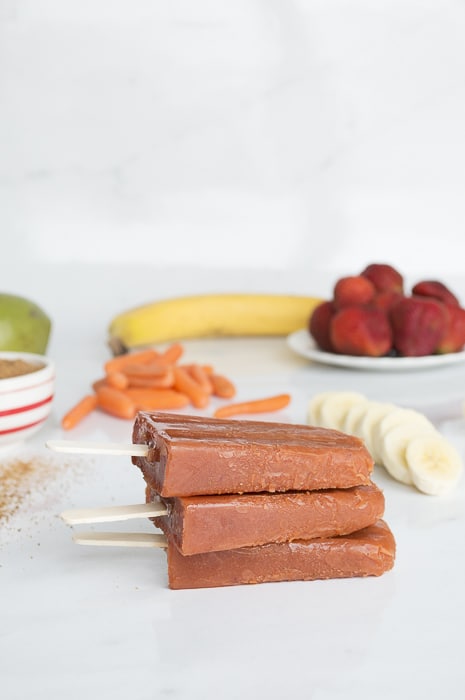 We have another popsicle recipe to help you enjoy summer! Plus, I know that all the mothers out there will really enjoy this one for their kiddos!
If you were ever looking for a super healthy popsicle recipe, packed with well.. healthy stuff, look no further.
Can you spy the secret ingredient?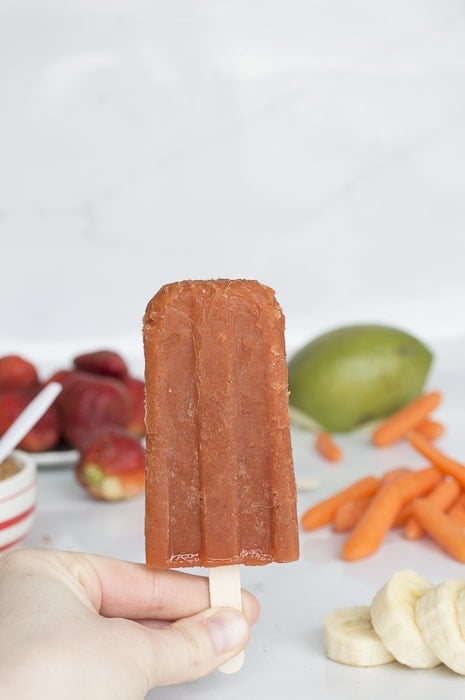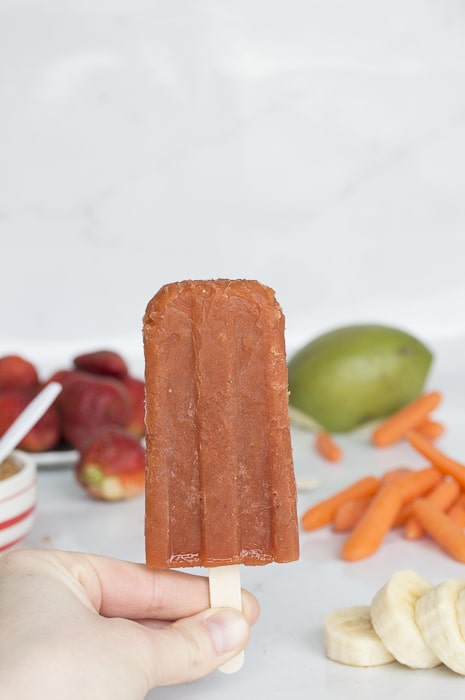 CARROTS! But carrots aren't the only secret ingredient. There is only good stuff in this recipe.
Steamed carrots, strawberries, mango, and banana all naturally sweetened with coconut sugar.
I must have looked like a crazy health food addict trying to find the coconut sugar in my grocery store. I had a bit of trouble because they placed it on the very top shelf, but I've learned to work around my lack of height. You either..
A- Stand on your tip toes, waving your hands on the shelf trying to reach the item
B- Grab another item from the store to help you scoop/scoot the item closer to you
C- Ask a stranger for help
Are any of you in a similar predicament as me? What's your go-to method? Do you bring a stool with you to the store? Ha.
I did the awkward stand on your tip toes waving your hands method. It worked because I came home with coconut sugar.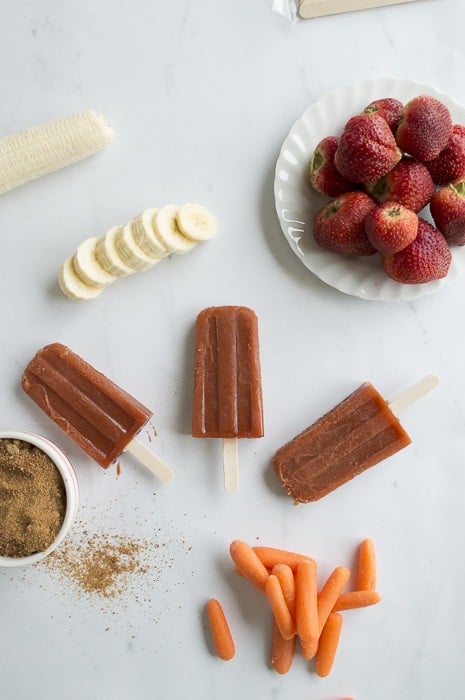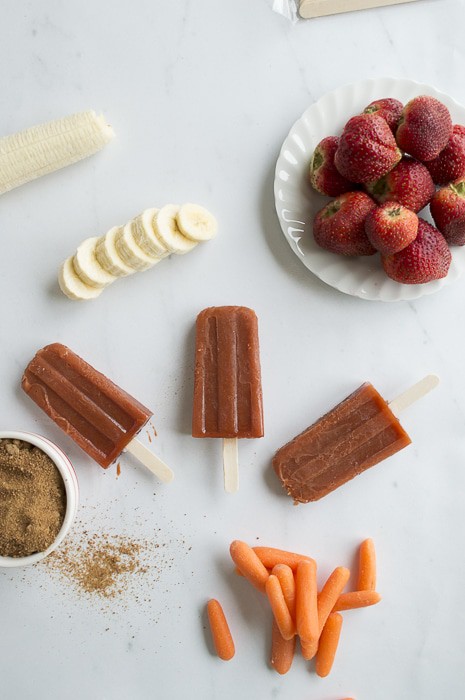 At first, I really didn't want to buy the coconut sugar.. but putting regular sugar in these popsicles would have defeated the whole purpose of these peace popsicles.
All natural & healthy. I mean if you're putting carrots in popsicles you might as well use a less refined sugar to sweeten them up naturally.
I mean who puts steamed carrots in popsicles anyways? This girl!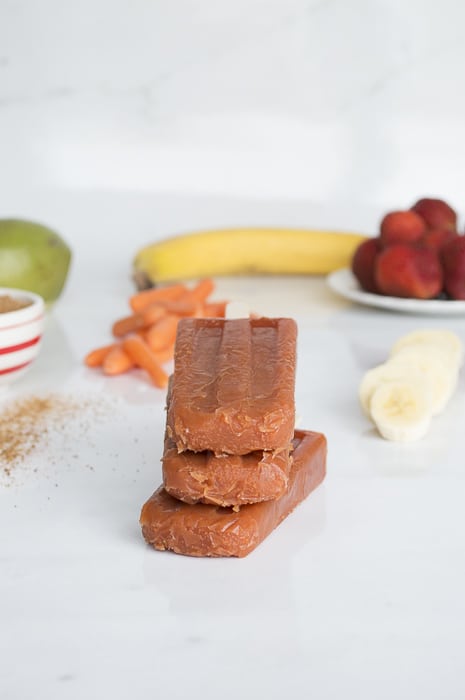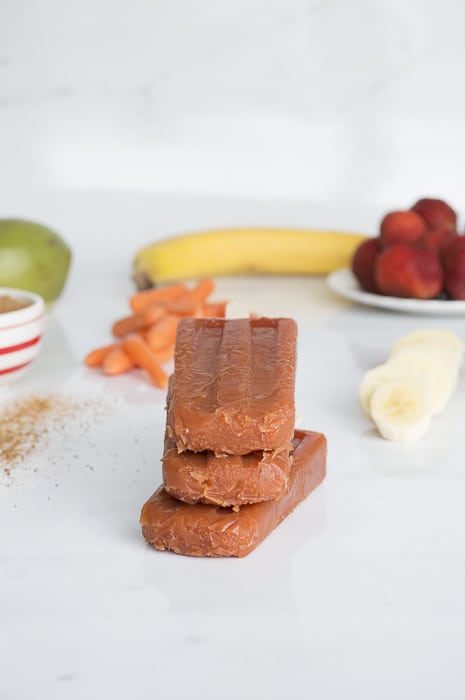 Ingredients
3 carrots, cut into chunks
1 cup chopped strawberries
1 whole mango, chopped
1/2 banana
3/4 cup coconut sugar
1 cup water
Instructions
Steam the carrots until they are soft.
Puree the carrots, strawberries, mango and banana in a food processor or blender.
Add the coconut sugar and water, and blend once more to combine.
Pour this mixture into a popsicle mold, following the instructions on your mold.
Allow the popsicles to freezer for 4-5 hours before removing.
Once set, place the popsicle mold in several inches of room temperature water to help loosen the popsicles. The mold only needs to be in the water for several seconds. You can always re-dip if necessary.
Once the popsicles have been removed, wrap the extras in plastic wrap and store in the freezer for later use.
https://thefirstyearblog.com/peace-popsicles/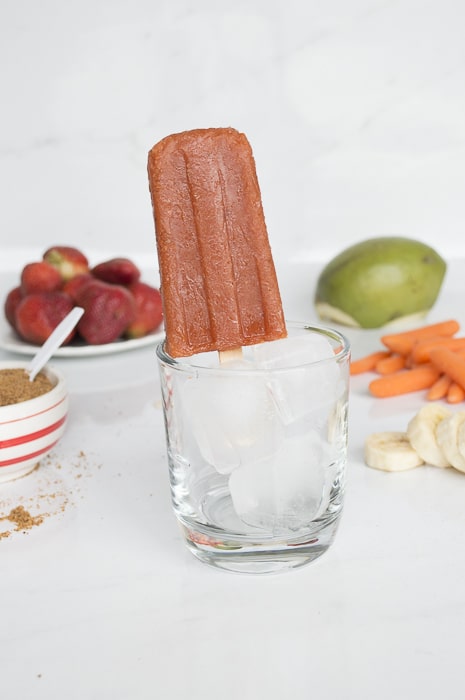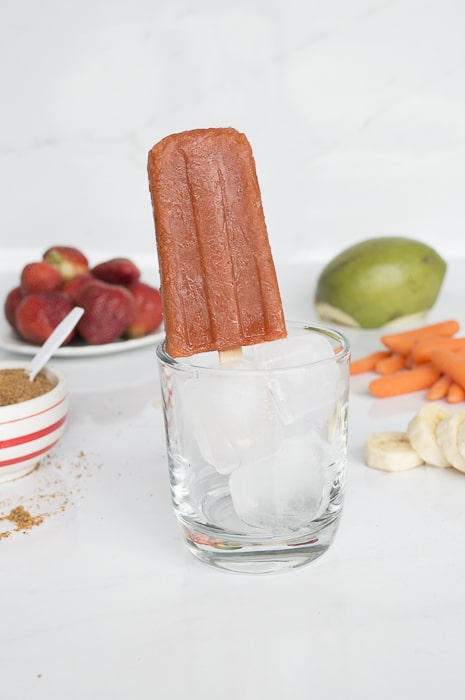 If you are looking for a simple popsicle mold, I use and recommend the
Norpro Ice Pop Marker
from Amazon.
More popsicle recipes – Mocha Banana Popsicles and Pink Girl Popsicles