Orange Sweet Rolls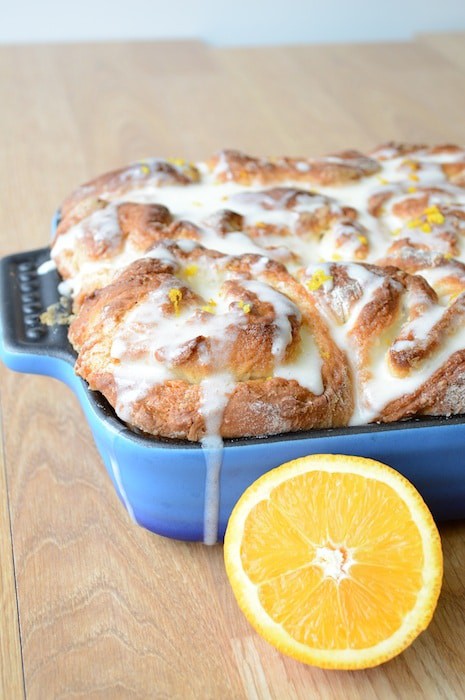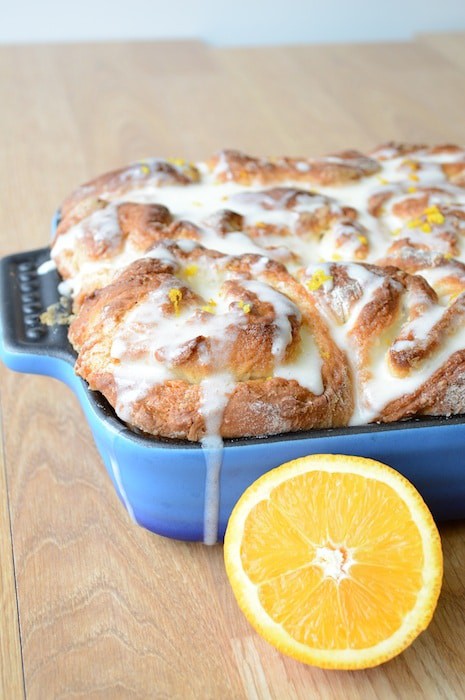 I've made homemade cinnamon rolls before, and that wasn't too hard, so I thought I'd try my hand at orange sweet rolls.
They turned out to be more like GIANT orange sweet rolls. Like billowing out of the pan & how do I fit this in my mouth GIANT.
No one really minded their extra large size – it meant more deliciousness for breakfast.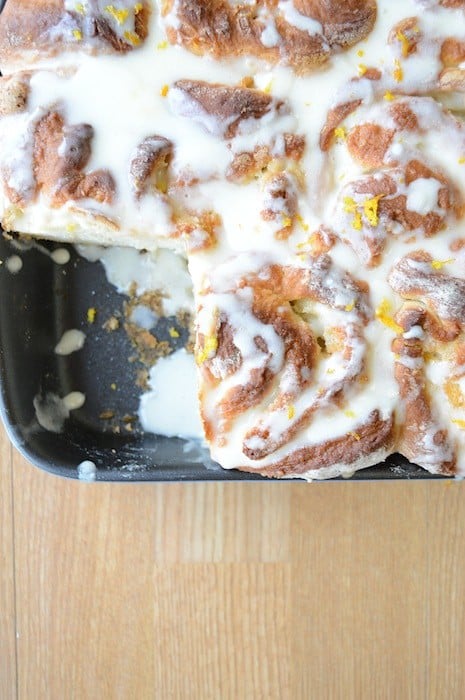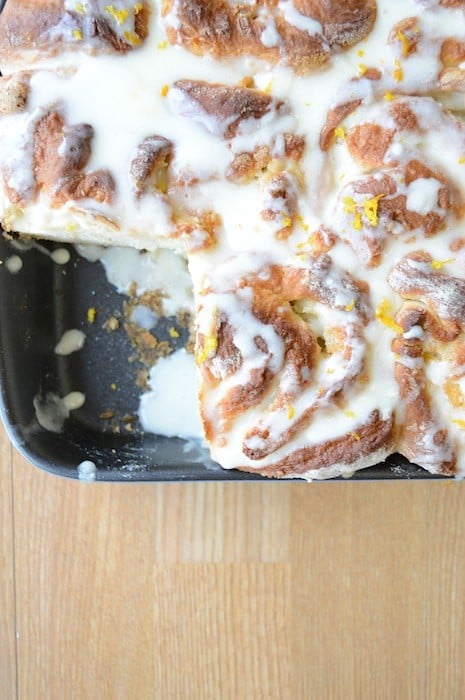 I'm a novice when it comes to baking with yeast. So I did a little pre-reading about how to work with yeast before I started.
Here are some things to note:
1. Your yeast needs to be fresh – so about less than 4 months old.
2. Yeast needs a warm, draft-free place to rise. I turned my oven on to 150 degrees F for 3-5 minutes. Then I turned it off, waited several minutes and than put my dough in to rise.
3. Yeast likes warm water, not hot. I didn't use a thermometer, just used my best judgement between warm and hot.
4. Your dough may be a little sticky, and that's fine. You want to add flour to your yeast mixture just until the dough is slightly pulling away from the sides of your bowl. If you add to much flour it will result in dry dough.
5. Let the dough rise in a large bowl (like very large bowl unless you want to clean up a spilled over doughy mess). Spray the bowl with cooking spray and if you're covering it with plastic, spray that too.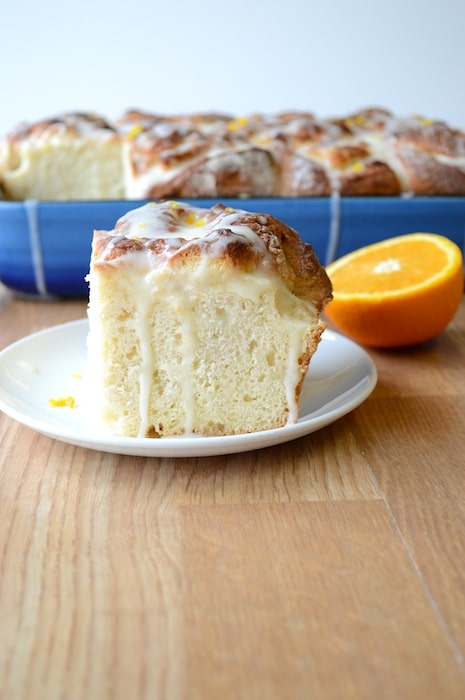 Now we're all experts in yeast – ha, yeah just kidding – I was the one who googled "baking with yeast for dummies".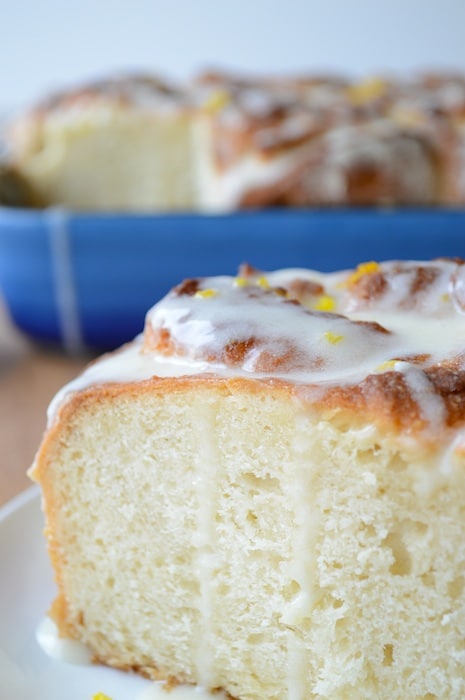 Ginormous, right? What can I say, they were a lot bigger than I expected them to be!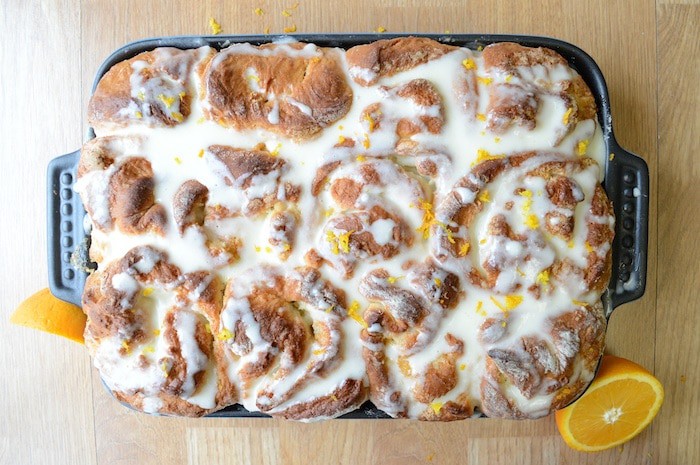 And in comes the flood of orange glaze!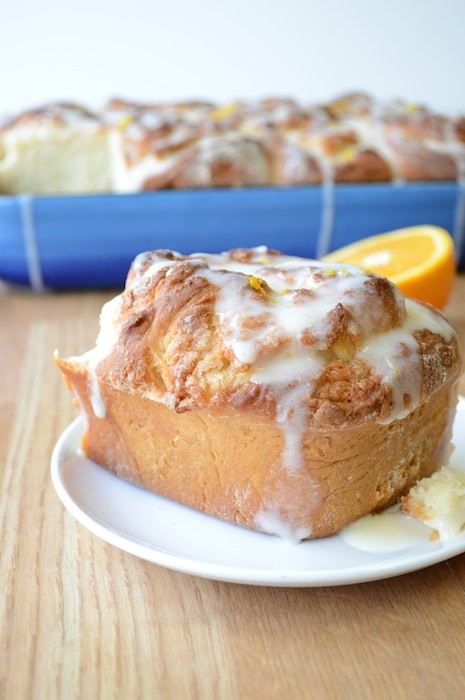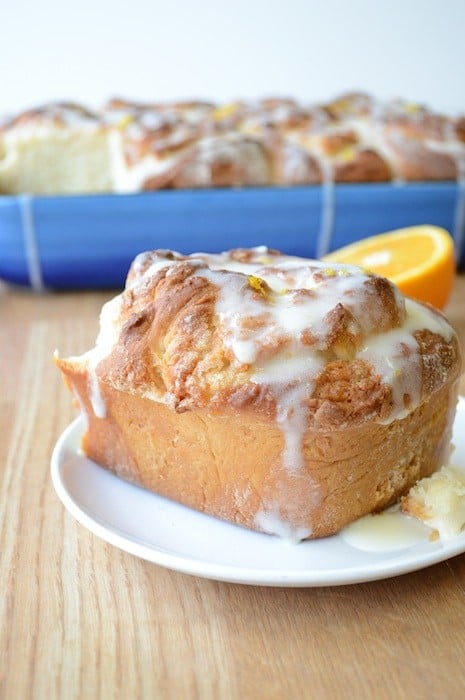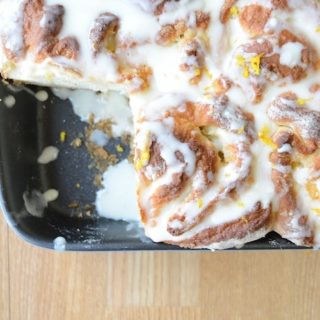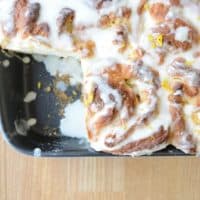 Orange Sweet Rolls
Ingredients
For the dough
3 (.25 ounce) packets active dry yeast (2 & 1/4 tbsp)
1 & 3/4 cups warm water
1/2 cup honey
1/2 cup (1 stick) melted butter
2 tsp salt
2 large eggs, beaten
4 - 6 cups flour, plus more if needed (this all depends on how sticky your dough is)
For the filling
1/2 cup (1 stick) butter, at room temperature
1 cup sugar
3 tbsp juice from oranges
For the glaze
2 cups powdered sugar
3 tbsp juice from oranges
1/2 cup heavy cream (more as needed to reach desired consistency)
1 tsp orange extract (optional, for added orange flavor)
Instructions
Preheat oven to 150 degrees F for 3-5 minutes, then turn it off. You want a warm oven to help the dough rise. If you choose not to use your oven, pick a warm, draft-free place.
In a bowl, combine the warm water and yeast. Allow it to sit for 5 minutes until yeast begins to bubble.
Add the honey, melted butter, salt and eggs. Use a whisk to combine.
Slowly add 4 cups of flour and mix/beat to combine. Mixture will be wet. If you have a stand mixer, you can use the dough paddle.
Add 1/2 cup of flour at a time until dough pulls away from sides of the bowl but is still slightly sticky. This will be a wet dough, so don't add too much flour. Your finger should stick to the dough but shouldn't pull any dough away with it.
Put the dough in a large bowl, sprayed with non-stick spray. Cover with plastic wrap and place in the warm oven. (Oven should be off).
Allow the dough to double in size, which will take about 45 minutes.
After the dough has risen, knead it and roll it in to a large sheet, approximately 16x24 inches.
Spread the filling (see below for instructions) over the dough, then tightly roll into a jellyroll, rolling the long side around itself.
Preheat the oven to 375 degrees F.
Using a sharp knife, cut it into 1-inch pieces and place them into a buttered 9x13 pan.
Bake for 20-25 minutes or until golden brown.
Drizzle glaze (see below for instructions) over the top of the warm rolls.
For the filling - combine all the ingredients in a small bowl and mix. Spread evenly over rolled dough.
For the glaze - combine all ingredients until smooth. Glaze should be thin enough to pour, but thick enough to coat the back of a spoon.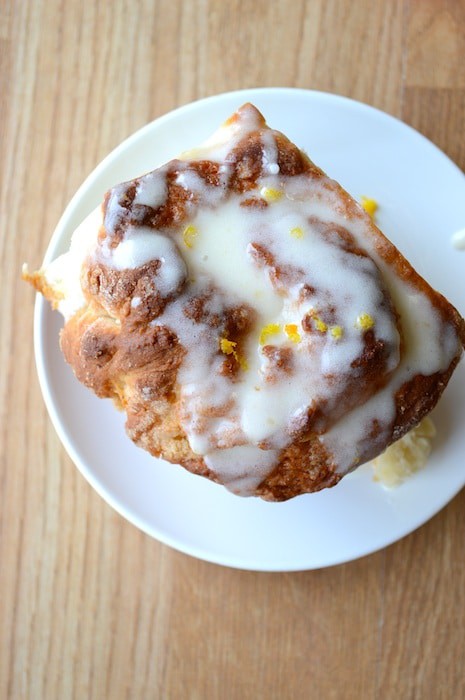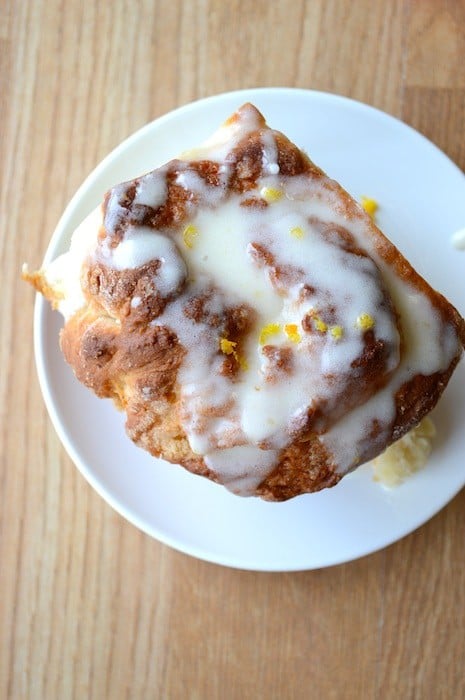 Perfectly soft, sweet and orangey!
But not too orangey for those non-orange likers out there – be adventurous and give them a try.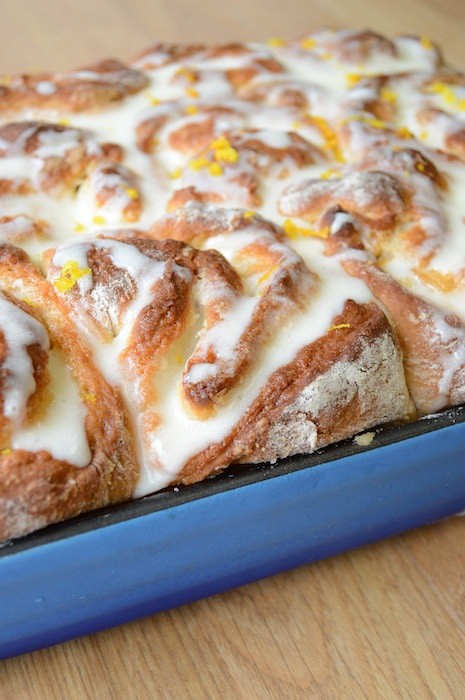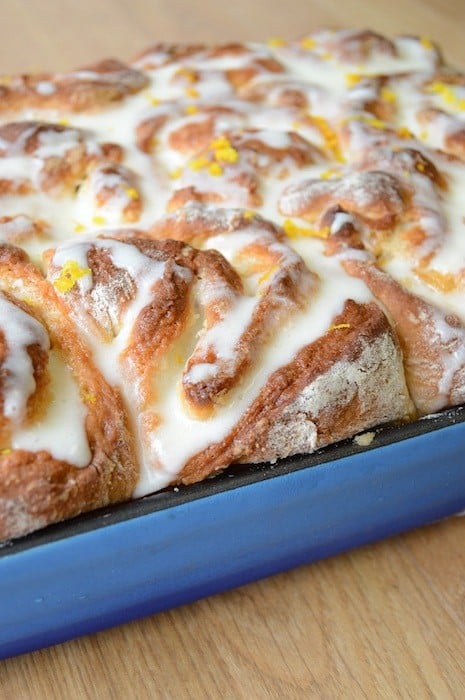 Top these sweet rolls with orange zest and serve with a side of glaze – ta da, a breakfast of champions!
Tomorrow I'll have to have shredded wheat for breakfast to balance this out :-)