One Pot Cheesy Sausage Pasta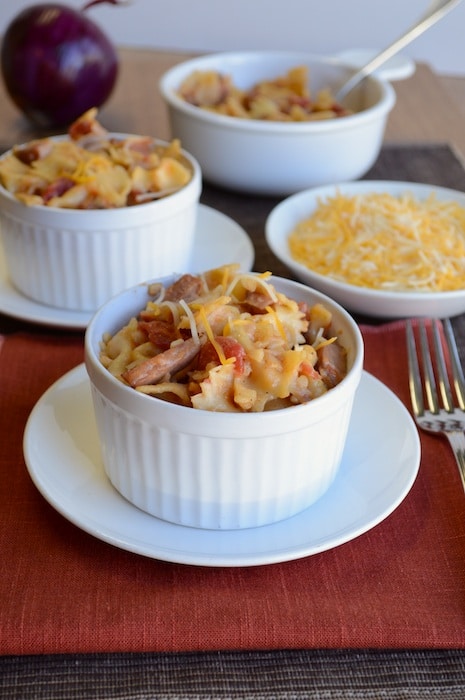 We're going to keep it easy today – a one pot cheesy sausage pasta.
I like that, no extra dishes, no colander to clean. Easy – but so good!
If you're not a fan of the zingy taste of canned tomatoes, I would recommend leaving them out because the flavor is powerful in this dish. Then the recipe reminds me of mac & cheese with hot dogs, mmmm, still so good.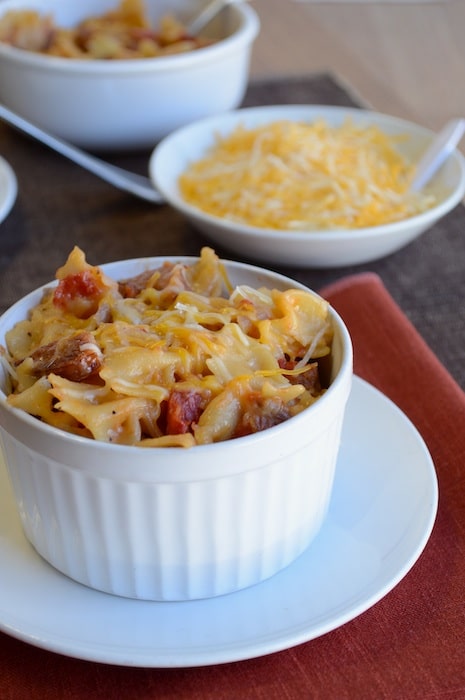 Ingredients
1 tbsp olive oil
1 package Kielbasa, sliced
1 cup diced onion
1 tbsp minced garlic (about two fresh cloves)
2 cups Chicken Broth
1 (10 oz) can diced tomatoes
1/2 cup milk or heavy cream
8 oz dry pasta (any small pasta will do, we used bow ties)
1/2 tsp salt and pepper, each
1 cup shredded cheese (choose your favorite)
Instructions
Add the olive oil to a large skillet pan over medium high heat.
Add the onions and sausage and cook until lightly browned.
Add the garlic and cook for about 30 seconds.
Add the chicken broth, tomatoes, milk/heavy cream, pasta, and seasonings.
Bring the mixture to a boil, cover, and reduce heat to low. Simmer for about 15 minutes, or until the pasta is tender.
Turn off the heat and stir in 1/2 cup of cheese. Sprinkle remaining cheese on top and cover for about five minutes to allow cheese to melt.
https://thefirstyearblog.com/one-pot-cheesy-sausage-pasta/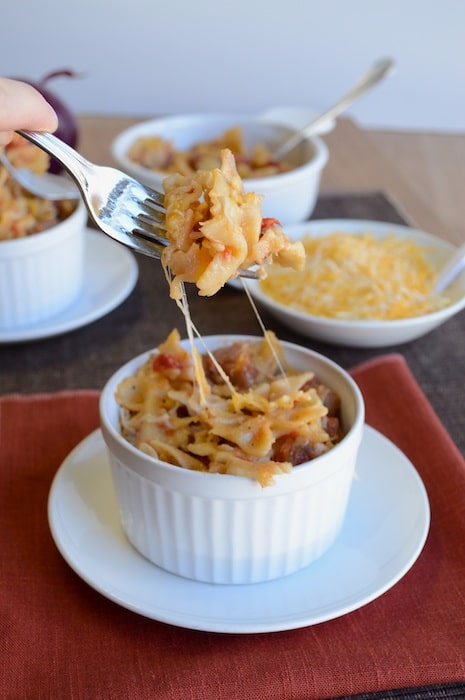 Are you convinced that it's easy?