Want our top 10 essential dessert recipes?
Get our favorite classic recipes in your inbox! It's 100% free, but we might make you hungry!
No Bake XOXO Oreo Cheesecakes
No Bake XOXO Oreo Cheesecakes – mini oreo cheesecakes topped with chocolate dipped oreos for Valentine's Day!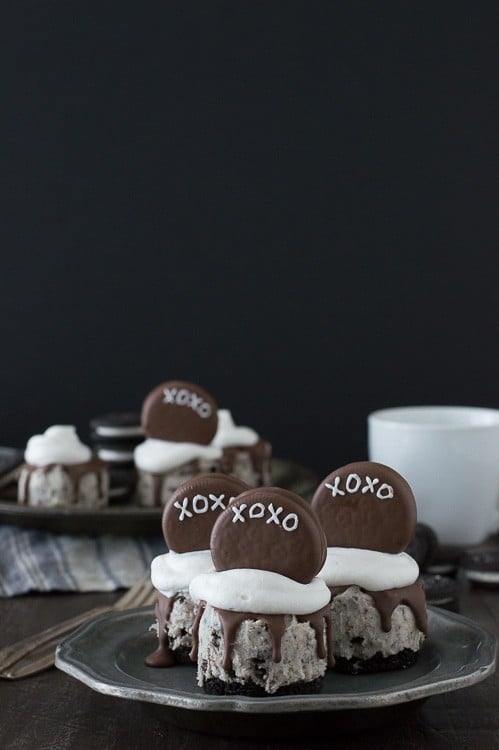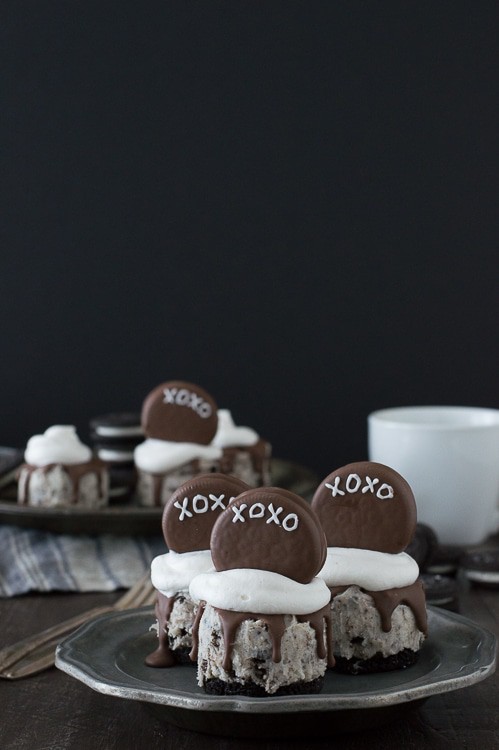 Day two of Valentine's Cheesecake Week!
Yesterday's cheesecake was fancy and sophisticated.
I would call it a first date kind of cheesecake. It's the type of dessert you could impress your date with because it's classic and if a man knows know to make cheesecake, he's a keeper. I imagine the person who makes the classic cheesecake and serves it to their date would say, "Oh these? They weren't my best creation, I just threw them together." See, already trying to impress you on the first date.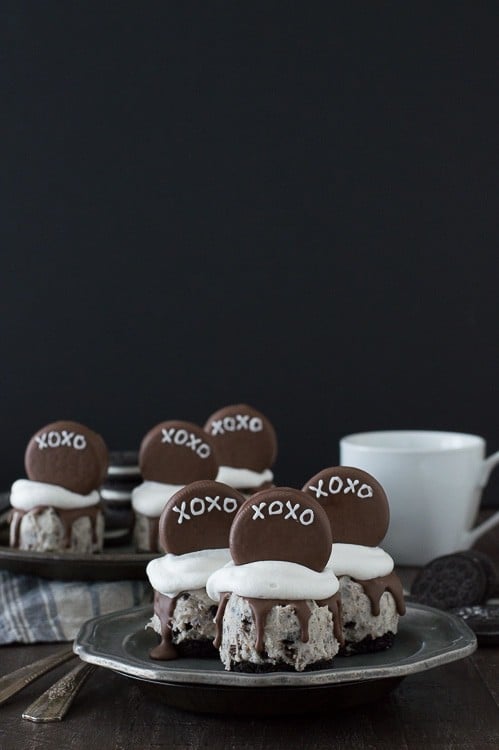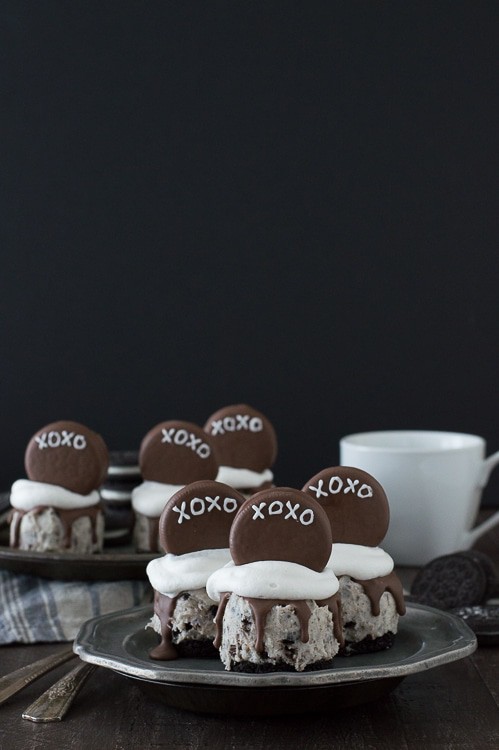 Today's cheesecake is adorable and for chocolate lovers. I would call it the "I know my wife loves oreos so I'm going to make her oreo cheesecake".
It's the kind of cheesecake you serve to someone you know who loves oreos and will swoon after hearing how much time you spent putting them together. I imagine the person who makes the oreo cheesecakes would say, "Honey, look what I made you because I know that you love oreos, and even though I messed up 2 times, I really wanted to make you these because I just love you so much!"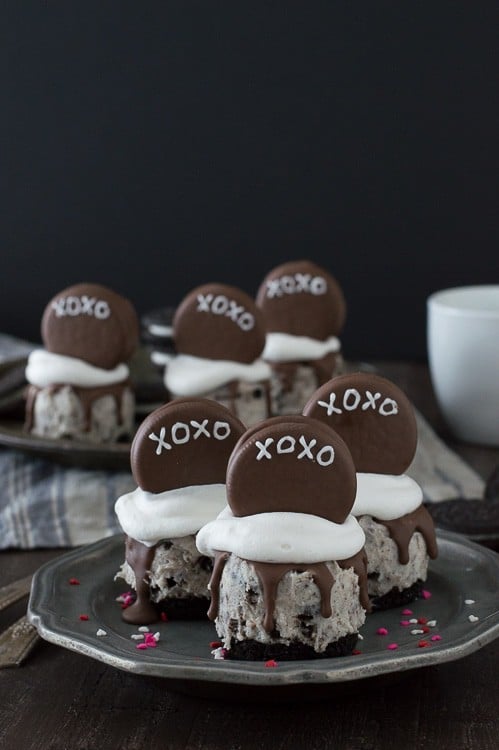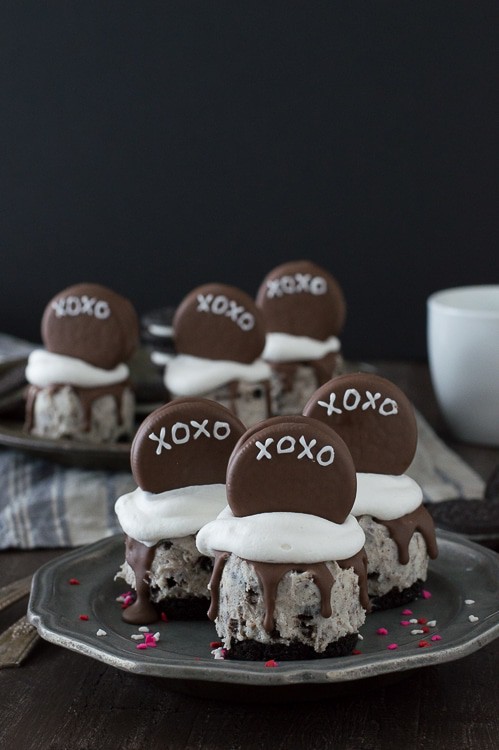 But you can still serve yesterday's white chocolate cheesecake to your long term honey bun :)
If your new to making cheesecake, in yesterday's post I wrote about the two different methods you can use to make mini cheesecakes. If you don't have a mini cheesecake pan (most non-food bloggers probably don't) you can use the muffin pan method.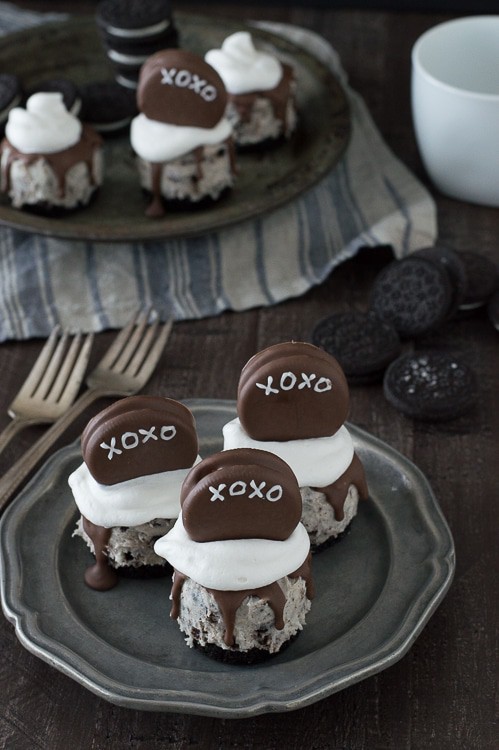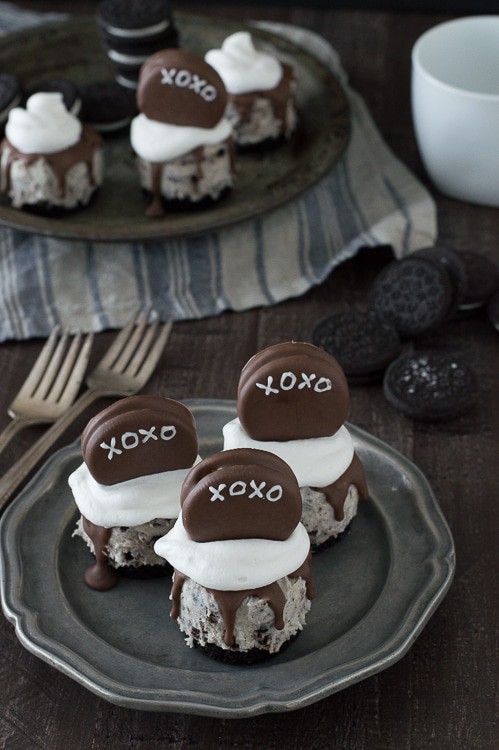 Let's talk about the most adorable part – the chocolate dipped XOXO oreos. Are they necessary? Well my food blogger brain says of course! But my realistic brain says I know it's one extra step, and they are just a garnish, but they do make these cheesecakes perfect for Valentine's Day. Plus, I know your sweetie pie will love them.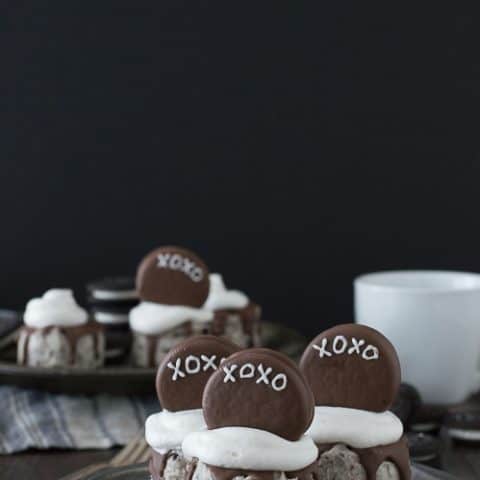 No Bake XOXO Oreo Cheesecakes
Yield:
12 mini cheesecakes
Ingredients
Cheesecake Filling
12 oz white chocolate chips
1/2 cup heavy cream
1 package cream cheese, 8oz, softened
11 oreos, chopped
Crust
Chocolate Topping
2/3 cup chocolate chips
1 tbsp vegetable shortening
1 & 1/2 tbsp powdered sugar
Chocolate Dipped xoxo Oreos
12 oreos
2-3 squares of chocolate candiquik
2 tbsp vegetable shortening
Small batch of royal icing
1/2 cup powdered sugar
1/2 tsp meringue powder
1/2 tbsp water
Instructions
Crust
Using a food processor or blender, pulse oreos into crumbs. Combine the melted butter with the crumbs and mix until it's thick.
Lightly spray a mini cheesecake pan with non-stick cooking spray. Place a heaping 1/2 tbsp of oreo crumbs in each cheesecake well, and press the mixture down firmly using a spatula. Place in the freezer for 15 minutes to harden.
Cheesecake Filling
In a small saucepan over low heat, combine the white chocolate chips and heavy cream. Stir occasionally, until the chips are melted and smooth. This may take up to 10 minutes, but keep the heat on low or a little higher than low.
Once melted, remove the pan from the heat and allow it to cool on the counter for 15 minutes.
Once the chocolate is cool, combine the melted chocolate, chopped oreos, and softened cream cheese in a mixing bowl. Beat using an electric mixer until the mixture is smooth and no lumps remain. Spoon or pipe the cheesecake mixture into the cheesecake wells. Use a spatula to push the cheesecake into the well and to smooth the top.
For best results refrigerate the mini cheesecakes over night, be sure to cover with tinfoil or plastic wrap. 2 hours before serving, move the cheesecakes into the freezer. This will help the cheesecakes harden, making them easier to remove.
To remove: Use a finger to press up on the removable buttons, sliding the cheesecakes up and out of the pan. Place the cheesecakes on a small baking sheet and return them to the freezer while you make the chocolate topping.
Chocolate Topping
In a small saucepan over low heat, combine the chocolate chips and vegetable shortening. Stir occasionally, until the chips are melted and smooth. This may take up to 10 minutes, but keep the heat on low or a little higher than low. Once the chocolate is melted, add the powdered sugar to the mixture and stir until no lumps remain. The mixture should be thicker at this point. Remove the cheesecakes from the freezer and spoon some chocolate on top of each cheesecake. You want the topping to drip down the sides of the cheesecakes, without being too runny.
Chocolate dipped oreos
Begin to melt the chocolate candiquik and vegetable shortening in a small pot over low. It might take 8-10 minutes for the chocolate to melt completely. But keep the temperature on low.
To dip, place the oreo in the saucepan with melted chocolate. Use a spoon to spoon chocolate on top of the oreo, if needed. To remove the oreo, use a fork to lift it out of the chocolate. To remove excess chocolate from the oreo on the fork, tap your wrist 2 times with your other hand. Scrape the bottom of the fork on the edge of the saucepan to remove more chocolate, then move the oreo to a baking sheet lined with a silpat or wax paper. Use a toothpick to help get the oreo off the fork and onto the baking sheet smoothly.
Continue this process until all of the oreos are dipped. Allow them to harden at room temperature.
Once the oreos are cooled and the chocolate has set completely, you can begin to decorate them with the royal icing. To make the royal icing combine the 3 ingredients in a bowl and beat using an electric mixer.
I like to transfer my royal icing to a squeeze bottle with a small tip. I feel like it gives me more control when decorating. Use the frosting to decorate each oreo with an XOXO.
Before serving: Top each cheesecake with a dollop of cool whip and a chocolate dipped oreo. I used a piping bag to pipe the cool whip on.
Notes
If you are using the muffin pan method, place one aluminum liner in each muffin well and lightly spray with non-stick cooking spray. Prepare the recipe as directed. If you use the muffin pan method, you may not have 12 cheesecakes at the end, since the muffin cups are larger than the mini cheesecake pan cups. Before serving, remove the muffins liners from each cheesecake, then add the chocolate drizzle, cool whip and oreo. Here is an example of using the muffin pan method for making cheesecakes.
Products used to make this recipe
(may include affiliate links)