Want our top 10 essential dessert recipes?
Get our favorite classic recipes in your inbox! It's 100% free, but we might make you hungry!
No Bake Crunchy Chocolate Peanut Butter Bars
The best no bake chocolate peanut butter bars! 5 simple ingredients – ready in 1 hour! You are going to fall in love with these!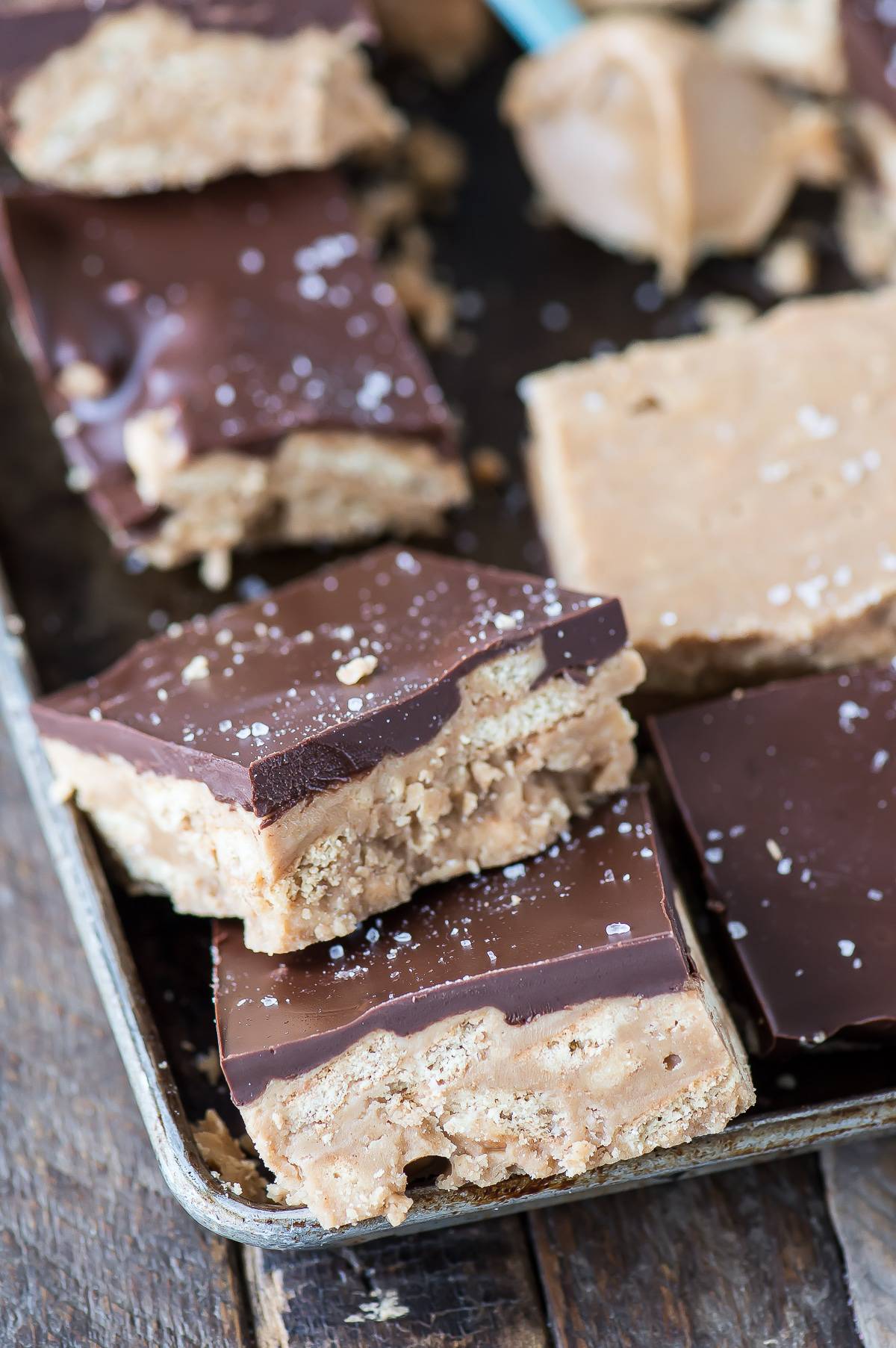 Chocolate Peanut Butter Bars
This chocolate peanut butter bars recipe was updated with new photos April 2016 but it's the same great recipe that you will love!
Throw your hands in the air if you love no bake desserts!
I can't believe this is the first no bake dessert I am sharing.. I actually had to search my own blog for "no bake" because I couldn't believe I haven't shared one before.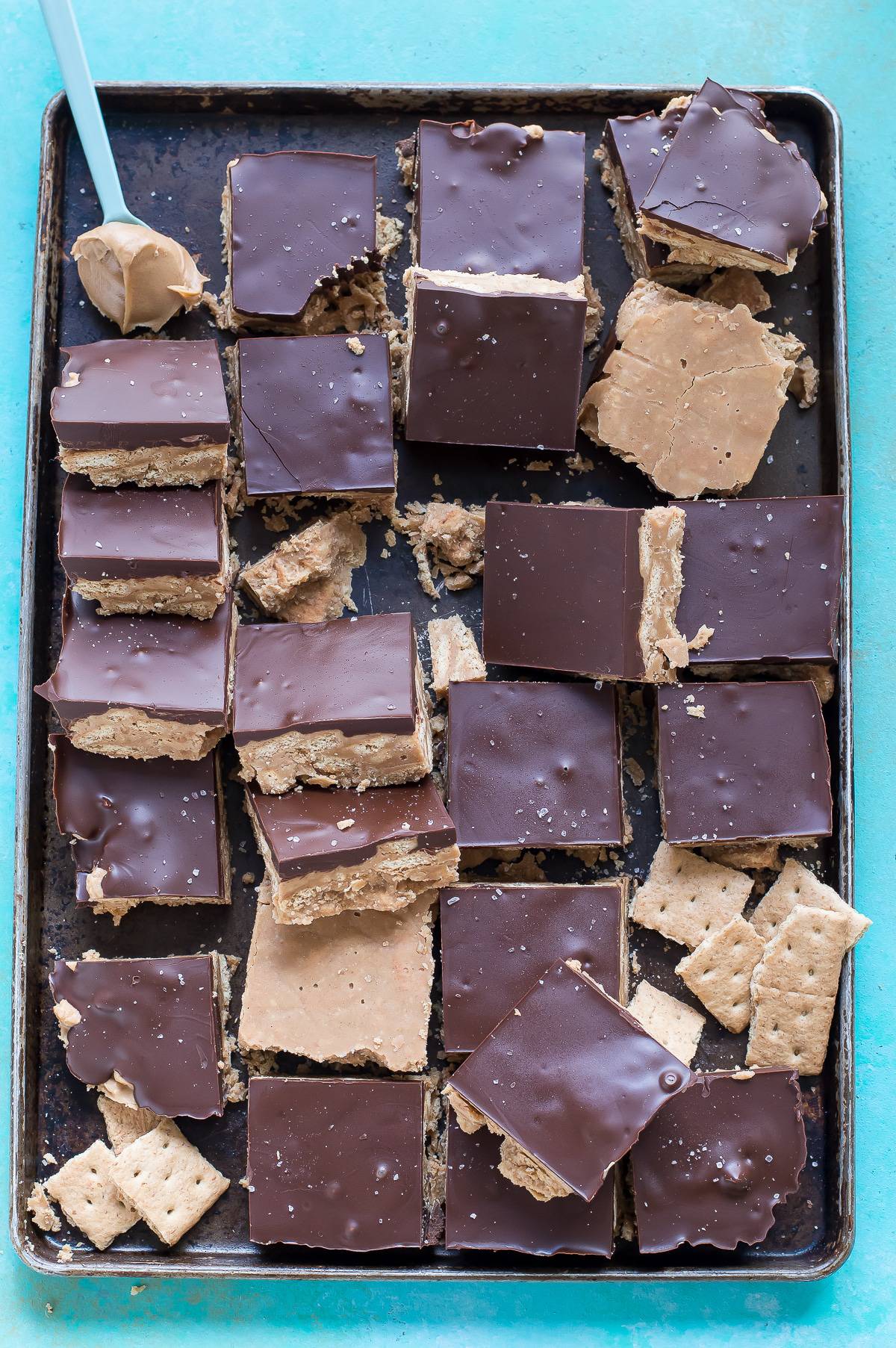 I love no bake desserts for two reasons..
1. they are usually incredibly easy!
2. no oven is needed!
The whole no oven thing is great for summer. We like to go the cheaper route when it comes to the heat and AC.. so typically that means we are a tad bit chilly in the winter and a little hot in the summer. In the summer we have our windows open almost all the time. But now that we have our sweet Salsa cat, I am pretty sure he will claw our poor window screens to destruction. Totally unrelated to the recipe, but does anyone have any tricks for keeping Salsa's paws off the screens? :)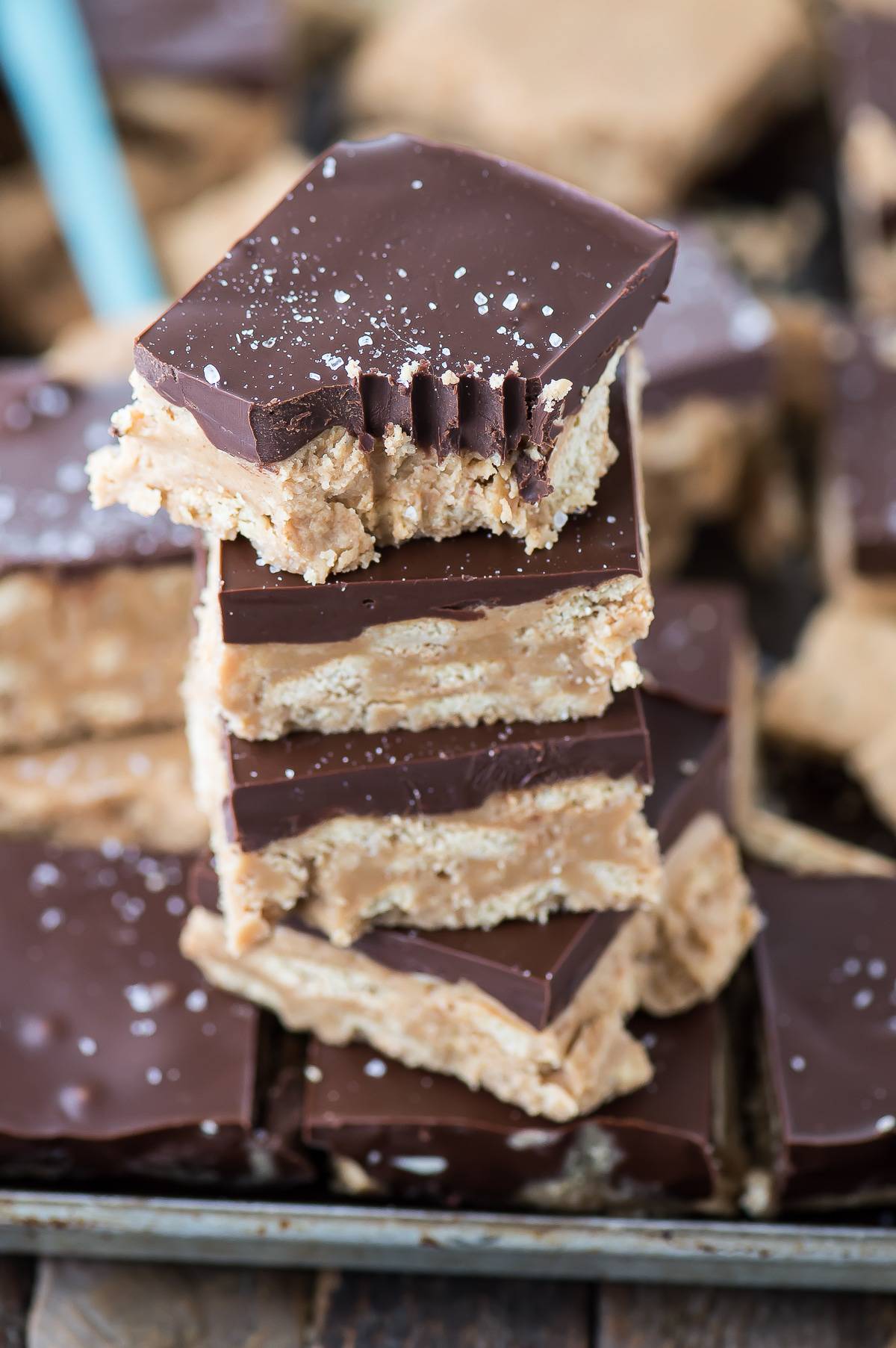 So Easy!
One thing that I LOVE about this chocolate peanut butter bars recipe in particular is that all of the ingredients are very common. You might even already have them in your pantry without having to go to the store! As a food blogger these items are staples!!
We're talking..
graham crackers
creamy peanut butter
chocolate chips (plus a little vegetable oil for melting)
butter
powdered sugar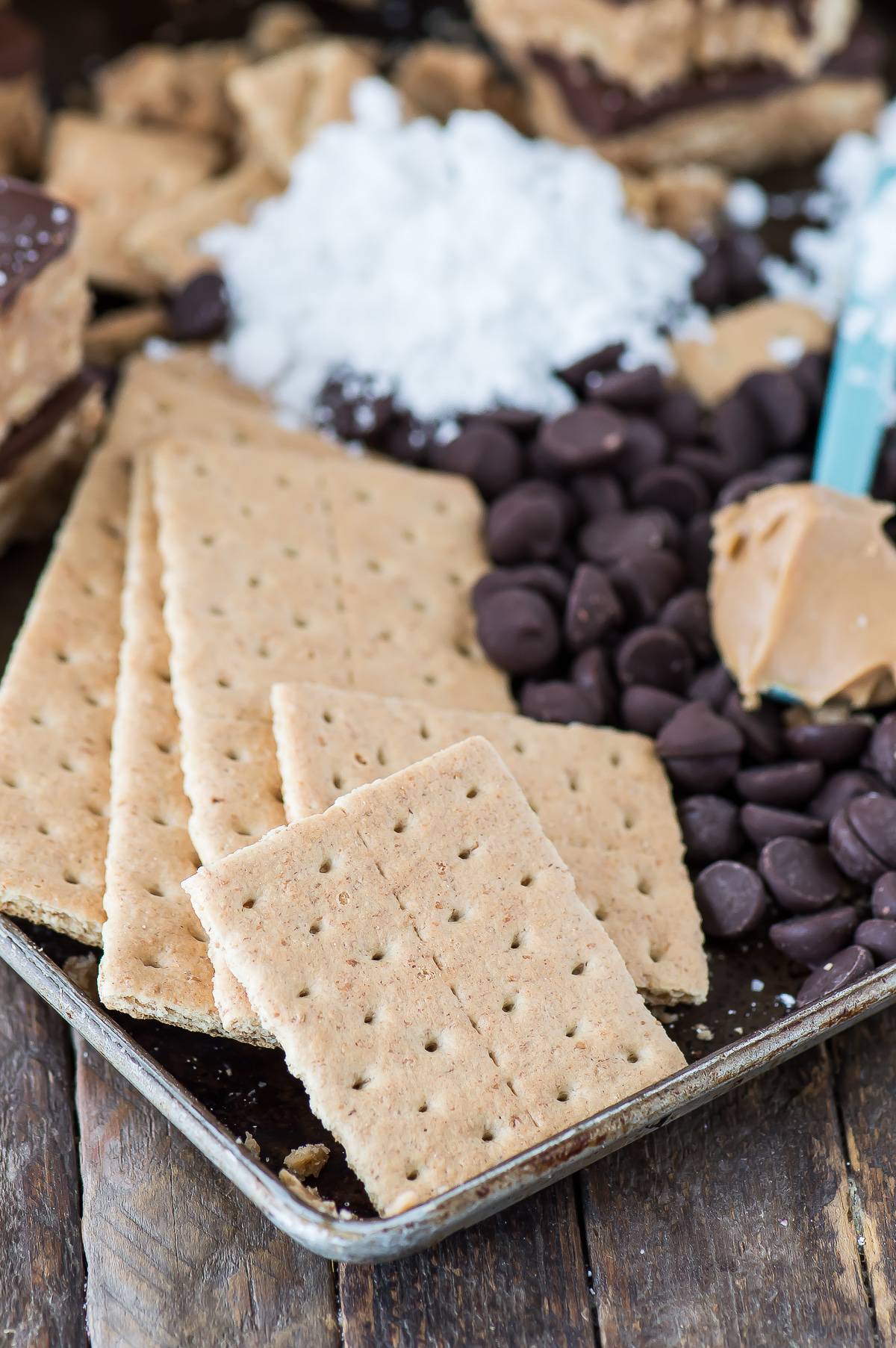 So Delicious!
I can see this chocolate peanut butter bars recipe being potentially dangerous if you always have these things on hand! The bars only take 20 minutes to make. But they need 30 minutes to chill, so the chocolate will set before I recommend cutting into them. In which case, during those 30 minutes you can enjoy some ice cream. Or lick the chocolate bowl. Let's be real people :)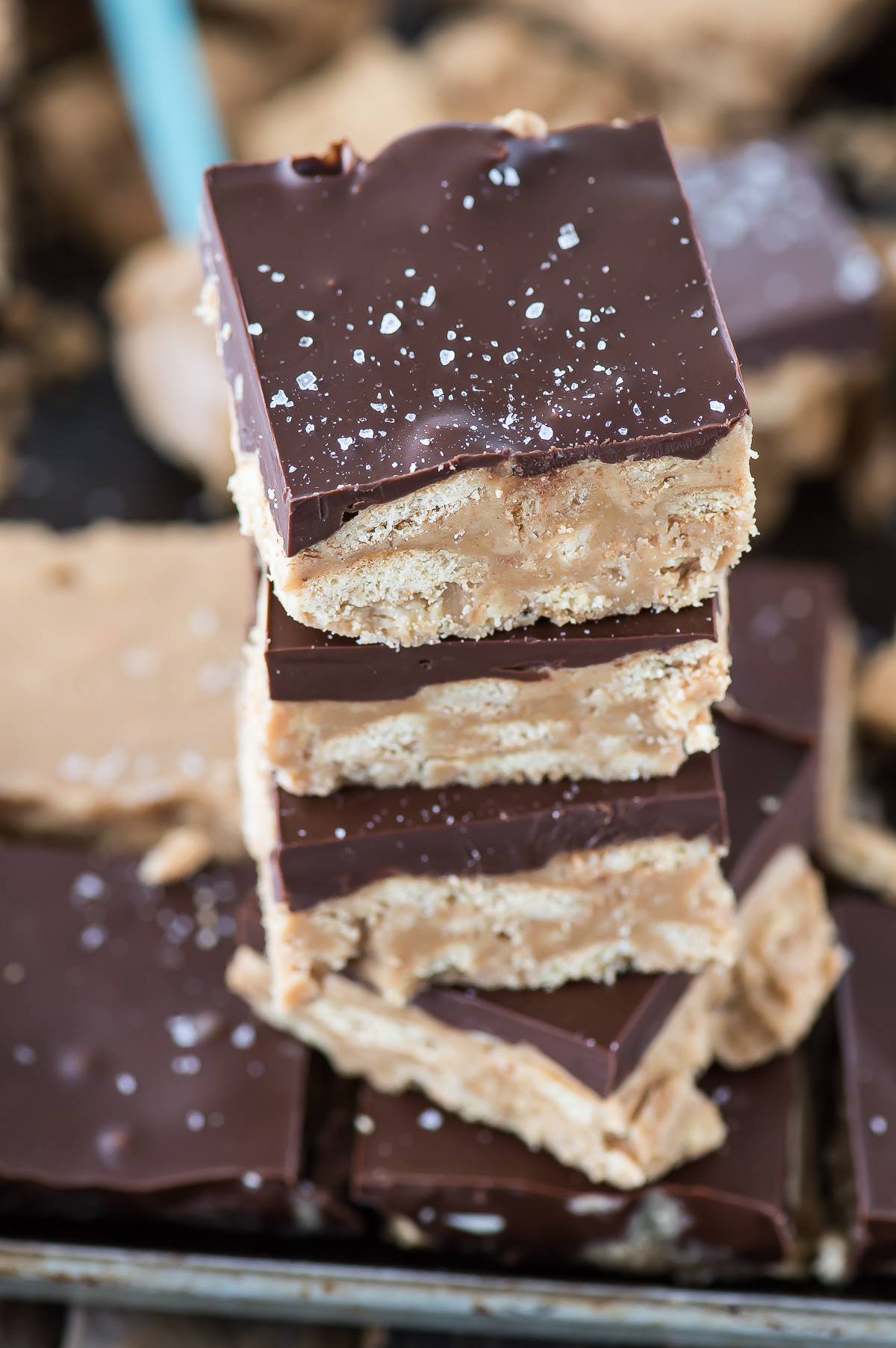 For a step-by-step of how to make this no bake crunchy chocolate peanut butter bars recipe, watch this short video:
No Bake Crunchy Chocolate Peanut Butter Bars
Yield: 9x13 inch pan
Total Time: 1 hour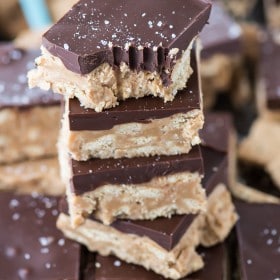 Ingredients:
1 stick butter
1 cup peanut butter, smooth
2 cups (1 pack or 9 grahams) graham crackers, broken/crushed
1 cup powdered sugar
2 cups chocolate chips plus 2 tbsp vegetable oil to help melt the chips
Directions:
Spray or line a 9x13 inch pan with parchment paper or tin foil.
Break or crush the graham crackers into smaller pieces.
In a saucepan, melt the butter and peanut butter together, stirring until smooth. Remove from the heat and set aside.
In a large bowl, mix the crushed graham crackers and powdered sugar. Once mixed, add in the peanut butter mixture, and mix to combine.
 Spread the peanut butter graham cracker mixture evenly into the pan.
In a pot over medium low heat on the stove, combine the chocolate chips and vegetable oil, stir occasionally until the chocolate is melted and smooth, may take 3-6 minutes.
Pour the chocolate over the peanut butter layer.
Cover the pan and refrigerate for 30 minutes or until they are set.
Cut into bars and enjoy!
Products used to make this recipe
(may include affiliate links)