Want our top 10 essential dessert recipes?
Get our favorite classic recipes in your inbox! It's 100% free, but we might make you hungry!
Neapolitan Oreo Ice Cream Bites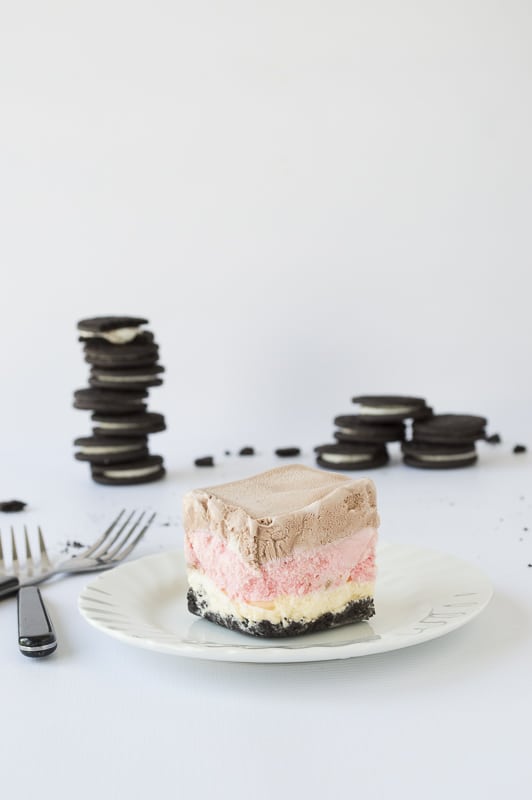 A few weeks ago when my mom and nephew, Liam, came for a visit, I surprised them with neapolitan oreo ice cream bites. After they spent all day driving from Minnesota to Illinois, plus lots of stops along the way, I thought they could use a frozen treat.
I've always had a love for ice cream and I guess I thought I was just an ice cream person.. but I've come to learn that I get my love for ice cream from my mom. So mom, thanks for passing on your love for ice cream, because it simply makes life sweeter :)
It was a blast having them visit, and it was my nephew's first time in "Ill-a-noyz" as he pronounced it, haha. I think all Illinois residents get a kick out of hearing the different pronunciations of Illinois, which if you're not sure, the "s" is silent.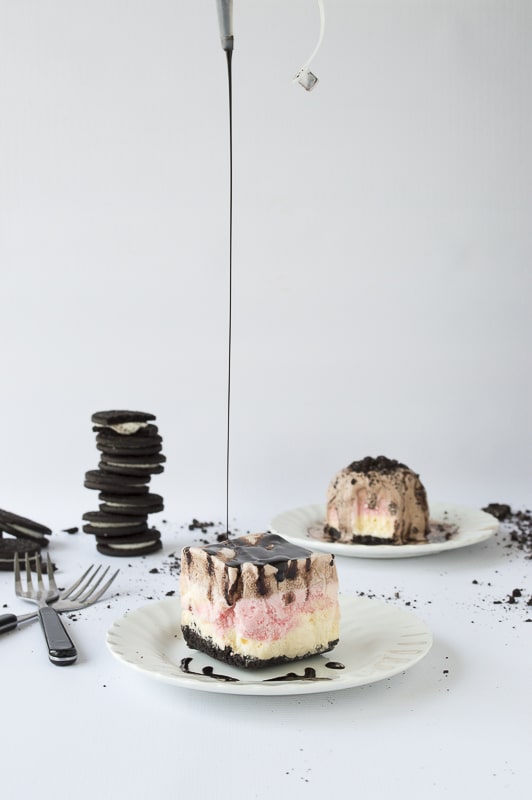 We packed a lot of things in while they were visiting. I work as a nanny so my mom and Liam were able to join me the kids for a day of fun, it was really great for my mom to meet the kids and the family I work for. We also toured the nearby university at which Ryan works, and got to climb one of the bell towers on campus. We were able to watch this wonderful 80 year old woman play the bells during passing period, it was really neat.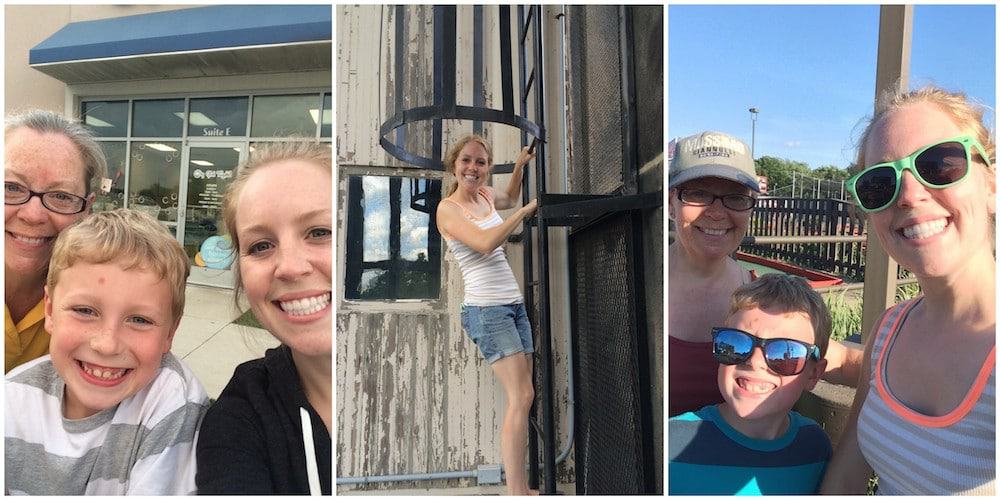 And of course, we ate lots of ice cream. These neapolitan bites are just the right amount of vanilla, strawberry and chocolate ice cream, with a delicious and crunchy oreo crumb crust. But it gets even better! Drizzle on some chocolate syrup and add lots of oreo crumbs and you have the best homemade frozen dessert.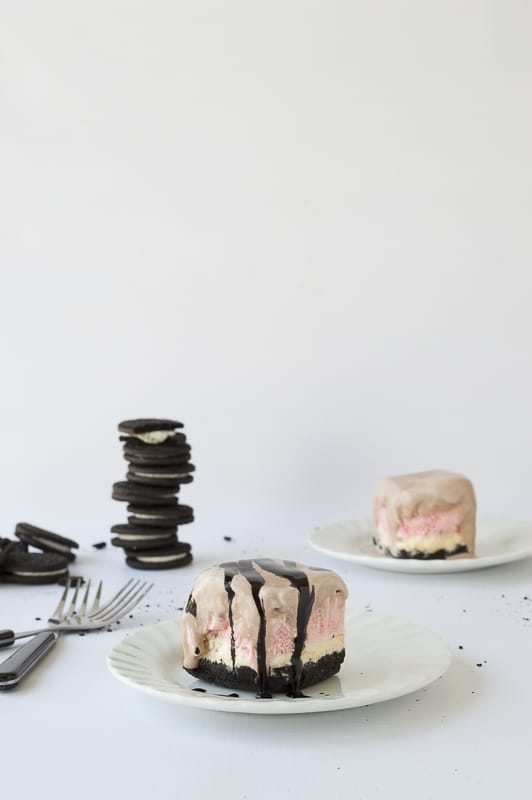 Don't forget, you can save our recipes to your Ziplist Recipe Box and create meal plans by clicking "Save Recipe."

Neapolitan Oreo Ice Cream Bites
Ingredients
1 container of Neapolitan Ice Cream
1/3 cup Oreos, pulsed in the food processor
1 tbsp butter, melted
Instructions
Remove the ice cream from the freezer and allow it to sit on the counter to soften.
Line a 5.5 by 5.5 inch square tupperware container with wax paper, allowing excess to hang over the edges to make it easier to remove once frozen.
Pulse the oreos in the food processor until they are fine crumbs.
Melt the butter, once melted pour it into the oreos and mix well.
Scoop the oreo crumbs into the square container, pressing them down using the back of a spoon.
Let this layer harden in the freezer for 15 minutes.
Once the ice cream is soft enough to spread, put several scoops of vanilla ice cream on top of the oreos, and spread into an even layer. Add more ice cream if you desire, but each of my ice cream layers were about 1/2 inch thick.
Let the vanilla layer freeze for 20-30 minutes before adding the strawberry ice cream. You may want to return the container of ice cream to the freezer while the layers are setting.
Repeat the layering process with the strawberry ice cream and chocolate ice cream, allowing each layer to set before adding the next.
Once all the layers are assembled, let the entire dessert freeze for 3-4 hours, covered with tinfoil.
Remove the dessert from the container using the wax paper, and cut into 4 squares. Top with chocolate syrup and extra oreo crumbs.
https://thefirstyearblog.com/neapolitan-oreo-ice-cream-bites/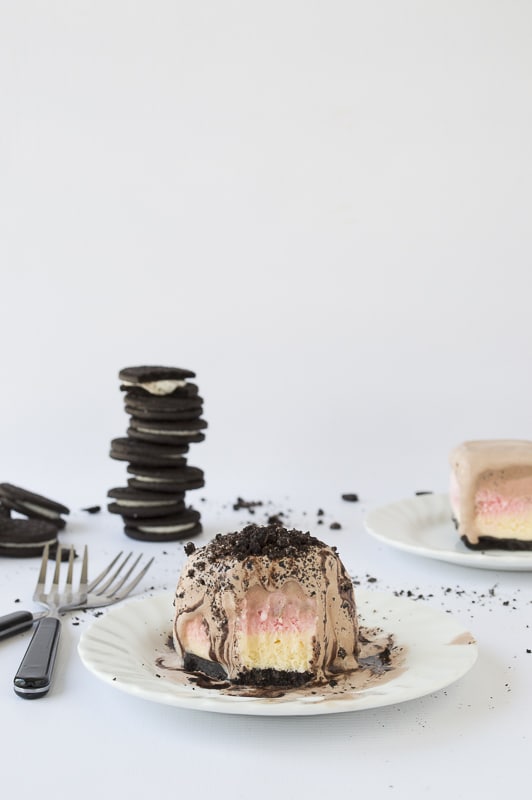 Let's dig in!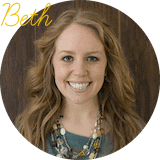 Similar recipes: Lemon Drop Shake and Frozen Peanut Butter Cup Chocolate Pie