Want our top 10 essential dessert recipes?
Get our favorite classic recipes in your inbox! It's 100% free, but we might make you hungry!
Mostaccioli Bake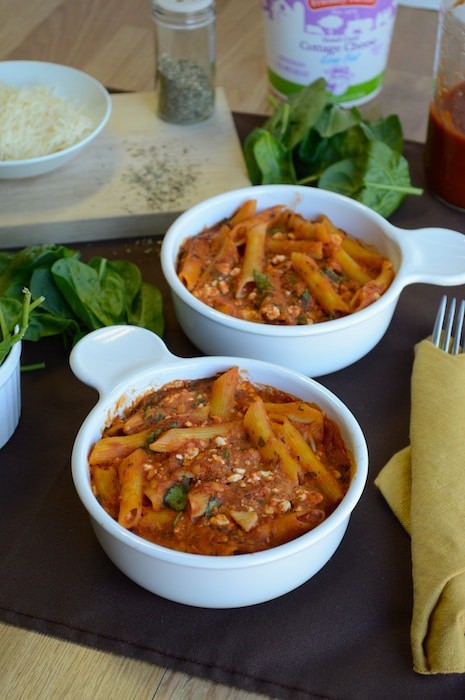 This is one of our all time favorite recipes.
I first posted it about a year ago, when I had just started blogging, but my photography was horrible. So I thought it deserved a re do.
We've made and eaten this dish many times in between that span of a year. In fact, if I ask Ryan for dinner suggestions he always says mostaccioli, even if we had it the week before.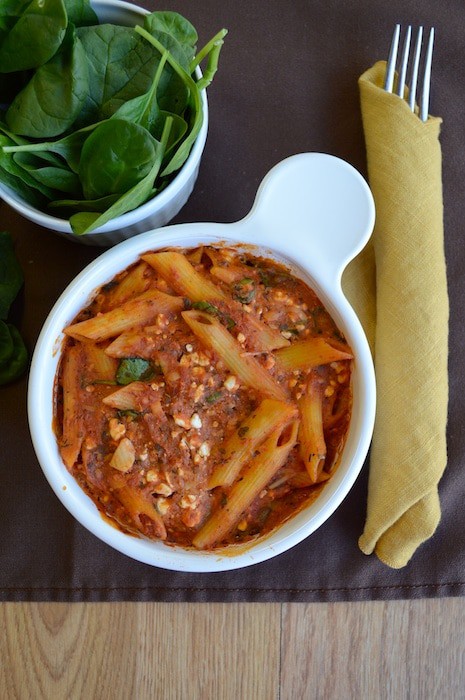 The recipe is so ingrained in my mind that I no longer have to look up the recipe.
Actually, I just made it for my family when we were back in Minnesota visiting over Christmas. And they loved it too!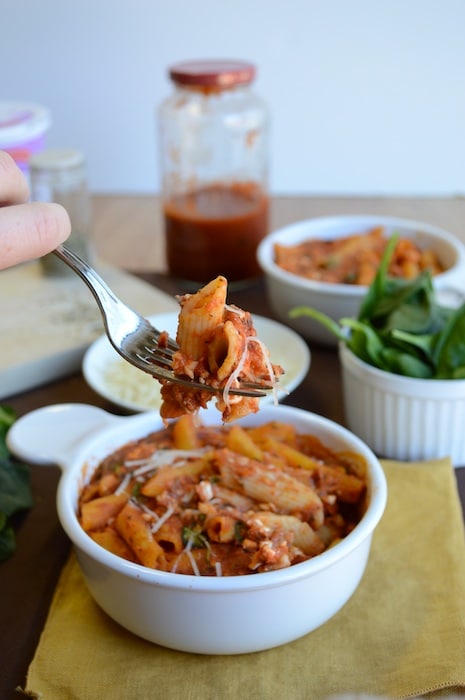 Ingredients
16 oz uncooked mostaccioli noodles
2 cups (16 ounces) 1% cottage cheese
2-3 large handfuls of fresh spinach, chopped finely
1 cup (4 ounces) shredded mozzarella cheese, divided (some will go in the noodles, some on top)
2/3 cup shredded Parmesan cheese
1/4 tsp salt
1/4 tsp pepper
1 tsp Italian seasoning (or various Italian spices that add up to 1 tsp)
2 jars of meatless spaghetti sauce, standard 24 oz jars
Instructions
Preheat the oven to 350 degrees F.
Cook the mostaccioli noodles according to package directions.
While the pasta is cooking, in a large bowl (*very large, everything including the noodles and sauce will all be mixed in this bowl) combine the cottage cheese, chopped spinach, 2/3 cup mozzarella cheese, all the parmesan cheese, salt, pepper, and italian spices.
Drain the pasta once it is ready, and add the noodles to the large bowl. Mix everything thoroughly.
Add the 2 jars of spaghetti sauce, and mix thoroughly.
Spray a 9x13 inch baking pan with cooking spray.
Transfer everything from the large bowl into the pan. Press down any noodles sticking up.
Sprinkle the top with the remaining mozzarella cheese (1/3 cup).
Cover with tin foil and bake for 35-40 minutes or until bubbly.
Uncover and cook for 5 more minutes.
Let the dish set for 5-10 minutes before serving.
https://thefirstyearblog.com/mostaccioli-bake/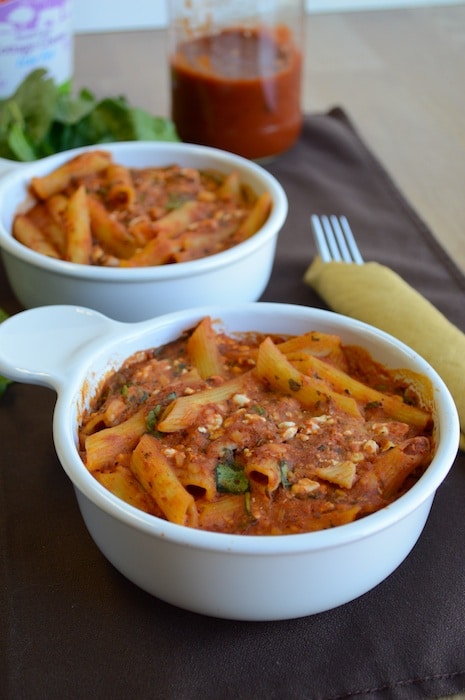 This dish is also very adaptable. I've used spaghetti sauce with sausage in it to add extra protein, you could sneak some handfuls of kale in their along with the spinach, and I bet you could use penne or rigatoni noodles if that's what you have on hand.
Try this mostaccioli bake and hopefully you'll add it to your favorites list too!